Aussie company CODE REPUBLIC says its new SS19 collection of chic laptop bags and small leather accessories is for the modern business-woman. Hey in a world of equal opportunity it can be for everyone!
The CODE REPUBLIC SS19 range includes
SAVANNAH – RRP $399.95 (Navy)
SIERRA – RRP $259.95 (Black and Navy)
PASSPORT & PHONE WALLET – RRP $189 (Black, Navy and Grey)
UNIVERSAL PHONE WALLET – RRP $139 (Black, Navy and Grey)
These join the existing Lisa, Daniele, Sonya and Nicole collections. GadgetGirl reviewed the Danielle range earlier this year giving it a 4.5-out-5 rating. She said:
Everything about the bag suggests quality. Perfect stitching, edges align, good solid feel, the poly cotton lining is well fitted, and it even comes in a matching storage bag – not to mention the big black box that would look wonderful with a bunch of red roses this Valentine's day (hint to GadgetGuy).
 Anthea Rowan, CODE REPUBLIC Founder, said:
I love the freedom of a big, cavernous bag, but like most large, unstructured spaces, they're only as convenient as they are organised. Throwing a mess of phones, cables, keys, wallets, lipsticks, water bottle and a laptop without rhyme or reason and hoping the necessary item rises to the top is not the key to success. CODE REPUBLIC laptop bags are the perfect solution for those looking to add some stylish method to their bag's madness. Providing convenience, organisation, beauty and strength to carry everything to get you through the day and into the night.
SAVANNAH – 14" Laptop Bag
Savannah has a unique silhouette, bold and stylish, this premium Navy Saffiano leather laptop bag has bold hardware accents, to give it that extra-stylish flair. This carryall fits up to a 14″ laptop with ease, features an RFID lined internal long zip pocket plus our unique organisation will keep tech and beauty accessories in order. It has a cross body strap and a comfort shoulder pad.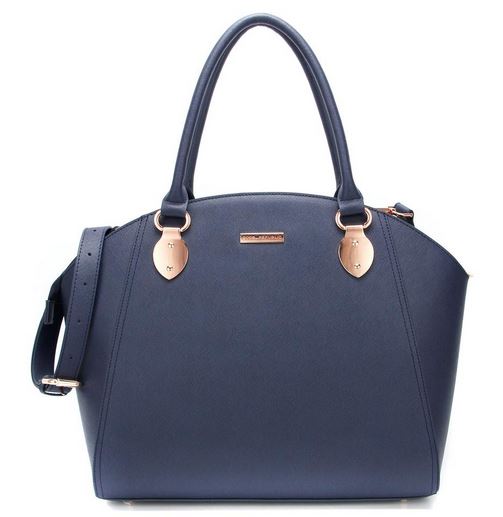 SIERRA – 10" Tablet Bag
Equipped with a detachable cross-body strap or hold it like a clutch. Gorgeous on the outside, Sierra uses durable scratch-resistant Saffiano leather, with distinctive rose gold embellishments. Inside there's room for a 10″ device, plus all of the organisational help you need to get you through the busy workday and into the evening.
AVAILABILITY:
The CODE REPUBLIC SS19 collection is available now from select Domayne Computers and Harvey Norman stores and online or via CODE REPUBLIC Instagram store (@code_republic).