In reviewing the next generation Surface Pro 6 I was tempted to copy my Surface Pro 5 (2017) review. Take it from me the changes are well under the surface.
In fact, iFixit's Surface Pro 6 teardown revealed the case, screen, battery and many of the components were the same. All that had changed was the processor and a new graphite heat pipe system.
Yes, there are two other 'major' changes. Microsoft again refers to the Surface by its generation. Last year's decision to call it the Surface Pro 2017 was not good. Re-enter Surface Pro 6 that like Rocky movies that never seem to end, could be Surface 30 it 24 years!!!
Second, is the so-called trendy Black colour. Time will tell if it is as durable as the mag-alloy platinum. More on the black process later.
Microsoft Surface Pro 6 is an evolution, not revolution.
When you are on a good thing, stick to it. I entirely agree. The integrated kickstand, 12.3", 3:2 format 2736 x 1824 screen and the build quality are essential foundations of the Surface Pro line.
That is why Microsoft sensibly invented the Surface Book, Surface Laptop, Surface Go and Surface Studio to fill in niches not served by the Pro.
Microsoft is not concerned about world domination by Surface devices.
The Surface series is about being 'reference' devices – to show what Windows can do with reference hardware.
Microsoft is on record as not caring that it does not sell squillions of these either although its Surface Pro does dominate the hybrid (tablet and detachable keyboard category). It wants Windows OEMs to 'rise above the Surface" and present new and innovative features and form factors.
There is a lot of tech that goes into a tablet – miniaturisation affects heat management, battery life, acoustics, screen, stand – it is not as easy as building a laptop or x360 format.
But Acer Switch, Samsung Galaxy Book, HP Elitebook/Spectre/Envy x2, Lenovo MIIx, Dell Latitude and even the Microsoft Surface Book are must consider alternatives. Remember they all run Windows, so it comes down to price, build, keyboard, CPU/GPU and screen. Some of these even have the elusive Thunderbolt 3 connection Surface lovers are aching for.
Review Microsoft Surface Pro 6 – review unit i5/8GB
Australian website here
Screen
12.3" 3:2, 2736 x 1824 (267 PPI) 10-point simultaneous multi-touch IPS Pixel Sense Panel
The LG made IPS display has 400+nits brightness and 1300:1 contrast. It is a great daylight screen that is only bested by an OLED screen like Samsung's Galaxy Book.
Colour is 99% sRGB meaning it looks like the colours you see around the office and home. Neither saturated nor gaudy. But at 12.3" and 71% Adobe RGB is it not meant for photo/video editors. Buy the Surface Book 2 instead.

It has Enhanced and standard sRGB modes. Enhanced adds a certain 'pop' or saturation. I don't mind that for movies.
There is no edge bleed or uneven colours – it is a superb screen. Grey-to-grey response time, important to gamers, is 40ms – fine for movies.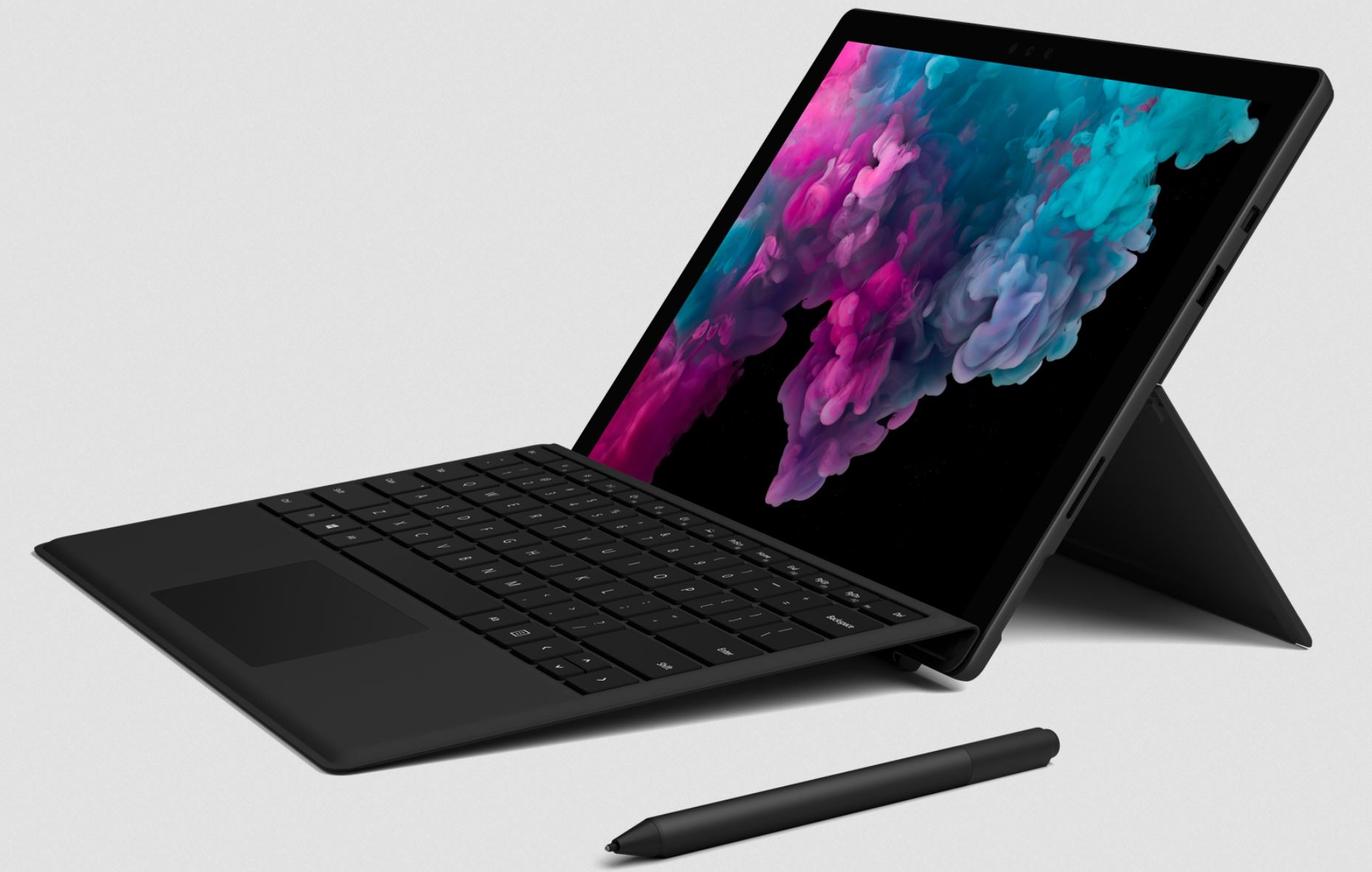 3:2 means that 16:9 movie content has largish black top and bottom 'letterbox' style bars. It does not worry me but a regular 16:9 screen does not waste quite so much real estate. Movie colours are natural. It does not have HDR. Off-angle viewing is very good.
Processor
Intel 8th Generation Core i5-8250U Geekbench 4.0 single/multi 4,287/14,031
or i7-8650U Geekbench 4.0 single/multi 5037/13864
Both with Intel UHD graphics 620
8 or 16GB LPDDR3
The four-core i5-8250U, 1.6/3.4GHz has a PassMark of 7554. The i7-8650U, 1.9/4.2GHz is 8898. Both have a 10-25W TDP and typically run at up to 15W without throttling.
It is one of those times where it seriously makes you wonder if you need the i7 in this hybrid tablet format. Although Microsoft does claim, it provides a 67% performance increase over the Surface Pro 5
Sure, it is nice to have a lot of power, but both processors are seriously throttled (back from Turbo mode) in a matter of minutes under load with mains power or on battery.
The 8th generation runs slightly cooler than the 7th generation core processors, and Microsoft has changed the metal heat pipes for graphite.
Internally the i7 can get to 60°, and externally it can exceed 40° – neither are too hot for lap use. The i5 runs about 10% cooler and does not need a fan.
On battery, you only get the base 1.6 or 1.9GHz speeds anyway.
UserBenchMarks reveal two things.
First, when on mains power the i5 has lots grunt. But on battery, it is throttled. I did not have an i7 to test, but I understand the throttling is even more evident.
Second, the Intel UHD Graphics is fine for productivity, movies and web but not for games. The Surface Book 2 is what you need there.
Sound
Stereo 1.6W Dolby Audio
Dual mics

As per all Surface iterations, the sound comes from speakers at the left and right-side upper bezels.
Using a tone generator, we reached 84dB – that is quite loud. Playing a variety of music tracks maximum volume ranged from 75-80dB – again quite good with little distortion.
Hints of bass come in at 80Hz but in reality, these are just a faint precursor to upper bass from 200Hz to 500Hz. Mids are good to about 5kHz and then treble to 10kHz before disappearing off the cliff.
This is called a bright vocal sound signature and its fine for clear voice things like Skype and vocal tracks but not for bass heavy tracks or movies. Dolby Audio Premium allows you to add some bass to make it mid-centric or treble to make it very crisp voice but overall the effect is negligible.
If you intend to listen to music or play movies get a Bluetooth headphone or speakers. Our tests indicated a good flat 20Hz-20kHz frequency response with the standard Bluetooth SBC codec.
The Surface is capable of Dolby Atmos decoding if you purchase the app.
Overall – good sound and volume for general use but needs headphones or BT speakers if you want bass.
SSD
128GB, 256GB, 512GB, or 1TB SSD soldered to the motherboard – not upgradable
A Skhynix 256GB NVMe PCIe SSD uses the older NVMe 1.2 standard and PCIe 3.0 x 2 lanes so while it is fast enough, its performance is nowhere near that of a four-lane PCIe M.2 device.
microSD supports up UHS Class 3 (30MBps), and we obtained 24MBps sequential read.
Camera
Rear: 8.0MP autofocus camera, HDR, no flash with 1080p HD video
Front: 5.0MP camera with 1080p HD video Windows Hello face-authentication
The rear camera is fine for capturing a whiteboard or videoing presentation. It is a 'social' camera without flash.
The front is perfect for Skype, and Windows Hello takes under two seconds to recognise a face.
Ports
One full-size USB 3.0
Mini DisplayPort
Surface Connect
3.5mm audio and microSD slot
OK, I hear you ask what about Thunderbolt 3? Yes, Microsoft, what about it?
The convenient USB-A 3.0 port (480Mbps) is slow. The Mini DisplayPort is useful and now can support dual 4K external monitors in a daisy chain configuration.
The Surface Connect is for charging and data. It also is used for the $299.95 Surface Dock that has not changed since the Surface Pro 3. If you have one make sure you use the updater as the new firmware supports dual 4K@30Hz.
Comms
Wi-Fi AC Marvell W8897 2×2 MU-MIMO, Maximum speed 867Mbps, supports beamforming
Bluetooth 4.1
Wi-Di, Miracast, Always on
The same Marvel chipset was excellent in the Surface Pro 5. It has since been outclassed by the later Intel 9260 AC chipset and Bluetooth 5.0.
It could have benefitted from BT 5.0 and support for a hi-res music DAC. Instead, are stuck with SBC codec for another year. Don't get me wrong – the existing chipset does the job.
Battery
45 Wh (7.57 V x 5940 mAh)
44 W AC Adapter with USB charging port 15V/2.58A and 5V/1A
i5 – Our FHD video loop at 50% brightness and in aeroplane mode achieved a startling 13 hours. Practically in an aeroplane, you will probably have Bluetooth enabled but let's not worry about that impact.
With the Surface Pro 5, I get about 9 hours video, but that is with almost two-year-old batteries.
In office work (web browsing, Office 365, Wi-Fi, Bluetooth and more) we got nearly 10 hours.
Battery life is longer due to the more power efficient quad-core processor, and I suspect Windows 10 has some new battery smarts.
It uses the same charger as previously. With Intel 8th generation chips supporting fast charging Microsoft has missed another opportunity to shine.
Next time we pray that Surface will have USB-C and 65W fast charge.
Options
Surface Pen
Surface Keyboard (backwards compatible)
Surface Dial
Surface Dock – 2 x mDP 1.2, 4 x USB 3.0, 1 x Gigabit
Surface Pen has 4096 pressure points and costs $139.95 in Platinum, Burgundy, Black or Cobalt Blue. It supports side pressure for thicker lines and shading. I use it occasionally on the Pro 5 and when you have a use for it nothing else is quite as good.
Activation force is nine grams. Latency is 2.1 milliseconds (fast) due to the inking co-processor that's part of the Surface Pro 6 display. That co-processor connects the GPU to the screen's digitiser and helps speed up pen calculations.
Surface Keyboard is the same backlit keyboard as on the Surface 5 and 4 – good news if you are looking for a bargain. It costs $199.95 and comes in Black, plus Platinum, Burgundy, and Cobalt.
It either sits flat or at 5°. While the tilt is better to type on it allows for a degree of keyboard bounce, and that slows things down.
Keys have a 1mm travel and a 40g actuation. It is not bad, but I would use a Brydge Keyboard any day over the Surface. It has a 1.5mm throw and a 65g actuation. Pro: better typing experience. Con: Adds 745g and 7.4mm to the Surface tablet body.
The trackpad is excellent allowing full cursor movement from top right to bottom left in one sweep.
Build
Magnesium alloy chassis
Black colour is via a ceramic oxide layer deposited on the mag-alloy finished with black paint
292 x 201 x 8.5 mm x 770/784g
Windows 10 Home
1-year warranty
Black is attractive, especially as all the ports are black too. It is fairly fingerprint resistant, but we can't comment yet on scratch resistance.
Surface Pro 6 is very well made and very flexible.
GadgetGuy's take. Surface Pro 6
More of the same – a less than exciting upgrade. But hey, it is still one of the best Hybrid-tablets money can buy.

Listen Microsoft, we expect more for the next Surface Pro 7. It must have a Thunderbolt 3 port, fast charging and its high time we had an almost zero bezel. We also want later versions of Wi-Fi and Bluetooth.
If you have a Surface Pro 4 or 5, then there are no compelling reasons to update. In fact, I have the original, Surface 3, 4 and 5 and all are going strong. The Surface Pro 6 reminds me of the shampoo ad – rinse and repeat.
Sure, the major change is under the surface with the quad-core processor. But I would be trying to bag a bargain on the Surface 5 – same screen, build, reliability, battery etc.
On the downside, we would like to have had more time to see the extent and impact of throttling these new CPUs, and to have tested an i7 model.
If you are considering buying a Surface Pro then yes, this is the best yet. Great screen, battery and power to burn. It is still the one although I love the HP Envy x2 and ASUS Zen. I will be anxiously awaiting a review of HP's new luxury leather Folio x2 just released.
Price includes free Australia wide delivery
i5/8/128GB is $1,349 plus optional keyboard and pen
i7/16/256GB is $2,299 – ditto
i7/16/512GB is $2,879 (add $580 for 1TB) – ditto
Quiad Core processor
Better battery life
The original is still the best
Design is great but internals are tired - Still a Pro 5 in all but processor
No ThunderBolt 3