The mirrorless cameras have been waving 4K video for so long that many of us wondered when DSLRs would join the party. Fortunately, they're about to, as Nikon delivers UHD video in two digital SLRs.
There's big news afoot if you're a photographer this week, with CES giving companies the opportunity to dazzle audiences and buyers with their wares ahead of the new year.
And it is a new year, and one where these companies will all be vying for a piece of your pay packet, and Nikon hopes to grab photographers this year with two large bodies designed not just for photography, but also for video work, too.
A lot of changed in the world of photography and videography over the past couple of years, what with better developed low-light capable sensors and 4K Ultra HD video, and to show that it still has what it takes to compete, Nikon is ready with two bodies: one that's big, and one that is a little less big and easier to hold by the common person.
First there's that big body, because it's photographic flagship time as Nikon's flagship single-digit "D" series gets a fifth major entry, the D5.
There have been more than five models in the single-digit cameras thus far, with various "x" and "h" monikers here and there, but traditionally when Nikon announces a new digit in the model name, it's a big deal.
This year, that big deal results in a full-frame format camera utilising the whole 35mm sensor with a total of 20.8 megapixels being shot.
Granted, that's not as big as some of the other sensors Nikon has, but it has also made the sensor just that much more capable for low-light, delivering a high native ISO of 102,400 and an extended low-light sensitivity index of up to 3,280,000.
Just think about that for a minute: the extended ISO can reach into the territory of three million. That's close to seeing in the dark.
We expect that this dark mode will probably yield a fair amount of noise, but given that it will probably be used in desperate situations, it could still let pro photographers get the shots they need, while also offering people who aren't afraid of a bit of granularity a hint of natural night vision.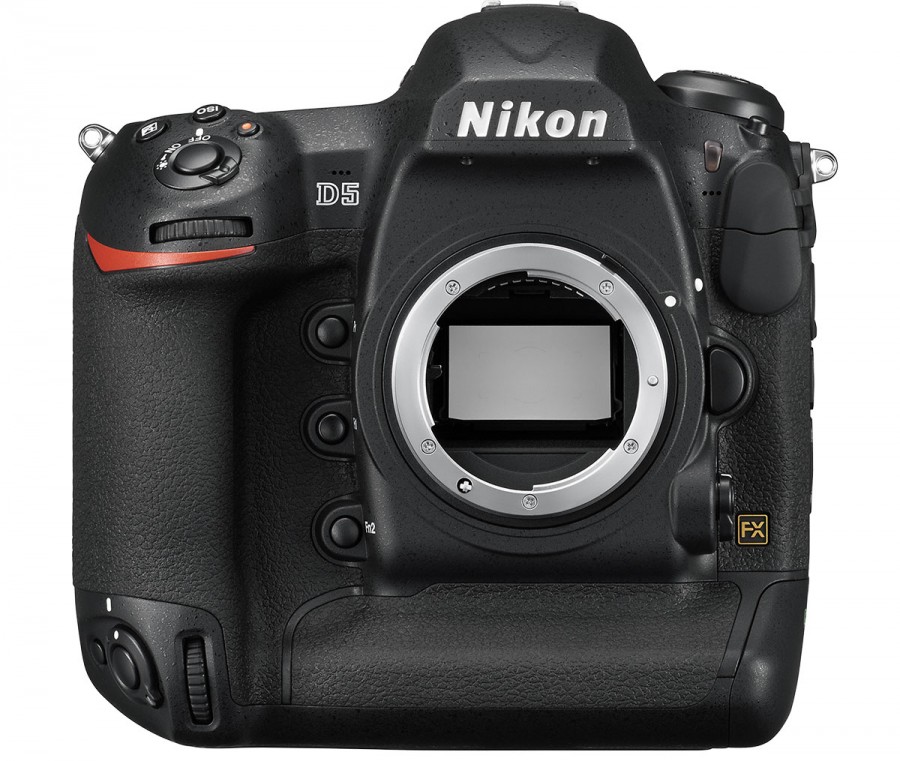 Aside for this impressive sensor tech, you'll also find a staggering 153 focus points and up to 12 frames per second continuous shooting, with the image capture occurring over two card slots, relying on both CompactFlash and XQD technologies.
Also useful is the support for video, because this is Nikon's first dance with Ultra HD 4K video capture in a digital SLR, delivering 24p, 25p, and 30p in 3840×2160 UHD, while also giving Full HD 1080p settings of 50p and 60p. Nikon says that the D5 can also grab video at the high ISOs offered by the stills mode, meaning you might even be able to shoot in severely low natural light, though it may be a tad grainy.
"Whether you're shooting in unexpected conditions or with volatile subjects, the Nikon D5's high sensitivities and subject acquisition capabilities allow photographers to take advantage of unpredictable situations," said James Murray, Director of Sales and Marketing at Nikon Australia.
"No matter what shooting environment photographers are faced with, the D5 is engineered to outperform all expectations with ease of operation, accuracy and exceptional reliability."
One downside of the D5, however, will be the price, because while we don't have one — and Nikon doesn't release camera pricing in Australia anymore — the big professional flagship bodies are never cheap.
Fortunately, new technology tends to trickle down into the smaller cameras, and while this normally can take some time, it hasn't taken much time at all, with Nikon announcing a smaller but still semi-pro body alongside the D5, and one that borrows some of the tech, even if it's not all of the specs.
This second body is the one that more people will be able to afford, and probably hold, given it doesn't rely on the same massive pro-camera size of its sibling, the D5.
Called the D500, it's a 20.9 megapixel DX-format camera, meaning it relies on the smaller APS-C style sensor that emulates the 35mm dimensions, but is half the size.
These sensors have been immensely successful for photographic companies not just because they're a little less expensive to product than their full-frame counterparts, but because they only capture the centre frame of a lens, meaning if you don't have great lenses to work with, you miss out on all the mediocre glass on the outside, and don't have as many depth of field issues, either.
Nikon is no stranger to the APS-C format, and its DX moniker has been on cameras for ages, starting with that in its digital SLRs, with the D500 just continuing that.
This sensor isn't an old piece of tech, though, and Nikon is delivering a low-light sensitivity not quite on par with the D5, but not far off, with native low-light going up to ISO 51,200 and extended delivering up to 1,640,000.
Yup, a million. Nuts.
The 153 point autofocus is also here as is support for 4K Ultra HD video, making for two Nikon DSLRs offering the high-end video feature, but this camera will also bring something that even its exy big brother doesn't have: in-built wireless.
We all love our phones and tablets so much, that now you'll be able to stay connected to a smartphone or tablet via Bluetooth or WiFi, using this connection to save images directly to that device as you fire.
That's not a new thing, mind you, as Samsung has been doing it for over a year, but it's still neat to have, especially with NFC on the side of the camera.
Official pricing on the Nikon D500 hasn't been announced — it's a Nikon and Canon thing in this country — though early expectations peg the D500 to be around $3000, a good $6K less than its big brother, with the D5 expected to be closer to $9000.
You won't have to wait long to find out if these prices hold true, though, with Nikon Australia releasing them sometime in March.