Cameras are nowhere near as expensive as they once were, but Nikon's latest entry level DSLR doesn't just prove that the prices have dropped, with an emphasis on ease of use as well as quality for the price on offer.
Features
There are loads of cameras out there, but while big digital cameras (and their obviously just as big developments and innovations) get our attention most of the time, it's the smaller cameras that most people are interested in. And that makes sense, because most people aren't photography professionals, but rather people keen to give the field a go.
Nikon's 2014 entry level DSLR is made specifically for this group of people, taking one of the smallest digital single lens reflex bodies made by Nikon, and pairing it with a 24.2 megapixel CMOS sensor, capable of shooting over a low-light sensitivity range of 100 to 25600, with both RAW and JPEG file formats catered for here.
The Nikon Expeed 4 image processing engine will help to deal with the colour, as well as special effects modes, which can be used on this body. In fact, you'll find an assortment of modes, including the standard automatic modes seen on point & shoots, effect modes, a guide mode to teach people how to use a camera, and the main four manual modes, standing for manual (M), program (P), shutter speed priority (S), and aperture priority (A).
Video can also be captured with the Nikon D3300, captured at either 1080p Full HD or 720p HD, with Quicktime's MOV used as the recording format through H.264 encoding.
Shooting can be handled through either the LCD using LiveView, or also the optical viewfinder, showing 95% of the frame, with 11 autofocus points able to be chosen from when using auto-focus. Drive speed supports images being shot up to 5 frames per second (fps), and a self-timer can be set for shots, as well.
There is no touchscreen on the Nikon D3300 DSLR, but you will find a 3 inch full colour LCD, capable of showing exposure information in place of a top-down LCD, as well as the images and videos potentially shot through the camera. Buttons allow you to use the camera, that said, and you'll find several of these, including a directional pad, drive mode, information, zoom, exposure control, function button (normally set to ISO control), and more.
A pop-up flash is included with the unit, as is a hot-shoe mount for adding a larger flash up top.
Ports on the Nikon D3300 include an accessory terminal, mini-HDMI, microphone, and the small mini-USB port used on many cameras. An SD card slot is also included, protected by a slide-out cover on a spring.
Lenses  for the Nikon F mount are required for this camera, but one is included in the box, the 18-55mm f/3.5-5.6 with Vibration Reduction (VR) and a button to allow the lens to fold back into itself.
The battery is a Nikon EN-EL14a module rated for 1230mAh, charged from an external MH-24.
Performance
As a photographer, this reviewer has always been of the belief that cameras shouldn't be hard to use or expensive. Great cameras will always come at a premium — that's not really a surprise — but every camera has the potential to be great, and since we're always learning, they should also teach you something.
In the hands, the D3300 is a smallish camera designed to fit a hand confident with the traditional hand-under-camera grip, with the right hand holding the fake leather grip, while the left hand keeps the body at bay through the palm and fingers.
With the battery and kit lens attached, it's a comfortable hold, and it's certainly weighty enough to make it hard to notice if somebody ever tried to steal the kit.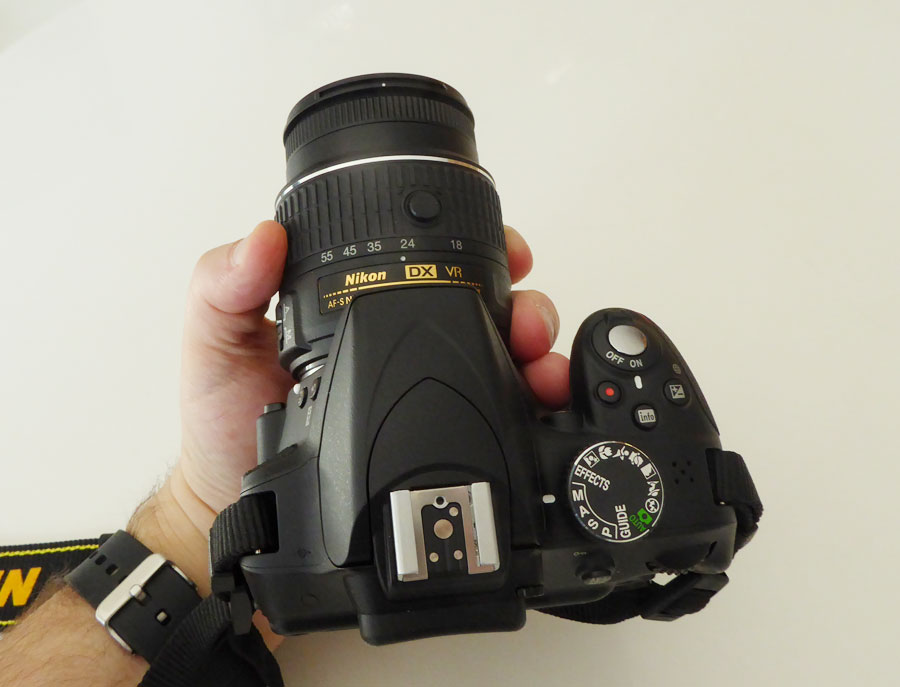 From a button point of view, the D3300 won't be reinventing Nikon's wheel, but merely modifying and tweaking the layout of a Nikon camera to make things easy to get at. In keeping with Nikon's other beginner DSLRs, there's no top-down LCD, sending all of this information to the rear 3 inch LCD.
There's also still a big setting wheel, letting you select automatic programs, manual programs (M, A, S, P), an effects set to make the arty images you desire, and a guide to help explain photography.
A record button for capturing movies is also conveniently located near the shutter, as is an info button and an exposure controller that also doubles as an aperture wheel controller, while the back of the camera treats you to one click wheel, buttons for drive speed, trash, LiveView (controlling the DSLR through the LCD), directional pad, play, menu, and magnification.
For the most part, these controls all feel well spaced, and the more time you spend with the D3300, the more you realise that this is an easy layout to adapt to, with your fingers and thumb on the right hand gradually letting you have more control of the camera in a small space.
Getting to use it, beginners will find the automatic modes help out when you don't want to think, while the guide mode lets you explore the camera's shooting modes, learning as you do so.
We spent more time in the professional modes, mind you, but any time some element of control is provided to the user — whether it's shutter speed or aperture control — there's an easy to understand image on screen showing the part of the camera changing.
With beginners in mind, this makes a lot of sense, as the styling showing an old school Nikon speed setting, aperture blade, and ISO choice helps communicate the information every photographer needs on a large screen.
Adding to this is the information button, which allows you to get around the settings of the camera, changing them with guides as to the sort of images they will later expose.
Once you get the hang of seeing the information like this, and even modifying it using the combination of the directional pad, ok button, information button, and rear click wheel, using the camera will get easier, as this big 3 inch screen can show more information than the top down LCD ever could.
We still prefer these, mind you, but a bigger interface could prove handy for amateur photographers curious as to what they're doing, and how it will affect their shooting.
And that last part is especially important, as the settings will show when you should be using the options, providing a night sky for when you need a high ISO, or a guide to how many shots you'll get off if you decide to use the RAW mode with a basic JPEG.