Last year saw the last two giants of Digital Single Lens Reflex photography take giant steps into the mirrorless age. Here I'm looking at the premium mirrorless offering from one of those companies. The Nikon Z7 clearly demonstrates that whether it be with or without mirrors, Nikon knows how to create exciting cameras.
Mirrorless vs DSLR
I'm inclined to think that mirrorless is how things are going. The obvious difference from DSLR is that the latter uses an optical viewfinder. A mirror in front of the sensor bounces light from the lens into the viewfinder. When you press the shutter release, the mirror flips up out of the way, and then the shutter opens. In theory, you see what you're going to get.
But it's not perfect. For one thing, the coverage is incomplete. For another, its complicated. And for yet another, the movement of the mirror adds to camera shake. It's inevitably chunkier than having a mechanical shutter alone. And, of course, it's bulky.
Mirrorless cameras use the sensor itself as a source to feed the image to a tiny display inside the viewfinder (and also to the rear monitor). They provide close to 100% coverage. They are also more compact.
The Nikon Z7 is a full frame camera – the sensor is the same size as a 35mm film negative – but it is noticeably more compact than the company's DSLR offerings. With the elimination of the mirror, the lens structures can be closer to the sensor, and that requires a larger hole in the body for the light to enter. Consequently, a new lens mount was required. It's called the Nikon Z-mount. As well as releasing a range of Z-Mount lenses, Nikon sells the FTZ mount adaptor, which allows existing Nikon AF-S lenses to be used with this camera. This adds about 32mm of space, along with carrying the electrical signals between lens and camera body.
Positioning and XQD
I asked Kylie Dredge, National Professional Markets Manager, ANZ for Nikon, about the Nikon Z7 camera. I was interested in whether Nikon sees mirrorless as supplanting DSLR over time. She says that Nikon is committed to both formats. My guess is that time will tell, but if mirrorless does come to dominate, Nikon will still be servicing the DSLR market for its enthusiasts for many years to come.
The use of XQD as the removable storage card (see below) also had me wondering about the positioning of this camera. Ms Dredge says it's suitable for both the pro-sumer and the professional. Indeed, she says that it was developed with both in mind.
Nikon Z7 Features
So, a full frame camera this is, as is appropriate for a professional or well-heeled enthusiast. The sensor in the Nikon Z7 packs 45.7 megapixels, which is right at the top end of full frame resolution. That works out at 8,256 by 5,504 pixels. An ISO range from 64 to 25,600 is supported, while shutter speeds from 30 seconds to 1/8,000 are available. (Plus "Bulb" of course). Plus, there's exposure compensation of up to five stops. Nikon says that with the Z series of cameras it has incorporated in-camera optical image stabilisation for the first time. It works in five axes and offers up to five stops of stability.
Look, just about all the cool stuff is in the Nikon Z7. It supports video taking, of course. It works at up to 2160p (UHD) at 24, 25 or 30 frames per second. At full HD you can also choose 50p, 60p, 100p or 120p. Those aren't slow motion speeds. They're high frame rate speeds. There are separate slow motion settings for 4x at 25p or 30p and 5x at 24p. There's also a 8K time lapse mode. Remember, this sensor in this camera is wide enough (in terms of pixels) to support real 8K (8,192 pixels) and the possible alternative of 7,680 pixels.
Remember, 8K TVs are just starting to appear on a nearish horizon.
DX vs FX
You can choose whether you want to use an FX or a DX frame for video shooting. The FX frame more or less uses the full width of the sensor, which is then scaled down to the selected video resolution. The DX frame uses the middle part of the frame, equivalent to an APS-C sized sensor. On some of the HFR modes only the DX mode was available.
In general, you'd think that FX would be better if it's available. But DX mode lens itself to improved brightness and general picture uniformity across the frame, particularly when using one of Nikon's F-Mount lenses and an adaptor. Remember, for some time to come there will be more lens choices from Nikon's existing range than the new Z-Mount range.
I'm told that a firmware upgrade is coming which will allow RAW video output to external recording devices.
Back to still photography: JPEG and Nikon's version of RAW – in 12 or 14 bits – is available for the format. The media is not SD. It's XQD. These are cards with significantly more capacity and speed than available from SD, at the cost of a larger body. They are just under 40mm by 30mm by 4mm thick. The format is designed to support capacities of well over 2TB. The card supplied with the camera (for review purposes – you'll have to buy your own) was 32GB in size.
Controls
The Nikon Z7 has a still photo mode dial at top left, with three user-configurable positions. Choosing between still and movie modes is on a separate switch to the top rear. Choosing between timed shots, single and burst modes is under another button at bottom right. You perform manual setting of shutter speed, aperture, ISO and exposure compensation with dials on the right front and right back of the body. There's a mini-joystick of doing things like adjusting the point of focus. But you can also tap on the touch-sensitive monitor to position that point.
There are several focus modes, including 493 points of multipoint. You choose manual focus via a switch on the lens.
On the top right is an LCD panel showing useful information. The XQD card door is on the right (only one card is supported). The 14Wh battery slides into the hand grip. It's rated at 330 shots using the viewfinder and 400 using the monitor, and 85 minutes for movies both ways. But all that depends, of course, on the various settings. The battery can be charged in place or in the included battery charger.
On the left side is a HDMI output, a USB Type-C socket for charging and photo/video transfer, a headphone output, a microphone input and a port for certain Nikon accessories. The Nikon Z7 also supports Wi-Fi and Bluetooth.
In Use
As usual, with a full function camera you can expect to find yourself ascending a fairly steep learning curve. That said, anyone with experience with a modern DSLR or MILC (mirrorless interchangeable-lens camera) should find no real difficulty.
It's generally a good idea to at least glance through the manual before you head out to take photos of a multicultural festival. I didn't.
Still, the only wobbles I had were when I was trying to set the shutter speed in shutter priority mode. I was thumbing the rear wheel and nothing was happening. It turns out that for that one you have to use the front wheel, not the rear one. Likewise, when attempting to choose between single and burst modes, the arrow keys did nothing. Ah, you use the rear thumb wheel for that one!
So, for me there were only a couple of familiarisation wobbles. After that, the camera could be used at any level, as easily as a point and shoot compact, or as carefully and slowly as circumstances demanded. Auto focus was fast and sure. I mostly used the rather versatile Nikkor Z 24-70mm F/4 S zoom lens. By default, with auto focus on I could half-press the shutter release to set focus, and then finely adjust it manually using the wonderfully smooth adjustment on the barrel.
The rear monitor folds out to 90 degrees for viewing from the top, and 45 degrees for viewing from below, always useful for taking photos in real-world circumstances.
Files and transfer
I started to do my usual speed check on transferring photos from camera to computer via the USB Type-C connection, and it proceeded at quite a leisurely pace. At which point, I quite lost confidence in what I was doing. It took 17 minutes and 20 seconds to transfer 22GB of content, consisting of 331 files. That's slow (less than 22MB/s).
But the specifications of the camera clearly say "Type C connector (SuperSpeed USB); connection to built-in USB port is recommended". Which means that the transfer should be at something well in excess of 100MB/s. It was at that point that I paused writing this review to investigate my USB Type-C cables. It turns out that all the cables I had to hand were only rated for USB 2.0, USB 3.0.
Unfortunately, Nikon suddenly announced that it needed the camera back, so I didn't have time purchase a new SuperSpeed+ cable before the camera disappeared on me. I'm going to assume that it's fast. You shouldn't have that problem. The camera is supposed to come with a suitable USB cable. It was missing in the review one.
By default, the picture-taking format is set to full resolution "normal" JPEG mode. That gave pictures of around 10-12MB in size. You can choose the "Fine" setting. That pushes it up to around 24MB per picture. There are several RAW options. The one I settled on typically used just under 70MB per shot.
Photos
What can I say about the photos produced by this camera? Oh, so natural. Oh, so detailed. I really am in loved with the detail provided by 40+ megapixel cameras. The give you so much more flexibility when it comes to post. You can crop down to a tiny proportion of the original image, and still have a better result that typically provided by a phone camera.
What follow are a few photos I took, fairly carelessly, handheld and opportunistically. Canberra was having its annual February multicultural march, preparatory to the evening festival. I was at the staging area.
Multicultural festivals certainly are colourful. The camera clearly had no difficulties with that:
But let's zoom in on a detail on the yellow dragon. Sharp, yet smooth, despite being cropped down to around 7.3% of the original resolution:
Nice bokeh behind the subject. It allows the central character to pop, to be the point of the image:
Whites and blacks. The shades on the dress are smooth and accurate, but the detail on the black garb remains fine: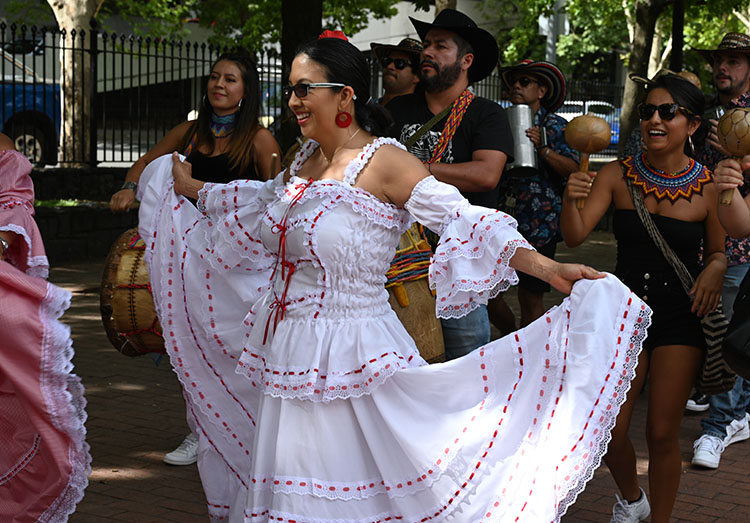 A change in pace: the geometry of an apartment block is captured as well as colourful marchers:
Only a couple of hundred metres from the drums of the marchers, a mistimed wedding was being conducted. I sneaked a shot from a very long way back:
Cropped down, it's nowhere near good enough for the wedding album. But as spy shot, well …
Conclusion
Nikon is on a winner here with the Nikon Z7. And if it's a bit too pricey for you, consider the slightly more affordable Z6. The resolution is lower (24 megapixels) and a couple of features a missing, but it's also a couple of thousand dollars lower in cost.
The website for the Nikon Z7 is here.
Superb performance
Wonderfully high resolution
Easy to handle
Too pricey for many of us