Time was that the Nokia 5-series was four steps up from its 1-series three steps down from its 8-series – a cut above average! But the Nokia 5.4 2021 is a mix of specs that are outclassed by others in this price bracket. Its a good phone with serious competition.
At $329, the Nokia 5.4 2021 has landed smack in the middle of the latest red-ocean. Motorola is fighting it out with the excellent g9 Play (late 2020, $299 review here 9.6/10), OPPO is on the offensive with its A53/s (2021, $299/329 review here 10/10), vivo is punching above weight with its 'workers phone – the 5000mAh 128GB Y20s (review here 8.8/10) and Samsung has the new A12 ($299) and A21s ($329/349).
It is not a great place for Nokia to land a killer punch.
To put the Nokia 5.4 2021 in perspective
Qualcomm SD662
4G modem dual sim
4/128GB (99 free)/dedicated microSD card to 256GB
6.39" 1560×720 LCD
Wi-Fi N, BT 4.2, NFC
48+5+2+2MP camera and 16MP selfie
4000mAh and 10W charging
Android (2 years OS upgrades and three years security patches)
2-year warranty
Website here
$329 for Polar Night or Dusk Purple from Nokia online, JB Hi-Fi and other reputable bricks-and-mortar stores
Country of manufacture: China by Foxconn
Nokia is a smartphone brand owned by HMD Global in Espoo, Finland. Many ex-Nokia executives run it. Microsoft previously owned the brand from 2014 to make Windows Mobile handsets. The .4 series are the fifth generation under HMD.
I have the greatest respect for Nokia and my unabashed admiration for what they are trying to do. But the Nokia 5.4 2021 seems like it sat in stasis for the past 12 months! This is the 5th generation 5-series, and it does not class-lead in any aspect. Don't get me wrong – it is still a good phone but sorely outclassed.
Australian review: Nokia 5.4 Model TA-1337 DS 4/128
It is a nice phone – Dusk Purple (kind of lilac with a faux ribbed painted pattern on the back) – it is a fingerprint magnet. A fingerprint reader (where it should be) and a camera 'circle'. It is an all-plastic body and frame.
But it seems, at least externally to be little different to the Nokia 5.3 reviewed July 2020 8.6/10.
Screen – 6.39" 1560×720, 269ppi, 19.5:9 LCD
#1 regret is a 720p screen, not particularly bright at 400 nits (claim).
So much so that we tested it. All tests are on battery power. It is more like 300 nits with its automatic exposure pushing 375 nits in direct sunlight. Contrast maximum is 1050:1. Colour gamut (claim) is 70% NTSC, but we could only get 84% sRGB (should be well over 90%). Delta E (colour accuracy) is 6.4 (below 4 is good). It is scratch resistant (claim) and comes with a plastic fitted screen protector. It does not specify Gorilla or any other toughened glass. The screen will stream Netflix at 1280x720p.
Overall, it's a serviceable screen because you don't expect more for the price.
Processor – Qualcomm SD662 11nm
GeekBench 5 single/multi-core gives it 314/1393 which puts it on a par with the SD665 found in the Nokia 5.3. To put that in perspective it is about 10% slower than a Samsung Galaxy S8 circa April 2017.
RAM is LPDRR4X, but the storage is the slower and cheaper eMMC flash memory. It does tend to stutter on multitasking. It is for casual games use only.
CPU Throttle is minimal. Max 157,010 GIPS, Average 150,415 and 10% loss of performance over a 15-minute test. However, the CPU reached 92°, which is quite hot for an 11nm SoC and external temperature hits 40°. That is an improvement over the Nokia 5.3 that reaches 97°.
Comms
#2 regret. Wi-Fi 4 N is single 2.4Ghz band. At two metres from the reference Netgear Nighthawk AX router it gets -4dBM (strong) but only 96Mbps data transfer. It does not have the 5Ghz band.
#3 regret – BT 4.2 so no multi-point connections and a fairly limited range
NFC – Yes
GPS – single band
#4 regret Sensors – the combo Accelerometer and gyroscope means screen rotation is very touchy – turn it off unless you love landscape mode! It has ambient light and rear fingerprint sensor.
The 2020 Nokia 5.3 has Wi-Fi AC!
4G – city/suburban use only
It has bands 1, 3, 5, 7, 8, 20, 28, 38, 40, 41 – fine for Australia. It has a dual-sim and separate ring tones. The separate microSD is great. VoLTE or Wi-Fi calling depends on your carrier. The reception is poor at -106dBm/20.8fW (almost unusable in the 3-bar test area). Nor did it find other nearby towers.
It was also unusual that it locked firmly to Band 3 instead of Band 28 that every other review phone uses so far. A complete factory reset fixed the issue. It was -102/63.1fW on band 28 – still very average. Data transfer on Band 28 DL/UL was 18.8/9.7Mbps/54ms. This is not a fast internet phone.
#5 regret – We also noticed that the signal strength reduces when you hold it closer to the phone's top. We suspect the Qualcomm shared Wi-Fi/LTE antenna is the cause.
Battery – 4000mAh and 5V/2A USB-C charger
First, the charger may use a USB-A to USB-C cable but neither it nor the device, are USB-C PD standard. In simple terms, USB-C 2.0 looks better than micro-USB. The charger delivers 5V/1.753mA (Power Z-Meter) and takes about four hours for a full charge. Using a higher amperage PD makes little difference.
Tests
Netflix (screen 50% and Wi-Fi) – 13 hrs
Typical office use – 12 hrs
100% load – 3.4 hours
GFX Bench Manhattan (3.1) 350 minutes and 1644 frames
GFX Bench T-Rex 359 minutes and 2847 frames
Battery discharge idle screen on 400mA
Nokia claims it is a two-day device, but that is with light use. The 11nm SOC should have lower battery use than the Nokia 5.3.
Sound
It has a mono top earpiece and a bottom down-firing speaker. Twin mics assist in hands-free use and offer limited noise cancellation. And the 3.5mm combo jack is nice. Volume was 75dB Media, 50dB earpiece, 80dB ring, and 75 Alarm – all within spec. Being mono, it does not have a recognisable sound signature (bass-heavy), and there is no sound stage. We tested with BT 4.2 (no multi-point), supporting SBC, AAC, aptX/adaptive and LDAC. These must be selected from Developer options; otherwise, the phone defaults to SBC.
Build
It is all plastic – back, frame and the protective front screen overlay. While that is typical of phones in this bracket, we began to see signs of wear on the rear camera ring. That is typical of resting it on a harder surface – in my case, an etched glass desk.
In the box
TPU protective case
5V/2A charger and USB-A to USB-C cable
Standard 3.5mm buds
Android
Nokia is one of the few 'pure' Android users offering two years of OS upgrades (it is currently Android 10 and security update 1 January 2021) and three years of security upgrades. This is perhaps the strongest reason to buy Nokia.
Camera
The rear has a quad-camera – 48MP main, 5MP ultra-wide, 2MP macro and 2MP depth. The front camera is 16MP. The key difference to the 5.3 is that it was a 13MP – and the 48MP bins down to 12MP in use. It has an f/1.7 aperture and .8um pixels (bins to 1.6um) and a 68° FOV (quite narrow). Video is 1080p@30fps with EIS.
The 5.3 front camera was 4MP, but this is a 16MP that also bins to 4MP in use. It too has a narrow FOV at 65.4°, f/2.0 and 1um (bins to 2). So, let's not get carried away with MP. As Nokia will not allow diagnostic software to discover the sensor brand/model, we cannot assess sensor quality.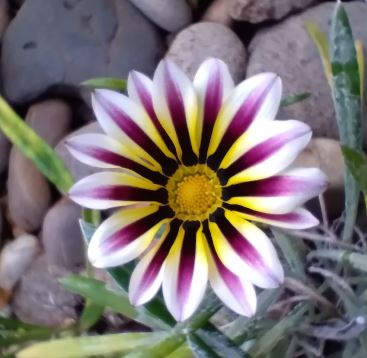 Video
OZO audio improves the audio capturing immensely. 1080p@60fps and 1080@30fps EIS is al you can expect.
Selfie
16MP (binned to 4MP) selfie camera is a big improvement in image quality over the 5.3.
GadgetGuy's take
The Nokia 5.4 is a capable phone, and the camera upgrade from the 5.3 makes it worthwhile.
Those regrets
Reading the Nokia 5.3 review, I now see that it has some higher specs than the 5.4 – hence you will note my regrets. As stated it's a good phone, but somehow – let's blame COVID – Nokia was left behind in the tech race. For Nokia enthusiasts (and I am one) buy it for pure Android and don't try to compare it to others in this price bracket. Where I expect some unique Nokia style and even Finnish quirkiness I got none – it's a purple glass slab. In my not so humble opinion, this is where Nokia has gone wrong recently.
Rating – Nokia 5.4 2021
The 5.3 scored 8.6/10, and with the regrets, we have to mark the 5.4 down from there. It still passes all our tests.
A good camera but otherwise average specs in a very crowded market.
Positives
Nokia is a brand that deserves to succeed
Good camera with decent low light ability
Negatives
Outclassed by others in this price bracket