The second of Nokia's new Windows-powered smartphones is the Lumia 710, a small handset offering damn near identical horsepower to the premium Lumia 800, albeit in a less expensive package.
Features
While the Lumia 710 is aimed at a more budget-friendly price tag than its one-piece Lumia 800 brother, the technology inside is very similar. In fact, it's almost identical.
The Lumia 710 takes advantage of a 1.4GHz single-core processor, 512MB RAM, and Adreno 205 graphics chip – exactly what's inside the Lumia 800. They both run on the latest 7.5 version of Windows Phone, also called "Mango".
Screen size comes in at 3.7 inches with 480 x 800 resolution, identical to the Lumia 800.  Ditto Corning's scratch-resistant Gorilla Glass and Nokia's "ClearBlack" display technology.
About the only differences separating the two Lumia handsets involve storage capacity, screen type, cameras, and body construction. The Lumia 710, for example, offers regular LCD screen instead of the AMOLED found on the Lumia 800, a body made of several parts, and a replaceable battery. It provides 8GB of storage compared to the 800's 16GB, and a 5 megapixel camera with flash instead of the Lumia 800's 8 megapixel.
Unlike the 800, the 710 has a totally unremarkable design, and the Windows Phone soft buttons present on each device – back, home, and search – are physical buttons on the Lumia 710. Adding to these physical buttons are the few that we did see on the 800, including  a volume rocker and camera button on the right, and a power button up top. The micro USB and 3.5mm headphone ports are located here too.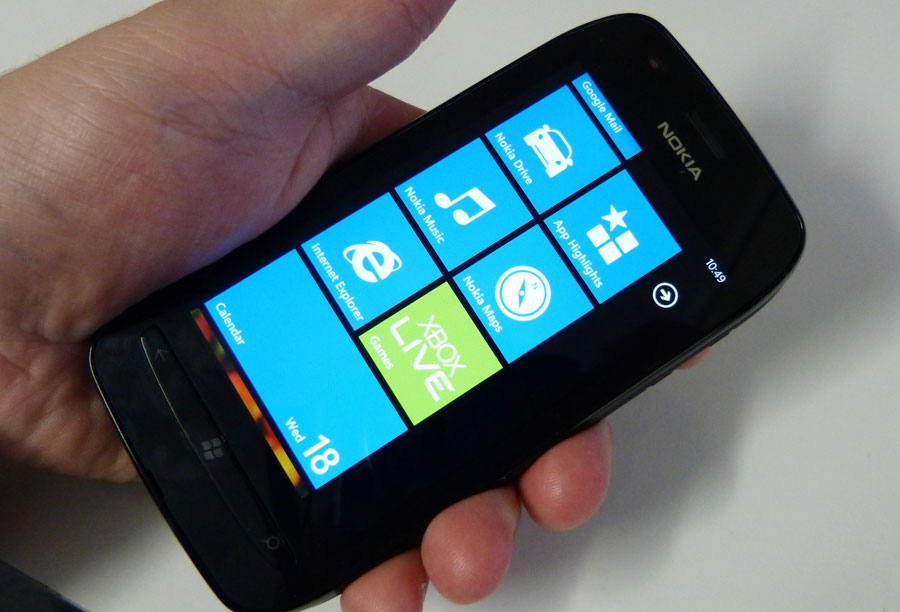 Other than that, the 710 and 800 are pretty much the same, with GPS included, WiFi 802.11 b/g/n, Bluetooth 2.1 with A2DP, micro USB port, micro SIM slot, and a maximum downlink of 14.4Mbps over a 3G connection.