We've all been in a situation where our phones have started to run out of charge, and we start to panic, but wouldn't it be great if you always had a phone charger where ever you went, like on your keys?
Acting as the solution for that highly possibly hypothetical, the Nomad ChargeKey may be one of the most useful mobile accessories we've ever seen, making it easy to always have a charger with you where ever you go.
Designed to sit on the same loop as your car and house keys, the ChargeKey is just that: a key-sized USB dongle that executes in either an Apple Lightning dock or the standard microUSB port that non-Apple devices charge with.
There isn't a lot to the tiny cable, with a flat rubber section connecting a thin plastic full-size USB connector to the phone connector, the cable sitting inside the rubber, while a small key loop allows you to stick this on the same rings you use with your keys.
Using it literally requires you to plug one end into a phone, and the other end into a spare USB port, whether it's from a USB charge plug, a computer, or even one of the power boards with USB ports built directly into them.
Essentially, that's all you need to do, and the Nomad ChargeKey is a tiny pocketable charge cable, making it easy to boost the life of a smartphone provided you're within range of a USB port, which for many of us is pretty often.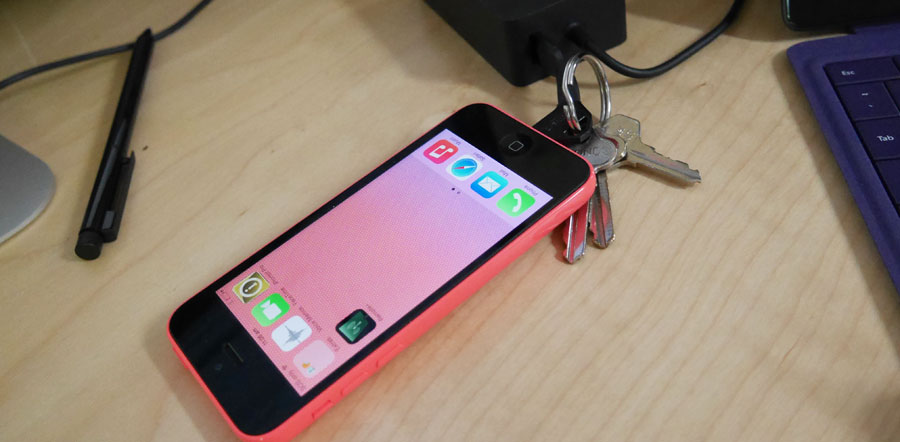 Most people don't carry around extra phone chargers, relying on the ones at home, and the hope that a smartphone battery is going to stay alive all day, but it doesn't always work out that way.
We've heard of many angry iPhone 5 owners who have discovered weaker battery life upon updating to iOS 7, and there are plenty of other devices that can't last an entire day. Sure, some can last longer, but others you may struggle with.
With a price of under $30, the ChargeKey sounds like an idea that most people would want to keep with them, especially since we all have keys, and we all have phones, and we all want to have a way of keeping them charged at all times.
We'd like to see the ChargeKey a bit longer on the cable, as it leaves your phone pretty close to the USB port right now, and we're curious to see if the dongles survive over time.
Still, it's a neat idea, and one we really like, especially if you rely on charging your device frequently.
Those of you who still rely on the older iPod dock connector will want to see it in the "ChargeCard" which takes the same idea, but implements it in a credit card form factor you can keep in your wallet (though microUSB and Lightning dock exist on the ChargeCard too).