If the idea of an SLR-inspired compact has your attention, but you don't want to spend more than a grand, Olympus has a new one in the mix, and from our early hands-on, it's a lovely little camera.
Joining the digital OM family in March is a compact that takes off some of the weight from previous models, while keeping quite a bit of the tech in, and shedding a few dollars in the process.
Named the E-M10, Olympus wants this to be its "premium compact interchangeable lens camera," which given some of the specs, we can certainly see happening.
To make this camera, Olympus is taking some of the tech seen in its previous mirror-less cameras, and throwing it into a smaller body, made of metal and textured in some sections with a feeling of leather.
There's no weather-proofing here like on prior OM-D models, but we're told this is even smaller than Canon's 100D, which impressed us last year, and manages to be one of the smallest digital interchangeable lens cameras available today.
Olympus isn't changing much from the E-M5 in the imaging department, with the same 16.1 megapixel LiveMOS sensor from that camera, while the imaging sensor is taken from the E-M1. With both of these parts on board, the E-M10 will shoot up to 8 frames per second with low-light sensitivity rated from ISO 100 to 25600, though 6400 is native.
We've reviewed both of these cameras in the past, and each are excellent, so it's good to see that the E-M10 will likely be solid in the quality department, too.
Still, with a pre-production model in hand, we figured we'd test it ourselves, dialling up the sensitivity to test out noise at both ISO 3200 and 6400.
Outside of the image quality, Olympus is keeping some of its art modes as well, including the story mode, which encases multiple images inside frames with some of the art effects working on said images.
Another feature missed out by the higher premium models will be one likely to appeal to owners of these cameras, and that's a mode called "live composite mode" which will stack images shot automatically over a period of several hours and create long-exposure RAW or JPEG files with only the changes registered.
This neat feature will likely appeal to photographers who love shooting the skies at night, and while we're keen to see it on the E-M10, we're checking with Olympus to see if it will ever be rolled out over a firmware update to the other OM-D models already released.
And if you've ever criticised Olympus for not throwing a flash in its mirror-less interchangeable lens cameras in the OM-D range, the E-M10 will be the first in this series to get them.
We even have a great reason as to why there was a pentaprism in the design, but no flash, and that's because the pentaprism was, apparently, the perfect location for the 5-axis stabilisation sensors.
With that much technology inside, we've been told there wasn't enough room for a flash in either the E-M5 or E-M1 cameras.
But in the E-M10 being announced this week, the stabilisation technology has dropped a couple of pegs, moving from 5-axis to a 3-axis model. With this drop, the technology is smaller and can accommodate a flash sitting around it, which is why this particular camera houses a flash, and the others do not.
There's also a new lens for the kit, with a 14-42 that fits all of the elements in a slim profile that many in the photographic world refer to as a "pancake" lens.
This new lens is very small, and reminds us more of a compact camera, but is motorised, which helps Olympus keep it this small. There's also a manual focus ring at the front, which keeps the camera and lens feeling like a piece of yesteryear.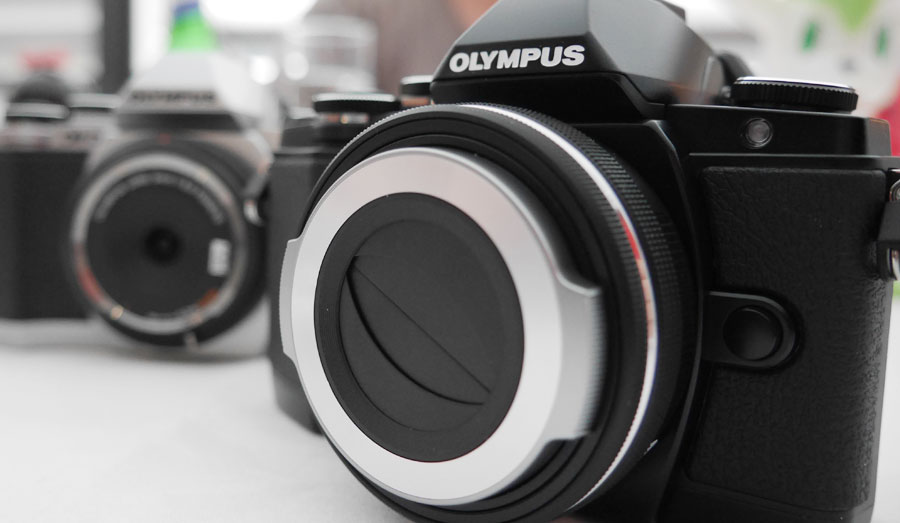 A slim lens is only part of the package, though, as a new style of lens cap can be bought separately for this.
The Automatic Opening Lens Cap has a pretty obvious name, but as you'll see from the animated picture below, makes it really easy to protect the lens by opening and closing for you when the camera turns on and off.
It'll come in at around $40, but this specialty lens cap fits over the front of the new 14-42mm and based on the retraction of the lens, will either open or close.
The 14-42mm is set to F3.5-5.6, and will be joined by a new 25mm F1.8, which is a much needed lens and essentially provides a low-light 50mm equivalent from the SLRs.
Pricing for these lenses will come in at $499 each, with black or silver available for either, while a new 9mm body cap fisheye lens (shown above and demonstrated below) will also be made available for $139, for people keen to get their feet wet with a bit of wide-angle goodness.
Meanwhile, the Olympus OM-D E-M10 will hit stores in March for a recommended retail price of $999 with a 14-42 lens, available in both black and silver.