The OPPO A91 is a $499 phone with the lot. That is a little strange as the A-series is a mass-market device and you expect some compromises. You don't expect a 6.4" AMOLED screen, 48MP Quad rear camera, NFC, Wi-Fi AC, 4000mAh battery with blazingly fast USB-C VOOC Flash Charge 3.0 – no you don't.
Now, the sub $500 market is where all the 4G action is. The OPPO A91 faces some stiff competition – from the terrific realme XT (OPPO made – GadgetGuy review here); Motorola G8 Plus (GadgetGuy review here and now $447); and the Samsung Galaxy A70 (GadgetGuy review here $649 but on sale at close to $500).
We would include the Nokia 7.3 2020 model (not yet released and the 7.2 only scored 4/5 in our GadgetGuy review here). Similarly, we have not seen the TCL 10L ($499) that won't be here for a few months and does not have an AMOLED screen.
OPPO A91 Model CPH2021_EX_11_A.23 Dual Sim, 8/128GB
We issue the standard warning that you must not ignore
Do not buy it online from any other store that promises 'Australian stock' unless it specifically has the much-needed LTE band 28, NFC, comes with a genuine Australian OPPO VOOC 3.0 charger and has the Australian C-tick symbol on its regulatory page. Specifically, not models PCPM00 or PCPT00
First impression – OPPO A91
Lightening Black – I am not sure if OPPO meant to spell it that way. Lightening means lessening or reducing weight. Lightning means a flash of light in the sky or speedy/fast. Either way, it is gloss piano black with a slight prism highlight. It is a fingerprint magnet. I have not seen Blazing Blue, but I guess it is also a high gloss blue.
What is most apparent is the quad camera and dual-LED flash. The centre teardrop screen is AMOLED, and it is gorgeous – we will look at that later. It has a small chin and narrow side bezels.
And it is thin and light – 7.9mm and 172g – very pocketable.
Overall, it is comfortable to hold, looks subtle and premium – I like it.
AMOLED on a $499 phone – shut the front door! EXCEED
AMOLED has a special place as the best screen type, bar none. This is a 6.4", 2400×1080, 408ppi, 90.7% STBR, 20:9, 60Hz with a typical brightness of 430nits and OLED's deep black – infinite contrast. It well exceeds that at peak auto-brightness and is daylight readable.
Our test gear is locked-up, so you will have to take our word for it. The screen defaults to bright white and is adjustable from cool to warm white. There is no colour gamut adjustment – and we don't expect that – but we estimate it is over 95% sRGB and looks quite accurate.
It has Gorilla Glass 5, under glass Goodix Fingerprint reader and an Always-on-Display setting. This screen uses DC 2.0 dimming instead of PWM and gains TUV certification for eye care.
The screen/GPU supports Widevine L1 for HD videos from Amazon or YouTube etc.
Our test software shows it is an OP3B9B screen – that is not a normal Samsung screen code – so we assume it is from one of the newer Chinese OLED makers.
Processor – PASS+
12nm MediaTek MT6771V/CT Helio P70, Eight-core (four-core, Cortex A73, 2.11 GHz/four-core, Cortex A53, 2Ghz).
It is a very popular mid-range chip with over 55 brands/models/variants. Used by Motorola One Macro/G8 Play/G9 Play, Vivo S1/V15, OPPO Reno2F/Lite/A9/A11/F11/F15 and realme U1/3/4. The nearest comparison is a Qualcomm SD660 – Helio P70 has a few advantages over that.
GeekBench 5 (single/multi-core 278/1409) is like the Samsung S8 series. Compute is 1123.
It is not a powerhouse, but when married to 8GB LPDDR4X-1800MHz dual-band memory, it provides smooth performance and multi-tasking capabilities. It has 128GB (104 free) UFS 2.1 (fast) and dedicated microSD slot to 256GB. It also supports OTG to 2TB.
CPU Throttling – EXCEED
We have mixed success with MediaTek and throttling. Some brands throttle badly due to poor heat dispersal, and some are fine. For example, the Motorola One Macro immediately throttles to 80% – that is a design feature, but it means you are buying a four-cylinder car that really operates on three. However, only power users would know.
But the OPPO A91 is very good. It starts at 154,284GIPS and averages 144,409GIPS about 97% of its potential.
Mali-G72 MP3 900MHz GPU – PASS
It is not gaming-focused like the Helio G-series, but it will play most mobile games. OPPO provides HyperBoost 2.0 Plus (improved app opening speeds and minimises battery drain) and GameBoost 2.0 (improves frame stability by 35.8% and touch control performance by 35.2% over a Helio P60).
One cute feature is Gaming Voice changer that changes it to the opposite gender.
The primary role of the GPU is to drive the screen and to supply Depth sensing/HDR/face detection and AI for the camera. It supports OpenGL ES 3.2 v1, encodes H.264 as well as decodes most popular video types including HVEC/H.263/4, VP8/9
Battery – PASS for capacity and EXCEED for charging
It is a 4025mAh battery – well it is actually 2x2012mAh batteries in parallel – OPPO's secret VOOC sauce.
VOOC 3.0 means there are 2 x 5V/2A chargers (5V/4A/20W) in the one wall charger. It uses a unique green-tipped VOOC USB-C cable. You can use a standard charger, but it takes twice as long.
Charge time is 10% in just 5 minutes, 50% in 30 minutes and a full charge in less than an hour. Battery temperature never rises over 31° – excellent.
Test
All functions on and heavy use – 10 hours
Video loop 50% screen brightness and aeroplane mode: 13 hours
Battery drain 100% load 5.5 hours
T-Rex (unable to run)
Discharge at idle 350mA meaning up to 15 days standby
Over a week, we had at least 30% of charge left at night and went for 48 hours of light use without a charge.
All its missing is Qi charging that you do not expect at this price.
Comms
Wi-Fi AC, dual-band, 1×1 MIMO – PASS
Signal strength is good at -27dBm. It achieves a maximum of 433Mbps – some devices have 2×2 MIMO and can achieve 866Mbps.
BT 4.2 LE – PASS
Standard for this type of phone.
Sensors – EXCEED
We are impressed that it supports a full set of sensors (an area usually ignored on mass-market phones), It has an accelerometer (step detector), gyro (also for game rotation), gravity, proximity, eCompass and ambient light.
NFC – EXCEED
Our test software shows ST21NCF secure NFC controller, yet this is not on any publicity or specs, and other international models do not support it. There is an NFC setting under 'Other Wireless Connections, and it supports Google Pay. Remember only the genuine Australian model supports NFC.
GPS – PASS
It is a single band. Accuracy is under 10-metres and speed is suitable for turn-by-turn navigation.
3/4G – PASS
Dual Sim and both support VoLTE and VoWi-Fi.
LTE bands: 1/3/5/7/8/20/28, 38, 40 and 41.
It supports 4CA and Cat 7/13 DL/UL.
Signal strength was good (-87dBM in a three-bar zone) and it found the next nearest tower at -97. It is fine for the city and regional town use.
Sound – PASS
It has a mono earpiece and a down-firing mono speaker. We do not test sound signature on mono devices, Volume is
Ringer: 83.2 (excellent)
Music: 79.2 (excellent)
Voice: 74 (average)
Handsfree is OK – it has two mics, but the volume is average.
BT supports SBC, AAC, MP3, OPUS (LDAC) and it is perfect via our reference Sony WH-1000xM3 headphones. It provides sufficient gain (volume)
The 3.5mm buds are 'average', but the analogue signal is clean and strong and supports cabled headphones with plenty of volume. The buds are also the antenna for the FM Radio.
Build – PASS+
Back: ink-ribbon printing technology, which uses a seven-layer ribbon over plastic
Polycarbonate frame
Gorilla Glass 5 front with pre-fitted plastic screen protector
No IP Rating
The camera bump on left rear top makes it rock if you type on a table – the bumper cover fixes this
Comes with clear bumper cover and OPPO standard buds/mic.
Android – PASS
Android 9 with Colour OS 6.1.2. It has the usual Google app and OPPO equivalents for its home market. It has Google Assistant, Lens and more.
OPPO is pretty good in sending out security updates, and it had February 2020. OPPO does not generally update the OS (only on flagships), but we understand that Android 10 may be coming soon.
Its in-Display Fingerprint 3.0 is one of the best I have used unlocking the phone in just 0.32 seconds. It uses fill-in light and the latest anti-fake hardware technology. Face ID is also better than expected.
OPPO A91 Rear Camera – EXCEED
48 MP, Samsung S5KGM1 (binned to 12MP), f/1.7, 26mmm 68.2° FOV, 1/2.0″, 0.8µm (binned to 1.6um), ISO 100-3200, PDAF, 6P lens
8 MP, Hynix/hi846, f/2.25, 13mm, 119° FOV (ultrawide), 1/4.0″, 1.12µm, 119° FOV, 5P Lens. Also acts as a 3-8cm Macro lens with Autofocus
2 MP OV02A1B (or GalaxyCore GC02M056), B/W, f/2.4, 1/5.0″, 1.75µm (mono), 3P lens
2 MP, OV02A1B, f/2.4, (depth), 3P lens
Features:
5X digital zoom auto-selects a lens
1080@30fps Gyro EIS
Dual LED Flash
HDR
Modes – photo, video, professional mode, panorama, portrait, night scene, time-lapse photography, slow motion and more
Front Camera
16 MP, Samsung S5K3P8, f/2.0, 26mm, 65.6° FOV, 1/3.1″, 1.0µm (2.0 equivalent), ISO 100-4800, FF, 720@30fps
Face ID
No flash
HDR
Beautification technology on the front and back cameras which uses effects based on 137 facial points. It can also handle the same effect for up to four people in the same photo.
A note on binning
48MP may sound significant, but it is a 12MP finished shot (you can shoot in 48MP). Binning is what Google Pixel uses and means instantaneously shooting a bracket of shots and letting AI select the best pixels. OPPO has nailed this producing some of the best binned and RAW 48MP shots as well.
Gyro EIS
By combining EIS (Electronic Image Stabilization – basically auto-cropping/straightening based on horizons) with intelligent technology and an internal gyroscope, the A91 provides shake-free video even if you are walking, running or riding in a vehicle.
Ultra-Night Mode 2.0
Uses HDR plus multi-frame shots and works on primary and wide-angle lenses. It post-processes to increase brightness, keep primary colours reasonably accurate and reduce flare. It really works well.
AI scenes
Dog, portrait, baby, fireworks beach, landscape, documents, cat, dancing light, multiple portraits, macro, against light, moire pattern, pure colour, green plant, flower.
Outdoors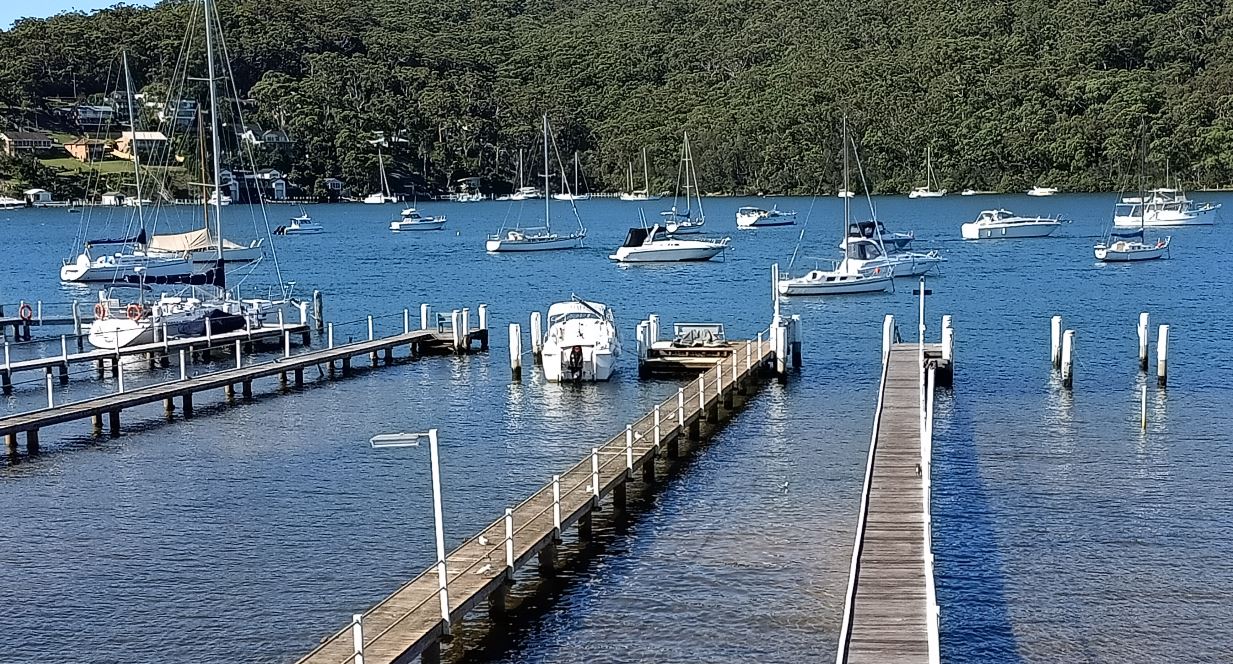 Indoors – office light 400 lumens
Low light <50 lumens
Camera Summary – far better than others in its class
For the review I used the OPPO A91 as my 'daily-drive' – yes it is a comedown from the excellent Samsung Galaxy Note10+ (GadgetGuy review here) that I normally use and love. Putting the stylus (that I use as a journalist), Qi charging (that I always use) and 4K recording (that I never do) aside this phone does everything I need and frankly, I am worried.
It is called cognitive dissonance. How can a $499 phone do everything a $1699 one does? Well, it does everything as competently and I would be quite content to have it in my pocket. Then I said that about OPPO's excellent Reno Z and Reno2 Z too.
One area that it particularly shines is the camera. Comparing the reference shots there is not a lot between them. And I like OPPOs fascination with AI. For starters (and you will never see the shots) its beautification mode makes this craggy old visage tolerable – yes! Its macro mode actually works. And best of all it does most things automatically – selecting the right lens for the job.
So in the COVID era where food, shelter, alcohol and toilet paper should take precedence – essentials – consider the OPPO A91 an essential and stop being a brand snob.
GadgetGuy's take – OPPO A91 is a no-compromise mass-market phone
AMOLED screen, quick charge, a great camera, 3.5mm port, and OPPO build quality.
In reality, the only other direct contender is its almost twin brother – the realme XT. Because it is available online only from JB Hi-Fi it has a slightly larger 64MP (binned to 16MP) quad camera and uses a Qualcomm SD712. You would be happy with either.
From what I see it is the best value, most fully-featured, $499 phone that you can go and buy today. To get better value, you would need to spend $599 for the OPPO Reno2 Z or the Samsung Galaxy A51 (not reviewed) so its really a case of what do you want to spend.
Picky people will decry any MediaTek Helio processor, but they are a valid competitor to Qualcomm and OPPO has nailed heat management.
Positives
AMOLED at this price - yes its good
VOOC 3.0 fast charge in under 1 hour
Way better than class camera
OPPO quality and support