Smartphones keep getting bigger, but they're also always in an effort to get slimmer, and a new pair on the way from Oppo offers both in spades.
The name "Oppo" might mean more to you than just a name for quality Blu-ray and home theatre gear in the future, if their phone division has something to say, which it does.
This week, the brand showed off two phones that it plans to have in Australia in the next few months offering big screened smartphones in bodies that are made to feel as thin as possibly could be.
The mobiles being announced are the Oppo R7 and R7 Plus, two smartphones that fit in Oppo's "R" series, which saw a launch last year with R5, a phone that claimed the title of the world's thinnest handset, with a thickness of 4.85mm.
As a comparison, the Samsung Galaxy S6 Edge measures 7mm thin, while the Apple iPhone 6 comes in at 6.9mm. Oppo's R5 manages to trump both by a good two millimetres (hard to believe this is actually a comparison angle, but it's true), and does so by ditching something that was in its way: the 3.5mm headset jack.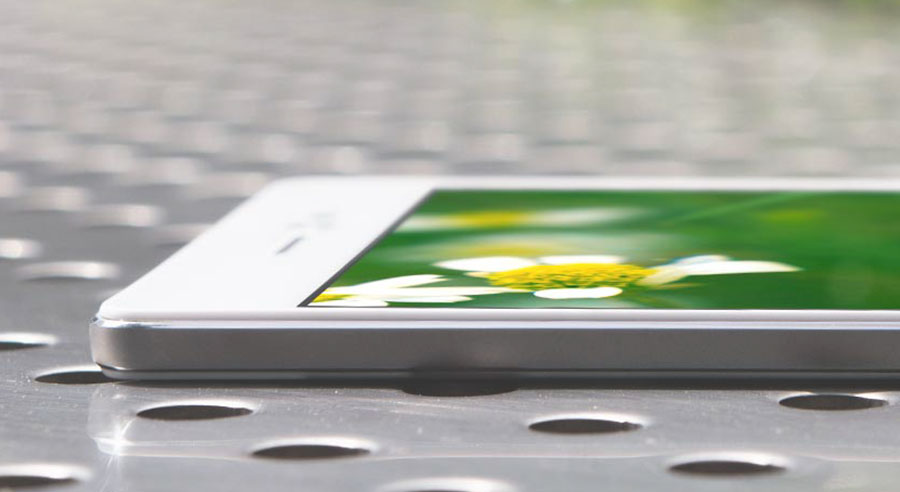 You read that right: the Oppo R5 lacks a headset jack, relying on a connection through the microUSB port or over Bluetooth, with no standard audio jack found on the smartphone.
We'll have a review on the R5 soon enough, but for now, the talk is on the R7 and R7 Plus, two phones that despite being in the same series, will include the headphone jack, returning the concept to the R range.
From a technology point of view, the hardware looks to be similar between the R7 and its R5 super-slim sibling, offering an octa-core Snapdragon 615 processor, 16GB storage, and 13 megapixel rear camera. Where the R7 changes things up is with more memory (3GB against the R5's 2GB), an 8 megapixel front-facing camera (instead of 5 on the R5), and the ability to upgrade the storage with a microSD card slot, because 16GB is rarely enough for phone owners.
Aside for the specs, the R7 will also arrive with a 5 inch Full HD AMOLED touchscreen protected by Corning's scratch-resistant Gorilla Glass 3, with Google's Android 5.1 "Lollipop" arriving out of the box.
And just to make things interesting, this will be a dualSIM device, offering 4G and two SIMs, ideal if you're going-a-travelling.
A bigger phone will also be made available with very similar specs — pretty much identical beyond the screen, actually — in the Oppo R7 Plus, providing very much the same template as the R7 but with a 6 inch Full HD display and a massive 4100mAh battery, compared to the 2320mAh on the regular R7.
Aside for the specs, Oppo is going for a very minimalist design, and while the R7 and R7 Plus aren't designed to be as thin as their R5 brother, the design is more or less a screen against a magnesium-aluminium unibody designed to be solid and painted with very small particles of zircon sand.
We're told that over 90 percent of the body here is metal, which in turn allows the chassis to act as an antenna.
The glass that does is obviously on the front, and Oppo has included a 2.5D curved screen, which means the edges of the screen curve slightly around the edges.
As far as we can tell, this doesn't mean Oppo is providing a curved screen in the same way as either the Samsung Galaxy S6 Edge or Galaxy Note Edge, but just rather something that feels better than glass stopping at an edge, similar to what Samsung uses in the Note 4, and what Apple relies on in the iPhone 6 and 6 Plus.
Does this mean Oppo is going for a similarly premium take on smartphones?
It might, and it's even keeping its camera-happy chops in place in this model, with news that the 13 megapixel camera includes a feature capable of taking images up to 50 megapixels.
"We couldn't be happier to share the news that we'll be bringing the OPPO R7 and R7 Plus to Australia," said Michael Tran, Marketing Director of Oppo Mobile in Australia.
"These are two devices that have been designed to fit in perfectly with the Aussie lifestyle, and further highlight our commitment to this market. They are the next important step in our Australian journey, and we know will resonate really well with consumers here."
Pricing and availability on either of these two isn't yet known, but both are expected within the next few months.