OPPO ColorOS 11 – its UI for Android 11 is rolling out now to its Find XS-series and soon to 28 models including the Find, Reno and A-series.
OPPO ColorOS 11 highlights OPPOs close cooperation with Google in being the first smartphone maker to roll out Android 11 after Google's Pixel was the first cab off the rank. GadgetGuy covered that here.
The roll-out is massive as OPPO (as part of the BBK group with realme, vivo, OnePlus and more) cements its position as the number two global smartphone maker. There are hundreds of millions of phones, hence the staged roll-out. The only exclusions to the list below are for carrier-specific models.
OPPO ColorOS 11
We have written about ColorOS before here and is a light skin over pure Google Android OS that helps customise its smartphones for different geographic markets. It also allows OPPO to do so much more than stock Google Android does.
In Android 11, Google has separated the hardware and software layers, and it will provide over the air security updates that were previously held up by makers and Telcos as they tested if these broke anything.
This has given OPPO the OPPOtunity to release a raft of new software features. Some are unique to OPPO, and some are enhancements to Android 11 functionality.
OPPO Australia Managing Director, Michael Tran said,
"The ColorOS team listened to user feedback for greater UI customisation, offering more personalisation and a wider range of features than stock Android."
OPPOs release is here
OPPO ColorOS 11 features
Personality – make your phone uniquely yours
Always-On Display (AMOLED only). Users can create a custom AOD, theme, and wallpaper, as well as fonts, icons, and ringtones.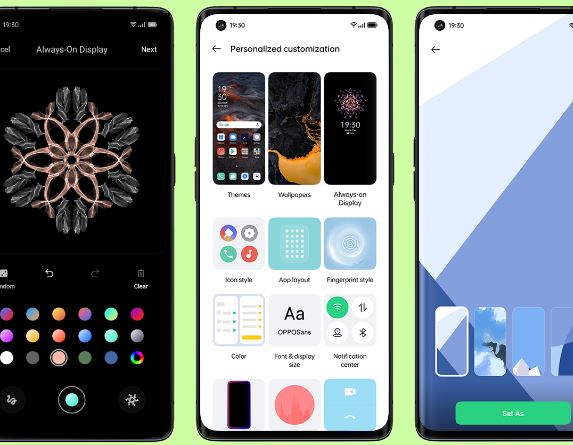 Enhanced stock Android's Dark Mode: Now with three colour schemes and levels of contrast.
Relax 2.0 lets users create their white noise mix, and OPPO offers an extensive and immersive collection of sounds from cities around the world.
Three-Finger Translate powered by Google Lens: It is the first feature co-created by OPPO and Google. It captures and translates text through a simple screenshot taken with a three-finger gesture.
Flexdrop: A simple solution for multi-tasking. Users can watch video and text at the same time, which is particularly useful for gamers and video-lovers.
IoT device control: Users can switch between and control different smart home devices without having to download new apps.
Super Power Saving Mode: Select six apps to run in low-battery situations.
Battery Guard: Prevents damage from prolonged charging at unstable power voltages. Intelligently pauses charging once it reaches 80% at night, before topping up to full charge by the time users wake up.
Make Life Flow: Designed for high refresh screens (90/120Hz or more). UI First 2.0 combines OPPO's proprietary lag-reducing engine with Quantum Animation. This boosts RAM utilisation by 45%, improving the response rate by 32% and the frame rate by 17%.
AI App Preloading: Learns user behaviour to preload the most-used apps, reducing loading time.
SuperTouch: intelligently identifies user scenarios and optimises the touch response speed, improving system fluency.
Gamers
Blocks calls, social media notifications, and limit gestures or operations that could disrupt your game. Blocked apps and gestures/operations include:
Incoming calls and messages (WhatsApp/Line/Telegram/Messenger)
Pushes from the status bar and notification drawer
Navigation gestures/buttons, back gestures, and Game Assistant
Power button screen lock, auto screen-off
Volume buttons
Floating windows
Security and Privacy
Embraces stock Android 11 added privacy options while creating a series of additional privacy protection and data security features.
Private System: Creates a separate system where a second version of apps and data runs independent of the original and is accessible only via a separate fingerprint scan or password.
App Lock: Enables users to lock apps through a password, fingerprint, or facial verification.
Enhanced permissions system: New temporary one-off permissions that reset the camera, microphone, and location access when the app is closed. Also, auto-reset permissions for unused apps.
Scoped storage: Prevents malicious apps from accessing other apps' data and restricts an apps' access to phone data, to requiring user permission.
Increased integration with third-party apps
OPPO has opened up its system capabilities, including Camera, AI, AR and more to contribute to the openness in smartphone technology development. App developers can incorporate OPPO APIs like Hyper Boost, Ultra Steady Video Shooting, and HDR.
GadgetGuy's take – OPPO ColorOS 11 looks interesting and adds great value
What's not to like? Every Google Android 11 feature plus OPPO's enhancement based on millions of users.
As we said of ColourOS10,
Think of the UI as the icing on the cake that adds much more value. Apart from Google Pixel, most other brands have a certain degree of UI or customisation of Google Android (apart from Huawei that is not allowed to use Google's Android).
If I were buying a phone, OPPO would high be on my shopping list. From its amazing $299 A52 (reviewed here) right up to its Find X2 Pro (or variants). When we review a phone, it goes through over 70 tests for an objective rating. Not like most reviewers that barely use it!
I would go so far as to say that OPPO is a driver in what Android needs to be. OPPO and Google close co-operate ensures that its advances are part of future Android releases. Perhaps when Android is perfect, we won't need additional UI layers from phone manufacturers.