Selfie cameras are all the rage in smartphones, but what if you could have one phone camera that takes beautiful shots on one side, and can automatically flip to the front for your self portrait? That's the idea with Oppo's N3, with a camera that can shift position when you touch the screen.
Features
Oppo is certainly doing what it can to get its name out there, and after wowing people with its excellent but high grade Blu-ray players and headphones, the mobile division is putting in the hard yards to make phones that aren't just another "me too" concept like so many others.
The N3 definitely appears to fall under this category, at least on paper, with some interesting inclusions and features designed to draw people in who might not be down for the whole "me too" game other smartphone makers are currently playing.
With that in mind, you'll find some familiar technology on the Oppo N3, also known as the Oppo N5206.
Under the plastic hood, you'll find a Qualcomm Snapdragon 801 quad-core processor, clocked at 2.3GHz with 2GB RAM, 32GB storage, and a microSD storage slot also found in the unit if you want to upgrade that storage amount considerably, with as much as 128GB able to be loaded in.
Google's Android 4.4 runs here, the version known as "KitKat", though Oppo does run a variation on the Android operating system known as Color OS, with this being the second generation of that platform, acting as an overlay.
Connections on the handset are fairly standard for a flagship handset, with 802.11a/b/g/n and even 802.11ac WiFi, Bluetooth 4.0, GPS, and Near-Field Communication. Mobile connectivity is catered for via 4G LTE, and just to make things a little different, there are two SIM card slots here, found in the form of a microSIM and a nanoSIM slot.
Interestingly, while you can have two SIMs running, one of the SIM slots — the nanoSIM — also takes the spot of the microSD, so if you want to upgrade the storage, you need to use a microSIM. If you use a nanoSIM, you can't use the microSIM simply because the nanoSIM card takes up the spot of where the microSD card would go.
Depending on the type of SIM you currently have, this could make upgrades a little interesting, but is something we'll get into in the review.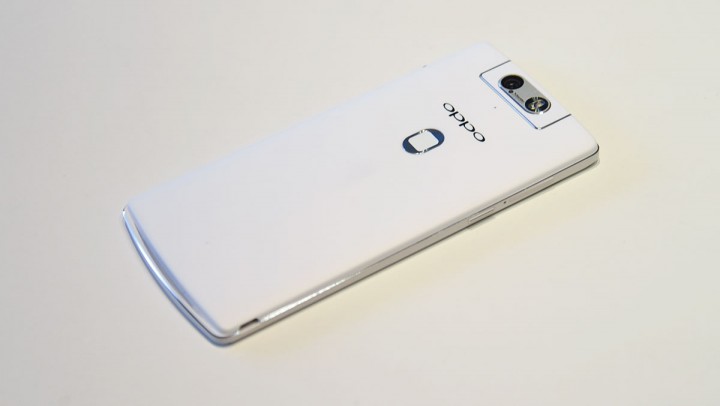 You'll also find a camera here, and unlike most other phones featuring two cameras, Oppo's N3 goes for one, with a 16 megapixel camera with a flash on a special rotating mechanism that is motorised, allowing you to shift its position to both the front and the back, and do so either manually with your fingers or with an electronic control mechanism.
Then there's the display, and for that Oppo is providing a 5.5 inch In-Plane Switching touchscreen offering a resolution of 1920×1080, with a pixel clarity count of roughly 401 pixels per inch, spot on with what Apple offers in its iPhone 6 Plus.

As is the case with most smartphones, there are few buttons here, with a physical power button on the left edge, a physical volume rocker on the right edge, and a physical home button on the back with a fingerprint sensor embedded in the button. The rest of the buttons are soft buttons underneath the display, and these cater to menu, home, and back.
A notification light can be found along the bottom edge, and two open ports can be found via the microUSB port on the left edge and the 3.5mm headset jack on the right.
The battery is built into the Oppo N3, is not removable, and is rated at 3000mAh.
Performance
Big phones are a big deal at the moment, and if you're still using a smartphone with a display that sits around the 3.5 and 4 inch mark, you're missing out, sticking with the old and not wanting to upgrade.
Currently, 4.7 to 5 inches is the average that most people aim for, with large displays and relatively thin bezels coming together to make for a size that the average Joe can hold in their hand comfortably.
But some people are game for bigger, and that's where larger displays and larger phones come into the picture. Apple's iPhone 6 Plus demonstrated this last year with a 5.5 inch display noticeably bigger than the 4.7 inch offered by its iPhone 6 brother, and it's an area Android and Windows Phones have been banging into for some time before Apple.
Now it's Oppo's time to shine, and in the N3, we're seeing the company go for a 5.5 inch display, taking on the likes of Apple and LG, and even Samsung's 5.7 inch Galaxy Note with a similarly sized machine.
Take the phone from its box and you'll see a body made from plastic with a metal trim in a design that is definitely different. You're probably used to the same old "screen is the phone" style that everyone has been using for yonks, and Oppo's N3 isn't dramatically different, but it does offer a bit up the top that isn't like your iPhone or Galaxy smartphone.
Instead, there's a bit of what looks like leather, only it'd not, and is separated by its own little bit of metallic trim. That's the camera, and is one of the biggest features of the N3, which we'll get to shortly.
For now, we're putting the phone in our hands, with the N3 revealing a solid heft to it, which probably comes from that large plastic body surrounding the display. That said, the phone is eight grams shy of 200, and at 192g, isn't light at all.
Most phones in this class come in at around 150, so the extra 50 grams can make this handset feel like a bit of cement in your hand or pocket.