Already at this point, we have the feeling that the Oppo PM-3 are bright cans, but still detailed and well spaced, while providing a level of comfort and design that won't make you look like an idiot as you walk down the street, as can be the case with large headphones.
R&B and soul were next, starting with Mark Ronson's "Uptown Funk" which revealed separated instruments and vocals with clear detail, and again, just enough thwack to feel the bass drum and electric bass line as it was being pushed out.
In fact, the lack of heavy bass was something we continued to pick up in Michael Jackson's "Billie Jean" and Marvin Gaye's "Ain't No Mountain", both of which sounded excellent and well reproduced through the PM-3 cans, but lacked immense strength in the bottom end.
Instead of overwhelming bass, however, Oppo seems more intent on recreating a strong balance in the upper end of the spectrum, and that's fine by us, with a spatial awareness that was throwing us in the centre of the music, not bombarding us with low sounds or decibels, both of which are fine by us.
Pop and rock didn't change this remarkably, with the well-engineered "Phone In A Pool" from Ben Folds providing a multi-layered orchestral light rock change that the Oppo PM-3 had no problems recreating clearly. Again, the bass wasn't as prominent, losing out to the strings, piano, and vocals, though still clearly there.
Softer rock was just as well produced, however, and because tracks like Radiohead's "Exit Music" and Nirvana's "Come As You Are" don't rely on oomph from the bass, were beautiful and pristine from the PM-3 drivers, as if the singers were singing directly to you in each case.
Turning the music up a bit, Muse's 2015 harder rock track "Psycho" gave the PM-3 cans a bit more of a flogging, allowing the little bass push to drive a little harder, providing a real solid punch at the back of Matthew Bellamy's vocals, which take lead just behind a solid and loud guitar riff that doesn't lose out to noise, fuzz, or overwhelming distortion with these cans.
Bringing it back again, the clear organ and hard guitar strumming of The Who's "Won't Get Fooled Again" was just as detailed and mind-numbing as we had always recalled, though without the huge push from the bottom end. In fact, without excess bass, we could focus on the instrument without being numbed too much by the bass line, still concentrating on the organ in the background.
Ending the test with jazz and classical, that lack of prominent bass didn't prove to be a problem, with both the soft and playful melody of Dave Brubeck's "Take Five" and the rich and detailed two-instrument (bass and vocals) piece of Christian McBride's and Angelique Kidjo's "Afirika" providing a sharp and vibrant recreation of these tracks, as if your head was the microphone in the room, clear and precise.
Real instruments seem to be something of a love affair for the Oppo PM-3, in fact, with classical's Claude Bolling and Yo-Yo Ma showing strength in piano and cello recreation in the 1990 recording of "Baroque In Rhythm", while the 2015 take on Vivaldi's "Four Seasons: Winter" from Nigel Kennedy was strong, violent, well-layered, and frighteningly accurate, almost to the point where the sharp attack of the headphones made the piece as sharp as the knife violin from "Psycho" (the film, not the song we mentioned earlier).
One of the world's greatest jazz recordings — "So What" from Miles Davis — showed just how clear the PM-3 headphones could be, offering up clarity in spades even as the song began, with the bits normally lost out to other headphones coming to the fore. If other headphones struggle to pick up on the nuances of the double bass in tracks, the simplicity of a light high-hat, or the tonality a horn section amidst only drums, bass, and piano can provide, you will find solace in the Oppo PM-3 headphones.
They are just spot on beautiful for jazz. Hell, we'd be happy to walk around the street with these on, though if Oppo ever made a wireless version, you could definitely sign us up.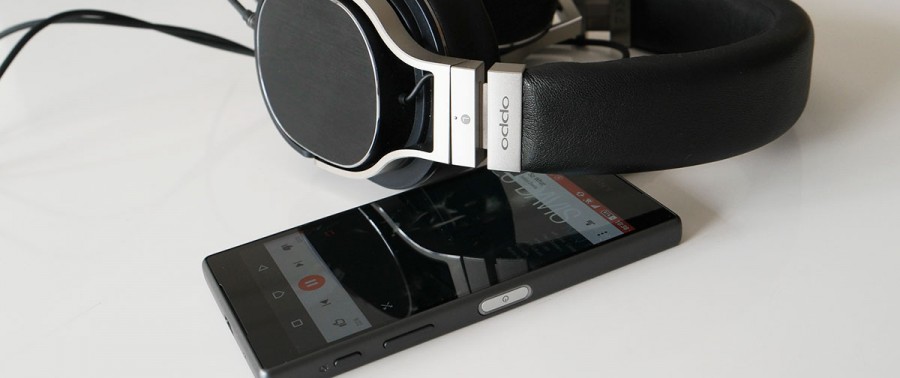 Overall, these are tremendous cans, and again, the comfort was something we weren't taking for granted, with the circumaural design fitting nicely on our skull, not bothering our ears as the engineering of the drivers worked their magic to provide some of the most detailed sound we had heard on a pair of headphones that you could take outside.
One thing we do need to comment on is the paint job, because after a couple weeks of wearing these bad boys around and treating them well, we can tell you that they will wear down.
After the several weeks they've been around our neck, rubbing against our sweater and occasionally spending time in our backpack, we've seen the paint start to wear down on each of the headphones, the dark brushed steel look drifting back to another colour, with a metallic brown now slightly evident underneath.
The headphones themselves are doing well to cope beyond this, mind you, and the leatherette has no sign of wearing in dramatically, and certainly not ripping apart of falling off, but the wear and tear on the metal can be seen, so if you are taking them in your backpack, be sure to use the casing Oppo provides, otherwise you could see some paint deterioration.
Conclusion
Comparable to KEF's M500 in every way, Oppo's PM-3 are one of the best sets of headphones we've played with, coming in under $600 and sounding like they should cost more.
That's not a plea for Oppo to raise the price, either; no, they can stay down under the $600 mark perfectly fine, and that's an excellent value for what results as an excellent pair of can. Highly recommended.
Brilliant and rich sound; Very comfortable; Interchangeable cable thanks to 3.5mm jack on the headphone;
No way of folding them up; Paint job does wear down;