In a world of glass slabs its so refreshing to see one brand continually focus on innovation as well as style. The OPPO Reno (pronounced ree-no) brings four new features to the rather jaded and thoroughly overpriced flagship market.
STOP PRESS: OPPO Reno sets new 5G speed record
At the launch on Thursday 30 May at Telstra HQ, 400 George Street, Sydney (and guaranteed to get the maximum 5G signal) the OPPO Reno 5G topped 1944Mbps download and 65.5 upload. The new Samsung Galaxy S10 5G launched a few days previously at the same Telstra location was 1254Mbps and 63.5 upload.
When asked why OPPO MD for Australia Michael Tran responded,
"I can only talk for OPPO. We use a full Qualcomm SD855 and X50 modem implementation and we have tuned our Android 9/Color OS 6 well to the hardware."
The Samsung Galaxy S10 5G (launch report here uses Samsung's Exynos 9820 SoC (same as the S10 family) and a new Exynos 5100 Modem.
GadgetGuy is looking forward to the LG V50 ThinQA 5G launch at Telstra HQ next week. It uses the Qualcomm 855 and X50 as well. We will see who the speed king really is. Back to the OPPO Reno!
The OPPO Reno (OPPO Australian website here) innovations that make it the hottest must-have smartphone this year include
Full panoramic screen and massive 6.6-inch OLED display with a screen ratio of 93.1%. All sensors, including a fingerprint sensor, are under the glass – a first. There is no top bezel (we will tell you why next), no edge bezels and the smallest chin we have ever seen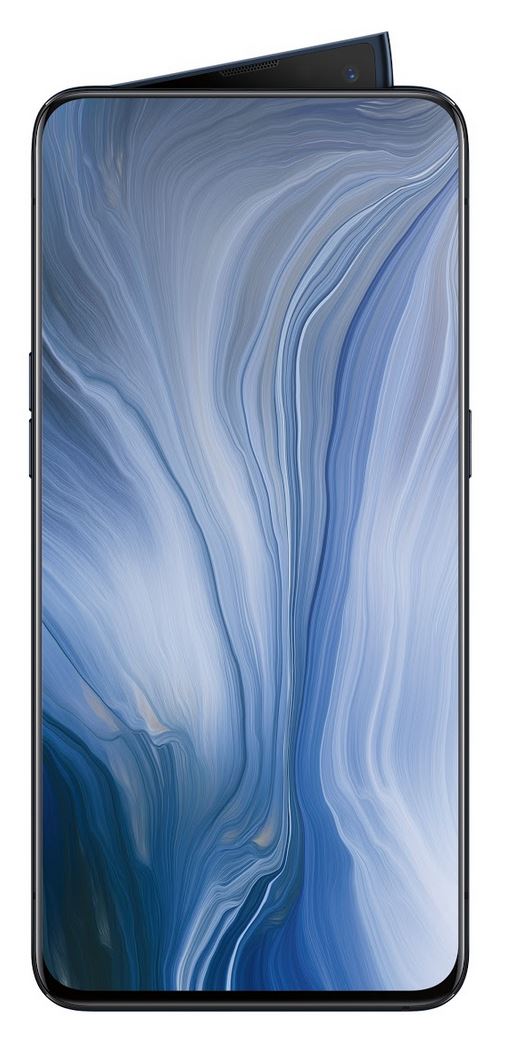 2. The pop-up selfie camera is affectionally known as a shark fin. OPPO tested it over 200,000 times – that's is 547 years at one selfie a day – and its blazingly fast to get a raise – .08 seconds.
3. OPPO invented the 'periscope' zoom camera. This has a 13MP, 5X optical and 10X Hybrid zoom lens. Not to mention a separate 48MP primary lens and an 8MP wide-angle. This is a seriously good camera
4. It has all the latest tech – Qualcomm SD855, 8/256GB storage, 4065mAH battery with VOOC 3.0 fast charge and all the goodies. But the real innovation is the price. $1,199 for the 4G version and that includes a free pair of Bose SoundSport Free Wireless Earphones at $299.95. The 5G version is $1499 and includes a pair of Bose QuietComfort 35 headphones valued at $499.95.
OK, you can tell GadgetGuy is impressed with the OPPO Reno
We had it earlier this week for a Channel 7 Sunrise segment. All that saw it were suitably impressed and all know of OPPO as a brand. That is pretty amazing given OPPO (pronounced Oh-Po) has only been in Australia a few years.
GadgetGuy has given OPPO a lot of coverage (no they don't pay us) because the gear is well designed, well-made and great value. It is probably also something to do with why OPPO win Canstar Blue smartphone 'Most Satisfied Customers' awards.
5G is coming but don't believe the hype
GadgetGuy has a 5G guide here, and we strongly warn you that early adopters will get lousy coverage, far lower than advertised speeds and pay a motza for the privilege. Read our Telstra 5G article here. The only three phones you can buy at present are
Samsung Galaxy S10 5G – only on a buy/lease plan from Telstra and the phone will cost you about $1800 over two years (included in your plan)
LG V50 ThinQ 5G – only on a buy lease plan from Telstra and the phone with its clip-on second screen – cost unknown but around $1800 over two years (included in your data plan)
OPPO Reno 5G $1499 from Telstra and JB HiFi includes a set of Bose QuietComfort 35 headphones valued at $499.95 – pre-order from 31 May for 11 June delivery
OPPO Reno 4G $1199 from Telstra, JB HiFi, The GoodGuys, Officeworks, Mobileciti, Woolworths Mobile, Wireless1 and Telechoice from 11 June – includes a set of Bose SoundSport Free Wireless Earphones valued at $299.95
That is why we appreciate OPPO releasing the Reno in 4G and 5G versions and adding choice to Telstra only sourcing.
Specifications: OPPO Reno 4G and 5G
Apart from the Qualcomm X50 5G modem, both the 4G and 4G are identical.
Processor: Qualcomm SD855 and Adreno 640 GPU – the best in 2019
RAM/Storage: 8/256GB UFS 2.1/microSD to 256GB
Screen: 6.6-inch, 2340 x 1080, AMOLED (Samsung sourced). 93.1% S-T-B-R, Gorilla Glass 6, TÜV Rheinland certified eye protection
Tri-camera rear: 48MP (f/1.7) + 8MP wide angle (f/2.2) + 13MP (f/3.0) Periscope 16-160mm, Dual OIS, Ultra-night mode, 4K@60fps, HDR, dual LED flash, wide range of AI support and filters, 5 bokeh setting. Uses Sony IMX586 sensor.
Selfie pop up: 16MP (f/2.0), beauty, portrait, colour pop and other filters, screen fill flash, laser focus, 1K@30fps, 200,000 uses and fall auto-retraction
4 or 5G: 4G is a dual sim (hybrid), and 5G is single sim (hybrid). Qualcomm World Modem LTE bands and 5G has X50 modem as well for n78 band sub-6Ghz
Sound: Dolby Atmos stereo speakers, Hi-Res audio DAC, three mics (for stereo recording)
Comms: Wi-Fi AC, BT 5.0, Hotspot, NFC, Dual frequency L1+L5 GPS, OTG
Battery: 4065mAh with USB-C VOOC3 flash charge
Security: Under glass fingerprint and face recognition from selfie
Size/Colour: 162 x 77.23 x 9.3 x 215g in Ocean Green and Jet Black
OS: Android 9 and Colour OS 6 UI with Hyper Boost 2.0, featuring Game Boost, System Boost and App Boost
GadgetGuy's take: OPPO Reno best value, fully-featured, and most innovative smartphone you can buy
That is not to take away from the Samsung 5G or LG 5G offerings – they appeal to different demographics. But to Joe and Jane Average OPPO is the affordable alternative without compromise.
Me, I would buy the 4G version in the ultra-sexy Ocean Green and be deliriously happy. In a few years when 5G is ready, I have confidence in OPPOs build quality to pass this on to the kidults, and they will be equally happy.