The OPPO Reno2 Z is the $599 smartphone you have been waiting for – a massive 6.5-inch AMOLED; tonnes of power with an MT Helio P90 and 8/128/micro-SD; 4000mAh VOOC 3.0 fast charge battery; and a 48MP quad rear camera.
Add to that the impeccable OPPO quality and the OPPO Reno2 Z offers some of the best features and value we have seen at that price.
And if you don't want to spend $599 on the OPPO Reno2 Z then the $499 OPPO Reno Z scored 4.9-out-of-5 in GadgetGuy's review 'OPPO Reno Z – as satisfying and cheap as hot chips – mmmm'. This review has one of our highest readerships ever, and OPPO says it has been Australia's most popular mass-market phone.
So what more does the Reno2 Z have over the Reno Z? In the camera department, it has the same 48MP, Sony IMX586 primary camera replete with gyro/electronic stabilisation. It ups the 5MP camera to 8MP, 119° wide-angle and adds 2 x 2MP cameras – one a mono and one a portrait lens (bokeh). The Selfie camera becomes a pop-up and drops from 32MP (pixel binned to 8MP) to 16MP (not binned).
Oh, and it adds the much-missed micro-SD slot (to 256GB).
OPPO Reno2 Z CPH1951, 8/128GB/microSD, Dual Sim, Piano Black
Australian website here
Price: $599 from JB Hi-Fi, The Good Guys, Officeworks and Woolworths Mobile. Avoid online merchants as you generally get a version not certified for Australia.
In the box
OPPO Reno2 Z
VOOC Flash Charge 3.0 5V/4A (20W)
OPPO Cable type (USB-C to a special cable with a green USB-A insert)
3.5 mm earbuds and mic
Faux leather Bumper case
Pre-fitted screen protector
Mobile Muster recycle information
The first impression – OPPO Reno2 Z is elegant
If the 'OPPOulent' box is anything to go by – then it is a perfect 'under the Xmas tree' gift.
OPPO has been a little boring this time offering Luminous Black and Sky White. But in true OPPO style call this a "Twilight Mist' finish, and it is elegant, rather than outrageous. And you probably should use the faux leather bumper case anyway.
The 6.5-inch AMOLED screen is gorgeous with a 91.1% STBR (huge) and an under-glass fingerprint sensor – so it is uninterrupted by a notch or O-hole. The selfie camera is a popup with illumination lights either side! On the rear, the now famous 'nub' (perfect for obsessive fidgeters) protects the four camera lenses.
And the words 'OPPO – Designed for Reno' in a gentle swipe at 'Leica designed for Huawei'. I like it.
Screen
6.5-inch, 2340 x 1080, 401ppi, 91.1% STBR, 19.5:9, AMOLED, Gorilla Glass 5
430 nits (typical), infinite contrast, HDR10, 97% NTSC (95% sRGB)
AOD, excellent daylight readability
This is an amazing screen for the price – we can only assume that because OPPO buys so many from Samsung, it gets mates rates!
It has Auto brightness that works well so leave it on (most are too aggressive towards battery saving, but AMOLED is energy efficient to start with). Colours can be adjusted from cool to warm – default produces the best sRGB gamut.
Summary: AMOLED is the king, and this notch-less display beats all comers at this price.
Performance
MediaTek MT6779 Helio P90 12nm, 2×2.2 GHz Cortex-A75 & 6×2.0 GHz Cortex-A55
8GB LPDDR4X and 128GB UFS 2.1 (104GB free) and micro-SD to 256GB
The MT Helio P90 12nm is a good chip for mid-market smartphones. The closest rival is the Qualcomm SD730 or SD710 that the OPPO R17 Pro uses.
The GPU's forte is low power use, AI photo rendering and video compression – it can encode/decode MP4 and decode HEVC H.265. It also supports Google's AR extensions.
Game use: OPPO has a Game Boost 2.0 mode with Frame Boost and Touch Boost. It should play most FHD mobile games. However, MediaTek has just released its games focused, Helio G90, and it uses the Mali G76 MP4.
GeekBench 5 gives it a single/multi score of 393/1473 which puts in the same performance class as the Huawei P20 (Kirin 970) or Samsung Galaxy/Note8 (SD835) – both of these phones sold for over $1000!
We loaded the phone with multiple apps and browser tabs – it was silky smooth.
CPU Throttling
A 15-minute test at 100% load started at 134,126GIPS and averaged 131,175GPS for 15 minutes – no CPU throttling. There are no heating issue at all. Impressive.
Comms
Wi-Fi 5 AC, 2 x 2 MIMO, Wi-Di, Hotspot
BT 5.0 SBC
NFC
OTG to 2TB
GPS and e-Compass
Cell Info reports that the 5GHz Signal strength at 2 meters from our reference NETGEAR AX12 router is –32dBm and 866Mbps. It also supports VHT80 aggregation and is theoretically capable of up to 1.2Gbps – excellent
GPS has fast satellite acquisition and more than enough speed for turn-by-turn navigation and recalculations.
4G LTE
600/100Mbps, Bands 1/2/3/4/5/7/8/18/19/20/26/28/38/39/40/41
Dual sim (plus micro-SD), VoLTE and both are active
Signal strength is excellent at -87dBm (this is in a weak reception area), but better still it found the next tower at -91dBM (slightly better than the Reno Z). Here download speeds reached 78/45Mbps. At a Telstra 4GX location it reached 386/50Mbps.
Sound
3.5mm jack and buds
Earpiece speaker and down-firing bottom speaker
Dolby Atmos and Hi-Res audio (24-bit/192kHz)
Dual mics
Volume: Ringer 87dB, music 79dB and voice 76dB
We tested the 3.5mm buds, and the sound was reasonable  – limited bass, but mid and treble were fine.
It uses BT 5.0 SBC codec and sound is as good as this allows. Using our reference Sony WH-1000XM3 Dobly Atmos really came into play – the sound stage was excellent. Volume was good.
Dolby Atmos means it can accept up to 5.1.2 or 7.1.4 Atmos content and downmix a simulation to the 2.0 speakers or headphones/buds. Atmos settings are Smart, Movie, Gaming and Music. It is more about a sound stage where the sound comes from above and the sides.
The earpiece and the bottom speaker match for frequency response, the different volume from each was noticeable. The Gold line in the bottom speaker and the white line is the earpiece.
Deep Bass: 20-40Hz – none
Middle Bass: 40-100Hz – none
High Bass: 100 to 200Hz – starting at 100Hz
Low-mids: 200-400Hz – building
Mids: 400-1000Hz – flat
High-mids: 1-2kHz – flat
Low-treble: 2-4kHz – flat
Treble:4-6kHz – flat
High Treble: 6-10kHz – flat
Dog whistle: 10-20 – off the cliff
Technically, it is a warm and sweet (good for music) but for the most part, is it mid-centric for clear voice.
Sound recording
OPPO has a headphone monitor setting that allows you to hear the smartphone mic via the headphones. Karaoke anyone?
Battery
4000mAh battery
VOOC 3.0 20W fast charge
The battery is large for this class of device.
OPPO VOOC uses 2 x 2000mAh batteries in parallel. The unique 'green' cable delivers two channels of 5V/2A (10W) for a total of 20W.
Our battery test software shows a linear charge over 1.5 hours – about 33% per 30 minutes. But best of all it shows a constant 25° – VOOC is very safe and does not stress the battery like some flood charging methods.
Tests:
1080p Video loop: 50% brightness, Airplane mode – 13 hours
Heavy use: 50% screen on time – 11 hours
Under 100% load: maximum brightness and everything on it empties in 3 hours
Given typical use we expect this to run for 24-36+ hours between charges.
Build
161.8 x 75.8 x 8.76mm x 195g
Back: 2nd-generation ink-ribbon printing technology, which uses a seven-layer ribbon, Gorilla Glass 5, Alloy frame
No IP Rating
OPPO build quality is excellent, and the phone is quite solid at 195g.
Other
Underglass ultrasonic fingerprint sensor 3.0
Face Unlock
This has one of the best under glass scanners I have used. It is fast, but not quite as fast as the Reno 5G which is blazing – blame the lower-powered Helio 90 SoC.
Face recognition is also excellent and quick, and the pop-up camera was always there when I needed it. I tended to use this for convenience over the fingerprint system.
Operating system
Android 9 with OPPO UI Color OS 6.1
All Google apps
Some 'bloatware' (mainly OPPO versions of Google apps) that you can remove
Phone Clone for an easy switch from iOS or Android
Android users will love the added functionality of ColorOS 6.1. It adds Ultra Dark Mode, Ultra Steady Mode (EIS and Gyroscope to video), SOLOOP video editor, Dual Wi-Fi (VHT80 aggregates both bands for up to 1.8Gbps with a compatible router) and increased security.
BTW – you can set the home key layout to Android 9, Apple or Android 8 styles.
What is missing
IP Rating but that is unusual in this price bracket
Camera
Camera 1
Standard
48MP (bins to 12MP but can shoot at 48MP in good light)
Sensor: Sony Exmor IMX586
Pixel Size: .8um bins to 1.6um equivalent
F-stop: f/1.7
FOV: 78°
Stabilisation: Gyro and EIS for 1080@30fps video
Focus type: PDAF
HDR: Auto
Zoom: 5x Digital
AI: scene recognition
Flash type: dual temperature LED
Images: RAW or JPEG
Video:4K@30fps (no stabilisation), 1080@30fps (EIS), HDR10 with stereo recording
Google Lens: Yes
AI: Low-light Shot, Ultra Night Mode 2.0, Backlit Selfie, AI scene recognition, Photo, Portrait, Video, Night, Pano, Expert, Time-lapse, and Slo-mo
SOLOOP: A smart video editor that automatically adds music to match with the timing and transitions of your footage
Camera 2
Wide-angle
8MP
Hynix HI846
1.12um
f/2.2
119°
Camera 3
Mono
2MP mono 'O6' portrait mode
OmniVision OV02A1B
f/2.4
1.75um
Camera 4
Portrait
2MP depth 'O7' mode
GalaxyCore GC02M0
f/2.4
1.75um
Selfie
16MP
Samsung S5K3P9SP
f/2.0
1.0um
79°
Why the detail?
Where OPPO shines is in making a 'camera phone'. This is a quad camera. I had a lot of fun playing with the new features the 2 x 2MP lenses enable. For example, you can take mono/sepia and other shots, vary bokeh and the Night Model turns dark into the day – well almost.
Before you get excited, it uses a 48MP Sony IMX586 that pixel bins (combines the best pixels over a bracket of shots) to 12MP. But it can shoot at 48MP in good light, and the matching with the 2 x 2MP for depth and mono (detail) enhancement and an ultrawide angle lens makes this a great combo.
Tests – all auto
Daylight, outdoors
Natural colour, perfect tone, excellent detail and one of the best shots I have taken (I use this standard vista for all tests).
Indoors Office Light (400 lumens)
Dog never looked so good with great detail, natural/accurate colours and even brightness.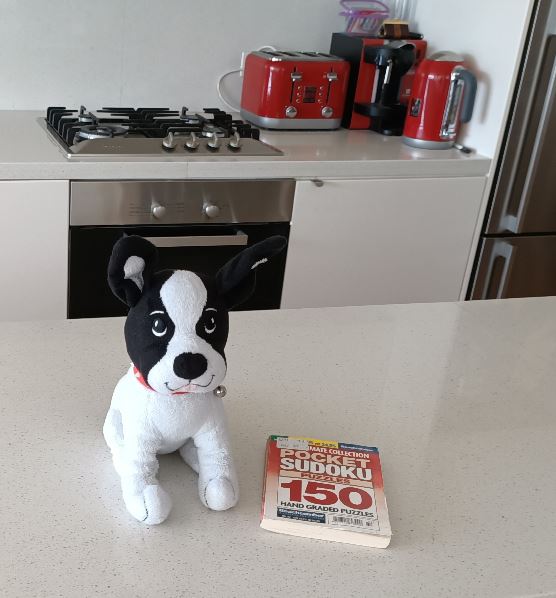 Low light (room with less than 100 lumens)
Selfie
16MP detail, 79° FOV, f/1.0, 1um pixels. It's an excellent Samsung sensor, and you will find it in the Galaxy S10 series. Unlike most selfies, this has PDAF – not fixed focus, so the results are clear and detailed. Add OPPO's famous beautification mode, and that is all you need.
Bokeh
The 2MP lens means it provides more depth data than a ToF sensor giving a good foreground and background separation as well as leaving some 'structure' in the background. The Selfie supports bokeh in video.
Video
OPPO call it Ultra Steady Mode that uses gyro assisted EIS to 4K@30fps or lower. Colours and detail are excellent. Its competent down to 100 lumens.
GadgetGuy's take – OPPO Reno2 Z – you have done it again
The OPPO Reno Z was our favourite $499 phone if you overlooked the lack of a microSD card. The OPPO Reno2 Z looks like our favourite $599 phone, and it has microSD. Apart from a quad versus a dual camera and the pop-up selfie, the innards are virtually the same. So it depends if you have $499 or $599 to spend.
For the typical user, you cannot fault this device (nor the Reno). Terrific notch-less screen, good SoC (no throttling), battery life up to two days, a camera that takes great shots in most conditions, and its made by OPPO with great support in Australia.
We are not saying it is the class leader in every respect, but at this price, you can't do better. It is either a new Reno2 Z or an old, yawn, Apple iPhone SE (3/128GB) or Google Pixel 2 XL (3/64GB). If you want to spend $50 more then the Google Pixel 3a (4/64GB) and Samsung Galaxy A70 (6/128GB) should be considered.
At 2 November JB Hi-Fi has the OPPO Reno 10x lossless zoom on sale at $799 (8/256GB usually $999). This has a faster Qualcomm SD855 processor and the 48MP triple camera with the innovative periscope zoom. It is very tempting but you might be hard-pressed to convince yourself to spend $200 more.
It looks and feels impressive – a winner.
Yet another reason why you don't have to spend over $1000!
YouTube OPPO Reno2 Z
Build quality and elegant finishes
Very good battery life
Great camera
A vibrant OLED display
None at this price
Think of the Quad camera as a dual camera with extra portrait features