The OPPO Reno4 5G is part of the Reno mid-range value line that comes with stacks of goodies for the reasonable price of $799.
Reno is an OPPO sub-brand. It's positioning is just below the flagship Find X-series and above the A-series. Its mission is to offer greater value even if it competes with other OPPO models.
For example, the OPPO Reno4 5G faces off to the Find X2 Neo at $899 and the Find X2 Lite at $649. The other Reno4 Z 5G marks new ground sitting above the A91 and Below the Find X2 Lite 5G.
The OPPO Reno4 5G uses the Qualcomm SD765G. It is a companion to the OPPO Reno4 Z 5G that sells for $599 and uses the new MediaTek Dimensity SoC – a review will be coming soon.
So the OPPO Reno4 5G has a lot to live up to. Let's see, shall we?
(Spoiler – OPPO you have done it again with a 6.4″ AMOLED screen, 65W SuperVOOC 2.0 charging and a great camera).
First impression – EXCEED
Its not just the grippy Galactic (Ice) Blue back with a tri-camera. It is also the aluminium anodised matching frame and superb build quality that makes this an OPPO Reno.
The front screen is vibrant and colourful with a distinctive dual-camera selfie 'pill' slot on the top left. But the thing that impresses me most is the galactic speed 65W charging that fills it 0-100% in well under an hour.
Screen – EXCEED
Size
6.4″
Type
AMOLED 60Hz with a dual camera slot to left
Resolution
2400 x 1080
PPI/Ratio
409/20:9
Colour
Brightness
Contrast
Delta E
Vivid
Gentle
White
HDR
16.7m
Claim: 430 normal, 600 max and 800 peak HDR content
Infinite: ∞:1
approx. 2 (below 4 is excellent)
93.28% DCI-P3 and 135.13%sRGB
73.72% DCI-P3 and 100% sRGB
From warm to cool
GPU will decode and play up to HDR10+
Daylight
AOD
Dark mode
Blue light
Quite good
Clock and notifications – not customisable
Yes
Yes certified
DRM
The GPU will decode HDR10/+ and HLG content to the screen.
DRMInfo finds Widevine L1 and the latest HDCP 2.3, so it should play both SDR and HDR streaming content
Gaming
It is a 60Hz screen, and most gamers will look to 90 or 120Hz refresh and higher touch rates. Good for most games at medium quality
Protection
Gorilla Glass 6 and pre-fitted screen protector
Fingerprint
Face ID
Optical under glass – Test: 9/10
Test 8/10
This is a bright and vibrant screen with accurate levels of DCI-P3 and sRGB – more than you could reasonably expect. Colour accuracy is good enough for Creatives and VLoggers.
Our tests confirmed OPPOs conservative brightness figures. It is little unfair to quote 800 nits peak because HBM (high brightness mode) only cuts in a very small portion of the screen when playing HDR content.
Processor – PASS+
SoC
Qualcomm SD765G 7nm
GPU
Adreno 620 Compute Open CL: 1254
Game use
The G stands for gaming functions like a game 'smoother'; and a fast loader. Add that to OPPOs game boost and an Adreno 620 GPU, and it can handle most games with good frame rates.
RAM
8GB LPDDR4X
Storage
128GB UFS 2.1 (98GB free)
Androbench Test
Internal 980.67/484.81Mbps sequential read/write – excellent
External USB Flash 2.0 (480Mbps half-duplex) 35/34MBps – typical
External USB-C SSD 3.1 Gen 1 (5Gbps) – 33/33MBps – this is 2.0 speed
micro-SD
No, but supports OTG to 1TB
Geek
Bench 5
Single: 618
Multi: 1806
It is in between the SD845 and SD855
Throttle
15-minute
Max: 162481GIPS, Average: 159,556 – 0% loss over 15 minutes
CPU temp reached 50°
Terrific thermal management as we have come to expect from OPPO designs
Not only is this our favourite Goldilocks processor (just right) OPPO's thermal design skills show again. It does not throttle at all.
OPPO has implemented USB-C 3.1 Gen 1 which in theory is 5Gbps/635MBps half-duplex. So we expect a suitable external SSD to achieve around 250-300MBps sequential read. Regrettably, data transfer is still at USB 2.0 speeds, so it is not for videographers. At this time, apart from Samsung S20/Note20, few phones support USB-C 3.1 Gen 1 speeds.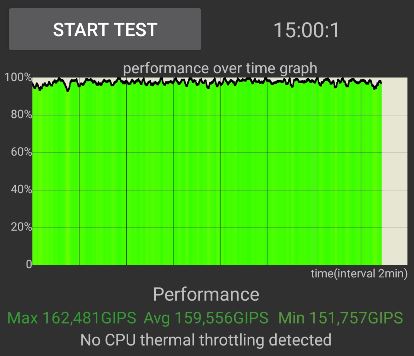 OPPO earns the PASS+ mark here due to the thermal management. Shame about USB-C 3.1 though.
Comms – PASS+
Wi-Fi
Wi-Fi 5 AC (Qualcomm WCN3990) 2 x 2 MU-MIMO
Signal Strength 5Ghz – distance from ASUS AX1100 router
– 2m: -16dBm/866Mbps
– 5m: -30dBm/866Mbps
– 10m: -50dBm/866
Bluetooth
BT 5.1
GPS
Single capable of <10m turn-by-turn navigation
NFC
Yes PayWave
USB-C
USB-C 3.1 but it only supports USB 2.0 speeds
Sensors
Bosch BMI160 triaxial Accelerometer/Gyroscope and step/motion detector gives a total of 9-axis detection used for Gyro-EIS
Magmetometer eCompass
Ambient Light sensor
Proximity sensor
The OPPO Reno4 has one of the strongest Wi-Fi 5 AC signals we have ever recorded. To get 866Mbps nearly 15 meters from the router is outstanding.
LTE and 5G – PASS+
SIM
Dual sim (one active at a time) carrier unlocked
Ring tone
Single
Support
VoLTE – carrier dependent – generally yes
Wi-Fi calling – Yes
DL/UL (Mbps)
Ping: 41ms, 17.2/21.1Mbps
LTE Band
1, 2, 3, 4, 5, 7, 8, 12, 17, 18, 19, 20, 26 28, 32, 34, 38, 40, 41, 66 – a world phone
5G
Sub-6Ghz nN78
Note updates may enable other bands
4G Test
-99dBm/125.9Fw in a 3-bar reception area (good)
Found next tower at -102dBm/79.4fW and third tower at -116dBm/3.2fW (unusable) – superb antenna design
5G Test
We are unable to provide reliable results
This is as strong in signal strength as any Telstra Bluetick phone we have tested. It should be a great rural phone.
Battery – PASS+ for battery life and EXCEED for 65W charge
Battery mAh
2×2010=4000mAh (4020 reported)
Charger
Super VOOC 2.0 5V/2A/10W and 10V/6.5A/65W
Also PD and QWC 18W compatible – just slower
Claim: 60% in 15 minutes and 100% in 36 minutes
Test:
75% – 30 minutes
0-100% – 49 minutes
Tests
Video Loop test: 60Hz 1080p/50%/aeroplane mode – 20 hrs
Typical use 4G, Wi-Fi Test – 12 hrs
MP3 music test: 50% volume played from storage – 24+
100% load Battery drain – 8 hrs
T-Rex – 575m (9.58hrs), 3340 frames
Drain screen off: 91mA (about 30 days)
It is good for a day's typical use and perhaps two with lighter use. But it EXCEEDs due to the incredibly fast 65W Super VOOC 2.0 charger.
Sound – PASS
Speakers
Mono earpiece and down-firing speaker*
AMP
TFA98XX stereo class-D 2x 3.4W
BT codecs
Codecs are SBC (standard), LDAC (Sony), aptX/HD/TWS (Qualcomm), FLAC, ACC etc.
Dolby Atmos
It can decode Dolby Atmos metadata to its 1.0 mono speaker or the BT and USB-C stream.
Sound stage
Nil – it is a mono speaker.
Dolby Atmos does not influence the speaker sound.
Mic
Dual NC
3.5mm
No, but the onboard FSA480 DAC allows for unamplified USB-C earphones to plug in
Standard USB-C earphone/mic supplied
Tests dB
Anything over 80dB is excellent
Media – 71
Ring – 74
Alarm – 80
Earpiece – no setting
Handsfree – adequate volume and mic sensitivity
* It is not fair to measure the sound signature on a mono speaker system. The primary use is for clear voice. It is not for music or movies with no bass or mid before 1000Hz and no treble after 10kHz.
BT headphones – EXCEED
The BT 5.0 drove our reference Sony WH-1000xM4 in SBC, AAC, aptX and LDAC modes and provided good clear sound and plenty of volume. Few devices have such a wide selection of BT Codecs. Dolby Atmos presets for smart, movie, gaming and music do alter the sound stage in the headphones.
Sound quality
We do not measure the frequency response as it is a mono speaker. Suffice to say it focuses on clear voice.
Build – PASS
Size/Weight
159.3 x 74 x 7.8mm x 183g
Colours
Galactic Blue and Space Black (the effect is the 'Reno Glow that is fingerprint-resistant)
Build
Glass: Gorilla Glass 6
Frame: Not determined – it looks like colour matched anodised aluminium
Back: Plastic with a metalised painted Reno Glow finish
IP
Not rated but splash proof
In the box
65W charger
USB-A to USB-C Super VOOC 2.0 cable
3.5mm standard buds
TPU bumper cover
OPPO build quality and finish is superb, and it has a two-year warranty and excellent local service. To earn extra points here, it would have required an IP rating.
Android 10 – PASS+
Android
Google Android 10
UI
ColorOS 7.2 and new AI app preload
Google
All standard apps, Google Lens and Assistant. Dedicated Google Assistant key.
Bloatware
Mostly Google alternatives and utilities
Update Policy
It will get Android 11.
Note that security updates handled by Google in Android 11
Security
Fingerprint – under glass Goodix optical 9/10 tests
FaceID
I like ColorOS and its direction. It is like the oil on the wheels that makes Pure Android more usable.
Missing – PASS
| | |
| --- | --- |
| IP Rating | Not a deal-breaker – you need to spend at least $100 more |
| 3.5mm | Ditto – and it has a USB-C DAC inbuilt. |
| Micro-SD | Ditto and it can handle OTG devices to 1TB |
| Qi | Spend another $100 more |
If these are important the LG Velvet for $899 has it all.
Camera – PASS+
OPPO has some of the best camera tech with periscope zoom, gimbal lens mounts, AI etc.
This gets AI but otherwise is a fairly standard rear tri-camera setup. The dual selfie is interesting. Overall its is a great performer, but you can buy better cameraphones from its BBK siblings.
Camera
Primary
48MP
bins to 12MP
Ultra-Wide
8MP
Depth
2MP
Selfie 1
32MP
bins to 8MP
Selfie Depth
2MP
Sensor
Sony IMX586
HI-846
GC2375
Sony IMX616
GC02M1B
Lens
6P
6P
3P
5P
2P
Focus

Laser Detection (LIDAR) AF
AF
FF
Aperture f-stop
1.7
2.2
2.2
2.4
2.4
Pixel size um
.8 bins to 1.6
1.12
.8 bins to 1.6
FOV° and cropped
79.5 (68.2°)
119
80.4 (69.8°)
78.3
Stabilisation
gyro-EIS for video
gyro-EIS for video
Flash
LED
Zoom
10X Digital
Video Max
4K@30fps
Also 21:9 mode
1080p@30fps
Features
Live and auto HDR
Video filters
Sloop video editing
Auto HDR
Daylight, outdoors
Indoors Office Light (400 lumens)
Great dynamic range, accurate colours and fine detail – you can shoot 48MP if you wish.
Low light (room <40 lumen)
Macro
It does not have a dedicated macro lens and there are no settings for same. This is no issue unless you plan to use macro.
You will note that the 48MP cannot focus below about 5cm (flower and greenery) but if we back off to 10cm it can pick up details (look at the flower leaves and greenery lower down).
Selfie
We don't publish selfies because of their increasing use for ID Theft. And its not because my face may break the lens.
This has a 32MP binned to 8MP and a 2MP depth sensor. The 2MP adds detail and helps separate the foreground from the background.
Night
We wanted to comment on Night mode as OPPO makes such a big thing of it. It is computational photography (just like Google Pixel) that takes a bracket of shots and bins them taking the best pixels from the bracket. It then post processes the shot according to its AI to give you what it thinks the shot should be.
But all that post-processing can add noise and alter colours. OPPO does a pretty good job brightening but the end result is not as as good as I have seen.
Video
4K@30fps with Gyro-EIS is very good – pans are smooth and even. Colours are excellent, and it is quite competent at low light video without too much post-processing noise.
Sound is stereo recorded, but there is no beamforming, so if you are trying to capture sound, then a USB-C mic is best.
GadgetGuy's take – OPPO Reno4 5G is one of the better 'daily drives'
The OPPO Reno4 5G is the best SD765G implementation out there at the $799 price. It competes squarely with the Google Pixel 4a 5G, and offers just a little more. Mind you the Pixel 4a is a formidable device too – you can't go wrong either way.
But due to a recent price drop, the OPPO Find X2 Lite at $649 is the superb deal now.
And for those that want the best SD765G then at $899, you can get the OPPO Find X2 Neo 5G or the LG Velvet 5G with Qi charge, microSD and IP68/MIL-SPEC.
Rating explanation
As you know a PASS on all tests earn 4/5. Then we add points for EXCEED and deduct points for FAIL.
Do we rate it in its narrow $100 price bracket or overall in the $700-999 bracket?
Answer: It ranks highly on hardware specs but not as high as others on value.
Fast facts – OPPO Reno4 5G Model CPH2091 8/128GB Dual Sim
Australian website here
Price: $799
Colours: Galatic Blue (kind of an Ice Blue) or Space Black
From: JB Hi-Fi, Bing Lee and Woolworths Mobile
Elevator pitch: A terrific camera with a Qualcomm 5G phone thrown in
Warranty: 2 years ALC
Country of Manufacture: China
OPPO (Est 2001) is a privately-owned Chinese consumer electronics and mobile communications company headquartered in Dongguan, Guangdong. It is a subsidiary of BBK Electronics Corporation (Est 1995) along with OnePlus, Vivo, and Realme (and other brands including VSun, XTC, and IMOO). Its executives and long-term staff own many of the shares. BBK is currently the second-largest smartphone maker in the world (Source CounterPoint February 2020). It is most definitely not part of the Huawei/ZTE/China spying debate.
Other OPPO news and reviews here
Grey market – no Australian warranty
We issue the standard warning that you must buy the genuine model with Australian firmware as it works on all Australian Telco carrier 4 and 5G bands and can make a 000-emergency call (not 911) without a SIM. As it is 5G capable the IMEI is initially locked to Australian Telcos – international models will not work here. Do not buy models PDP00 or PDPT00.
We have named and shamed the major grey marketers here. If you are going to spend this much money, get a genuine 'Made for Australia' model.
YouTube
Positives
Build quality – It is an OPPO, say no more
Style – it is still a glass slab but a rather nice Galactic Blue one
Battery life – super speedy, super VOOC 2.0
Camera – nice tri-camera for good all-around performance
Display – vibrant and bright
Android 11 coming
Negatives
Other have 90 or 120Hz screens
No MicroSD
You can get even better cameraphones for the price