Tablet owners probably have a bag or backpack that keeps their portable computer in good condition, but it still probably requires you to pull the tablet out in order to use it. And then there's the Portal Cyber Port, a bag from Osprey that lets you keep on using a tablet without removing it from your luggage.
What it is and how it feels
We haven't seen the name Osprey around much, and this is the first bag we're checking out from the company, which hails from Colorado and was founded in 1974.
The gear from Osprey covers lots of types of activities, from hiking to climbing mountains to regular day to day travel, and even a dose of the longer treks where a rolling suitcase is needed, and in the Osprey Portal, we're looking at the tech friendly daily backpack.
From the look of the Portal Cyber, you're not likely to stand out in a crowd with anything too attention seeking, not like the bright and cheerful colours used in either the Crumpler or Incase lineup.
Rather, the dark grey of the "Black Pepper" coloured fabric coating our backpack is pretty muted and easy to blend in a crowd, and from what we've seen of the other colours — "Chestnut Brown," "Pinot Red," and "Grey Herringbone," — you're not likely to be picked up from afar just because of a loud colour screaming from your back.
Move beyond the look and you begin to feel the material, which is rough to the touch and very thick. The strength is noticeable when you pick it up, and continues when you check out the pockets, which on our Black Pepper Portal backpack are bright green, helping to highlight and find things inside it.
The first pocket is the most noticeable, and is the one for which makes the Portal Cyber unique, as it features a compartment along the inside for leaving a tablet with its screen face up, pressed against a sheet of plastic.
When the front is unzipped and pulled away from the compartment (which can be folded underneath the backpack), this makes it easy to use an iPad or Android tablet, or even a Windows one if need be, with the tablet section built to handle most tablets sized up to 11 inches.
It's clear from our testing that this section was designed around the iPad 2, as it had some space around our iPad Air, but we had no problem fitting in as big as an 11 inch Windows tablet, with some 10.1 inch Android tablets sitting inside this spot, too.
A small pocket on the side also holds a stylus, if need be, while the plastic screen of the Portal Cyber's pocket didn't stop us from using any gestures across Windows, Android, or iOS.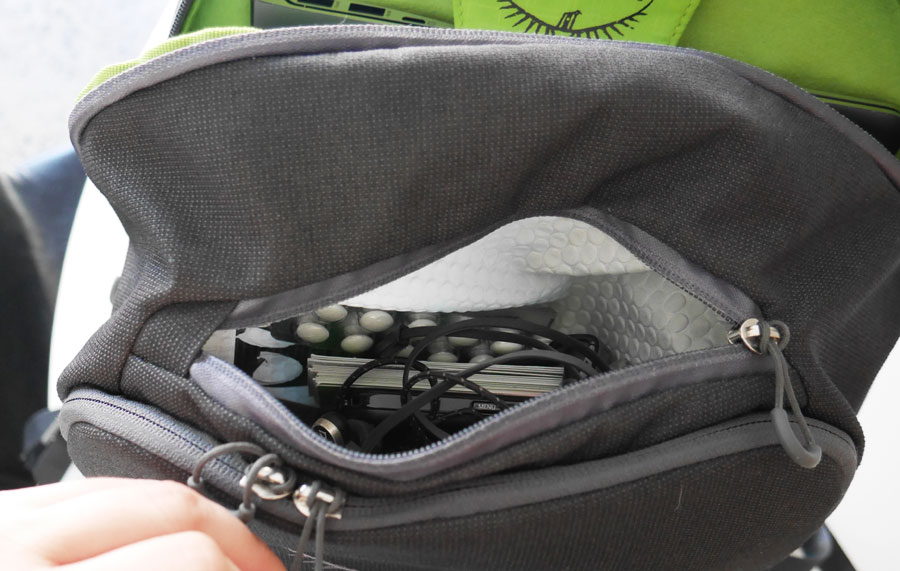 Moving beyond this pocket, there are two others, with one sitting at the top lined with a plastic textured with circles and meant for smaller bits and bobs (above), while the main section of the backpack sports several sections including a velcro fastened felt lined laptop section good for holding up to a 15 inch laptop, a zipper section for accessories, and a few netted pockets for smaller things, plus whatever else you can fit there, which could be a sweater, some papers, and a pair of folded up headphones.
Using it for a few months, we can say that not only is the Portal comfortable to keep on your back (or even with one shoulder), but it seems to be fairly durable too.
It's not an all-weather back, but the pack seems to put up a good fight as far as wind and rain are concerned, with not a sprinkling of water entering our pack as we walked through Sydney during rain and shine.
Against the back, it's very comfortable, even while we sweated on those sweltering days, with a netting on the back that helps to make it breathe against you, and soft and light padded straps useful for keeping the Portal tethered to yourself.
About the only issue we have with the Portal is the window, though, and that's because it's an easy gimmick to get over.
Using an iPad (or another tablet) through the plastic screen doesn't always look the best, partially because it's not perfectly fitted to every tablet, but also because the plastic window provided is a relatively thick plastic, and it sort of makes you feel as if you're using the tablet in a thick bag.
It's still usable, but you don't have the same experience as your fingers on glass.
The whole idea of using a tablet through the backpack is also basically a gimmick, and one that you'll probably get over quickly, too. While the idea has merit, unzipping the section and pulling the flap all the way behind the backpack still means you have a pretty large backpack on your knees to use your tablet, when you could just take it out of the pack altogether.
On a messenger bag with a smaller width, this might make more sense, keeping everything small and confined, but given the size, you might as well just take the tablet out when you want to use it.
Conclusion
The vision of a world occupied by tablets might not be too far off, and if you're living in that world already, you might be keen to see how Osprey interprets it, with a backpack providing easy access to a tablet.
It's a neat idea, and one many people will really like, though the backpack itself is also one of the more comfortable slim line packs we've used too.
If technology goes wherever you go and you're after a new way to carry it around, it's easily worth checking out the Osprey Portal Cyber Port.
Neat concept for a backpack; Comfortable to wear; Materials are fairly lightweight;
Window section is neat, but the gimmick wears off quickly;