The Panasonic ES-LV6Q and ES-LV9Q shavers are Panasonic's new 2019 shavers – hint they are the same shaver, but the latter has an auto cleaning and charging station.
While the Panasonic ES-LV6Q and ES-LV9Q replace the ES-LV6N and ES-LV9N, there is not much difference apart from a few cosmetic changes. So, if after reading this review you decide to buy one you might bag a substantial bargain from the 2016-2018 range.
I have been shaving for about 50 years – it is a curse, this daily chore to keep a clean-shaven face because my mum said people do not trust men with beards (sorry all those Hipsters and ZZ Tops out there). In 50 years I have probably had around 7-10 shavers – 5-10 years life each.
I remember my first electric shaver
It was a Remington 25 corded shaver. Remington was the main game and king of spin with names like Roll-A-Matic, Selectic, XLR, Micro-Screen (and many more). Master marketer Victor Kiam even said, "I like the shaver so much. I bought the company. It shaves as close as a blade, or now I give your money back."
The twin-blade shaver was OK, not great, and I wanted more in pursuit of anti-hirsute perfection.
I graduated to a Philips Rotary PhiliShave
Probably because Roger Moore used one in James Bond. Philips stated it was best for sensitive skin, good for hair on the lower neck and thick facial hair. It was OK, but I quickly learned that rotary was not for my skin or face type.
Next a couple of Braun twin blades with its famous floating head.
These cost around $200 even back then. The corded one did a pretty good job. So, a few years later, I bought a cordless wet and dry. But two things put me off. The cordless battery was cactus after about two years, and the foils/screens/blades (although a relatively low cost to replace) were fragile and wore out in under 12 months leaving my face a mess of nicks and cuts.
Panasonic came to my attention in the early-00s.
I remember the cordless two-blade Wet/Dry cost over $200 and I was more than a little hesitant at that cost. But I had a business relationship with Panasonic buying computer monitors and CD-ROMs, so I got a staff discount. A few years later it became my travel razor (as I was travelling every other week) and it retired in 2012.
I went for broke and bought the ES-LV65 (circa 2009) at around $499 and in 2017 picked another new one up from eBay for less than half that price. I replaced the foil/screen and cutter blades on the first and now keep one at both of my homes. Call it good luck, but the first ES-LV65 is still in as-new condition, and the battery still gives me at 30 minutes of shave time. The second still gives the full 45 mintues use. They are still making that model and Shaver Shop has it for $244.95.
Shavers 101
Something clicked in the early-00s that Panasonic was the brand to go for and for my skin, beard and face type. I grow short stubble each day, have the usual skin folds (laugh lines – not wrinkles) associated with a sexagenarian and relatively sensitive skin – I need to moisturise every day.
Time has proven that the five-blade system is best for me. To be clear this has two 14,000 cycles per minute linear cutters (cost about $50) and the cutter arms power three extra foils or 'blades' – call it left, cutter, middle, cutter, and right (about $100). The cutters, blades and foils are Japanese-made of very high quality. Panasonic recommends replacement of the foil ever year and cutter every two years.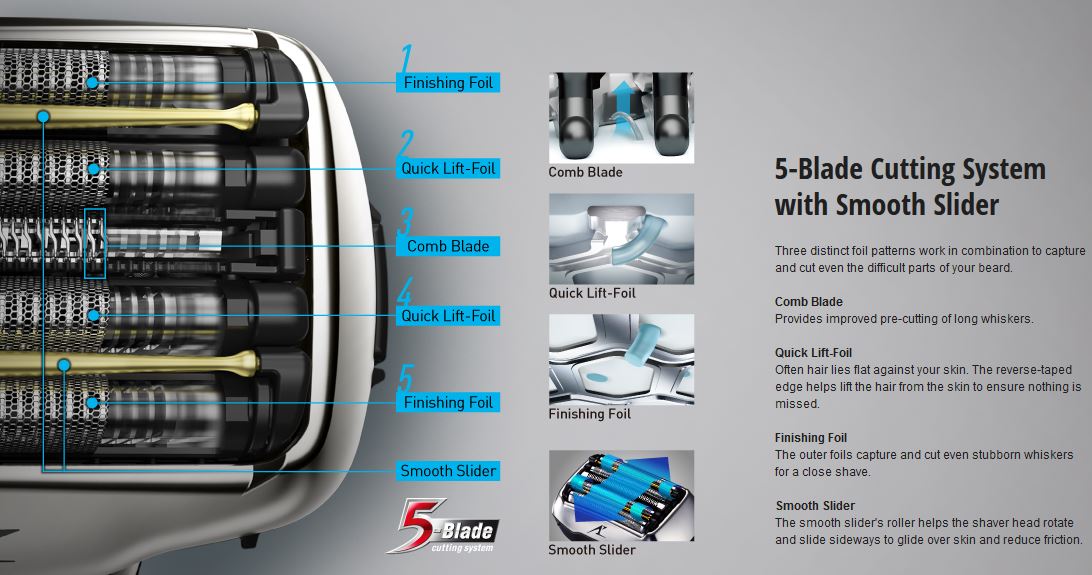 Before you exclaim that replacements are expensive, these are five-blade – not the cheaper one, two, three or four blades. I shave every day, and the first replacement was at year seven, so that is about $20 per year. Bargain hunters will shop on eBay as well and may find combo sets for a lot less.
Panasonic ES-LV6Q and ES-LV9Q shavers
Website here
Price: ES-LV6Q $599.95 and ED-LV9Q %699.95
Sold via Shaver Shop, Shaver City, Good Guys, Bing Lee and more.
What shaver paradigms do we use?
Most importantly is that is shaves as close as a blade
Removal of wispy or lay-flat hair around the neck
Pop-up cutter type and effectiveness
Battery life and longevity
Recharge time
Easy of cleaning
Wet/Dry use (for that category)
Looks/Use
It is not glossy or flashy although Panasonic has added gold accents to this latest generation. It is very well-built.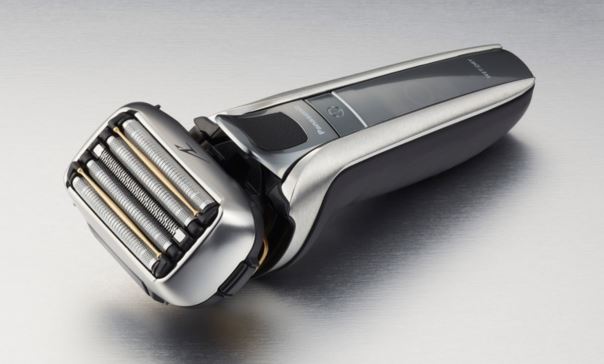 It weighs 200g, and that is about the same weight as a large mobile phone. The sculptured handle is ergonomic, grippy and comfortable to hold.
The shaving head is larger than most as it has five blades/cutting elements. This ensures it shaves stubble to longer hairs in one pass.
You can lock the head or leave it free to pivot to the left or right. I prefer it locked.
The LCD shows battery life remaining, shave time and other icons for sensor and clean.
Shave – smoother than a baby's b…
I tested over two weeks with a daily shave, and the last was where the stubble was five days long.
The daily shave result was a perfect face shave requiring only one or two passes to pick up all stubble in 'crevasses" and the difficult top lip and Adam's apple areas – pass.
Under the (double) chin where looser skin requires several passes in left/right and up/down directions it picked up the lay-flat longer hair at the side of the neck quite well – pass.
The pop-up trimmer is useful for grooming and removing longer, wispy hair at the base of the neck or around the ears and sideburns.
The significant difference over the older LV-65N is the addition of two gold 'smooth slider' rollers that reduced skin drag.
The five-day shave was equally good at removing face hair although it took a few more passes to get all the hair. Similarly, under the neck required more passes and total shave time was around seven minutes. Still, in the end, the results were as good as the daily shave.
It has a shaving sensor that detects beard density. It did increase torque on the heavy beard but made no difference to a daily shave.
I did one further wet test with a light lather. I would not waste time with wet shaving as dry shaving produces excellent results. However, as I have sensitive skin, I moisturise straight after as it will slough off dead skin cells.
It has been a while since I used anything but a Panasonic shaver, but I suspect you will find the larger head and fewer passes make it a faster shave.
Summary: The closest shave, like a blade and remains cool to use.
Battery
The daily shave took about three to four minutes. After ten shaves (35 minutes total) the battery gauge still showed 30% – so the 45-minute claim is conservative.
Panasonic claims the speed remains constant regardless of the remaining charge – we agree.
Recharge time is one hour from its 4.8V/1.25A (6W) charger. For safety, you cannot shave when using the charger – avoids the temptation to use it in the shower! It does have a quick charge – a couple of minutes is sufficient for a 3-minute shave.
Panasonic says the 3.8V Lithium-ion battery should be good three years or 100+ cycles from 0-100%. My experience is a far longer life.
A Panasonic Service Centre can replace the battery (cost unknown). A replacement battery is around $50 on eBay. It is relatively simple, and users could do it but may risk breaking the water seal.
Noise
It is about 64dB, slightly higher with the trimmer.
Manual cleaning
All I have ever done is to remove the whiskers from the shaver head every few days and wash the cutters and foil under warm water with a little antibacterial hand wash. You press the power button for two seconds to get it to 'ultra-sonic' mode. There is also a small brush that can clean between the linear blades or the trimmer.
Panasonic provides a small bottle of liquid paraffin lubricant for the trimmer and blades – never used it.
Automatic Cleaning and charging – ES-LV9Q only
Panasonic includes the auto cleaner/charger with the ES-LV9Q S.K.U. I have never used one before.
You add water and cleaner to a bottom tray and its good for about 30 days. One catch – while cleaning it makes quite a loud noise as it pressure squirts water through the head – don't do that at night.
I used it between shaves, and the 90 x 90mm unit does not take up much space on the bench. Would I spend and extra $50 to get the cleaner unit? Probably not.
Here is an overview of how it washes, dries and charges all at the same time.
Accessories – Panasonic ES-LV6Q and ES-LV9Q
It comes with a soft vinyl zip-up travel pouch and head protector. The shaver can be locked to prevent accidental operation when travelling.
The charger (also for the automatic cleaner) does not fit but as you have about 45 minutes shave time you may not need to take it. It has a proprietary two-pin plug.
GadgetGuy's take – Panasonic ES-LV6Q and ES-LV9Q shavers for a close shave
When I was asked to review the shaver, I mentioned I had been a long-term Panasonic user. "Oh, good said the PR, you will give it a good review."
To which, controlling my tongue, I replied, "I will give it an accurate review."
And to be fair my past experiences with other brands don't really count so apologies to them – we will seek out different brands to review.
Before I wrote this review, I also read up on the latest top-drawer Braun Series-9, Philips Norelco, Remington etc.
I concluded that Braun is also at the top of the heap although its forte is a gentle shave.
Philips is like a Swiss Army knife with add-on trimmers and facial brushes. It is a rotary cutter, and that does not suit my face although it is apparently good for unruly and wispy hair.
Remington gets the nod for affordable razors that do a good job but don't have the longevity of the others.
Panasonic gets the gong for not pulling hair (like a rotary can do) and a clean, close-cut even with thick stubble.
All I can say is that for my face/beard/skin type, I am 100% satisfied.
The Panasonic ES-LV6Q and ES-LV9Q review samples were returned to Panasonic – damn
Large 5-blade head
45 minute battery life on 1 hour charge
Build quality and longevity
Premium shave and shaver
Problably would not spend extra $50 to get the automatic cleaner/charger