Will Smith and Jazzy Jeff might have gotten everyone shouting "Boom! Shake the room!" but an update to speakers from Panasonic could just to that itself.
The new models come out of Panasonic's oddly named "mini systems", two of which match that description while another is larger than some of the speakers you'll see carted on gigs down at the local pub, questioning whether "mini" is a valid description or not.
Despite that big question mark, the speakers are designed to offer power, and plenty of bass, with solid sound quality and a DJ function that will mean you won't necessarily need to hire someone to mix tracks at the next shindig.
The models for this range start with the $329 AKX200 (above) and $499 AKX600, models that offer 400W and 1600W of power respectively, though made for slightly different audiences. The AKX200 reminds us of one of Panasonic's micro HiFi systems, though offers up the 400 watts through two speakers, while the 1600 watt big brother AKX600 delivers a 20 cm "super woofer", Bluetooth, and a small DJ sampler with 2GB storage for leaving music files on the unit.
Then there's the big boy. Forget the "AKX" moniker, because this is the "MAX" series of speaker.
This model is a big boy, with massive speakers pushing out 4000 watts of power, and a new technology called "air quake bass" which aims to disrupt the air and emit so much sound, you can feel it, almost like that Maxell ad we've all seen before.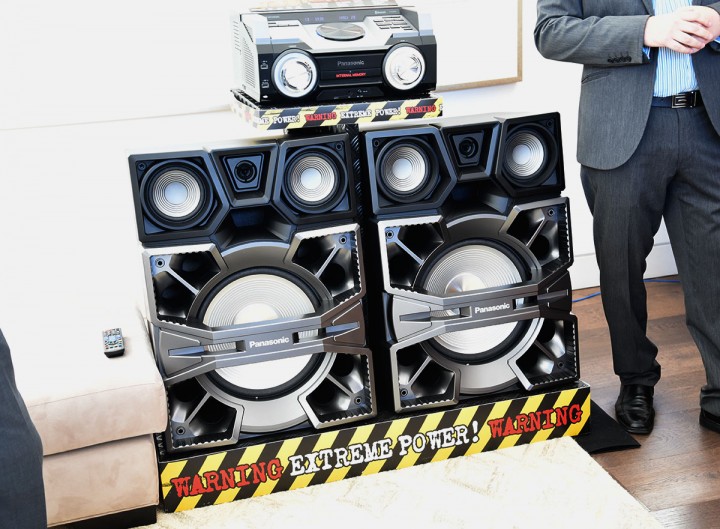 Testing it this week with something electronic, we can attest to the fact that you can feel the sound, and now we may have to get our hearing checked, which likely comes from the 38cm "ultra super woofer" and three amps. Yikes.
There are also lights — colourful flashy lights — and a look to the speaker that says "don't mess with me", appearing almost as if it were made for a party, which we suspect is probably the idea behind its design.
Like the 600 series, there's 2GB storage found inside the MAX model for storing up to 500 songs, with some sound effects for mixing and scratching using a vinyl emulation disc to give people the feeling they're a DJ at the event on a special console, while a karaoke connection also offers the ability to sing your heart out. Because why not when you have 4000 watts of power to work with.
Alternatively, you can let some software do all the work with the Panasonic Max Juke app, which can read songs off a USB drive, Bluetooth connected device (smartphone or tablet), or the internal storage to pick what songs are played next, and even let family and friends decide what is played next on the list, acting like your own digital jukebox.
Pricing on the MAX8000 comes in at $1399, with the other two variants (AKX200 for $329 and AKX600 for $499) arriving in stores across Australia shortly.