How do you deal with a lack of Ultra HD content for 4K TVs? You get people to make their own, which is exactly what Panasonic is doing with its latest mirror-less shooter, providing not just 4K video, but 4K image shooting.
This week, Panasonic Australia is talking up a new camera aimed at not just getting you to take photos, but also encouraging you to start turning your life into a 4K movie, as Panasonic unveils a sub-$1000 Ultra HD camera.
It's called the G7 and is Panasonic's seventh (7th) 4K consumer-oriented product, with this one likely to grab the attention of people after a quality mirrorless camera without looking for the cost of something ridiculously high end.
While it's not the most high-end mirrorless in Panasonic's Lumix line-up, Pana is still hoping to attract attention with some high-end features, like the sensor from the higher-end GH4, which brings with it 16 megapixels of goodness, autofocus speeds of 0.07 seconds, and high-speed shooting in 16 megapixel with 8 frames per second using the mechanical shutter and as much as 40 per second with the electronic one.
Plenty of features are also offered, with image modes catering for both amateur and enthusiasts, and there's RAW and JPG support, with sensitivity offered from ISO 100 to 25600, 11 programmable buttons, front and rear dials to make the camera feel like a real camera, a 3 inch vari-angle touchscreen LCD, and a 2.3 million dot OLED live viewfinder, but there are also some heavy improvements to focusing.
In that area, Panasonic's hopes to make a dent with two focus technologies, leveraging the "DFD or "Depth From Defocus" technology is used in the GH4 which works out how far out of focus the lens and deals with it accordingly.
Adding to that is a new technology aimed at people taking pictures of the stars called "Starlight AF". This technology allows focus to be set for different parts of the scene that aren't necessarily going to be grouped together. Essentially, these would be your stars, but they might be something else, such as buildings in a long exposure far off.
And, as we mentioned earlier, 4K is a big part of what the Lumix G7 can do.
Case in point, it can capture 4K Ultra HD video at a maximum of 100Mbps, making it ideal if you're planning to make a movie, provided you have the right lenses, but video is only one part of the 4K equation.
You see, there is also 4K image shooting, and this one is a little tricky. Not to take photos, no, Panasonic has taken the guesswork out of this one and made it as easy as eating pie.
Rather, a 4K image is technically an 8 megapixel photo, and armed with that information, you can probably guess just how many cameras can take a "4K photo" (hint: the answer is practically all of them).
Where Panasonic shakes the formula is how the camera takes a 4K photo, and for that, the team of engineers and researchers at Panasonic have come up with a handy little concept called "4K pre-burst" that captures video one second before and after you press the shutter, constantly recording video to a buffer and then snipping that video into a two to three second clip.
That little video is a 4K UHD video, but in the camera, you can quickly snip out the frame you want using a neat on-screen touch controller, flicking left and right as you pick the frame you're after.
The images you get out from this mode could be in motion, but means you don't necessarily have to plan to capture motion, and can just take an image out of video instead of firing the shot at the right second.
We tested it this week with some chaps practicing parkour and jumping around the place, capturing images of them as they ran, jump, and fell, but we can see so many other uses for this concept, such as capturing images of your pets, kids, sports, macros of fast moving objects, and even some lightning if need be.
Panasonic also brings two modes to the 4K image mode that aren't necessarily going to be used at all times, but are meant for photos as well, with 4K burst mode appearing in two styles, regular and start/stop.
Regular allows you to fire off 30 frames per second so long as you gold the shutter button down, while start/stop is a little more convenient, letting you press the shutter once, start capturing 4K video, and then press stop, sort of like using a regular camera where you'll cut the images out of the video later on.
This week, our brief play with the G7 had us spend most of our time with the pre-burst mode, which allowed us to easily capture moments we were missing, grabbing shots we had meant to grab when the shutter was pressed, and allowing us to find the right photo when we had in fact missed it.
It's very easy to trigger, and even if you don't get all the images out while you're on the camera, you can always snag them out if needed by grabbing the movie frames — which is what the photos are stored in — on a computer later on.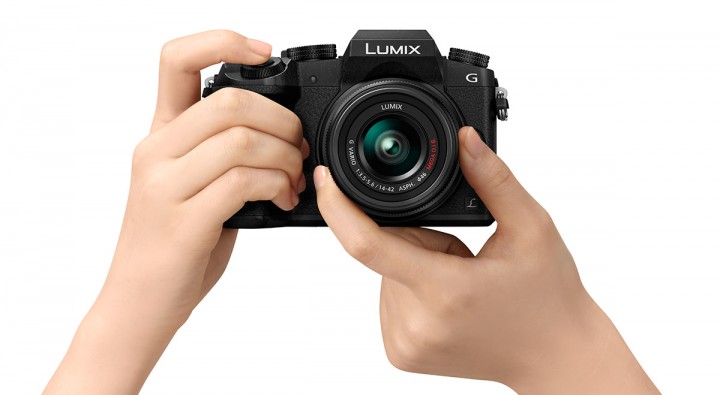 As for the camera, ergonomics on this camera are quite good, with a comfortable camera hold, plenty of easy to locate buttons on the right side camera grip, and a bright and crisp electronic viewfinder if the touchscreen LCD on the back isn't to your liking.
The price also has our attention, and it's a sign that Panasonic really intends to challenge other mirrorless makers this year, including the only other Micro Four-Thirds camera manufacturer Australia sees, Olympus, with the Lumix G7 sporting a recommended retail price of $999 with a single-lens kit (14-42mm), with the body only fetching even less at $899.
If you need more lenses, you'll find a twin-lens kit (above) including the 14-42mm and 45-150mm for $1199 and a specific zoom lens kit with the G7 and a 14-140mm lens for $1499.
About the only thing we're a little disappointed with at this time was the lens quality, which while optically quite good, tends to feel a bit on the cheap and plastic side. We're sure different lenses can make this up, but the ones Panasonic let us play with at the briefing this week didn't do much to alleviate our concerns.
That being said, if you can get over the plastic feeling from the lenses — and we're pretty sure we can, too — you'll find the Panasonic Lumix G7 in stores from late June.