The ever-growing Philips Hue family's latest addition is the Philips Hue Play Light Bar – and likes its name; it is a bar that can add lighting ambience to any room.
What is a Philips Hue Play Light Bar? It is a bar 253 x 36 x 44mm x 420g that has two mounting bases (vertical or horizontal) to add up to 530 lumens (office light). A standard Hue bulb emits about 800 lumens.
The Philips Hue Play Light Bar (website here) is a member of the Philips Hue energy-efficient lighting range. It plugs into a 240V wall adapter and connects to the smart light system via a Philips Hue Bridge.
Why do you need lighting ambience?
In the good old days, you simply had incandescent lightbulbs in overhead fixtures or desk/table lamps. You put in the appropriate wattage bulb to get the brightness you needed. These were either on-or-off, and some had wall switch dimmers for 'mood' effects. There were some coloured bulbs usually good at repelling or attracting insects.
Lighting ambience is a new kind of décor achieved by adding several of the Philips Hue Play Light Bar, Light strips, downlights, and so many more styles.
The secret sauce of Philips Hue Play Light Bar (all Philips Hue products) is the use of dimmable, low-energy LEDs. These come in boring white (well 50,000 shades thereof) or RGBW – there 16 million colours to choose from.
 The Philips Hue Play Light Bar is controlled via a Philips Hue Bridge and the app or via OK Google (tested) or other voice assistants like Siri/Apple HomeKit.
Now until you have experienced lighting ambience, you probably would choke on the cost of smart lighting.
A segue. When we bought our Central Coast home, all it had was halogen downlights – the hugely energy-sucking, non-dimmable kind. Recently we replaced about 40 of these under a State government energy efficiency subsidy saving as much as 90% on our lighting bill. But all that did is replace white light with white light, so, no ambience styling.
We replaced kitchen and bedroom lamps with Philips Hue colour/white lamps. Initially, it was more for the convenience of asking Google to switch on the kitchen lights. But we found that other colours were even more ambience altering. We experimented with various percentages of pink, purple, green, red… Now we would not dream of using white in the bedroom and can instruct Google to play Ravel's Boléro and the lights go to 30% purple. Get my drift – we sexagenarians can still have fun.
We also replaced task lighting (specific purpose over desks or for reading) with energy-efficient lighting, and now we are using two Philips Hue Play Light Bar for gentle, non-reflective lighting in the media room. The bars can emit up to 530 lumens each, and the diffuser makes sure the light is evenly spread.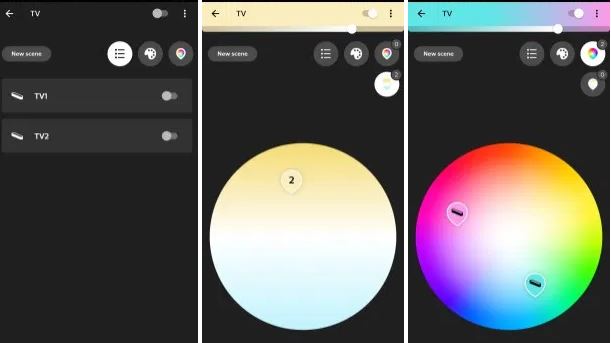 You can even sync the Philips Hue Play Light Bar to your TV screen video, and audio content
There is a catch. it requires a separate Philips Hue Play HDMI Sync Box – expected to be over $300 when available.
You can sort of do it now on a Windows or macOS OC, with Hue-Sync app. You can then screen mirror to a TV. At present, you can only use it for TV bias lighting to better define the screen.
The moral of this segue is that light can be a powerful mood enhancer or set the scene – you don't have to settle for white lights.
Price: Where to buy here
Remember you need a Philips Hue Bridge if you don't have one – $89
Single-pack $119 (includes one light with 2m cable and power pack)
Two-pack $219 (includes two lights and power pack)
Single light $99 (can run off power packs above – maximum three per adapter)
5m Extension cable $34
GadgetGuy's take – Philips Hue Play Light Bar offers lighting ambience
99% of reviews start that Philips Hue (all models) are excellent BUT expensive. Yes, they are compared to a $5 Woollies light bulb.
But the typical buyer is one that appreciates light/décor/ambience styling. The more I test Philips Hue, and other energy-efficient RGBW LED lights – the more I understand their use and integration with OK Google, IFTT et al.
What I will say is that Philips Hue is an ecosystem-based around the Philips Hue Bridge (a Zigbee controller) and that adds cost over Wi-Fi lights. The benefit of a Bridge (or Bridges) is that you keep the traffic off the home Wi-Fi and it allows you to place Bridges out of Wi-Fi range (you still need to get Ethernet to them – that is what Ethernet over Power is for).
Specs
Dimmable 0-100% without hardwired dimmer
16 Million colours and 50,000 shades of white 2000-6500°K
6.6W each or 530 lumens maximum
2m cable
Power adapter supports up to three Philips Hue Play Light Bar
Includes desk (portrait) and table (horizontal) stand for each bar as well as mounting tape etc
2-year warranty but lamps has estimated 25,000 hours life
Quality and well made
Easy mounting options increase flexibility
TV/audio content integration requires HDMI Hub not yet here
Requires separate Philips Hue Bridge