Philips Hue Outdoor range is one of the most anticipated Smart Home releases of 2019 according to GadgetGuy's smart home expert MichaelVerghios of Nimbull Smart Home.
Philips Hue has dominated the Australian market for indoor SmartHome Lighting for several years. Millions of Philips HUE connected devices are in homes, stores and offices around Australia.
It's no surprise then that when Philips made rumblings that its Hue outdoor range was going to expand beyond the US and parts of Europe that Australian Smart Home enthusiasts really took notice.
In fact, Google Trends, which measures the popularity of keywords typed into Google, has detected increasing activity and forecast a large spike. It is a hot topic.

Philips Hue Outdoor price and availability
The Philips Hue white and colour ambiance spot Lily base unit pack will be available in Australia 4th December from JB HiFi and Bunnings, retailing for $169.95 (light including starter plug) and $129.95 (extension lights).
The Philips Hue white and colour ambiance Calla bollard will also be available in Australia 4thDecember from JB HiFi and Bunnings and will retail for $219.95 (light including starter plug) and $159.95 (extension lights).
Popular uses for Philips Hue Outdoor
The standard backyard at night is just a chamber of darkness. Enjoy your backyard longer andmake it something great to look at 24 hours a day by using Philips Hue outdoor lighting.
SmartSpotlights can change colours and illuminate and accent feature objects in your yard.
SmartOutdoor Lighting Pedestals that light up your driveway as you arrive home. Swimming pool surrounds can illuminate with colour.
The Philips Hue Lightstrip (80 and 197") is also outdoor capable and can a make a real statement around trees, paths and outdoor sculptures.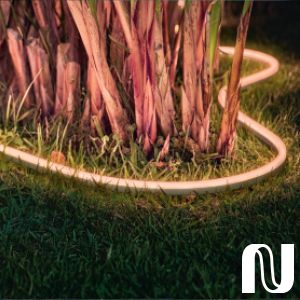 We may see the Lucca and Inara Outdoor Wall Lanterns as well.
Solving Common Lighting Challenges
Australian smart lighting shoppers often ask about products for bathrooms and outdoor spaces, where conditions can be too wet for traditional smart electrical lighting. Up until now, there has been no way of solving that problem, forcing homeowners to install regular outdoor lighting.
With Philips Hue Outdoor, you can use the same smart home functionality to control indoors and outdoors. This is perfect for users already in the Philips Hue ecosystem – one app, one bridge, one integration to your favourite voice assistants like Google Assistant, Alexa or Siri.
Will it work?
All Philips Hue connect to 240V power and via Zigbee wireless to the Philips Hue Bridge. The theoretical range is 400 metres line-of-sight but we recommend, lights are within 100 metres.
The Bridge can support up to 50 lights. At this time you can't mesh two Hubs together, e.g. 100 lights without using a third-party app called Yeti which is not as functional as the Philips Hue app.
So before you rush out, do some measuring from where you will place the bridge to where the lights are.
That is why we recommend you think carefully about what type of smart home you want. If you want to go all out seek professional help. GadgetGuy guest author Michael Verghios Director at Nimbull Smart Home is an expert and has penned a brief GadgetGuy Smart Home guide here.