It's probably not hard to find someone who knows how to strum a guitar, but if they're keen to make a sound and recall it later, a new device is on its way out to help make that easier.
On the way from digital musical accessory company IK Multimedia, the iRig Acoustic is a new accessory designed to work with an iPhone, iPad, Android smartphone or tablet, or even a laptop or desktop, with the gadget basically consisting of a digital microphone pick-up made for the hole in an acoustic guitar or ukulele.
The microphone has been designed specifically for the style of hole used in acoustic instruments, and clips on the rim, taking its feed from this part of your instrument and sending it to a smartphone, tablet, or computer, paired with iRig's AmpliTube Acoustic software, with profiles designed for acoustic instruments.
From a microphone point of view, IK tells GadgetGuy that the iRig Acoustic relies on a MicroElectrical-Mechanical System of microphones, with an omnidirectional polar pattern to simulate audio pickup from that centre hole, which iRig says makes the sound appear to resonate at the instrument's sweet spot.
That's not so different in principle to what you'd do when you mic up an acoustic instrument, positioning a microphone at the centre hole usually on a stand.
One thing we have checked on and that's the compatibility of instruments, with IK's people sending word that while other string instruments — like a cello or violin — are acoustic, the iRig Acoustic will not work properly "due to the shape of the F-hole" on those instruments as it has been "designed to work with acoustic guitars and ukuleles".
Just something to consider if you saw the term "acoustic" and figured this was your chance to jump at recording audio on your phone at your violin practice. Unfortunately, you'll still need a made-for-purpose microphone.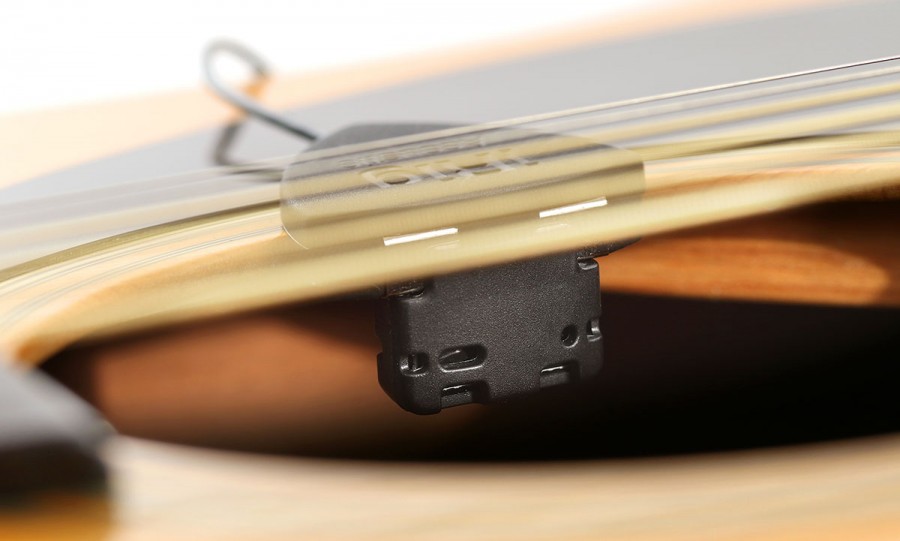 If you're a guitarist or uke player, though, you'll be set, and the good news is that it shouldn't cost too much, either.
Checking in with IK Multimedia's distributor for Australia, we're told the iRig Acoustic will land locally for around $89.99, and you'll find it in specialist audio stores in mid-December, making it ideal for the hopeful guitarist in your life, or someone who likes to make music when they're out and about.