Headphones that cut out the noise from the outside world generally require you to be tethered to your phone, but not a new pair of cans from Plantronics, as the company brings its expertise with wireless audio technology to the field of big headphones.
Features
A new model in the Plantronics BackBeat range, the "Pro" looks to deliver more encompassed sound to a person that wants to cut out background noise, and doesn't mind doing so with or without cables.
As such, these headphones include support for Near-Field Communication and connect through Bluetooth 4.0 as well as AptX, with an operating distance of up to 100 metres for that wireless communication.
A wired option is included too, able to be plugged into smartphones and tablets using a 3.5mm cable.
Active noise cancellation is part of the package, able to be switched on and off using a switch, and taking advantage of two microphones and a digital signal processing engine.
Finally there's a battery for running the headphones without power, which Plantronics says should last up to 24 hours of real use before needing to be charge, up to 21 days of standby, and up to 180 days of "DeepSleep" standby time when not used for an extended amount of time, while the charge time is roughly three hours.
A carrying pouch is included in the box for the BackBeat Pro, as is two cables: one for charging the headphones (microUSB to USB) and one for plugging the headphones into your phone or media player (3.5mm to 3.5mm).
Performance
Plantronics has been making headsets for a while, and its products are of an elite few that have seen space, as NASA relies on Plantronics hardware.
As such, the company loves sound, and it loves communication, and that's where the BackBeat Pro come into play, providing sound and communication in a larger headphone, a push into a different market that will provide some competition against Beats, Bose, and a bunch of others that don't necessarily start with the letter "b".
First the comfort, and unless you have large ears, you'll find the BackBeat Pro to work as circumaural cans, sitting around the ears with pleather-covered foam that fits around the ears nicely, and if you have larger lobes, pushes against them comfortably.
The headband is padded nicely — more of that pleather-coated foam — and whether you're taking the headphones off or wearing them, we found the BackBeat Pro comfy to handle.
Also comfortable to reach are the controls, which also come with the added benefit of being easy to reach and memorise.
First the left can, which is easily noted because of the "L" in the left can, while the right has the obvious opposite with "R" inside.
On the aforementioned left headphone, there's a big click button for pause and playback, with the rubberised control wheel on around this for skipping tracks forward and back, as well as an active noise cancellation switch on the outside. Over to the right can, and the big button is for answering calls while the rubberised control wheel is for volume, while a power switch is also found here for the headphones and an OpenMic button for letting you hear the world and temporarily disable the active noise cancellation technology.
While it sounds like a lot, the controls are actually very easy to get used to, with the control wheels on each side providing a tactile way of controlling volume and track changes, and the ANC power button making it possible to turn noise cancellation on and off with ease.
Ports are also easy to get used to, as there are only two, and both are located on the left can, with microUSB charging there, and a 3.5mm jack if you need to use it for wired headphones.
It's simple, and if you decide to go wired — like on an aircraft or to save battery by not using Bluetooth — you just plug the cable in here.
But that's the thing about the Plantronics BackBeat Pro that puts you in a good mood from the beginning: you can choose whether or not you're wired and get noise cancellation either way. Wired, wireless, noise cancelling on or off. Your choices are varied, and if you love the idea of cutting out the outside from your music listening world but aren't sure about cables, this pair gives you the best of both worlds.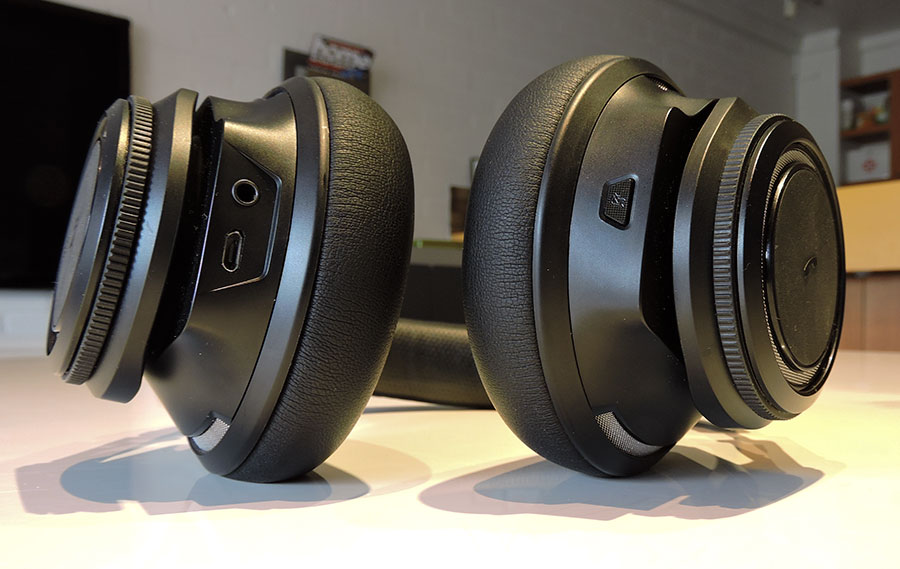 Over to the most important thing, and that's audio quality, and we'll start this test the way we normally do, and that's with electronic music.
Starting out with the intro sequence from "Mirror's Edge" by Solar Fields, we can hear a strong bass in the back of the headphones with solid pops and glitches in the midst and highs over it, with the same feeling echoed in The Glitch Mob's "Skullclub," which features prominent and punchy bass over good highs, with relatively balanced mids. Some of the bass can be overpowering in these tracks, but overall, it's punchy enough to get lost in, without a lot of loss in quality.
And jumping between noise cancellation being switched on and off showed us that without the tech switched on, the bass was punchier, with the mids taking more balance while on.
That said, they were both very good, with strong depth and a soundstage few would be opposed to, and that led us into rock, with Muse's "Supremacy" displaying a real thud from the bass drum in the lead-up to the main song, while the mids and highs just sang on through as the orchestral pieces, guitar, and vocals screamed out.
Closure In Moscow's "A Night at the Spleen" showed similar results, with good balance with ANC off, and a little less punch with it on, but strings highs and lows, while the mids punched on through.
Modern pop and R&B shines through next, and the hollowness of the percussion and synth in Jessie J's "Bang Bang" is obvious, as is an overemphasised bass, though we doubt this is something we can attribute to the headphones, as the well-engineered "Billie Jean" by Michael Jackson shows strength across the range, with solid and prominent bass notes ever so slightly overpowering the vocals of Jackson, which are still noticeable, especially so when the bridge and chorus kick in, doubling and tripling the tracks.
And when the chorus really gets in, the balance is definitely there in this piece.