Jazz is our next area, and there's good balance here too, with the real instruments of the Dave Brubeck Quartet shining in "Maria" with balance across the board and a good soft tonality to the bass, especially when turned up, creating the feeling that you're in the studio with them.
John Coltrane's "Blue Train" doesn't emphasise the bass too much either, though the horns come out very bright here, with soft drums in the background amidst all the other instruments that are rounded out quite nicely.
Classical too shows this balance, and we're pleased to see a reasonably rich cello sound in Claude Bolling and Yo-Yo Ma's "Baroque In Rhythm," though once again, it's a little bright with real instruments without too much studio enhancement, and doubly so when active noise cancellation is turned on.
Piano is a little warmer in Freddy Kampf's "Fantasia Impromptu," the brightness toned down as the piano stretched across mids and highs, but there's a good sound across the board, and we like what we hear.
In fact, this excellence in audio has made the Plantronics BackBeat Pro among our favourite headphones this year — since we received them — and we love putting them on, controlling music, and getting into our audio without hearing the outside world.
The Plantronics active cancellation technology impressed us too, with decent background cancellation, though usually of hums or engine sounds from buses and transport.
We also liked the versatility of the headset, with the BackBeat Pro headphones working with a cord without power, or corded with power and the choice of active noise cancellation switched on or without.
You might see this last one as a bit of a non issue, but providing the same sort of balance with or without power is a pretty big deal, and when power is applied to the headphones — regardless of if ANC is on — you'll also find some extra volume from the headphones, controllable from the right can't rotational controller, which means you have a little more room than just the volume sent out from your phone or media player.
Also appreciated are the sensors in the headphones which can work out based on position if you are indeed wearing the headphone or not. If you're playing music and you pull the headphones down, the music still pause, waiting for you to don them once again.
Put the headphones back on and the music quickly fades back in, not jamming your head with an overly loud volume, but easing you back into the moment that you left it.
The battery is also good, providing up to a full day of life, which in our testing, appeared close to what we actually found. Depending on the mode you're using — powered and wireless, powered and wireless with noise cancellation, powered and wired with noise cancellation — you could see those full 24 hours, but you're more likely to see around 12 to 18 hours, which means you'll need to charge it once a week for most of your transit travelling, and that suits us fine.
Helping this is the microUSB port, which is the same charge connector that we use for our phones, so at least we know it's not going to be hard to find a way to charge the cans up, and they work well without power anyway, which is always a great "in case of emergency" situation.
There is also a deep sleep mode we haven't tested that seems very intriguing, putting the headphones into a sort of hibernation that should keep the battery at the last point of charge for up to half a year. We'd be using the headphones more often, but if you pull back on using them for a few months and decide to take them out all of a sudden, we have no doubt this will be handy to have.
Finally, we're very pleased to see support for 24-bit 192kHz music, also known as "high resolution audio."
While our testing playlist for this is still growing, partially based on how few tracks there are from pure studio masters, the Plantronics BackBeat Pro headphones had no problem with any of the high-res FLAC files we threw its way, whether wired or wireless, and it was simply excellent to hear the music sound this good through a pair of headphones that had no cords while we were sitting on the bus.
Seriously, these cans are simply brilliant when paired with a high-res audio player, such as the Sony Xperia Z3 Compact, and with Bluetooth sending out High Definition audio, makes it possible to enjoy studio-quality sound on the bus without being tethered to your phone.
They're brilliant. Really, they are.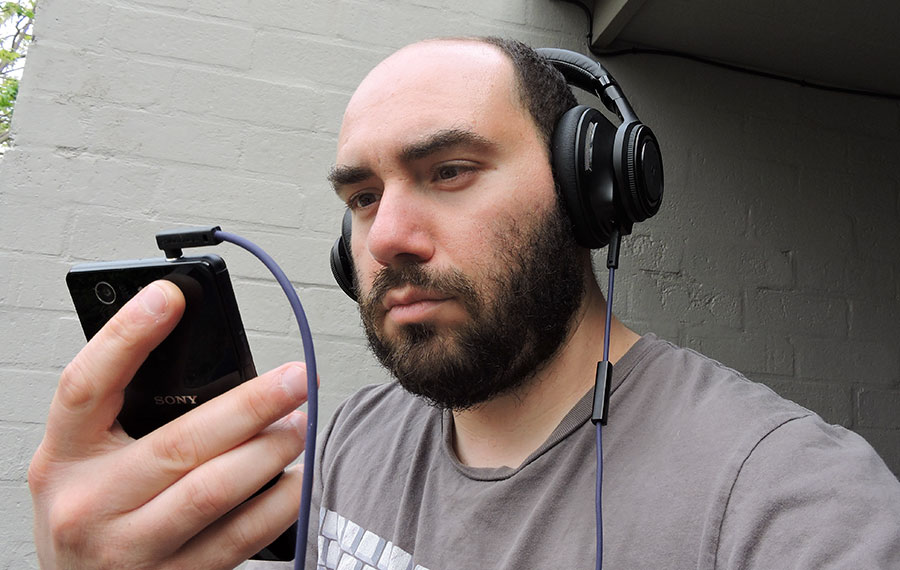 In fact, about the only problems we have the Plantronics BackBeat Pro headphones stem from an aesthetic one, and that's because the headphones are pretty big and feature a look not all will appreciate.
We've heard the term "retro" applied to these, and while we could see an 80s edgy and extruded look, we think they're still not bad on the eye, though it's clear Plantronics effort has been focused squarely on what is inside the headphones, rather than how they look from the outside.
That's not a bad thing, though, and provided you have no problems with the exterior, the Plantronics Backbeat Pro are an exceptional pair of noise cancelling headphones that come with the added bonus of working without the cord.
If you do have to put that cord back into play, you will lose the use of the controls on the ear, which is a big of a shame, though Plantronics does try to solve this dilemma with a small remote on the purple cable they ship with.
Conclusion
Here at GadgetGuy, headphones come and go, but the Plantronics BackBeat Pro will be one pair of headphones we'll always want to use, thanks to the combination of technologies, excellent controls, and a lovely sound that works well regardless of if you're listening with power or without.
Audio fanatics will likely find the headphones a touch too bright, but we like what we hear, and we feel it has to be said: finally, a pair of noise cancelling headphones works as well as it does without power as it does with power. Why has it taken this long?
Overall, we love what we hear in the Plantronics BackBeat Pro headphones, and chances are you will too.
Wired and wireless, it's your choice; Controls on the side of each ear are very easy to remember and get used to; Tactile volume control; Supports active noise cancellation; Includes Near-Field Communication; Supports aptX and high-resolution audio (24-bit/192kHz); Nice balance; Bright; Excellent bass; Audio sounds great and offers near-identical volumes whether active noise cancellation is switched on or off; Sensors in the headset to pause and play audio based on when you're wearing the headphones;
Big; A retro look that not all might go for; Headphone controls don't work when cable is used;