You shouldn't have to spend a fortune to have decent sound and not need cables, but this is becoming a thing where it's obvious that you do. Or is it?
Plantronics might have a solution in its BackBeat Sense, a pair of lightweight cans that let you do away with the cables, or bring them if you choose, and still get a decent set of sound regardless.
Features and performance
The name "Plantronics" might not be one you're familiar with, but the company has been around sound for ages.
Originating as a headset producer for aircraft and NASA — yep, the people who go into space — Plantronics branched out into producing quality electronics years ago, and has been releasing some pretty impressive headphones.
Last year, we saw the BackBeat Pro, a great but slightly unusual looking pair of over-the-ear (circumaural) headphones offering noise cancellation, solid sound, and outstanding value, especially in comparison to much of the competition.
This year, the BackBeat cans are back, but they're smaller, lighter, and thinner, and they're made for a different crowd. Specifically one that doesn't want to carry a big set of headphones with them.
These are the BackBeat Sense, and they are quite clearly a take on a market Beats is doing particularly well with in the Solo 2 wireless variety.
Much like that option, this is a wireless can relying on Bluetooth 4.0 with A2DP, and operating with a Class 1 Bluetooth connection capable of handling a connection of up to 100 metres. Two microphones are also here, and the battery inside the unit is good for either up to 18 hours or 21 days of standby, though it also features a "deep sleep" battery that can have it survive without being used for up to 180 days.
Materials used in its construction are metal, plastic, and a bit of pleather atop memory foam, while the controls are particularly interesting, offering most of the controls on the left earpiece.
On the left side, you'll find a flat panel with pause and play in the middle, and track forward and backwards on either side, while the volume controller is a small ring controller on the outside, a nod that pays homage to one of the design elements we loved about the BackBeat Pro cans.
An extra button can be found at the very bottom of the left can — a red button — letting you hear the outside world.
The other side — the right side — features the on and off switch, which you can hold up a little longer to get the headphones into pairing mode, while the panel on the side of the right can will let you pick up calls and stop them.
That's the key here and something you need to remember: the left side is for the handling of music and volume, while the right side is to pickup and answer calls.
And just in case you forget what side you should be donning, the holes of the headphone pad are drilled in with either "L" for "left" or "R" for "right" on the respective headphone side.
Easy.
Testing with our 2016 sound test, we took the BackBeat Sense through its paces, finding that the bass wasn't overly punchy, while the mids and highs were the definite winners in this pair of cans.
We won't linger too much on the individual songs, but in electronic, the smack of the bass didn't provide the same punch we were used to, and even felt a little lacking in comparison to the obvious competitor in the Beats camp. That being said, you could push the EQ up a little on the phone to beat that if needed, and we found the treble sounds were clear and distinct, something we felt on Imogen Heap's "Headlock" and Demi Lovato's "Cool For The Summer".
R&B faired a little better, with a touch more oomph in the lows out of The Weeknd's "Can't Feel My Face", and it was here that we started to find tracks where the bass was pushed up intentionally. In tracks like this, you'll find the bass more pronounced and a little more boomy, though it's clear that in the BackBeat Sense, these cans are driven by the mids and highs.
That's not necessarily a bad thing, and cites just how bright the Sense are, making it ideal for modern music, telling us an increase in the bass provided in many an over-engineered track isn't going to melt your eardrums.
Rock proves this, and in tracks where there isn't a huge artificial push, but just strong gutsy bass — such as Muse's "Psycho" — we're able to feel a more structured underlying bottom end under the bright sound of the guitar, drums, and vocals.
Basically, the bass is there, but it doesn't have to break the cans to get to you.
What's missing from this?
A sense of spatiality, because while the BackBeat Sense provides a clear sound with distinct tracks and audio placement, it doesn't feel like you're listening to it in any specific environment.
You're just listening to it, and the sounds are coming out at once, but it doesn't feel deep enough to pinpoint you in a room or a studio outside of anything nondescript.
This isn't a bad thing, either, it's just a thing, and if you like headphones with personality, these are not your pair. Rather, these are just good headphones that don't try to pitch a complicated or playful dispersion your way. Sound is just sound here, with very little done to make the sound come alive.
And for many, that will be perfect, and we like them all the same.
In fact, we particularly like how Plantronics has continued to keep the 3.5mm jack as something you can use if the headphones run out of battery life.
Recharging the Sense is easy, mind you, with the same microUSB port most phones are using, and the Plantronics expected time of up to 18 hours resulted in roughly that, or a real word usage of a good 2-3 hours used daily and needing to charge the headphones once in a week.
But if you do run out of life, you can always tether yourself to the phone using the supplied 3.5mm cable, which provides a remote with microphone so you can talk to people, too.
And just to show the other players in town how it's done, the BackBeat Sense is one of the only pairs of headphones we've seen that offers pretty much spot on sound wired to what it does in the wireless field.
Fantastic, that. We wish more companies got the hang of that.
After wearing these for a few weeks, we can tell you that comfort is definitely here, too, and while they're not going to be the best looking headphones for a fashion conscious individual, the memory-foam cushions are still comfortable all the same.
These are supra-aural, by the way, so don't expect the cans to take over your ear. Rather, they sit on top, and they don't squeeze too hard, either, with the metal band offering a fair amount of flexibility allowing those even even the most sensitive of craniums to don them without fear of tears.
Beyond the sound, you'll find some neat inclusions, such as that small red button on the bottom left can that can pause the music and switch on the microphone, patching this through to the earpiece, letting you hear what's going on outside on your cans.
That's one of those handy inclusions that means you don't have to take your headphones off to hear what's happening around you, or to find out someone is making fun of you and doesn't think that you're paying attention because you're wearing headphones.
Or you could just take off your headphones because thanks to a neck sensor, the headphones will pause the music.
We got this working 70 percent of the time, and when it did, found you could take the headphones off to talk to people and the music would pause. We've heard that the idea is theoretically designed so people can answer the phone handset with their hand and not talk into their headset, and this doesn't always work automatically, as depending on the phone you're using, you may have to switch when the sound goes using the phone itself.
Still, it's a great feature to have, because you shouldn't have to miss your favourite part of the song just because someone wants to talk to you to or an announcer says something important.
One feature that would have made the headphones better, however, is missing, and that's noise cancellation.
You won't find the ability to pick up on outside noise, and reverse and cancellation is also subsequently not here. Plantronics does suggest that "passive noise blocking" is here, though if we're being technical, that's because your ears are covering up the outside world with ear pads.
The BackBeat Sense don't do a bad job of masking noise, but it's hardly cancellation, and in fairness, if you were to take any pair of padded headphones, it would probably do the same.
That's not the same as "noise blocking", Plantronics. We know that, and so should you.
Also missing out in this pair of headphones in Near-Field Communication, so you can't pair an Android or Windows Phone simply by tapping the phone to a pair of cans, but that's not a huge loss.
What would have been nice would have been a bit more in the portability department.
Essentially, the Sense are light and easy to wear cans, but there's no hinge to shrink them down into something smaller, and you can fold or bend them without trying to snap or break them.
Would a hinge or two on each side have made the Sense feel a little less sturdy? Possibly, but we'd love to have seen it, because portability is a big deal when you're trying to stuff a pair of headphones into hand luggage these days.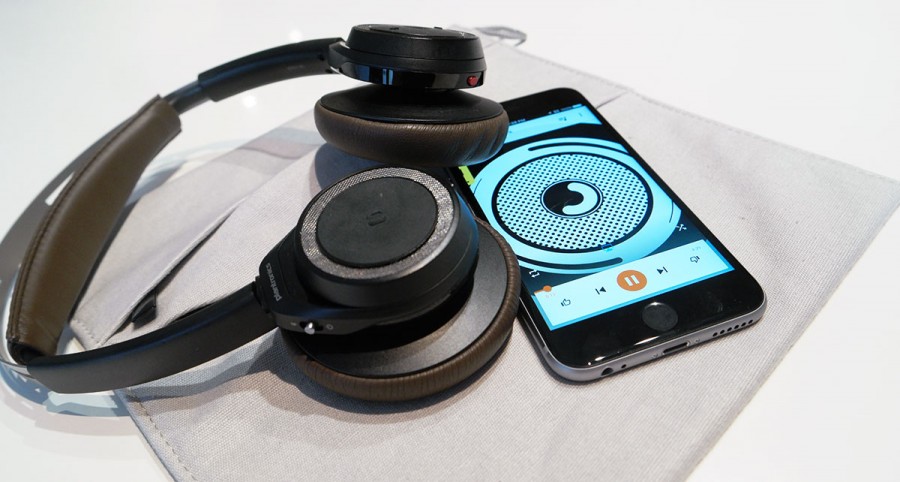 Conclusion
When it comes to portable entertainment, it's often hard to match price with quality, and these days when design plays such a big part in choosing, decisions can get muddled.
Do you choose based on how you look or how it sounds?
The Plantronics BackBeat Sense tries to find the middle ground in this question, pulling back on the retro-inspired but not-exactly-fashionable design it used in the BackBeat Pro headphones, while also keeping the sound technology just as good, or close to it in the smallest form-factor it can muster.
To this end, the Sense have nailed a few things, because while the bass could be a little boomier, this is a pair of comfortable cans with bright sound and some of the easiest controls you'll find out there. We've struggled with Beats headset controls, in comparison.
Quite possibly the best point the Plantronics BackBeat Sense makes is that you shouldn't have to pay Beats prices to get quality that matches the Dr. Dre founded brand, and even come close to beating it.
You might even call these headphones the "BackBeat Common Sense", because while they won't make you stand out, they will get you to use your head properly and decide on a pair of headphones where the price actually does make sense. Perhaps that's why Plantronics named them as such. Recommended.
Relatively balanced; Comfortable to wear; Light weight; Music pauses when the neck sensor is picked up, allowing you to pause simply by removing your headphones; Button to pause the music and hear the surrounding world is handy; Super easy controls on the left can; Supports replaceable 3.5mm cable that works when the headphones lack power and still sounds great with the cable;
No noise cancellation; They don't easily pack up for portability; No NFC;