The last time Plantronics took a swing at building fitness-friendly earphones, we saw the results in the highly sweat resistant wireless Backbeat Fit. A year later, Plantronics have new models that are a little more rugged than before.
What a difference a year makes.
Almost one year to the day that Plantronics first announced it had a pair of wireless earphones designed for people who like to run, jump, and do a whole bunch of other activities that can end up with gobs of sweat in the ears, the company has found a way to improve things, as the maker of some of the sound devices for the US Airforce and NASA improves things just a smidgeon.
This week, the Backbeat Fit is getting an update, and it's not even one you can see, as the Fit is now bringing with it a little more resistance to not just the sweat your body pushes out, but water from the outside world, too.
It's not totally water proof — we're not sure any ear- or headphone could guarantee that — but carrying a resistance rating of IP57 means that it'll survive an encounter of fresh water for up to a metre for up to half an hour. That means it should be good for swimming, though make sure to run the pair of earphones under a tap when you come out as water ingress ratings are rated for fresh water, not chlorinated or sea water.
And when we said that the updates to the Fit are something you can't see, that's not totally true either, as the updates are rolling out to a new red edition of the earphones that still features the reflective paint design that allows you to use them at night.
Everything else about the earphones appears to be the same, including the way they connect to your phone — Bluetooth — and the few buttons that will let you control your music from your ears, as well as the special case that doubles as a shoulder strap for your phone.
If you're wondering if the earphones are actually water-resistant and not just listed as such, we have made the headphones take a dip in water and played music through them immediately after, and they're fine.
Granted, that's not the test you're probably looking for, so we might have to go running in the rain in a later ears-on with the product.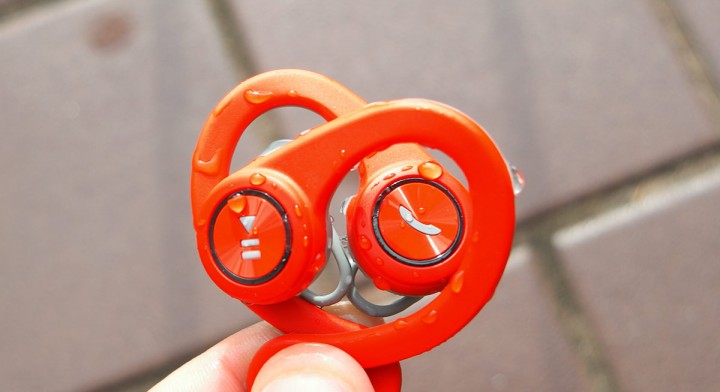 In case red isn't your style, the existing blue and green Backbeat Fit options will also receive the update, though because this isn't something you can firmware upgrade, you'll find them in new models hitting shelves in Rebel Sport now, with other stores like JB HiFi, Dick Smith, Officeworks, and other places from July 1st for a recommended retail price of $159.