We don't write much news about games, it's something we're working hard to change piece by piece… starting with this: our first game round-up for new releases, what's coming, and more.
First up, let's get into the big games that have just come out, because these are the ones that you'll be lining up to buy, if you haven't grabbed them already.
The biggest two games from this week have to easily be Call of Duty: Modern Warfare 3 and The Elder Scrolls V: Skyrim.
Modern Warfare 3 – also written as MW3 – is probably the game you'll find your boyfriend playing on the couch this afternoon.
We'll just let the trailer do the talking for us (above), as it's really the best way to get the feeling of what this game is about. It's available for both Windows PCs, Xbox 360, and PlayStation 3, so good luck getting the TV back for the next week.
The second big game of the week – The Elder Scrolls V: Skyrim – is the follow-up to the fourth title in the Elder Scrolls series, Oblivion, released in 2006.
A fantasy game playable in both first-person and third-person, it's one of those games that will be so big, it's possible you'll still be playing a year from now. Skyrim is available for the Xbox 360, PlayStation 3, and Windows PCs.
And now for something completely different: those freaky Raving Rabbids from the Rayman series of games have returned in their first Xbox 360 Kinect title, Rabbids Alive and Kicking.
We played this a couple of weeks ago and it's tremendous fun, especially if you've got kids.
If you wanted to learn something this weekend – okay, we know, it's a gaming article, just hear us out – then you might want to try My Self Defense Coach, a new title designed to work in conjunction with the Xbox 360 Kinect to help teach you how to defend yourself.
Or you cold get your dance on. We're big fans of dancing games – a fact some of us probably shouldn't admit in public – and now there's The Black Eyed Peas Experience. This one is available for both the Xbox 360 Kinect and Nintendo Wii.
Since this is our first games round-up, it's safe to say that we've missed speaking about some pretty cool titles that made their way out in recent weeks. Allow us to rectify that.
What you missed…
Easily one of the biggest games of the year, Uncharted 3 is a PlayStation 3 exclusive title that brings together amazing graphics, an archaeology-adventure plot, and some solid gameplay.
It's also the game that hasn't left our PS3 all week. While parts of the game frustrate us, we quickly recover and realise that the gameplay can be very, very, very fun. Highly recommended.
Soccer games are always big, and they don't get much bigger than FIFA. The latest entrant in the series – FIFA 12 – updates the roster, throws in some more realism, and basically leaves soccer-addicts in front of their consoles for the next year. It's available for loads of consoles, including the Xbox 360, PlayStation 3, Wii, Nintendo 3DS, Mac OS, and Windows PCs.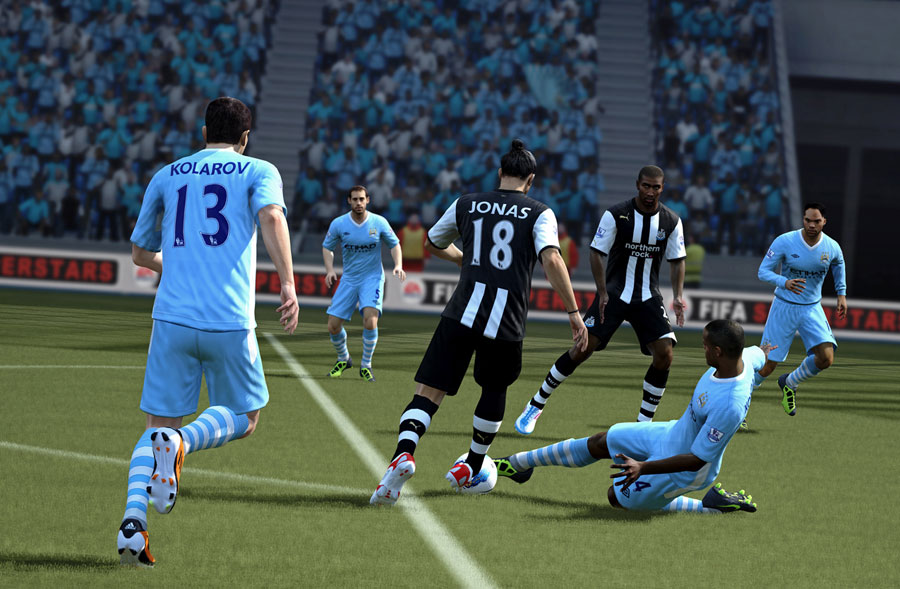 If soccer isn't your thing, you might consider a basketball game. 2K's NBA 2K12 brings together the current roster as well as legends of the sports, including Michael Jordan, Magic Johnson, and Larry Bird. It's available on quite a few consoles, including the PlayStation 3, Xbox 360, Wii, Windows PC, and even iPad and iPhone.
Before Modern Warfare 3 was released this week, gamers were getting their hands dirty with Battlefield 3, a first-person shooter that puts players in the shoes of a special forces soldier in the midst of a military conflict in 2014.
With both single and multiplayer on offer, we expect that we'll still be playing it well into the new year. Battlefield 3 is available for the Xbox 360, PlayStation 3, and Windows PCs.
Like shooters of the movie variety? Activision has gone back to that classic James Bond movie "Goldeneye" and remade the game that everyone loved on the Nintendo 64. Still called Goldeneye, it's available now for the Xbox 360 and PlayStation 3.
And still, we're obsessed with dancing games. Dance Central 2 is the sequel to one of the best-selling dancing games ever, and it brings more tracks to the table, as well as some better multiplayer gameplay. It's available only for the Xbox 360 with Kinect.
There's quite a few games coming up next week, some of them very big.
Coming up next week…
November 15 looks to be a huge day for games, with lots of big titles landing on the same day.
Halo is reborn in Halo: Combat Evolved Anniversary on the Xbox 360. A remake of the game released in 2001, the new version has updated graphics, support for 3D TVs, and even support for the Kinect. We shouldn't have to tell you that this is an Xbox 360 exclusive.
The next game in the long-running Assassin's Creed series will be released on the 15th. The new titles – Assassin's Creed Revelations – features more top-notch single-player gameplay, as well as some pretty fun multiplayer. It will be available for the Xbox 360, PlayStation 3, and Windows PC.
Saints Row will also be joining the fray on November 15 with Saints Row: The Third. Based on the name, you should be able to guess that this is the third title in the series, now with more guns and gang violence. You'll find it on the Xbox 360, PlayStation 3, and Windows PCs.
Two days later, Need for Speed: The Run is released, the latest racing title and the 18th game in the Need for Speed franchise. The graphics are pretty good and from our brief play this week, it seems like a very fun game. The speed freaks in your home can grab this title on the Xbox 360, PlayStation 3, Wii, Nintendo 3DS, and Windows PCs.
You'll also find a unique title – Kinect: Disneyland Adventures – released this week. Combining games based off Disney movie franchises and the ability to virtually explore Disneyland, Kinect: Disneyland Adventures is one of the more interesting titles we've seen.
We're not really sure why you'd want to virtually walk around Disneyland – it's cheaper, sure, but the experience isn't the same – but we'll be keen to see if the developers have left Tomorrowland intact.
We'll have more for you in the comings weeks, but now it's your turn: tell us what you're playing and what you're looking forward to. We're personally looking forward to Mass Effect 3, but that's a long way off. What about you? Tell us in the comments section below.