Review: Acer Aspire R 14

Price (RRP): $1119 starting price; Review model was $1599;
Manufacturer: Acer
Laptops aren't merely laptops anymore, and thanks to 360 degree hinges, computers can act more like tablets. Acer's R 14 embodies this philosophy, too, and even delivers a Full HD screen to a 14 inch form-factor.
Specs
It's a laptop. No wait, it's a media player. No wait again, it's a tablet! That's the general feeling you get when you hear about hybrid computers, with the two- or three-in-one philosophies brought to the computing arena, letting you have a laptop, an entertainment system, and a tablet all in the one device provided it has been designed with hybrid in mind.
Acer's latest take on that comes in the Aspire R 14, and this machine is spec'd out in much the way you might expect a modern computer to be, with Intel's latest chip generation featuring here in a Core i5 clocked at 2.3GHz and paired with 8GB RAM.
Storage on the Aspire R 14 is set to 256GB, though 128GB storage can also be found, meaning this computer relies on solid-state storage.
This is paired with Microsoft's Windows 10, and while you don't need one to make Windows 10 work, there is a touchscreen here, with a 14 inch Full HD (1920×1080) offered.
Connection wise, you'll find a fair amount of ports, with four USB ports in total, two of which are USB 3.0, one which is USB 2.0, and another that delivers USB 3.1 in the Type C port configuration, handy if you happen to have a new phone or other peripheral supporting the the Type C standard.
A single HDMI port can also be found here, as can an SD card slot and a 3.5mm headset slot, but that's it for wired connections.

Wireless offerings are fairly standard for a new computer, and you'll find support for WiFi over 802.11ac here, backwards compatible with 802.11a/b/g/n, while Bluetooth is also found on this model.
Everything else is probably what you'd expect a modern laptop to offer, with a keyboard, multi-touch gesture-friendly trackpad, and speakers, though this laptop does arrive with a 360 degree hinge that has been strengthened for the times when you want to have the Aspire R 14 work in tent or display mode.
Design
Let's get stuck into the computer, and design seems as good a place as any, so we'll go there.
In this computer, Acer is bringing a little more than just plastic to the table, which is predominantly what we're used to, so it's nice to see something else.
Granted, there's still plastic on the bottom, and a reasonable amount at that, with a rubberised bottom taking up the bulk of the R 14's chassis, but at least it is complimented by a little metal.
Along the inside and on the outside of the screen, Acer has provided a bit of brushed black aluminium, both of which help the Aspire R 14 feel a little more premium, even if that plastic undercarriage lets that feeling down.
The light use of metal on the inside also serves another purpose, and that is cool palms, because as you type, you won't feel your wrists or hands get too warm on the surface.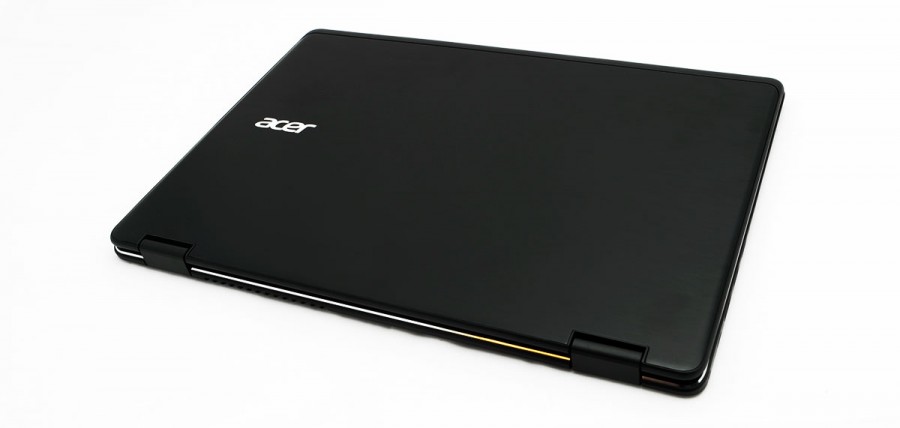 Design-wise, though, the Aspire R 14 is otherwise generic, but at least it looks pleasing to the eye. The lid can be a bit of a fingerprint nightmare, mind you, but a cloth should clean that right up.
Beyond the aesthetics, though, the hinge makes up the other part of the design, and that is actually quite useful.
Like so many computers today, Acer's Aspire R 14 works as a hybrid, complete with a 360 degree hinge that allows the screen to collapse flat and fold up against the back of the keyboard. The hinge has been tightened with a dual-torque design, and that should make the screen less likely to topple when you're pushing the Acer R 14 into its various modes over time.
Performance
Most of the time, though, you'll probably just end up using the computer in the traditional 90 degree perpendicular way, because even though you could turn the Aspire R 14 into a tablet, we're not sure why you'd want to with something that weighs nearly two kilograms (1.9kg to be precise).
So a regular laptop it is, and as you can probably imagine, this is about as easy to use as every other laptop you've seen, opening the machine up and switching it on using the power button on the right side. If the volume isn't right, there's even a volume rocker on that right edge, a button no doubt made for that massive tablet when the machine has collapsed.
Powering it on doesn't take long, and that's something you can thank the sixth-generation Intel Core i5 for, as well as the generous 8GB of RAM.
Windows 10 is ready out of the box, and while there's a degree of bloatware on the computer — some travel website shortcuts, Acer drivers and software, and a copy of McAfee Internet Security — it is pretty much ready to go.
And go it does, with neither Windows nor Acer's drivers really getting in the way, providing an experience that puts the R 14 in line with other mid-range computers.
After using the Aspire R 14 for some time on our lap, we did notice it occasionally getting warm, but it was nothing too serious to worry about, and your legs are in no danger. We've felt warmer computers elsewhere, that's for sure.
It does need to be said that this isn't a high end machine, and since the previous generation, Acer has even removed the discrete graphics, switching from an Nvidia graphics chip to an Intel one.
That being said, the allowance of 256GB storage makes the Acer Aspire R 14 still quite usable, even if you'll just be using it for office and productivity work.
Display
Over in the screen area, Acer has improved on one side, but also stayed very much the same, and this is an area that generally gets us hot and bothered.
Acer is a little all over shop in the screen department, usually including either mediocre screens with mediocre resolutions or great screens with great resolutions, and the choice is usually dependent on how much you want to spend.
In the Aspire R 14, it's a bit of a mixed bag, with a great resolution and a mediocre screen.
That is to say you're given a Full HD 1920×1080 resolution on a 14 inch machine — something we applaud — with a Twisted Nematic display that forces you to hunt for the right viewing angle by shifting your head in various positions, or by forcing the screen into that specific position.
Yes, it's that type of screen where shifting in your seat means you will change the colour, and it's a little problematic if you decide to use the Acer R 14 as a tablet.
Ignore the fact that the nearly two kilogram weight means the R 14 will be a very heavy tablet — just forget about that for the moment — because when you fold that screen over, you suddenly realise that the poor viewing angles of the R 14 make for a pretty weak tablet, forcing you to contort yourself in a variety of positions just to use this as a tablet.
With this in mind, we'd say to skip using the Aspire R 14 as a tablet, and if you want to use it in the other various form factor, the display and tent positions are probably your best bets.
Or just use the Acer Aspire R 14 as a laptop, because with this style of screen, it is the best way to use the thing. Without doubt.
Keyboard and mouse
At least the keyboard isn't bad, though it could do with a little bit of refinement.
On the positive side, the 14 inch body allow you to have a fairly large and spacious set of keys, with the island-key keyboard providing enough room to get your typing done on a keyboard that is more or less the same size as it should be. There are no extra keys here, and overall, it's just so easy to get into.
The downside, however, is the travel can be a little too short and you might miss some keystrokes, which we did in typing this review.
Overall, it's an acceptable keyboard, but you kind of want it to be improved just a little in the next generation. Firmer travel, more solid keys, and that general feeling that the keyboard could be used for longer periods.
At least you don't have to press down too hard, which is at least nice.
The mouse, though, could definitely do with some work, and we found that while it's relatively spacious — sitting at a greater width than the space bar — and while it is quite responsive for multi-touch gestures, the clicking feels cheap thanks to a very plastic button.
Acer's trackpad button doesn't always feel like it connects, either resulting in click selections that sometimes freeze up.
Fortunately, you have a touchscreen here, so this mediocre mouse isn't your only way to select items on your computer, but as the primary way, it falls a little short.
Battery
Over to battery life, and Acer's inclusion of a sixth-generation Intel Core chip has done wonders for battery life in the R 14 because it can pull the hours if need be.
We're not sure this technically qualifies as an Ultrabook or even if Intel has that specification anymore, but the specs in the R 14 appear to be married to a capable battery to offer as much as eight to ten hours of battery life.
That's not bad at all, especially given there's a 14 inch touchscreen display here, though that battery life is pretty much achieved by keeping things minimal, and by that, we mean sticking to light productivity such as office work, writing, web surfing, emails, and so on.
What needs work
Now there are some obvious downsides to the machine, such as the display needing better viewing angles and the mouse requiring a better button, but most of the quibbles come from what Acer hasn't included.
Take the USB Type C port, which is a solid inclusion and one that will be fantastically useful this year when more devices support this relatively future-proof port. Phones will be compatible, and tablets and video cables and hard drives and so on.
We're delighted to see the USB Type C port in the Acer Aspire R 14, but it is, sadly, not being used to its full potential, and by that we mean that you cannot charge the laptop from this port. A shame that, as it would have cut down on another connector.
We'd also like to have seen support for Intel's RealSense here, an inclusion that would have granted facial recognition to the laptop and let you log in without the help of a passcode or PIN.
You might see this as unnecessary, but when Windows Hello is advertised as one of the key features of Windows 10 and Acer packs in a bunch of other neato features like the USB Type C port and a fairly large SSD (256GB), a camera with that 3D depth tracking technology would have definitely been welcome.
So what needs work on the Acer Aspire R 14? Quite simply, Acer needs to finish the all-round package, not just stop half way there.
Conclusion
While its $1119 starting price won't exactly make waves, Acer's R14 is a half decent machine for anyone keen to get a taste of USB Type C in a computer with a respectable battery life.
There are certainly things Acer could fix, such as the overly reflective screen with obvious colour washout and the trackpad button which makes us want to use a touchscreen, as well as that USB Type C port which should be used to charge the R 14 but for some reason isn't.
And yes, Acer's Aspire R 14 still proves itself as a decent little halfway point for people not convinced that 13 inch laptops are big enough and yet have realised that most 15 inch computers are rubbish.
At that point, the Acer Aspire R 14 serves a decent option, because you get the guts of a 13 inch in the body of something a little larger, with a battery to match. If the battery is the big deal and you tend to do a lot of work, Acer's R 14 is definitely worth a look, provided you can deal with that screen.
Review: Acer Aspire R 14
Price (RRP): $1119 starting price; Review model was $1599; Manufacturer: Acer
Surprisingly comfortable keyboard; Full HD touchscreen display makes a nice change from the regular HD resolution we see; 360 degree hinge supports turning the R14 into a tablet or multimedia machine; Decent battery life; USB Type C port included;
Screen technology offers less than desirable viewing angles; Type C USB isn't used to charge the laptop; No Intel RealSense means no Windows Hello; Plastic trackpad feels cheap against everything else; Plastic bottom doesn't feel as premium as the metal sections (why not just use metal for it all?);