A whole new hinge: Acer's Aspire R7 reviewed

Price (RRP): $2099
Manufacturer: Acer
Everyone has a different take on what a laptop should be, especially in the world of touch-devices, but what if you could have a machine that was part laptop, part tablet, and part all-in-one desktop?
That's the premise with Acer's Aspire R7, an experimental concept that tries to deliver the best of every PC world available today.
Features
Part laptop, part all-in-one desktop, the Acer Aspire R7 is one of the more intriguing concepts to come out of Acer's R&D labs.
Encased in an aluminium shell, this machine is the first to use an idea Acer calls the "Ezel" hinge, which is a new long metal hinge that marries a 15.6 inch Full HD In-Plane Switching ten-point touchscreen to a laptop base in a unique way.
Unlike most computers that feature the hinge solely at the rear of the computer and allow for a clamshell type of open and closing, this hinge sits in the middle of both the screen and the computer to allow the screen to be positioned in several ways.
For instance, you can flatten the screen against the body for a big tablet experience, or you can set the screen up at an angle behind the keyboard to create a similar look to an all-in-one desktop computer.
There's the option of raising the screen from a tablet point of view and turning it into a desk where the screen and keyboard are both visible, and you can even press the screen against the back of the hinge and turn the R7 into your basic clamshell laptop. Or you can skip the computer experience altogether and flip the screen backwards so that you have a 15.6 inch screen to watch movies on.
Ultimately, the Ezel hinge presents every hybrid form-factor in one device, including the laptop we're all familiar with, tablets like the iPad (albeit a bigger and thicker one), and even the hybrid pop-up screen machines build by LG and Sony.
There's also a third-generation Intel Core i7 processor here (Ivy Bridge), paired with an impressive 12GB of RAM, NVidia GeForce GT750M graphics card with 2GB video memory, and a convention 1TB hard drive with 24GB of solid-state storage working alongside.
Windows 8 is the operating system of choice here, which should work nicely with the big touchscreen, but you do get a trackpad mouse if you're more about precision.
Interestingly, the trackpad and keyboard have flipped locations in the Aspire R7, with a keyboard at the bottom and the trackpad up top, reversed from what you normally find on laptops these days.
While the R7 isn't an Ultrabook, there's still no optical drive here, but you do receive a decent amount of connectivity regardless, including a full-size SD card slot, two USB 3.0 ports, one USB 2.0 port, HDMI, headset jack, and a "converter" port that makes it possible to make up for LAN or a VGA port. Wireless is also here in the form of 802.11 a/b/g/n, with Bluetooth catered for in version 4.0.
As is the norm these days, a webcam is included at the top of the screen, and there's even a Kensington Lock at the back of the machine in case you feel like tying this model down.
A metal stylus is included in the package.
Performance
Solving the question of what type of computer you want has never been harder than it is these days. There are laptops, tablets, and computers that combine both without any problems.
Then there are the desktop replacements which afford you the ability to take high-powered computing on the go with you, but in a slightly smaller form factor.
And then there are all-in-one computers, which generally take the innards of a laptop and throw them into a big screen that sits on your desk. You won't take this last one with you, but the form-factor is so stylish and sleek these days that you won't care.
Interestingly, Acer's Aspire R7 is a new concept that tries to blend all of these into one product.
To do this, Acer has had a long hard look at how the laptop is designed, and changed one of the basic properties: the hinge.
With Acer's specialty Ezel hinge, a notebook can be redesigned and pushed into a variety of form-factors whenever the user wants it to.
Outside of this, there's still a Windows 8 computer working underneath, with the position of the screen changing around it.
For the operational side of things, Acer is using an Intel Core i7 from last year's set of processors, also known as Ivy Bridge. Our system was clocked at 2GHz which should be more than enough for most people, with a decent notebook graphics solution also included from NVidia.
One impressive specification is the 12GB of memory, which is between 4 and 8GB higher than most of the competition.
Even with these impressive specs, the system does feel a touch slow, with apps loading after a second or two of waiting, though it's not likely to be enough to concern most people.
The slowdowns tended to be in the Windows desktop mode, with Windows 8 apps flying, multi-tasking working perfectly, and there being no problem running multiple tabs in Google Chrome.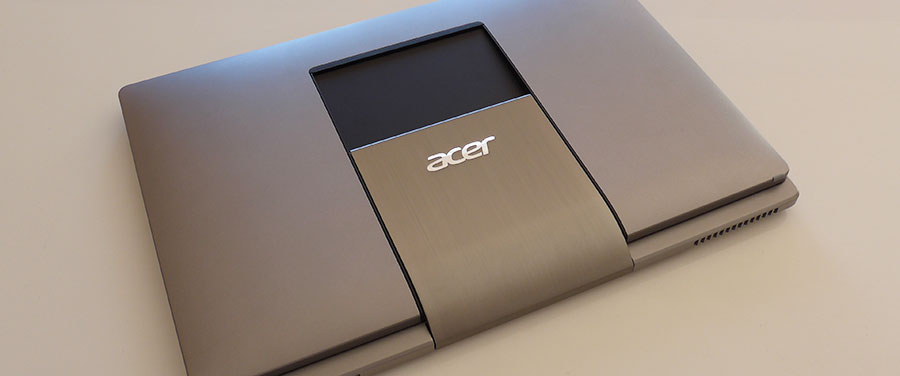 Looking at the usability front, Acer has managed to produce a decent experience.
The keyboard is comfortable to type on, has a very distinctive click to each of the keys, and aside for a bit of readjusting you might have to do with keys that feel a little too small for their placement, it is a reasonably comfortable experience.
Acer's included trackpad sits in a more unusual location in this computer, though, and that might confuse some.
Over time, we didn't mind it, and found that it made a lot of sense if you were playing games in the traditional WASD configuration, though since nobody plays games with the trackpad, it's also less of a factor.
At least Acer provides the option of a mouse in this laptop, thought the performance is a little mixed.
For instance, it's reasonably easy to control in the Windows 8 desktop mode, but the gestures aren't always reliable, with many of them missing in action no matter how many times you swipe. Gestures from the top and bottom almost always worked, while swipes from the left and right seem to be more prone to failures due to the trackpad's position being slightly lower in height against the case.
Make these gestures slowly and you'll be fine, but broad sweeps from a left or right direction seems to result in the action being missed.
You can, of course, skip the trackpad entirely and go with the touchscreen, which is big, colourful, and bright. The angles are pretty strong here, and aside for an overly reflective screen, we found that there was no "correct" viewing angle, which makes it lovely for looking in nearly any position.
Ten points of touch are supported here, and these tend to work best in the Windows 8 menus, but there's also a decent stylus provided in the box that not only feels like a pen, but even offers a touch more precision than the basic broad pens we've used on other devices.
The stylus still works the same way, but the tip feels more refined thanks to a nib made from a small and thin spring. We wish there was somewhere to store it outside of your pocket – maybe a slot inside the laptop – but we guess that's why we have pockets.
How you use the Aspire R7 does, of course, rely on which way you set the notebook up. Fortunately, the Ezel hinge means it can be pushed into any design and form-factor when ever you so choose, so let's tackle these one by one.
The R7 feels best when used like a hybrid tablet laptop, with the screen set at an angle against the keys, and no mouse outside of the touchscreen visible. Like this, the screen is easy to read and close to your fingers.
The experience offered here is one of the nicest we've had from any hybrid tablet, though the R7 is large, and feels in many ways more like a small all-in-one desktop computer than a laptop.
If you prefer the feel of a mouse, you can push the screen back against the thick hinge and snap it into a perpendicular angle with the body of the laptop. Now, it's a massive 15 inch laptop with the trackpad closer to the screen than the keyboard.
This feels a little odd, since the keys are further from the screen in this incarnation, and you therefore sitting away from the screen at a slightly larger distance. Pushing the screen into this position takes a little bit of effort, as there is some resistance, but once it's in place, you'll find it stays without any issues.
From there, there's always the tablet mode, offering a massive 15.6 inch tablet. To get this, you pull on the display and push the hinge down, so that the screen is lying mostly fat.
We say mostly because "flat" doesn't exist on the R7, with a slightly raised experience only offered here thanks to the existence of the hinge.
Drawing works better here than in any other mode, so keep that stylus handy.
Or if you feel like watching a movie, just flip the screen back and push it into a reversal of the classic clamshell mode, which is great for showing videos or presentations.
Interestingly, the keyboard still functions, but because you can't actually see anything, it's not likely to be of much use.
With all of these form-factors packed into the Acer Aspire R7, there is certainly a lot of flexibility on offer, and Acer's Ezel hinge certainly feels strong enough to withstand most of the form-factor changes you'll be throwing at it.
Regardless of which mode we pushed our R7 into, the hinge was tight, with less undesired movement than we see in most machines that pass our reviews desk.
Some of the modes can be hard to push the display into, and you might find that the switch from hybrid tablet into clamshell takes a few more seconds longer than you expect, which we're attributing to the overly tight hinge, which is both a curse and a blessing.
Partnered with this strong hinge is an equally strong case made from a block of aluminium. The bottom is rubberised making it easier to grip, but the laptop weighs around 2.3 kilograms, making it one of the heaviest 15 inch machines we've seen in recent years.
With that sort of weight, you probably won't want to cart it around from place to place, which is good because the battery certainly doesn't have the performance to make this a machine you can depend on when you're out and about.
We weren't even pushing this thing to its limits when the battery gave out around three and a bit hours.
For a 15 inch computer, that's nothing, and if you're taking it with you, that is literally a little over three hours for writing, working, checking emails, surfing the web, and listening to music.
With a weak battery, you hope that the power brick isn't clunky to carry around with you, but sadly, it is.
In fact, it's pretty much the same basic chunky rectangular box we're used to seeing in big PC laptops, and more or less highlights just why exactly we call these power charging units "bricks."
It's surprising, too, as Acer has supplied so much attention to detail in this laptop, but skipped out on one of the areas that completes the package.
It begs the question: why finish the touchscreen off with a solid and well designed stylus, but forget about a redesign of the classic brick?
We're confused by this, and we bet people who love the design of the R7 will be too, as the weak battery life will mean they have no choice but to carry this clunker of a power supply with them in their hand luggage.
There's also an issue of price, and Australians will have to pony up just over two thousand dollars for this machine, with a recommended retail price of $2099.
That's a lot of money for something that feels like it still needs some time in the labs, especially since there will likely be a fourth-generation Intel version appearing within the next couple of months, possibly with a higher grade screen.
Conclusion
Acer's Aspire R7 is indeed an interesting experiment, and one that we can see some promise in, but it doesn't really match or exceed our expectations just yet.
The Ezel hinge is indeed a cool concept, but since the 15 inch body brings with it so much weight and so little battery life, it's hard to see this as anything more than a computer that will stay on your desk.
That makes it a neat desktop replacement that you can carry around the house with you, or even to work, but it's not really a tablet laptop hybrid you'll want to keep in your backpack for a long period of time.
Still, we're intrigued, and would like to see Acer refine this concept, even going so far as to using it in a smaller device, as tablets seem to work better when they're between the 10 and 13 inch space, but not the 15 inch spot, and certainly not with a battery that has troubles reaching beyond a few hours.
A whole new hinge: Acer's Aspire R7 reviewed
Price (RRP): $2099 Manufacturer: Acer
Unique concept; Hinge is better built than you expect; Solid; Included stylus is designed well and very balanced; Big and bright touchscreen;
Battery life isn't good at all; Power brick needs a better design; Expensive; Nowhere to store your stylus;