Acer's $399 C720 Chromebook reviewed

Price (RRP): $399
Manufacturer: Acer
Acer's second attempt at a Chromebook has a new processor, better keyboard, and a slightly slimmer build. Does Acer perfect the Chrome idea this time around, or will the third time be the charm?
Features
The next version of the Acer Chromebook isn't just a refresh with a new chip, as the company could have made it. No, there's a new keyboard to check out on top of the changes Acer has made for this incarnation.
First up is the screen which stays the same in this laptop from the previous model, the C710. That means you'll get the same 11.6 inch LCD running the high definition resolution of 1366×768.
Like most laptops, this is connected by hinges to the main body of the Chromebook, which on this computer features an Intel Celeron 2955U processor based on the technology used in Intel's fourth-generation Core processing technology. Not everything is here, and you don't get the same speed or graphics power, but with Google's Chrome OS operating here, you probably won't need it anyway.
Working alongside this is 2GB RAM and 16GB solid-state storage, with a version of Intel's HD graphics with 128MB RAM making up the video and 3D accelerator side of things.
Connections are all pretty standard fare here, with 802.11 a/b/g/n wireless networking as well as Bluetooth 4.0, while wired connections are mostly ports for you to plug stuff in, with the inclusion of a USB 2.0, USB 3.0, SD card slot, HDMI port, and a 3.5mm headset jack.
As part of the package that is Google's Chrome OS, all purchases of the Acer C720 will come with 100GB of Google Drive cloud storage for two years.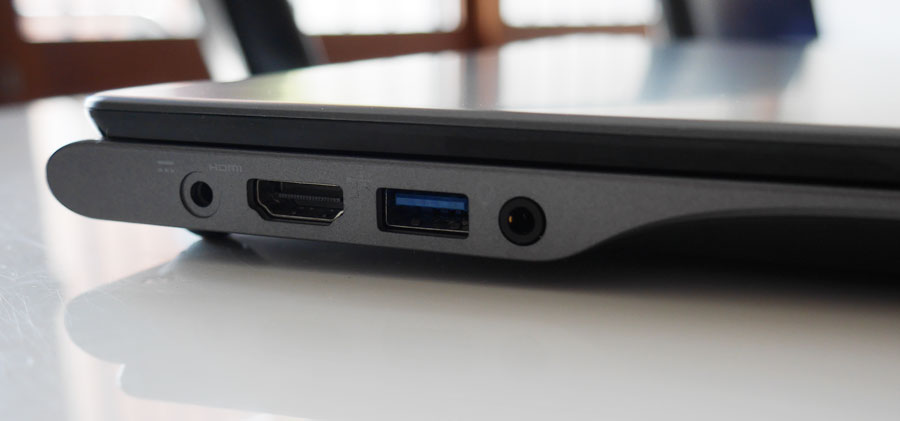 Performance
Acer has been making Chromebooks for about as long as any other major, possibly longer, and it was actually the first we had ever seen and reviewed.
That model was the C710, though, a $299 machine from early-2013 that offered up an Intel Celeron with a 320GB hard drive and an operating system that couldn't really make use of the technology.
Fast forward several months, though, and Acer has taken the Chromebook back to the drawing board, reworking the specifications considerably and building a machine that takes advantage of the cloud, lets you move files to and from it, and should even offer some decent battery life.
Acer won't exactly win any awards for the design, but at least there have been some changes from the first model we checked out last year.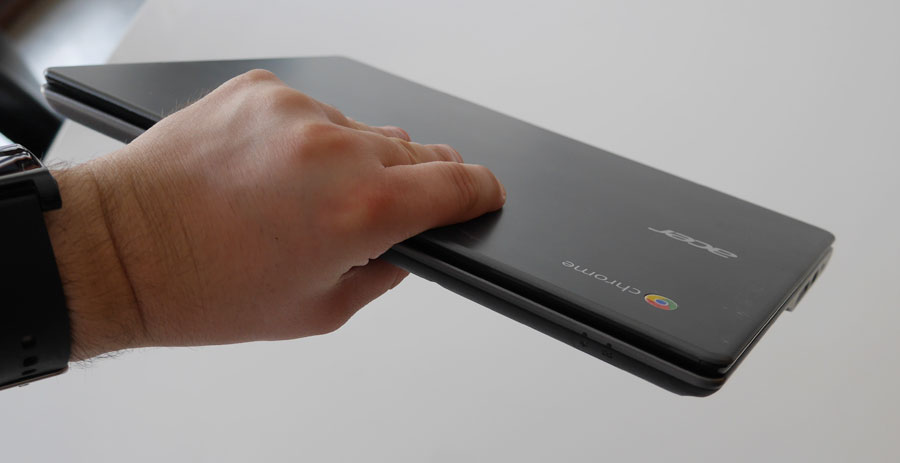 For starters, the computer is slimmer, with less of the bulky ports found in the previous model included in the design here. That means there's no wired network port or VGA monitor port, both of these taking a backseat to wireless networking only and the HDMI port, which has been left over from the last generation.
With less big ports, the machine has been put on a small diet, losing a millimetre in the build, but also having some of its design changed with more shaping at the front. This goes a long way to making you feeling like the C720 has been built to be a Chromebook, rather than just old netbook stock modified for Google's portable operating system.
But as we said before, it won't really win design awards, with a very plastic look across the board.
There's a faux metal lid made of plastic and coloured gunmetal grey, more of that same look inside, with black island keys on the keyboard, and a black textured plastic on the bottom. A glossy black frame surrounds the matt screen, and that's pretty much it.
It's easy on the eyes, that's for sure, but sit it next to Acer's other computers, like the R7 or S7, and it looks just like a netbook once again.
Open it up, though, and you'll quickly see some of that Haswell-based performance show through.
That's what Acer has used inside the C720, with technology similar to the fourth-generation Core processors used here, aimed at not only improving system performance, but also that of the battery life in general.
With this technology on board, we noticed little to no speed issues in this machine, even as we pushed the concurrently running app-tabs past the ten to twelve mark where Chromebooks normally start to lag and stutter.
Interactive apps performed well, too, including the "Build with LEGO" app, an architectural app made for Google's Chrome, and even a few of the games built for the platform.
All up, a decent performance, and that seemed to extend to the available battery life, too, with the Acer C720 doing better than the Google-collaborated HP Chromebook 11, which managed to score a life of around four hours. Acer offers just a little more, pulling in a little over six hours in our tests, which isn't bad at all.
Unlike the HP Chromebook, you can't use microUSB to charge this laptop up, and will instead have to rely on a laptop charger, but that's not really a problem for most people at all.
There is also more in the way of expansion for the computer here, something we're glad stayed over from the previous model. With only 16GB of solid-state storage here, the inclusion of one USB 3.0, one USB 2.0, and an SD card slot will make a big difference to those who need an extra boost of space.
Acer has also made the keyboard so much better, with less flex on the plastic underneath and a solid click with every key. It's actually a similar experience to what HP managed on its Chromebook that it makes us wonder if Google actually has come up with a keyboard that all Chromebook manufacturers need to follow.
Seriously, there's no extra flex in the keyboard, and you don't need to type particularly hard to make the keyboard work for you, rather than the other way around. We typed this review on the keyboard, and would happily type several more articles on it.
Adding to this is the key spacing, which is well designed, for either left or right handed individuals. Normally, lefties rely on the right shift key, which in a lot of smaller keyboards is very small, making it more likely that you'll need to press a different button. In the Acer C720 (and the HP Chromebook), the Google keyboard offers long shift keys for both sides, making the sizing and spacing that much more even across the different users out there.
Just like the HP, there's a power button above the backspace. It's not likely to pose as much of a problem as you'd expect, though, as you need to hold the power button down to get the computer to log off or shut down.
And that is the Acer C720, a decent performer reliant on Google's Chrome browser-based operating system.
But it's not totally perfect, and we were spoiled a little bit with the screen on the Chromebook we checked out before this, the HP Chomebook 11.
It's a different experience from the bright and dynamic In-Plane Switching screen from that computer compared to what you get on the Acer C720, where you're forced back to a matte display with mediocre colour recreation and terrible angles.
You know those computers where you have to position yourself and the screen to be in the same field of view? That's what Acer has provided here, and it's not as clear or vibrant as you might expect it to be.
A shame, too, because the matt finish screen appears to be impervious to reflections, even though the glossy black frame surrounding the screen certainly shows them in spades.
The mouse could also do with some work, the wide trackpad sitting slightly off from where the spacebar is providing an ok experience, but one with only the bare minimum of gestures and some stick mouse scrolling that doesn't necessarily perform at the speed your fingers are scrolling at.
Conclusion
It may not be as pretty as HP's Chromebook with its glossy white plastic surrounding a magnesium chassis, but Acer has made a better machine with excellent performance and more solid battery life.
Beyond the battery, there's room to move with expansion ports aplenty here, and this helps to make the Acer C720 a standout Chromebook, and among the best we've seen. Next time, we'd like to see the screen improved dramatically, a move that would likely perfect the equation.
Ultimately, if you're in the market for a Chromebook, you'll want to try the Acer C720 immediately, because with the performance, typing experience, and battery life on offer, it's easily one of the best Chromebooks out there. Highly recommended.
Acer's $399 C720 Chromebook reviewed
Price (RRP): $399 Manufacturer: Acer
USB ports cover both USB 3.0 and 2.0; HDMI included; SD card slot provided; Excellent keyboard; Decent battery life;
Mouse is a touch sticky and slow; Screen has terrible viewing angles; Plastic casing can feel a bit cheap;