Review: Alienware Area 51 (2014) gaming PC

Price (RRP): $2999 starting from; Review model was closer to $6000
Manufacturer: Alienware
PC gamers that don't mind sitting at their desks generally have three options when it comes to buying a computer these days: gaming laptop, build your own rig, or buy something built by the experts. In that last category, Alienware is pushing a new breed of rig, and boy, is it interesting.
Features
The desktop may be dying, but there's still a place for the taller computers, and if you need power, nothing beats a full-sized rig.
Gamers know this better than anyone, and those who don't need to take their rig anywhere will have a big computer built to handle the games that are made for these systems. The computers are often packed with storage, memory, and feature large graphic cards to render their games in the best resolutions possible.
Sometimes they even have lighting and water cooling and all sorts of bits and bobs to make them stand out, which you might not think would matter at home, and you're right, but the moment you want to take them out to a LAN party and play games against your friends, well, that's where it starts to become a thing.
So PC gamers have different needs, and often have different styles of computers to the rest of us, with the desktop still existing for their needs, as well as schools, libraries, offices, production houses, and all sorts of places that would prefer a machine that isn't going anywhere and can take larger than normal components for heavy processor lifting.
Alienware is a company that knows a thing or two about what gamers want, and pretty much exists to cater for that category, with gaming equipment made to perform and still made to look good.
Better, it's also usually tweakable by the person purchasing the system, with an inside you can easily get at provided you can work your way around an open case, hard drives, video card, cables, and a motherboard.
For its latest desktop, the Area 51, Alienware hasn't taken a typical stab at building a tower, throwing out the old design and coming up with something new.
Gone is the tall rectangular block, replaced by a triangular shape and a different style of design, with hard drives installed on the ride side of the case just behind the removable right side, while the left side lets you open the computer to reveal the insides just like a normal computer.
Everything in here appears to be user maintainable, and you'll find all manner of components available to be installed here from the get go, with the only thing being constant appearing to be the motherboard.
From a processor point of view, you'll find fourth-generation Intel Core i7 processors ("Haswell"), all Core i7 variants, starting with the six-core 5820K processor, and ranging up to the eight-core 5960X processor.
Memory on these computers starts with 8GB RAM, but can be configured to include either 16 or 32GB, and Windows 8.1 arrives with the computer out of the box, the very, very big box.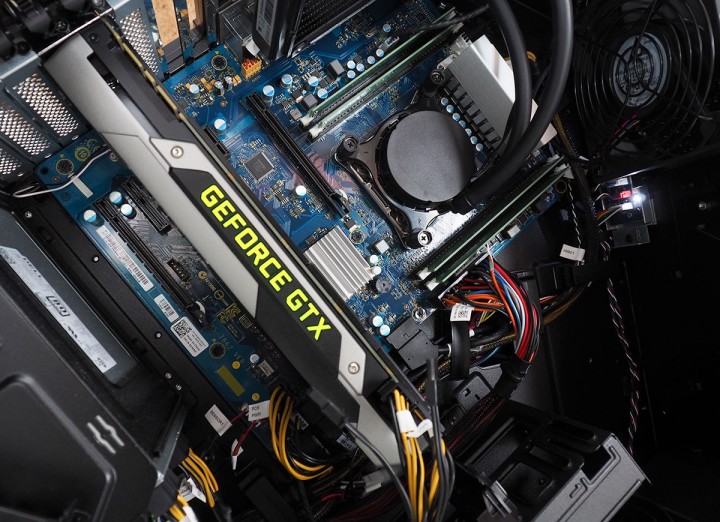 Hard drives are particularly varied, with choices of conventional hard drives and solid state drives, namely with 2 and 4TB in the regular moving part types and choices of 128, 256, and 512GB for the solid-state variety, and more room to move if you decide to open it up and throw some in yourself.
The video card is also quite varied in what you can choose, with options from both AMD (ATI) and Nvidia offered when you customise the computer, including the AMD Radeon R9 270 with 2GB graphics RAM being the standard card, and offering either an Nvidia GeForce GTX970 with 4GB, Nvidia GeForce GTX 980 with 4GB, two of either of those (dual GTX 970 or dual GTX 980), or a big whopper of a card, the Nvidia Geforce GTX Titan Z with 12GB graphics, a card that features two graphics processors on-board.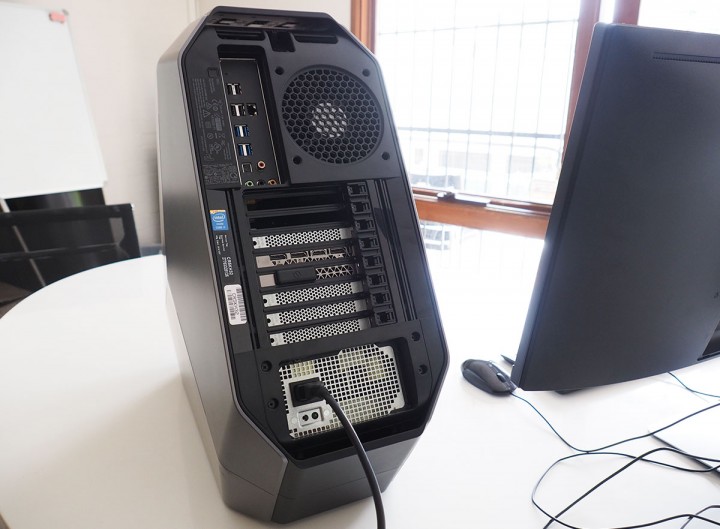 Connections for the computer are relatively varied, hardly a surprise given how big of a computer it is, with 802.11a/b/g/n/ac, Bluetooth 4.0, wired Gigabit Ethernet, two USB 2.0 ports, six USB 3.0 ports backwards compatible with USB 2.0, headphone out, microphone in, speaker ports for centre, rear, and side, with digital output connections for both coax and TOSLINK also provided and the sound technology handled by Creative Labs.
A DVD burner with Blu-ray reading is also part of the package, a slot-loader on these models, with a media reader for memory cards of the SD format also provided here.
Power supplies for the computers include 850 watt and 1500 watt options, and there's speciality cooling as well with liquid cooling supplied by Alienware for the processor, which itself is overclocked.
As is usual for Alienware products, a degree of lighting has been applied to the casing, with lights in nine sections that can be controlled by the Alienware AlienFX application found installed on the computer.
Pricing starts at $2999 for the Alienware Area 51, making it a computer not all people will go for, especially since it also arrives with a starting weight of 28 kilograms.
The review model supplied by Alienware is configured with an Intel Core i7 5930K, 16GB RAM, a 128GB SSD working alongside 2TB storage, and the top-end Nvidia GeForce GTX Titan Z with 12GB graphics RAM, resulting in a computer that should cost roughly $6000.
Yikes, we can't wait to push this one.
Performance
Desktop computers used to be the only way to fly, but in recent years, the laptop has well and truly taken over. These days, you can get a relatively thin portable packed with performance that will do the job, evident from what we've seen out of Razer, and HP, and Acer, and Alienware.
In fact, Alienware was there before most of them, and it has been making gaming desktops for a while, too, so it knows a thing or two about this area.
With the Area 51, we're seeing a change in design from the conventional full tower the company would rely on, with a reinvention of the design into something wholly unique.
Forget the tall box, even with the slant Alienware always provided on the machines, this tower is more of a triangle, or a chunky triangular prism, anyway, with a design that you won't get confused for anything else. No way.
Bryan de Mayas, Alienware's Director of Product Marketing, told GadgetGuy that it has been a project the company has been working on for over three years, and that "the new Triad design is an abolition that combines cues from old Alienware and new with a design that focuses on performance and ergonomics."
Yes, the design is called "Triad" for a good reason: it has three main points, and really resembles a triangle with cut off edges.
That said, it's still easy to see how it goes down, with a bit that is clearly the bottom, and sides that are clearly the front and the back.
In case you're not sure what they are, the front is the section with the Alien-head power button, optical drive, and tall grille, while the back is the part offering plenty of ports and where the back of the cards sit. Easy.
Along the top of the computer towards the back is a little switch to release the sides, with each section popping off.
On the left side, you'll find the guts of the computer, with a motherboard rotated slightly to match the design of the Area 51 machine and pre-installed components.
In our review unit, you could clearly see the power supply at the bottom, the big graphics card, three large fan units at almost every corner (with the exception of one missing where the power supply was), and a rather unusual looking CPU cooler with pipes leading into the a radiator block near the top of the casing and sitting just in front of one of the fan sections, likely because, you know, it needs to be kept cool.
With the right side removed, there are several bays for hard drives — five that we could see — with cable sorting built into the body, too, useful if you're not a fan of cables going all over the place.
And on each side, you'll find a small bit of silicon and jumpers connecting to special lighting, with the nine Alienware lighting zones configurable and controllable by the included AlienFX software.
From a design point of view, what makes this computer particularly special beyond the rather unorthodox design is the custom cooling solution built into the machine — the liquid cooling — and the setup of the fans, which Alienware suggests will take the hot air pushed out from the back and cool the insides, pushing it out the front and stopping the computer from overheating.
So does it work?
Yes, yes it does.
Switch on the system and you'll be greeted by Windows, provided you have a monitor because guess what, there's no monitor included in this package.
You shouldn't be surprised by that, mind you, because this is a tower only, though it does come with a keyboard and mouse because, you know, it's nice to include bits like that when you've spent this sort of change.
Load up is pretty much instant, just like with Ultrabooks, only this is no Ultrabook, and Intel's six- and eight-core i7 processors are ready to do your bidding for more than just office work, writing, web surfing, and the sort, with games pretty much the object of affections for this thing.
We threw Steam on the rig with our default graphics testing game "Portal 2", as well as with "Bioshock Infinite" which we figured would work the machine hard particularly during the benchmark, and Dell provided a 34 inch curved monitor for us to play with to show this machine working its hardest.
Just as a heads up, we do have a review coming for that 34 inch screen, but for the sake of this review, all you really need to know is that it shows the resolution of 3440×1440 when you're running it through Mini-DisplayPort.
Why is that important?
Because games can run on the Area 51 at this resolution complete with the 21:9 aspect ratio in tact, and they will run with clarity and sharpness, with virtually no slowdown.
Case in point, Portal 2 was remarkably smooth, and so quick that we felt spoiled. We didn't have to think about fiddling with settings and could just turn everything up, up, up. Detail was there, sharpness was there, and all in all, it was like our machine had just turned into the most powerful gaming system we could have ever imagined having.
Bioshock Infinite puts the machine to a little more of a test, likely because it's a newer title and even comes packing its own benchmark facility, which we ran with the computer on its highest settings, resulting in a frame rate that doesn't drop below 43 frames per second, and an average of closer to 60-70 frames per second, and that's with every setting turned on at the 3440×1440 resolution, depth of field settings, and some anti-aliasing.
Not too shabby at all.
We should say, we're not surprised, especially since the review unit featured a $3500 video card capable of delivering a totally awesome-sauce 12K gaming feed delivered over three 4K monitors, of which we didn't have to test.
That said, if you do happen to have no problem spending on three 4K monitors — which given the price of this computer isn't too hard to imagine — you'll find sheer delight can be offered from this computer, because the monitor support with some of the heavy graphics cards is really, really there.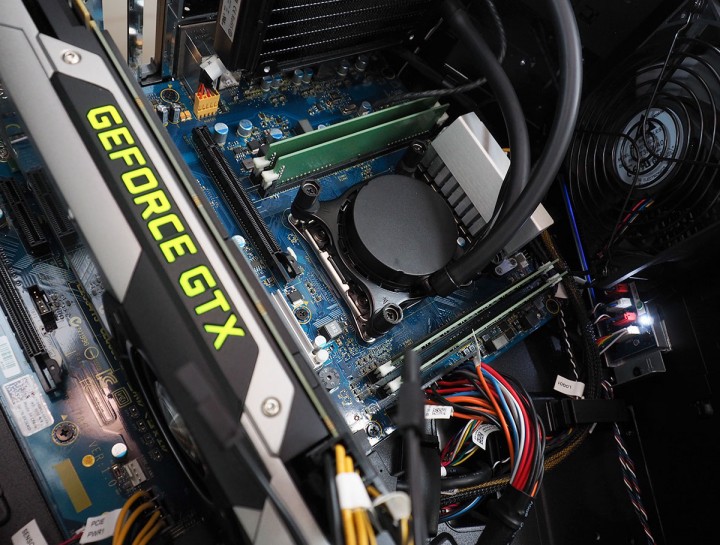 And Alienware is promising a version of the Area 51 that will soon have quad GPU graphics setups. Our review unit relied on the card with two GPUs on board. Just imagine that this means, or try to, because your brain may actually melt at the thought.
The fans also seem to do their job, and the inclusion of water-cooling with the over-clocked CPU seems to help, as we didn't hear the system beyond its basic hum.
We've built louder systems than this one that didn't perform this well, so whatever Alienware is doing from its end to minimise noise and maximise performance is really, really working. Credit there.
Upgradeability is strong too, with several PCI-Express slots on the motherboard unused. On our review unit, only one of the Express x16 slots was taken, and there were two more ready for action, alongside a single x4 and x1.
Perhaps if you're grabbing video from something like an input card, you'd be using what is provided and installing a capture card. Gamers who also spend their time as video editors would likely do just that, and given the performance available here, you'd probably find some pretty solid render times, too.
Honestly, we're not sure how much you'd need to upgrade here, especially since the need for a sound card is reduced with the on-board audio solution, which in this computer is handled by Creative Labs and appears quite strong, but the ports are ready if you do decide to throw some new hardware inside.
Memory is set to four slots, however, all of which are used up if you grab the 16GB version, so if you want to move to 32GB, you'll need to buy new RAM.
Despite the excellence offered by Alienware here, there is one or two solid components missing from the package.
Sure, you get lights, as dictated by pretty much the history of Alienware and its previous computers, but you don't get much, with a few on the front and sides, and really that's it.
We think it's enough, considering the Area 51 is something that will most likely be sitting under the desk, but some gamers may disagree, especially when you consider how bright and colourful Alienware laptops are configurable to be in comparison.
But there are no bright lights on the keyboard or mouse, and when you hand over this much money, you'd at least hope Alienware and Dell would go the extra mile and make these included peripherals a little more interesting than basic black bricks that do the jobs you're telling them to do.
Sadly no, because that's not the case with the Area 51.
Instead, your keyboard is simple and includes no backlighting, and your mouse feels like it was provided for free from the lot of Dell's discarded desktops.
It's simple, curved, and reminds us of the $5 optical mice people used to buy before we saw those neat faceted gaming mice that now populate the desks of gamers everywhere.
This journalist isn't a heavy gamer anymore, and he has one. They're just that good, and offer various weightings, laser tracking, and lots of buttons, which gamers like.
It's really surprising, then, that the Area 51 doesn't come with something better, and that the keyboard and mouse feel like they're not really part of the package, but rather just tacked on. Maybe Alienware thinks you'll probably already own a gaming mouse and keyboard, but even so, we'd think the price would warrant a better inclusion.
At least a keyboard with some lights, because these exist and are targeted specifically at gamers. The included keyboard, however, that's missing lights completely. Sad face.
There's also the cost, and we need to say it, because you're probably thinking it: this is one expensive machine.
That said, it's when you start to analyse the cost of the machine, you find out that the price isn't too far off the mark, making it a valid option for people who would normally spend that sort of cash already, and we're talking a fairly noticeable chunk of change.
The lowest model is actually quite acceptable, fetching asking for $2999 for an Intel Core i7 processor, 8GB RAM, 2TB storage, and AMD's Radeon R9 270 graphics card with 2GB RAM, a combination of parts that a gaming rig builder could probably build for less, though without the Alienware specialty case design and lighting, two things that give Alienware its pizazz.
Our review model is closer to the $6000 mark thanks to what can be found inside, and when we calculate the rough pricing for the pivotal parts — CPU, motherboard, RAM, hard drive, solid-state drive, and graphics card — we get a little over $5000, and just like before, that doesn't include case, power supply, special water cooling, or copy of Windows, let alone the time needed to put all of this together.
With that in mind, the "expensive" pricing Alienware offers the Area 51 for doesn't actually seem overly expensive in the long run, because you're getting a well made system that can be modified by the end-user — like any rig — and not only comes with the specs to play the games, but a design like nothing that can be found in stores.
So is it expensive? Sure. Is it warranted? Yup, it seems to be. At least it's not expensive for the sake of just being expensive.
Conclusion
Without a doubt, Alienware's Area 51 is one machine gamers will definitely want to take a look at, provided they don't plan on flinching or baulking at the asking price.
If you're not bothered by that, the machine is one of the better pre-built systems we've seen in years, offering lots of room to move and a starting spec sheet that will take care of most of the games you plan to throw its way.
Even at the low-end, this machine looks like a pretty impressive spend, though you'd probably want to spec it up just a little more to make it mind-blowing.
As a general use computer, the Alienware Area 51 won't be for everyone, and frankly it's not supposed to be, but those of you that love to game and have a pretty penny to spend will find it's totally worth the cost, and possibly then some when you decide to upgrade later on.
Review: Alienware Area 51 (2014) gaming PC
Price (RRP): $2999 starting from; Review model was closer to $6000 Manufacturer: Alienware
A unique design that really stands out; Water-cooled and overclocked so you don't have to; Spec'd to play pretty much any game for the next three years, at least; Wireless 802.11ac and Gigabit Ethernet included; Easy to open and very upgradeable by the owner;
Not cheap; Lighting is fairly subdued for Alienware; Mediocre mouse and keyboard included with no Alienware-esque lighting on either;