An iPad for all: Apple's 9.7 inch iPad Pro reviewed

Price (RRP): $899 (starting price); Review model was $1599 (256GB, WiFi/4G);
Manufacturer: Apple
"Finally," say fans of the Apple iPad. "A new iPad Air is here." But is Apple's new iPad merely a follow-up or something more?
Specs
It's been a long time coming, but Apple's iPad Air 2 replacement is finally here. With the Air 2 first arriving at the end of 2014, many expected a new model last year, but we're being treated to that now, with the newly updated 9.7 inch iPad Pro popping up in March 2016.
Yes, the name has changed, and that's important, because while the iPad Air 2 was a great device, the next line of Apple tablets is about professional features, including the professional bits and bobs released on the 12.9 inch massive iPad Pro from last year.
For this model, though, it's about getting these features down into a smaller body, which is exactly what Apple has accomplished in the 9.7 inch iPad Pro.
You'll find much the same design as what occupied the 9.7 inch iPad Air 2, complete with a near identical chassis, screen, and thickness, but Apple has replaced the insides, opting for an Apple A9X processor alongside the M9 co-processor.
Storage inside device is set to either 32GB, 128GB, or 256GB, with no way of upgrading once you've purchased one. Meanwhile, Apple's iOS 9.3 arrives on the tablet out of the box.
Connections for the new iPad Pro arrive in the form of 802.11a/b/g/n/ac WiFi as well as Bluetooth 4.2, and if you opt for a 4G "cellular" variant, you'll find A-GPS and GLONASS support alongside 4G LTE for mobile broadband.
Cameras can be found in the 9.7 inch iPad Pro too, with a 12 megapixel camera support 4K and a True Tone flash found on the back, while a 5 megapixel front-facing camera can also be found on this model.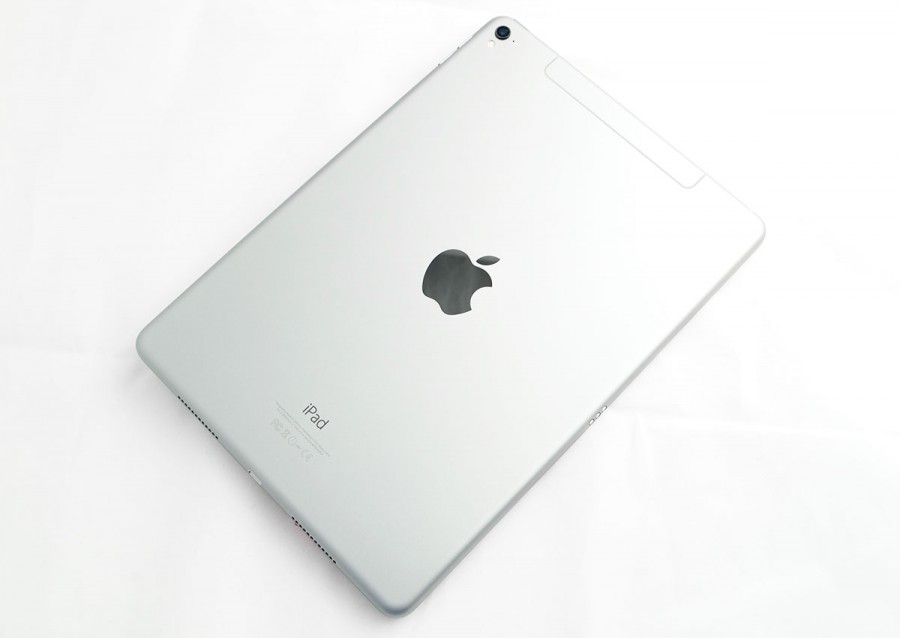 All of this sits under a 9.7 inch display showing a resolution of 2048×1536, which in turn translates to a clarity of 264 pixels per inch, in line with Apple's tablet point of view for "Retina" screens, and Apple has also brought in a new four-channel True Tone light tracker to calibrate the screen's colour based on your surroundings.
The speakers have been upped to four and you'll also find two microphones on this tablet, with remaining ports sitting at both the top and bottom, with a 3.5mm headset jack up top and an Apple Lightning port for charging and data transfer at the very bottom. If you opt for the cellular iPad Pro, your nanoSIM slot is available via a pin ejectable tray on the bottom right side.
Buttons are also low in number, part and parcel with Apple's design, and you'll find only a power button up top, individual volume buttons on the right edge, and a home button with Apple's Touch ID fingerprint scanner underneath on the very front under the screen.
Design
Apple may well be changing the specs, but it's not doing much over in the world of design, as the company employs a literal "if it ain't broke, don't fix it" policy for the new iPad.
And really, there's no reason why it should, as the iPad Air 2 already featured a lovely design that competitors in the tablet space are still fighting against.
The thickness is the same, as is the weight, with 6.1mm thickness still here alongside a weight of 441 grams.
One thing has changed on the design side of things, and that's the language is changing, with the plastic top section on the back becoming slimmer for the antenna, with more metal.
It's minor, and outside of speaker placement on the top and bottom, you'll find it's probably the only thing that allows you to tell the difference between this iPad Pro and the previous iPad Air 2. They're just that similar.
Performance
Inside the tablets, there are a few changes, with the still available iPad Air 2 relying on the A8X processor and M8 motion co-processor, slight increases on what appeared in the iPhone 6, while this new iPad Pro uses a variation on the chip in the iPhone 6S, with the A9X and M9 editions of the chips.
That puts the performance close to the high speed tech found inside the 12.9 inch iPad Pro, close only because Apple has pulled the performance down a little with a change in speeds for the smaller model.
In our testing, it's not enough to really make a huge difference, and we found games and apps opened with ease on the 9.7 inch iPad Pro, with load time pretty much the same as what we saw for the iPad Air 2.
Some games and apps may take advantage of the new Apple processors, but it's not a massive improvement to the point where your eyelids will sear off from the speed increase, so don't expect massive leaps and bounds.
Simply put, the jump is useful moving forward, as is the option for a 256GB model particularly if you plan on storing lots and lots and lots of files on the iPad Pro, making it your dedicated walk around machine.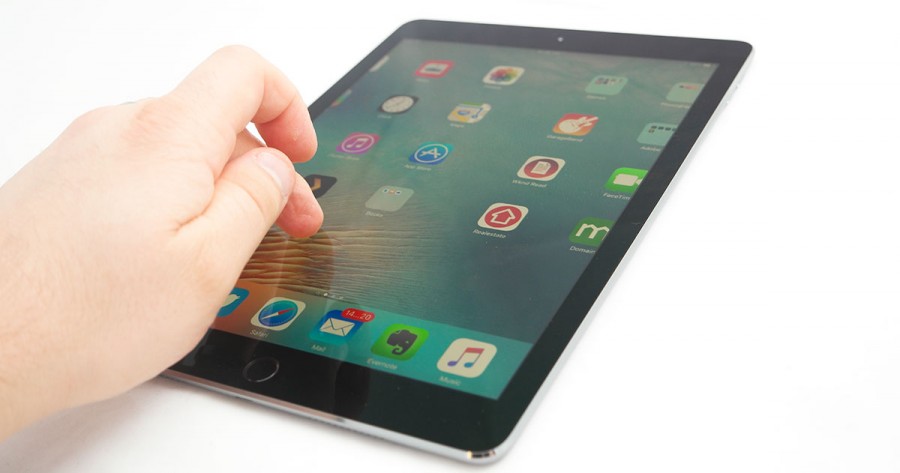 Display
While the performance has taken a bit of a jump up, so too has the screen, though not in the way you might expect.
Apple's still excellent 9.7 inch screen displaying a resolution of 2048×1536 is still here, and so is Apple's excellent homemade timing controller, which allows for super fast on-screen typing action with pretty much the bare minimum of mistakes. Hey, we even wrote portions of this review on the tablet and found none, making it just like typing on a proper keyboard.
What Apple has added to the package is quite creative, and feels like it takes a page out of one of Apple's other products, even if it isn't quite the portable variety.
When Apple first introduced the Retina iMac, we saw use of a colorimeter, a neat little gadget that essentially could keep the colour in check and balanced at all times, which would prove super handy for photographers and videographers where colour accuracy was a just have.
Here on the 9.7 inch iPad Pro, Apple has introduced something similar, with a four-channel colour sensor able to interpret the temperature of the light you're seeing and relate that back to the colour temperature of screen you're using.
Now this might sound like jargon, but the easiest way of explaining this is to say there is a little bit of gadgetry in the iPad Pro that can change the colour of the screen to help your eyes adjust, emulating the tone of paper and how it changes dependent when different colour light hits it.
Believe it or not, this is actually an important point, simply because white doesn't stay looking pure white when a tungsten light is on, shining a bright yellow that would change the colour of the white you're looking at. Screens don't normally have a way of responding to this, and so just continue shining white, forcing your eyes to adjust, and usually uncomfortable with or without you realising it, particularly since white screens have a lot of blue in them.
Apple's TrueTone technology gets around this, not because it is reducing the blue in the screen, but because it is picking up on the hue of the light around you — the tone of the light, so to speak — and adapting the screens you're using to a more comfortable white point.
This isn't just Apple's warm-inducing Night Shift mode in action, because that's about adjusting your eyes as the sun goes down and everything gets darker. No, this is more about knowing that a pure white screen is rarely needed and frequently inaccurate, so Apple is making an adjustment based on where you are and what the lighting is like.
And this helps the overall package, not just because it's fun to see a screen gradually change its white balance, but also because the automatic brightness technology in Apple's iPad now finally works properly, and it can be kind of fun to watch. All at once, you're seeing the colour and brightness change, and that is all kinds of cool, and very beneficial long term.
Seriously, we can't wait to try it in more places. It'll make the iPad Pro one of those devices that will work anywhere. Inside, outside, park, meeting room, where ever. Brilliant.
Camera
Adding to the level of brilliance is the camera, because while Apple used to just throw on slightly outdated camera technology into its tablets — because who uses a tablet to take pictures (outside of the lot of people that do) — now the company is just basically saying "yep, we'll put in the good stuff".
That's basically what has happened here, with the 12 megapixel camera from the iPhone 6S brought into the 9.7 inch iPad Pro, alongside a flash.
Yes, a flash is finally here, something Apple has gone without in its tablets for pretty much ever, so if you're keen on it, you can take pictures with a bit of light at the back.
The front-facing camera has also been changed, with 5 megapixel selfies just like the iPhone 6S as well as the "Retina Flash" which turns the entirety of the 9.7 inch screen into a bright light to provide your face with a bit more colour in low lighting.
Essentially, this is the iPhone 6S set of cameras inside of a tablet body, and that puts it a little higher than the larger 12.9 inch iPad Pro.
As for use, we're not big on iPad photography simply because it's awkward and cumbersome, but given there's a decent camera on each side as well as the option for capturing 4K video — something that can also be edited using the iPad Pro — that makes it a little more capable than its big brother.
More than "just another iPad"
Like the last major iPad release in the 12.9 inch iPad Pro, this isn't just simply another iPad with a couple of new features inside.
No, the 9.7 inch iPad Pro now replaces the iPad Air 2, which still technically sticks around, but is now the second best Apple iPad to get if you need a 10 inch tablet made by Apple but don't need anything extra.
By "extra", what do we mean? Well, that's the part that makes the iPad Pro a little different than say a standard iPad or iPad Air model.
This includes four speakers, with the two on the bottom now being joined by two at the top, because more sound means more volume and a better sound across the board which is important for some.
Also joining the speakers is support for Apple's Pencil, the powered stylus that is totally optional but ideal if you're keen on drawing on the screen, taking notes, or generally emulating the feeling of pen or pencil on paper, except in a digital environment.
Since the release of the 12.9 inch iPad Pro last year, we've seen a few apps take on that digital divide, which is an area Microsoft's Surface knows only too well, though the apps on the Microsoft's devices tend to orient more around the professional capacity of software solutions, including Adobe Photoshop and Adobe Illustrator.
Apps made for the iPad Pro aren't quite as fully featured as these, but still aren't anything to sneeze at, with illustration possible through the Aussie app "Procreate" while "Forge" delivers an almost storyboarding solution for people keen to take their ideas from the early stages of drawing all the way up to finished project.
Adobe even offers a few apps in the App Store for use, as does Autodesk, so professional keen on keeping a digital notepad and canvas with them at all times certainly can, too.
The other thing that makes the iPad Pro a "pro" device is something that feels like it takes a page out of those aforementioned Microsoft Surface devices, and that's the magnetic dock at the bottom of the device.
These three circles allow you to plug the iPad Pro right into a keyboard case that will share the power of the tablet and also mean there's no Bluetooth connection, and that's good because sometimes you just need a physical connection. Not all flights allow Bluetooth connectivity, making it handy here, and you're less likely to lose keystrokes, something that can still occur with wireless due to the occasional timeout.
In theory, Apple could also use the docking connector for more accessories, but for the moment, it's basically just a keyboard.
We haven't seen the 9.7 inch variant of the iPad Pro physical keyboard case — not by the time we published this review, anyway — but if it's anything like its 12.9 inch sibling (and we have every reason to suspect it will pretty much just be a smaller version of that), it will offer a hard connection for a soft keyboard with a surprising albeit strange level of contact.
Battery
As usual, Apple's battery in the iPad Pro continues to make it a force to be reckoned with, and through our week with the iPad Pro, we found we only needed to charge it a few times throughout the rest period.
Gamers will likely need to charge nightly simply because high-end graphics and excess processor utilisation can take its toll on the battery, but we found general use and content consumption barely made a dent, with a good two to three days per charge for us, though this is dependent on what you do.
Indeed, iOS on the iPad still has the best standby life of any tablet we've tested, and just because you're not using the iPad doesn't mean you're wasting a lot of battery life, something we still see on Android devices.
Instead the iPad Pro doesn't worry about the times you're not using it, minimising activity and keeping battery usage down, much like we've seen previously on the iPad Air and iPad Air 2.
That's great news if you go a day without and switch back to a computer, or just, you know, skip the whole digital thing because you want to listen to nature. People do that, right?
Value
Over in pricing, the iPad Pro isn't necessarily the cheapest tablet on the block, appearing alongside the Air 2, which is still a great option, even if it doesn't support all of the same features.
With pricing starting at $899 for a 32GB WiFi only 9.7 inch iPad Pro, this can make the Pro feel like a very expensive purchase, and since it can hit as high as $1399 for a WiFi only 256GB model, we can see why. Alternatively, the most expensive model is $1599 for a 256GB variant with both WiFi and 4G, which was also the model we reviewed.
On the other side of things, Apple's iPad Air 2 now starts at $599 for 16GB hitting as high as $729 for the 64GB with WiFi only or $889 for the 64GB with WiFi and 4G.
And if we're honest, this is a confusing place to be, making it difficult to find the right price point for your purchase.
Not helping this is the sizing differences, with the Pro arriving in 32GB, 128GB, and 256GB, while the Air 2 only comes in 16GB and 64GB.
Essentially, choosing works like this: if you want the best iPad you can get today, you go for the Pro. If you don't need the extra features, you can for the Air 2.
We're not sure if the Pro is necessarily worth the extra, but if you want the best of the best from Apple, you'll have it, even if it's only "the best" for another year or so. Ish.
What needs work
Little on the iPad Pro needs work, and it's tremendous to see an update to the 9.7 inch tablet, even if it was slightly later than we expected.
What is interesting about this release could come into play with the first iPad Pro owners, specifically that of the 12.9 inch model. There's no doubting that this larger variant has its niches, and artists definitely play into that, but with the combination of a better camera, the lighting sensors for the screen, and a higher quantity of storage, they may end up feeling a little cheated by the technological differences.
Indeed, we found this 9.7 inch iPad Pro a better product simply because it is the complete package, offering a more portable form-factor with the support of the Pencil stylus and keyboard docking port at the bottom that the bigger model has.
That being said, the new camera design means some of your older accessories won't work.
Many will, and some of the cases made for the iPad Air and Air 2 should be fine provided there's enough of a groove left out for the camera, but if there isn't and the casing is tight, you'll find the case doesn't quite fit, causing the 9.7 inch iPad Pro to go jutting out and not fitting nicely or in a remarkably stable way.
As a point, we found an STM case that worked perfectly while our favourite Bluetooth keyboard case from Incipio wouldn't touch the top left corner, something we can attribute to the new camera which extrudes just a little too far.
Beyond this, however, Apple's smaller iPad Pro is a gem because it delivers what many wanted in an iPad update — more speed, better camera, and a couple of new features — while also lowering the point of entry for a "pro" device with Apple Pencil support.
That makes it harder to say "what needs work" because outside of a slightly faster processor and perhaps a better screen, there isn't much Apple needs to do.
Overall, it's a pretty well thought out tablet, and ideal for anyone who was considering buying an iPad Air 2 just a few days ago.
Conclusion
Steve Jobs once proclaimed that the "post-PC era" was here, with tablets ushering in a new feature with one where work and play could be carried around in a device that wasn't really all that computer-like, so to speak.
Five years on from that comment, it's hard to see that we're totally "post-PC", especially as tablet computers start to take on the appearance of PCs. We still need keyboards — we don't just need them, we want them — and we still like mice, and so while we're moving beyond the frame of what constitutes a PC, we're still also there.
Apple's iPad Pro shows this off quite well, joining the fray of tablets on this reviewer's desk and proving that it has the capability to be different, even if it looks like practically everything. It even looks like Apple's own iPad Air 2, and it can be very hard to tell the difference between the two 9.7 inch devices.
The question of whether the 9.7 inch iPad Pro is "post-PC" can therefore be a little difficult to answer, especially as it feels like a merging of form-factors, offering the content consumption of the previous generation as well as a bit of the content creation Apple was going for with its bigger "Pro" edition.
But we think answering whether something is "post-PC" is also irrelevant, because it's really about what you do with it, rather than the form-factor it takes.
So is Apple's iPad Pro part of this new generation? The answer is it doesn't matter, because the next generation of the iPad is so capable, it could be both next-gen and current-gen, and you could make and consume all on the same device; it's dealer's choice.
What Apple's smaller iPad Pro does bring to the table is flexibility, because now if you want to be a writer, an artist, a mobile videographer, or anything else, the option is there with the best technology in a slim and light computer, even if it's still not really a computer.
In many ways, the iPad Pro is an iPad made for all. Highly recommended.
An iPad for all: Apple's 9.7 inch iPad Pro reviewed
Price (RRP): $899 (starting price); Review model was $1599 (256GB, WiFi/4G); Manufacturer: Apple
Beautifully built aluminium casing; Still just as thin and light as the iPad Air 2; Lovely screen; Display supports "True Tone" light detection to change the colour of the screen to better accommodate the human eye; Performance increases are welcome; Supports the Apple Pencil stylus; Includes the Apple magnetic dock connector for keyboard cases; Camera has been vastly improved; More speakers means better sound; Battery life is still great;
Expensive, and with so many options in the 9.7 inch line-up to thoroughly confuse on which option you should go for; Won't support all iPad Air 2 cases due to the camera extrusion;