Review: Apple iMac 21.5 inch (Late 2012)

Price (RRP): $1429 (starting price)
Manufacturer: Apple
Apple's iMac range has long been the envy of most of the all-in-one community, and now in its latest iteration, the company is putting the desktop computer on a diet, taking out what it thinks people don't need and making it look impossibly thin.
Features
The first generation of iMac without Steve Jobs pressing "go," the new iMac for the end of 2012 continues the evolution of Apple's all-in-one computer by making it thinner, lighter, and sprucing up the innards so that they're better for computing today.
We've lost count as to which generation the iMac range is now up to, but a quick glance at Apple's page on the model suggests we're on the eighth real design change.
The 2012 model comes in both a 21.5 and a 27 inch variant, both featuring In-Plane Switching displays, the same type of high resolution screen used on Apple's iPad range of products, albeit a bigger one in these machines.
While the 27 inch hasn't reached our reviews desk yet, the 21.5 inch is here, bringing with it Intel's latest generation of Core processor technology, the base model including a quad-core i5 chip running at 2.7GHz.
A minimum of 8GB RAM is included, though it's configurable to 16GB in the 21.5 inch Apple iMac, with 1TB of storage included natively, too.
You can, of course, opt to include Apple's 1.12TB "Fusion Drive" technology, which pairs a 1TB drive with 128GB of solid-state storage, as well as some advanced software trickery in Mac OS that works out what you're using most and moves those files dynamically to the faster section of the drive, the solid-state memory.
Graphics on the 21.5 inch 2012 iMac arrives with the Nvidia GeForce GT 640M and 512MB RAM, as well as a 1920×1080 Full HD resolution for the 21.5 inch screen.
Our review model was much higher than the base model, however, with Apple throwing in the heaviest specifications possible, including a quad-core Intel Core i7 3.1GHz processor, 16GB RAM, 1.12TB storage using Apple's "Fusion Drive", and the Nvidia GeForce GT 650M graphics card with 512MB RAM.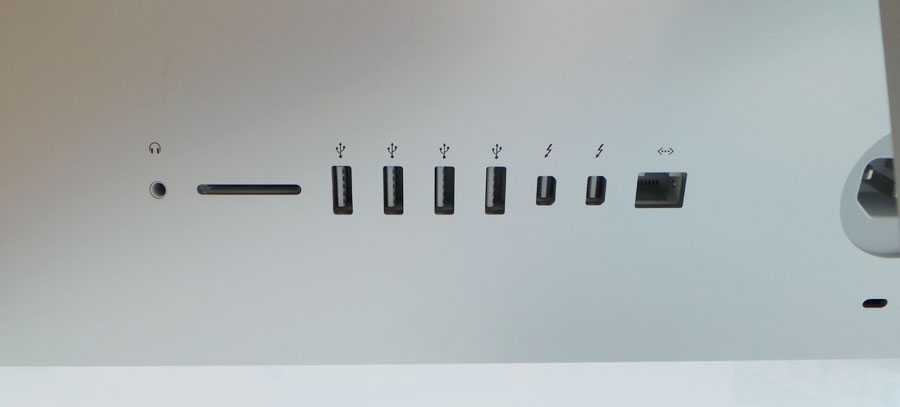 Regardless of the configuration you go for, connections are fairly generous here, including a headset jack, four USB 3.0 ports, two Thunderbolt ports, wired Gigabit Ethernet, and an SDXC card slot, all available on the back.
WiFi is of course here, running on 802.11 a/b/g/n, while Bluetooth 4.0 is also supported. Speakers, a microphone, and a FaceTime HD camera are built into computer, too.
The iMac 2012 arrives with Apple's wireless keyboard, as well as the Magic Mouse.
Performance
Apple practically reinvented the desktop when it put out its first iMac in 1998, and since then, the company has made improvements as the years have passed.
In its latest iteration, the company has tried to make the desktop even thinner, incorporating a new welding process to make it happen, while improving the hardware and making the monitor just a touch better.
That last point – the screen – seems like a perfect place to start, and here in the new iMac, the display is just simply gorgeous, and has been built with a new process that brings the display closer than ever to the glass, making the visuals just pop.
Apple's new iMac screen uses a similar process to what's being used in the latest generation of iPhone – as well as LG's Nexus 4 and Optimus G smartphones – whereby the gap between the LCD and the covering glass is removed, with a thinner LCD panel pressed against the screen resulting in less reflection and better colours.
Sure, it's not the "Retina-grade" panel everyone was hoping for, but it is a Full HD 1920×1080 display in a 21.5 inch size, which is fantastic.
And it just looks awesome.
Likewise, the overall construction of the iMac is breathtaking.
When we first saw the announcement, like many we were gobsmacked as to how Apple could make a desktop wafer thin, similar what we've been seeing from flagship LCD TVs in the past year.
Now that we've spent some time with the new iMac, we can safely say that Apple's uber-thin desktop is more optical illusion than a patient in a weight loss program, with the back of the screen curving out slightly to meet in the centre, and pushing back roughly 3.5cm. That's not a big deal, mind you, as the stand itself is 17.5cm deep, so it will always come out much further than the back of the screen.
Still, it's an absolutely lovely design, with the casing still made from aluminium, and now built using a process called "friction stir-welding" which forces the surfaces together with such pressure that the molecules from the metal bind and create an edge as thin as 5mm.
Performance, this Mac mostly won't disappoint, managing a higher index in our benchmarks than the MacBook Pro with Retina display, a machine that was near perfect when we took a look at it earlier in the year.
Depending on how you configure the iMac 21.5, you should see it fly, and heat seems better optimised than one of the older models sitting on our desk, which seems to get too warm for its own use lately.
Keep in mind that Apple gave us its most highly spec'd iMac to review, and despite this, we did see some problems when attempting Valve's "Portal 2," a gaming title often used as one of our benchmarking games, but weren't able to determine specifically what was causing the game to glitch up and crash.
For the most part, the regular range of apps, web surfing, as well as some photo and video editing should be handled completely fine on this machine, but you may have some issues gaming with the 21.5 inch iMac, at least until patches and drivers are able to fix some of these problems.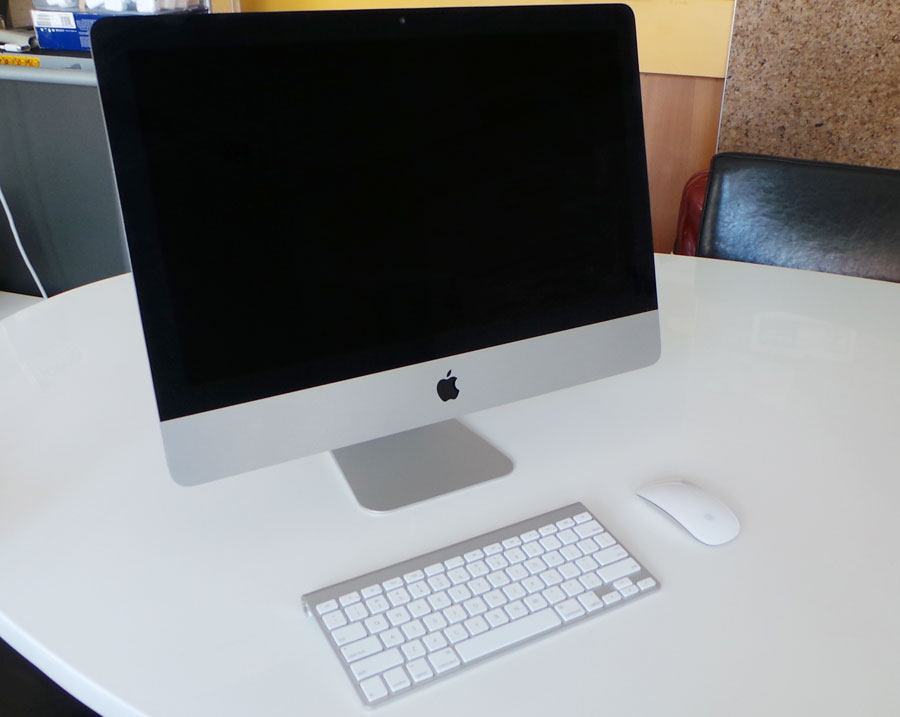 Not all is perfect, though, in the land of Apple's magical iMac, and we don't agree with exactly every sacrifice that has been made here.
We're not sure if we believe in the death of optical drives yet – at least not in the desktop world; we're sold on Ultrabooks – as some people may need to burn discs, as well as watch DVDs, both things the 2012 iMac can't do.
Apple does still sell an external optical drive if you need one, and it's not the only manufacturer to make DVD drives compatible with the iMac.
What we definitely don't agree with, though, is the SD card slot's position on the back, which seems a little strange.
Maybe it's just us, but we liked the SD card slot on the right side before, and even though people could get it confused with the slot loading optical drive, the side made sense, more sense than where it currently sits now: the back.
One thing we're not happy with is the upgrade path.
While iMacs were never particularly easy to upgrade, Apple has actually made it impossible to upgrade the memory in the 21.5 inch model once you've received it.
Basically, you'll need to order it the way you want for the next two or three years, because everything will be soldered in place. It doesn't really matter if a year from now you decide you need 8GB more memory, because from what we understand, you can't do anything about it. From Apple's point of view, it is what it is, which seems a tad silly to us, especially given the ever evolving nature of computers, as well as how long people keep their desktops for.
Conclusion
Apple's eventual update to the iMac continues to make it an excellent product, though it's worth knowing what you're buying before you do.
While we have no doubt that the new iMac models will run most of what you throw at them, once you buy the 21.5 inch, you're stuck with what you ordered, and if it's not fast enough in a year for that game or other app, you may have to buy something else.
Review: Apple iMac 21.5 inch (Late 2012)
Price (RRP): $1429 (starting price) Manufacturer: Apple
Monitor is clearer than ever before; Beautiful construction; Great range of ports; Pretty design;
Impossible to upgrade after ordering; SD card slot on the back isn't as convenient as the side; No optical drive;