Thinking thin: Apple's iPad Air 2 reviewed

Price (RRP): $619 (starting from): $619 for the 16GB WiFi only; $779 for the 16GB WiFi/4G; $739 for the 64GB WiFi only; $899 for the 64GB WiFi/4G; $859 for the 128GB WiFi only; $1019 for the 128GB WiFi/4G;
Manufacturer: Apple
A new year means a new iPad, and here we are with another model ready for consumers to take home. Is the latest iteration Apple's best, and does it have what it takes to survive the onslaught of tablet competitors heading its way?
Features
It's hard to believe, but it has actually been a little over four years since Apple decided to remake the tablet computer in a way that actually succeeded, with the result being the iPad.
We're several generations in now, and in this latest version — what is essentially version six of the 9.7 inch Apple tablet — we're seeing some updates that on paper will look more like evolutionary ones thanks to the changes in processor and such.
There's a new iPad every year, though — sometimes two per year — and this time, there's a new processor inside the Air 2, with a slight deviation on the A8 found in the iPhone 6 and iPhone 6 Plus in this model, called the A8X. Like the iPhone models, this is a 64-bit chip that works alongside a motion coprocessor called the M8.
Storage in the tablets echoes what it does in the new phones, too, so there's no 32GB model anymore, rather a choice between 16GB, 64GB, and 128GB with no upgradeable storage in either.
Apple's latest version of iOS runs here, with iOS 8 included on the iPad Air 2 out of the box.
Wireless technology also follows suit from the phones with 802.11a/b/g/n/ac WiFi and Bluetooth 4.0 included in both of the main models, though there are variants with cellular as per normal with Apple, and these work with 4G LTE on Category 4 and below in this country. GPS is also included, as is assisted-GPS (A-GPS).
Cameras are included as well, with an 8 megapixel shooter on the back — no flash — and a 1.2 megapixel camera on the front, each capable of shooting video, though Full HD on the back and standard HD (720p) on the front.
This sits under a 9.7 inch screen In-Plane Switching screen running a resolution of 2048×1536, delivering a tablet friendly Retina equivalent for the iPad at 264 pixels per inch, with a gap-free screen just like how Apple is using on its iPhone models.
The body housing this technology changes a little as well, keeping with the aluminium material for construction, but putting it on a slight diet with a thinner body, bringing the tablet from 7.5mm down to 6.1mm, while the weight is cut down a good thirty grams from 478 to 444.
Apple's Lightning charge and data transfer dock is also included, found at the bottom of the tablet, while a 3.5mm headset jack sits up top.
Three buttons can be found on the iPad Air 2, with a power button along the top on the right, volume buttons (two, technically), and the main home button on the front of the tablet, which now features Apple's Touch ID fingerprint scanner, a first for the iPads.
The mute switch is now missing from the iPad, though, found in the previous iteration, but missed this time around.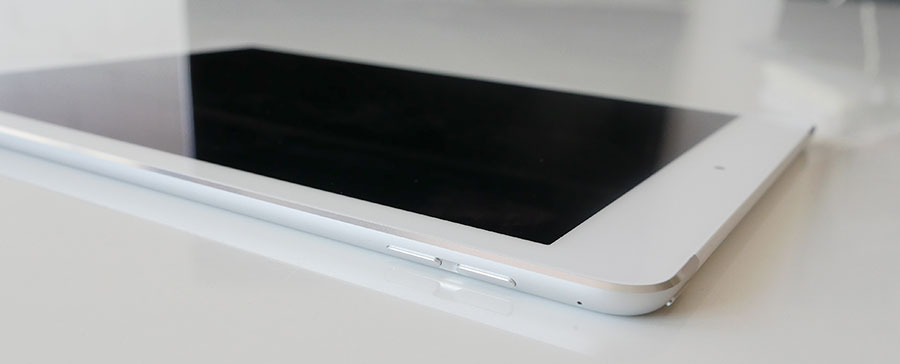 Performance
Out of the gate — err, box — it might not seem like much has changed, because if you look at this design, and you look at the old design, they're more or less the same.
In fact, they look exactly the same, with another Apple repeat in effect, taking last year's industrial design and repeating it. Sort of.
Truth be told, it may look close, but the Air 2 is a thinner product and a lighter tablet, simply because it can be, a change which may mean a slew of new tablet cases could find their way out (we tested it, though, and you don't necessarily need new cases, as many will fit).
In the hands, the Air 2 is very light, and looks remarkably thin, and thanks to the continued use of metals in the body, feels as solid as it looks. The only use of plastic in this bad boy is along the top whereby the antennas for either WiFi or WiFi and 4G have a place to stay.
There are some obvious upgrades, though, some which Apple users have been crying out for, in much the same way as they have been crying out for bigger screens on the Apple iPhones.
Those features include the faster WiFi, which now rolls around and includes support for 802.11ac just as more networking companies are beginning to embrace it for the mid-range, beyond that top-end router you have to spend close to $300 on.
Bluetooth 4.0 is here, too, left over and great for people using wireless headphones and speakers.
Apple's excellent Retina screen is also here, with Apple keeping the same 2048×1536 panel used on its previous Air, but removing the gap between the panel and the screen in the process, bringing that colour closer to the surface, and generally making the colours pop out more.
Granted, the new Air doesn't have quite the same pixel clarity of Samsung's Tab S, but we're not sure that's a pixel difference most are likely to see, and both screens look amazing, even when compared side by side.
But while it might not seem like the screen has changed dramatically, we can tell you that the screen's responsiveness has changed a fair bit, with more pick up of what your fingers are doing, so much that we were able to type this review on the screen of the iPad, something we haven't tried for a while, as previous versions — and tablets made by other companies — have never been fast enough to keep up with our fingers.
That means this is probably the first time where you may not need a proper physical external keyboard, though you can still use one, if you choose, as only that will deliver the full on click clack tactile feedback that the iPad 's touchscreen simply cannot deliver.
But an increase in touchscreen pickup is impressive all the same, and bodes well for those totally dependent on touching the screen often, such as in typing, taking notes, drawing and digitally painting, and even the games where lots of touch amount to lots of interactivity.
Also updated are the specs, and while it might seem like an obvious inclusion, it's not one that has happened across the board.
Unless you were living in a digitally withdrawn hole, you're probably aware that Apple recently released the iPhone 6 and iPhone 6 Plus, and while these are the first big phones from Apple, they have also seen a much needed upgrade in class, with faster chips and more solid graphics.
That's the A8X processor, a slight deviation in the name from the regular A8 used in the iPhone 6 models, with that extra "X" telling you the graphics have been beefed up.
As a result of this change, it's not hard to imagine the sort of upgrade the new iPad Air 2 has seen, with more or less identical updates, with the exception that the iPad Air 2 has more grunt going for it in the graphics department.
That means that any game you throw its way will handle its own and then some, loading quickly and providing good looks and sound to boot.
Also included this time around is Touch ID, Apple's answer to beefed up security that is totally your call on whether or not you use.
For those caught unaware, it is the return of the fingerprint scanner, albeit one that uses a better implementation than those fiddly ones we had on products years before the iPhone and iPad rocked up.
As far as what it can lock, there isn't much, though Apple is expanding it, with your fingerprint and the edges of its friction ridges working as lock and key to your data from a security standpoint, as well as to let you pay for apps, songs, and videos on the iTunes Store and App Store.
We've liked Touch ID in the past, and here on the iPad Air 2, it's a nice inclusion, though it would be nice to see more support for this technology in other things, such as PayPal and other security connected applications.
Finally, there's the iOS 8 and Yosemite integration, and if you're a Mac user, you will find more reason to love the iPad Air 2 than anyone else, with Apple's handoff features making it possible to send Apple you've been working on straight to the Mac you normally work on at the desk, such as automatic note synchronisation, messages jumping from your phone to your iPad and even to your desktop, and an email you might have been writing or reading showing up on your desktop the moment you walk into the home or office.
If you are a Mac user, this is a seriously cool link up of technologies, and is the sort of thing that can keep a user in Apple's system, providing quite a fair bit of versatility to a few devices.
Even the battery isn't all that bad, providing either one to two days of life if you use it frequently, or a good four or five days if you can survive on the tablet for an hour or so a day.
Spend that time gaming, mind you, taking advantage of the A8X processor, and the battery life will drop significantly, requiring closer to a nightly charge, but all in all, it isn't a bad effort.
As for what's wrong with the iPad Air 2, there isn't much. Nothing is perfect, but you have to give credit to Apple, because it really likes to make sure its gear is as close as it can be.
The negatives we've found are more likely to be seen as omissions, with one design feature going away, and another never appearing despite seeing it on others.
That design feature that has gone away is the mute switch, which many had come to rely on for, you know, muting the tablet in a heartbeat, just like they do on their phones, but not here.
No, for that, you'll need to hold the volume keys down, which we imagine is just why Apple removed it, basically because it was superfluous in nature.
We miss it, mind you. Having that easy switch was nice, especially if you needed to shut your device up quickly and didn't want to risk the tablet making a big noise in the middle of a meeting. But oh well, we guess.
One feature that has never arrived is still not here, and that is a flash for the camera on the back.
Now it needs to be said that Apple has, in fact, upgraded the camera back there. It's not quite at iPhone 6 levels, but it's still not bad. And yet, no flash. None at all.
Believe it or not, this is something we actually pulled up with Apple when we were first shown the product, looking at the tablet incredulously, mostly because other tablets include it, and really, the option should be provided. We can only imagine that the encouragement is there without the flash to buy the iPhone, but really, this is something we can imagine some people would probably want.
There's also no Near-Field Communication, which is very typical Apple, but very annoying, too.
If you have taken photos on an NFC equipped camera or have an NFC set of speakers or headphones, the near perfection of the iPad would be greatly matched with the ease of use of nearly instantaneous pairing, but that's the same issue on the iPhone 6 and 6 Plus, which both feature NFC, but neither can make use of due to ApplePay being the sole reason the technology has been implemented.
Oh, and one final thing: the cost and lack of upgrades. We're used to both here, we really are, as are most customers keen on checking out the Apple products, but it's useful to know that Apple's iPad Air 2 follows a similar storage convention as its iPhone 6 and iPhone 6 Plus, meaning there's no 32GB model anymore, and no way of upgrading the storage yourself like you can on competing Android tablets.
That's not a huge deal, and it's certainly not a deal breaker, either, just something worth knowing.
Conclusion
There is no doubt that Apple's reinvention of the tablet has been one of those game changers, lighting a fire under nearly every electronics manufacturer and making them, as Apple used to put it, "think different."
And in this incarnation, the iPad Air 2, there is more of what you have come to expect, with a product that is built well, designed well, and engineered to feel and perform in a fashion befitting the very best.
That said, there are less reasons for many to upgrade, and there is a lot of competition out there, some of it very impressive, such as the Microsoft Surface 3 for content creation, and the Samsung Galaxy Tab S and Sony Xperia Tablet Z2, which the Air 2 competes directly with and even goes toe to toe with (both) when it comes to thickness, just narrowly edging it out and still keeping the product metal, something neither the Sony or Samsung manage.
The most staggering thing for us in this review was that we were able to type it on the iPad Air 2 completely without any problems, with the tablet able to adapt to our speedy fingers and produce the smallest amount of errors ever — perhaps one or two — and they might have been our misspellings, rather than a slip of the fingers.
That is amazing for us, because while we prefer tactile keyboards, one of the reasons why this preference was so high was the slowdowns and resulting inaccuracies that onscreen tablet typing would yield was just so high, and this one is pretty much spot on, providing a screen response time like no other tablet, and making note taking fast enough for most typists out there, even the fussy ones.
Take that, mix it with a sturdy design that still looks amazing, and finish it with an improvement to the display that is very impressive, and you have the iPad Air 2, a brilliant tablet, but one that is becoming harder and harder to upgrade to, especially if you're already an owner of a previous model.
If you take notes on the tablet and want something as fast as you, this is a product you'll want to have, and if you want an amazing tablet, this too is the tablet you'll want to check out. Highly recommended.
Thinking thin: Apple's iPad Air 2 reviewed
Price (RRP): $619 (starting from): $619 for the 16GB WiFi only; $779 for the 16GB WiFi/4G; $739 for the 64GB WiFi only; $899 for the 64GB WiFi/4G; $859 for the 128GB WiFi only; $1019 for the 128GB WiFi/4G; Manufacturer: Apple
Lovely clear screen; Display has much faster touch support, making typing just that much easier and more accurate when you're a fast typist; Still one of the prettiest tablet designs out there; Touch ID fingerprint unlocking included;
No flash on the rear camera; Mute and lock switch has disappeared; Still no expandable storage; No NFC;