Australia's first in-depth Apple iPad Pro review

Price (RRP): $1249 (starting price); 128GB WiFi/4G review model was $1699;
Manufacturer: Apple
Apple may have reinvented the tablet for today, but it has plans to give artists a tablet for tomorrow, and it arrives in the form of the iPad Pro, Apple's biggest tablet yet.
What's inside
A new iPad is here, and with it new internals, a new screen, and pretty much new everything. What is this iPad Pro thing?
It starts with a new processor, as Apple jumps to the A9X 64-bit processor in this device, relying on what we've heard is 4GB RAM and either 32 or 128GB storage alongside it. Complimenting this is Apple's M9 motion co-processor.
Apple's iOS 9 arrives on the iPad Pro out of the box, and you'll find connection options are pretty much on par with Apple's regular iPad offering, regardless of the tablet being new or not, with support for 802.11a/b/g/n and 802.11ac WiFi, Bluetooth 4.2, GPS, and wired Lightning. An optional variant has support for 4G LTE.
Cameras come part and parcel with tablets these days, and the iPad Pro is no exception, offering a 1.2 megapixel FaceTime HD front-facing camera, as well as an 8 megapixel rear camera for the back capable of handling Full HD 1080p video capture.
Sensors are also included, with an ambient light sensor, the usual accelerometer, a barometer, gyroscope with three-axis pickup, and Apple's Touch ID fingerprint sensor, just in case you value your security and want to entrust it to fingerprints over passwords.
And all of this sits under a specialty 12.9 inch In-Plane Switching (IPS) display, offering a resolution of 2732×2048, which translates roughly to 264 pixels per inch, where Apple's iPad Air 2 and iPad Air sit at for clarity.
A new port can also be found on every iPad Pro, and that's the Smart Connector port at the bottom of the device, or the left edge, allowing physically connected devices to adhere to the iPad Pro and transfer data to and from the tablet, such as with a keyboard.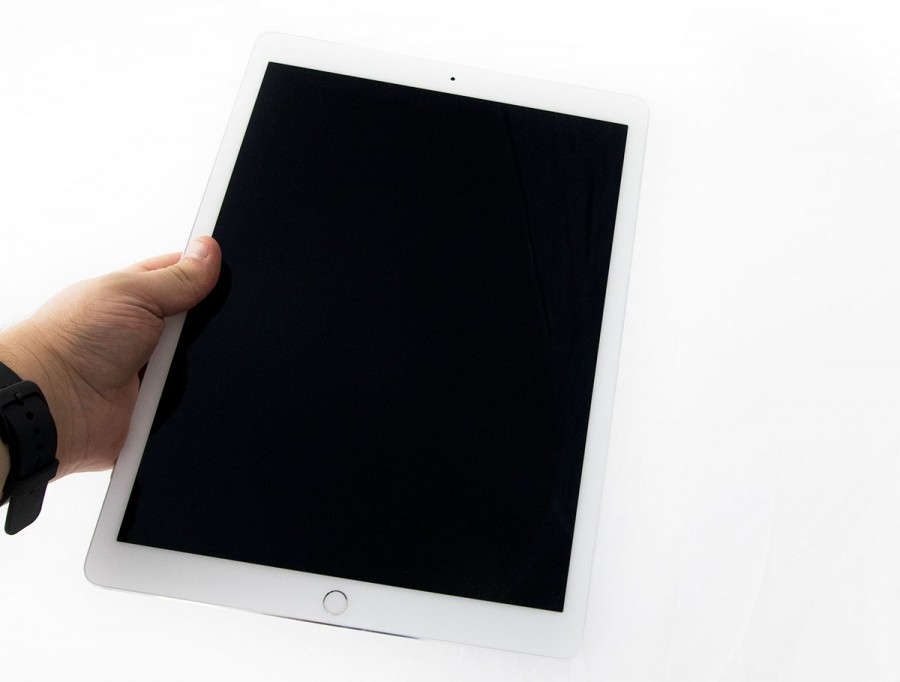 Design and screen
An iPad is built from its screen, so let's talk about that screen, because it's definitely worth talking about.
For the iPad Pro, Apple has brought in its largest portable screen ever, creating a 12.9 inch tablet, and boy is it big.
We recall reviewing a 13 inch tablet before Windows PC makers started making these ridiculous 14 and 15 inch hybrids, and back then 13 inch was insane.
Not much has changed in this way of thinking, because a 13 inch tablet is still pretty nuts, but Apple has managed to find a way for it work, taking the 4:3 aspect ratio it has used for ages on the iPad and crafting a tablet that feels spesh in the hands, and that's thanks to the screen.
Apple sure likes its display technology, and ever since it started showing consumers what an IPS (In-Plane Switching) screen was and even changing the way we view mobile displays with its sharper "Retina" concept, other manufacturers have had to work their hardest to take on Apple's own efforts. It's a force for change, and that's good.
In the iPad Pro, that force for change comes in the form of a Retina display matched to the 12.9 inch size Apple is going for, offering a resolution of 2736×2048, which allows the iPad Pro to weigh in at 265 pixels per inch, pretty much the same level of clarity as the iPad Air 2, though a little under the iPad Mini 4.
Technically, Apple is offering 5.6 million pixels in this display, an astonishing number when you think about it, and it's also leveraging the same sort of display stack used in those other iPad styles, with less space in between the display and the cover glass, and something new: variable refresh rate.
One of these features few will realise is there, Apple's "variable refresh rate" technology will allow the screen to change its refresh rate depending on what is loading on screen at the time. If you're looking at a movie, it will speed up, and if you're looking at a photo or text on a screen, it will slow down, with the result being a more energy efficient panel across the board.
For a moment, though, forget about the numbers and just let us hold the iPad Pro screen, because it's the same thing you're used to, only bigger. The size does equate to a good 300 gram difference, but at around 723 grams, Apple's iPad Pro is still one of the lightest big screened tablets out there, cutting out around 100 grams from its nearest competition in the Microsoft Surface Pro 4 and feeling that it balances better as well.
And while the screens are technically on par, the iPad Pro screen comes across less like an excellent computer and more like a digital sketch pad.
Maybe it was just the white frame around it or the fact that we at one point carried an A3 sketchpad around, but there's something about this fairly bright and beautifully clear display that makes you feel like you're carrying a device made to make something.
Make something
Steve Jobs once said "if you see a stylus, they blew it", and this is a line you can pretty much expect geeks and Apple-haters to have ready at their disposal before they even use the iPad Pro.
It's an easy line to jab with, mind you, but times change, people change, and designs change, too.
After spending a week with an iPad Pro, we can't imagine this tablet without it.
First, let's take a look at the stylus we're talking about: the Apple Pencil.
Trust Apple to make a stylus totally different, because while everyone has a pen, Apple has a pencil, and it's a stylus that feels more like its namesake than most others.
For starters, it looks like the sort of pencil a graphic artist might keep with them, with a tall single colour barrel culminating in a replaceable tip, complete with a silver strap around the pencil back that defines what the pencil is.
No, this isn't a 2B or 4B; this is the Apple Pencil, complete with a shiny Apple logo in play. At that back near where the rubber would normally be, you'll find the back even pops off, providing a charge and pair plug for Apple Lightning, the same port used on the iPhone and iPad.
Inside the Pencil, Apple is relying on a combination of sensors to work out how you're holding the pen, and then how you're applying pressure. There are even sensors in the tip to accomodate if you decide to use the pencil to shade in using the edge, and these sensors work in conjunction with that variable refresh rate technology.
"Ah," you probably say to yourself, "this is the real reason there's a technology like this in the iPad Pro."
If you said this, give yourself a pat on the back for being an uber-geek, because one of the main reasons the iPad Pro is changing the refresh rate is to pick up on the pencil tip, working as we understand, around 240 times per second (we're guessing this probably translates to a 120Hz refresh rate).
With this technology in play, you can draw with pencil to paper-like fluidity, and the only thing you're really missing out on is the texture of the paper.
Sure, it won't feel like your pencil movements are carving into the canvas or cartridge paper, but you'll have a digital equivalent with an on-screen Retina resolution piece of art.
Charging the pencil is easy, too, with this happening when you take that rear cap off and plug it into the Lightning port at the bottom of the screen, which will also pair the pencil the first time you get it.
Handy, that.
We spent time drawing and reliving our days at art school, quickly relearning how terrible we were at drawing, before realising that it could work as a natural stylus, which is super handy for signing documents and marking up files, before going back to the whole doodling side of things and playing with Procreate.
One app grabbed our attention truly, and that was UMake, an app that allowed us to experiment with pen-drawing into 3D which we're not good enough yet in to demonstrate our efforts, but it was definitely something that showed what iOS development and a decent stylus can do.
Artists will likely get the most out of this pen, however, and given that, we can see why it's an optional purchase.
We're actually quite curious to see how teachers and students deal with the iPad Pro, because this could work as a digital Visual Arts Process Diary (VAPD), albeit an expensive one that you'd have to package into PDF for your slightly out-of-date teachers.
In our time with the pencil, we've found it to be enjoyable to use, and given that it will work with more than just drawing apps — think Photoshop and the like — people who work in the creative fields are definitely targeted, but it's a little more than that too, with architects and anyone who prefers a straight line able to get a digital on-screen ruler.
There's only one thing stopping it: where are you supposed to leave the Pencil?
That appears to be one area where Apple hasn't thought things through, as there's no clip, no magnetic edge, and really nowhere for you to leave the Pencil when it's not in use, except for say, holding it in your pocket or balancing it in the crevice that is the top of your ear.
Just don't lose it is all we're saying, as it is a $165 purchase. Yeesh.
The not-quite-computer
Apple's iPad Pro may come with a computer-like-price of $1249 to $1699, but it's not a computer, and that's clear the moment you pick one up.
This is an iPad plain and simple, albeit a very large iPad.
That said, with a keyboard, you can turn any tablet into a more computer-like device, and that's exactly what Apple's own Smart Keyboard is designed to do.
We do need to point out that this isn't your ordinary set of keys to add on to the iPad. You can trust Apple to think different, and think different it has.
For starters, forget about buttons, because while a keyboard has to have buttons, the buttons used on the Smart Keyboard are very different. Made from a custom fabric sitting atop a small key mechanism, this is a keyboard that is soft, flat, and yet offers travel, which is odd because when you look at the keyboard, you think that there's no way it could have any.
It does, though, and that's because of the custom fabric in place, and there is even spacing between the keys, made to make the entire thing look and feel like a real keyboard.
Like a real keyboard, the Smart Keyboard even lines up with an Apple desktop keyboard, offering the same size, allowing people already familiar with the size of one to jump right over to the other.
Connecting to the iPad is different for this keyboard, however, because it relies not on Bluetooth like other third-party tablet keyboards but a magnetic connect on the bottom of the iPad Pro.
Along the left edge — what constitutes the bottom when it's in landscape mode — you'll find three small circles, and these form the Apple Smart Connector port.
When held near a compatible device like the Smart Keyboard, the magnets on each draw themselves to each other and connect, and then you can just mould the iPad Pro into place, the origami folds on the back folding themselves the right way to let you have something to back the iPad Pro against.
On the one hand, it's hard not to view the Smart Connector as a nod to Microsoft's Surface Connector, because outside of the number of magnetic pin ports and size, they are very similar.
On the other, however it actually works a treat, allowing you to connect an almost 13 inch keyboard to work with, even if it is among the flattest keyboards you've ever typed on.
Make no mistake, if you worried about the sort of keyboard mechanism the ultra-thin Apple MacBook offered earlier this year, you'll want to play with the Smart Keyboard before you buy it, because it is even thinner, even flatter, and feels mighty different.
The thing about the Smart Keyboard is that for all the different it brings to the table, and it brings quite a bit, the Smart Keyboard grows on you.
We typed the entirety of the review on the keyboard, and got used to how it handled, even offering the marks for home row on F and J, typing via Evernote, while also using the iPad Pro to write a few emails, typing in forms on the web, and occasionbally use Notes and one of our favourite writing apps, Daedalus.
That said, the keyboard doesn't really have the right sound to it, and many a time as we were writing this review on the Apple Smart Keyboard, people turned around to ask what exactly that noise was.
And what was the noise?
It's hard to explain, but for a fast typist, it's a little like a finger running against fabric very quickly, like when you rub up and down on a seatbelt, while you hear a tap-tap-tapping noise of a button depressing several times in quick succession.
Someone else in the office described it as rats gnawing at an object, and we can totally see that. It's flat and high-pitched, and if you type as fast as we do, it's frenetic and very odd.
Essentially, the Apple Smart Keyboard sounds nothing like another keyboard you've used, though it feels marginally like the super-thin keyboards Dell and Microsoft have tried and given up on in the past.
And yet it feels better, and while we didn't like it at first, now we're just flying on it.
Sound
The sound is another area Apple has worked on, and while this is just another big iPad, Apple has taken the speaker design back to the drawing board.
We've never been too thrilled with Apple's placement of the speakers on the iPad at the very bottom, seeing it as a sort of "let's just do what the phone does" response to tablet design, but finally, there's a changing of the guard.
And Apple is fixing this by adding two speakers to the other side.
This means you now get four speakers total on the device, with the sound pushed out from each quadrant of the device.
Your orientation also affects sound, because while all four will produce bass, the top most speakers will shift to handle mids and highs, changing the type of sound in order to get the best result.
Does it work?
We're not sure, and we couldn't notice a huge difference between sound out of the speakers using the GadgetGuy 2016 Sound Test as we shifted orientations, though for the speakers to be pulling this off, this might actually be the point.
What we can tell you is that while they're not the best speakers we've ever heard, they are definitely very good, offering solid detail in the mids, while the highs take a bit of a backseat and the lows continue to pump on through.
Jazz was a particularly fun test, and with Dave Brubeck's "Take Five", it almost sounded like the highs of the horn peaked easily, while the piano and drums were quite detailed, though the bottom end was a little lacking. It was definitely comfortable to listen to, and we had much the same experience when we threw pop and R&B at it, though punchy bass did have the tendency to feel a little flat in comparison.
Volume is the other thing Apple's iPad Pro has plenty of, because at full volume, it's not that the tablet will fill a room, but it will certainly be loud enough to make you sit at a distance from the tablet.
Overall performance
We can't do a review without evaluating performance, but as you can probably imagine, Apple's A9X processor needs little evaluating.
Granted, we haven't seen this version before, but considering it is based on the very excellent A9 in the iPhone 6S and iPhone 6S Plus, we have little to doubt.
Still, why not run it through a gamut of benchmarks just for the fun of it.
As expected, the new processor floors the benchmarking apps, producing scores that put it almost a thousand points higher in one test and a little more in another compared to the iPad Air 2, while the iPhone 6S running on the similar A9 processor is still outflanked by almost a thousand points on Geekbench 3 where the Pro clocks in at 3228 in single-core and 5487 in multi-core.
Another benchmark, Antutu, goes off the charts for the iPad Pro, scoring 62918, higher than we've seen for any otheri iOS device, telling us that yep, this is fast.
But you don't need a numbers test to tell you that, and the overall performance of the iPad Pro rarely skipped a beat during our time with it.
We found a few pre-production glitches, usually with timing over the keyboard connection, but by and large, most apps we ran on the iPad Pro were perfect, and the few times we played a game found pretty much near instantaneous speeds. This is, as you can imagine, a very big iPad, and like the other iPads, it handles itself beautifully.
In fact, thanks to iOS 9's ability to go split-screen, apps feel more like they would on a laptop or desktop, simply because you now have so much real estate, the system feels like it's a proper computer.
Battery life
Aside for the overall system performance, there's also battery life, and that's an area Apple has always sort of been able to handle its own.
Much like how it owns laptop battery life due to how it develops its own operating system and works with specific hardware, the same is true on the iOS platform, and outside of the smartphones it produces, Apple devices generally handle quite well for battery life.
In fact, Apple iPad tablets tend to rate better for long term battery usage in real world testing than other tablets.
So how does the iPad Pro perform?
Pretty much as you'd expect, and throughout our week with the iPad Pro, we found that we could use the iPad Pro for a couple of hours every day and still not need to charge the iPad nightly, with the unit able to handle three to four days on this device before needing a charge.
Heavy users will likely need to charge it every day, though unless this is a dedicated tablet or computer, we suspect you'll get closer to two days, which is pretty good. People with even less usage could possibly see a week. Leaving it unused for two days saw the iPad Pro drop only 7 percent battery life.
Recharging the iPad Pro is easy, with Lightning employed as the main way to charge the unit, as well as moving data off the device in a pinch, and this charges the Apple Pencil, too.
The cost and confusion
Perhaps the biggest conundrum with the iPad Pro isn't from its massive design or its confusing question of who it's made for , but rather its price tag, because at $1249 the iPad Pro sits in the same league as some of Apple's computers.
That's by itself, too, with no $269 Smart Keyboard and no $165 Pencil, either. Factor these in and you pretty much have the cost of a decent Apple laptop, which could definitely throw people a curve ball, but that price comes back to who needs this, and who this is meant for.
At this point, we're willing to say that more than anyone else, Apple's roots are who this is meant for. Specifically, we're talking about graphic artists and anyone needing to apply ink and line and colour and magic to the page, because this puts itself squarely in the territory Wacom normally works in, with what is basically an Apple-engineered portable Wacom.
It's not the same, that said, and the Wacom graphics tablets out there allow you to do even more at the moment due to how these connect to Mac OS and Windows, and the real apps with more versatility. We're not talking basics with these apps, but rather fully fledged graphic environments, allowing you to handle Photoshop, InDesign, Illustrator, and pretty much anything else Adobe puts its name to, or even Autodesk for that matter.
That's not to discount the iPad Pro, though, because with Apple working with these major software companies, the iPad Pro could become a very big deal, excuse the pun.
However, it is still a very pricey machine, and so we're in the mindset that while it feels like it could be ideal for students, the over-thousand buck price tag really limits this. Right now, we suspect this will be made for people who draw and sketch frequently, for the artists and architects and storyboard artists keen to get their thoughts onto the page instead of the cocktail napkin they have been using for far too long.
The other part of this dilemma stems from its competition, and that clearly comes from Microsoft's Surface Pro 4 (left), which the iPad Pro (right) feels directly aimed at.
In terms of performance, the two are evenly matched, and they're pretty close in size, though the iPad Pro has more overall screen size, less weight, and a hair less on thickness.
Actual usability is totally different, because while the iPad Pro lets you run some pretty impressive iPad apps made for graphics, it doesn't let you touch Adobe Photoshop, InDesign, or Illustrator, staples for designers.
For that, you need to turn to something that can handle these apps, and that means Mac OS X or Windows. iOS is close, but while there are other programs that do similar things, right now, the iPad Pro isn't made for the desktop apps.
Conclusion
Apple's iPad Pro is a curious thing, and it kind of makes the iPad range a little like Goldilocks and the three bears. That said, we're retelling the story, because you — Goldilocks — might find the small 7.9 inch Mini to be just right, and you might find the regular "normal" sized 9.7 inch Air 2 to be just right.
But if you prefer big, and find bigger to be better overall, perhaps the Pro will be the one that is just right for you.
It does need to be said, however, that the bigger sized iPad Pro is just that: an oversized iPad. Or not so much an oversized iPad, but a supersized iPad.
Perhaps the best thing about the genuinely massive iPad Pro is that it feels like you're working on a piece of the future, with a super-thin tablet that now — thanks to the excellence that is iOS 9 — supports multi-tasking like a real computer, with split-screen app usage.
In fact, paired with Apple's Smart Keyboard, the iPad Pro manages to almost feel like a 13 inch laptop, which might seem odd given the size, but this is a tablet following the 4:3 aspect ratio, and that makes the iPad Pro seem bigger than what it is.
For this reviewer, the most surprising thing was how quickly it grew on him. Taking it out for the first time, he wasn't sure. In the hands, it felt like what he thought it would be, and that was just another big tablet.
Big tablets aren't anything new, either, with both Microsoft and Toshiba trying them out.
But no one does a tablet like Apple, and the iPad Pro finally feels like the consumption device you'd actually be able to use to create content on as well, shifting the paradigm that has been connected with tablets since Apple reinvented them in the iPad.
We could write reviews on this device, and we could administer a website on this device. In fact, we've done it before on an iPad Air and an Android tablet before, and yet neither felt like a real computer.
Apple's iPad Pro gets close, but we don't think we'd spend this sort of money on one for ourselves. For this sort of money, we'd probably buy a great computer that can run more than just the micro apps that Android and iOS handle.
If you need a 13 inch tablet for digital drawing and painting, you already know you're getting one, but everyone else, we'd recommend trying it out, because this isn't just a big tablet that could work as a computer, it's a big tablet that may not adequately match what you're after.
It's an excellent product, sure, but it's not for everyone.
Australia's first in-depth Apple iPad Pro review
Price (RRP): $1249 (starting price); 128GB WiFi/4G review model was $1699; Manufacturer: Apple
The screen is freakin' spectacular; Same typical brilliant and sturdy design as the other iPad models; Comfortable to hold, despite its massive size; Great performance with little to no lag; Four speakers (woot!); Excellent battery life; Apple makes it with 4G; Optional Pencil can be paired and charged using the Lightning port at the bottom of the iPad Pro; Pencil is very easy to use, and feels as comfortable as using a real pencil; Apple's Smart Keyboard is an interesting keyboard to use, but it does grown on you;
Every accessory is optional; Nowhere to put the Pencil; Very expensive;