Apple iPhone 4S

Price (RRP): $799 16GB; $899 32GB; $999 64GB; Available on all major telcos: Telstra, Optus, Vodafone
Manufacturer: Apple
The disappointment that accompanied the announcement of an iPhone 4S last week was largely because it didn't look much different to an iPhone 4. With all of the pre-launch hype about a completely redesigned 'iPhone 5' with a larger screen and perhaps a more robust case, that disappointment is perhaps understandable.
It's amazing, then, that with Apple Stores taking pre-orders from this week, more than one million iPhone 4s have already been sold worldwide.
I've been using the iPhone 4S over the past few days, and two days prior to its official Australian release, can share some insights into how different it is from the iPhone 4 it updates.
First looks
On the outside, it's not easy to tell the two models apart. There are a few cosmetic differences between the 4 and 4S however, the main being that the silent/mute switch has been moved slightly downwards. I discovered this while inserting the 4S into an iPhone 4 case; the hole for the silent/mute switch didn't match up, so you'll probably want a new case or 'bumper' if upgrading from an iPhone 4.
Inside, however, things are very different and there are some major hardware changes, including a new processor, graphics, camera and optics, antennas, memory capacity and a few other bits.
Dual core A5 Processor
First, Apple has added its A5 dual core processor, similar to the one used in the iPad 2, which Apple says produces about twice the processing power of the iPhone 4 and seven times the graphics performance. While this chip is not quite as fast as the A5 version found in the iPad 2, it's certainly not too far off.
In real-world use, the phone is very responsive and quick to load apps, but the real benefits come from the added graphics power. I tried a couple of graphically rich first-person games, including Infinity Blade and ShadowGun, and was very impressed with the result – the in-game worlds look stunning, with realistic lighting effects and detailed textures, and the fast-action movement was very fluid and hard to fault. And considering the large number of games available through Apple's App Store, the iPhone 4S stands as one of the best portable gaming platforms available.
Another benefit of having the A5 processor in both the iPad 2 and iPhone 4S is that developers can now create applications for a common platform. This should result in better and more innovative apps as developers gain experience working with the A5. It should also reduce the time needed to develop the same app for iPhones and iPads.
Reception
While the launch of the iPhone 4 was overshadowed by problems with its antenna, Apple has made doubly sure that this is not a problem with the 4S. This has two separate antennas, both built into the stainless steel ring around the phone. The two-antenna system is designed to improve call quality as it can dynamically switch between antennas to achieve the best signal.
My iPhone 4 is connected to the Telstra Next G network, and in our metropolitan test area, I can't say I saw much difference in signal strength between it and the 4S. This might be different when the 4S is used on other networks, or in rural areas, however.
More noticeable, though, are faster download speeds, with the iPhone 4S supporting 14.4 megabit per second downloads versus 7.2 megabits on the iPhone 4. Loading web pages is definitely faster (on Telstra's Next G network), and sending picture attachments and picture messages is quicker too.
While I would have liked to see support for LTE (4G) networks in the 4S, it's still early days for this technology, and I'd expect this to be included in the next iPhone.
Camera
Many other smartphones already offer 8 megapixel cameras, and the iPhone 4S has finally caught up ­– and then some. The new 8 megapixel camera now has enough resolution to create 8 x 10 inch photos at pixel-to-pixel resolution (and has 60 percent more pixels than the iPhone 4's 5 megapixel camera). In video mode, you can film 1080p movies at 30 frames per second.
The new lens has an aperture of 2.4, which is great, both for the amount of light let into the lens, and it can produce a shallow depth of field –– a photographic effect where the background is softly blurred while the subject is in focus. The system allows more light to hit the photo sensor (CCD), which helps produce more realistic colours, better white balance and improved face detection accuracy.
What's more, Apple has improved the camera in the area that matters most: it now performs better in low light, so there is less blur from camera shake.
Plus, you can now quickly access the camera from a button that appears on the lock screen, and use one of the volume buttons as the shutter button when holding the camera in landscape orientation. Also, because of the faster A5 processor, the time the phone needs between photos is less, so you can be ready to shoot about half a second after your last shot.
So, while the camera in the iPhone 4 was already pretty good, the one in the 4S is fantastic.
Now, once you've taken a photo, you can do some basic editing on the phone itself, including crop, red-eye reduction and colour adjustments. For photo-enthusiasts, gridlines and a focus lock is available, as well as a 'pinch-to-zoom' feature. The LED flash looks to be unchanged from the iPhone 4.
The 1080p video mode produces some very impressive results, partly because of the high resolution and frame rate, and partly because of the video stabilisation feature. The latter helps get rid of the 'camera shake' effect that most hand-held phone videos suffer from, and makes videos more enjoyable to watch.
Like the iPhone 4, you can trim videos, but you'll need iMovie for more advanced 'on-phone' editing.
Siri
There's been quite a bit of talk about Siri, the 4S's new personal assistant software. To be honest, I wasn't quite sure what to make of it when I first heard about it. However, each time I ask Siri something, the more impressed I am with its cleverness and accuracy.
You can ask it all sorts of things, but Siri can only help you if there is an application associated with your request. For example, you can tell Siri to make an appointment via your calendar, read your text messages or emails, tell you the time or weather, remind you of something, check a stock price or look something up on Google or the WolframAlpha online scientific database.
Still, this covers most tasks you'll want to do, and it's a welcome change that Apple has made Siri available to Australians at launch, while many other countries have missed out.
What Australians won't be able to do however, is receive location-related information tied to maps, so if you ask Siri where the nearest cafe is, it will tell you that this feature is only available in the US. Hopefully, more of these services will come online in Australia, but Apple hasn't confirmed this yet.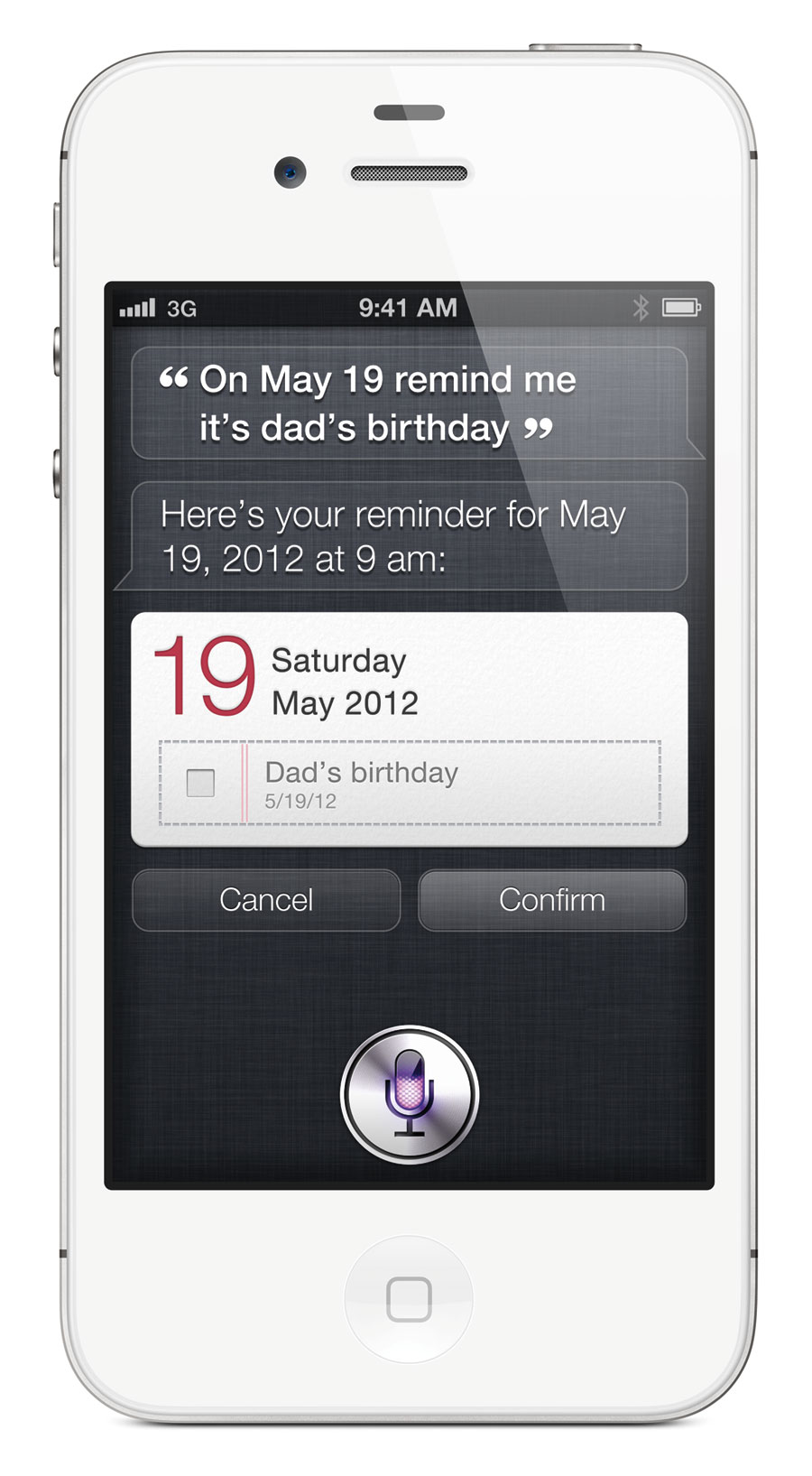 Unlike a voice recognition system, which simply matches the sounds you make to a database of words, Siri uses Natural Language Processing. This means that you can speak to it using everyday language, and it can figure out meanings and how to carry out your request. For example, you can ask it about the weather in many different ways, such as: "What's the weather like?", "Is it cold out?', or "Do I need to wear a jacket?". Siri just figures it out.
My only problem with Siri is that I often forget it's there, and sometimes it appears quicker to do some of the tasks yourself, but I'm finding it really handy for replying to text messages, as it's faster to say what I want in a text rather than type it via the keypad.
Siri did exist as an App before it was purchased by Apple and integrated into the iPhone 4S, which is now the only device upon which you'll be able to use it.
There are a few other features available on the 4S that set it apart from the 4, including the ability to output the screen to a TV via the HDMI (or VGA) adaptor. Also, if you have an Apple TV, updated with the latest software, you can send the iPhone 4S's screen to a TV wirelessly using AirPlay Mirroring. This is a great feature for sharing presentations, web pages, or even playing games, on a bigger screen.
Conclusions
While many were hoping for a radically different 'iPhone 5', the 4S deserves applause for what it delivers. There are some genuine improvements on the 4 in terms of overall performance, including a fantastic camera, improved reception and faster download speeds.
Considering the power demands of the upgraded hardware, the battery life seems about the same as the iPhone 4. The excellent retina display, while not new, is difficult to fault. Also there is a 64GB model, which means more room for your music, video, apps and photos.
Apple's latest mobile operating system, iOS 5, comes installed, and offers a range of new features, the most notable being the new Notifications Centre, iMessage and integrated Twitter. And with iCloud, it's now much easier to synchronise your content, documents and photos across all of your Apple devices.
Looking at the 4S as in the context of Apple's ecosystem, which includes iOS5, iCloud and all the apps, music, books and other content available from iTunes, there is currently no phone on the market today that can match it.
Yes, there are other excellent Android and Windows-Phone-based smartphones from Samsung, HTC and others that have an app store, dual core processors and larger screens, but few are able to integrate the hardware with the broader 'smartphone experience' as well as Apple.
If you have an iPhone 4, you will be able to download iOS5, although the Siri assistant won't be part of this, and you can also connect to iCloud once it becomes available in the next few days. With this in mind, you might be content to stick with your iPhone 4 until the next Apple iPhone release.
However, if you upgrade to a 4S, or switch to it from a different brand entirely, you certainly won't be disappointed. It's an excellent phone with stacks of innovative features, and is built on the latest technology.
Apple iPhone 4S
Price (RRP): $799 16GB; $899 32GB; $999 64GB; Available on all major telcos: Telstra, Optus, Vodafone Manufacturer: Apple
Powerful processor and stunning graphics performance; Faster download speeds, industry leading 8MP camera; Siri personal assistant, new iOS 5 features and iCloud support; Ability to export video to external displays;
Looks very similar to the iPhone 4; No LTE (4G network) support;