Slim and sexy: Apple's 2016 MacBook reviewed

Price (RRP): $1999 (starting price); Review model was $1999;
Manufacturer: Apple
We've been waiting for an update to Apple's futuristic MacBook, and it's finally here, delivering a dose of speed in a super svelte package. Is this still what the future looks like?
Specs
Apple's super slim computer is back, and for the second-generation, the company is mostly changing out what's on the inside.
You'll still find the same metal body with the same 12 inch Retina In-Plane Switching (IPS) screen supporting the same slightly unorthodox 2304×1440 screen that can scale down to standard resolutions for better clarity, but pretty much everything else that was important about this machine has changed, and that starts with the processors inside.
In this generation, you'll find one of three sixth-generation Intel Core "m" processors, with a variant arriving with a 1.1GHz dual-core Intel Core m3 processor, another with a 1.2GHz dual-core Intel Core m5 processor, while the final variant — which is made to order only — comes with a 1.3GHz dual-core Intel Core m7 processor.
Memory is set to a standard 8GB across the entire range with no way of upgrading it, while storage can come in either 256GB or 512GB amounts.
Because there's a new processor, the graphics have also been updated, shifting to Intel's HD 515 chipset, while connectivity options are all fairly normal, at least on the wireless front, offering 802.11ac WiFi backwards compatible with 802.11a/b/g/n, with Bluetooth 4.0 also along for the right.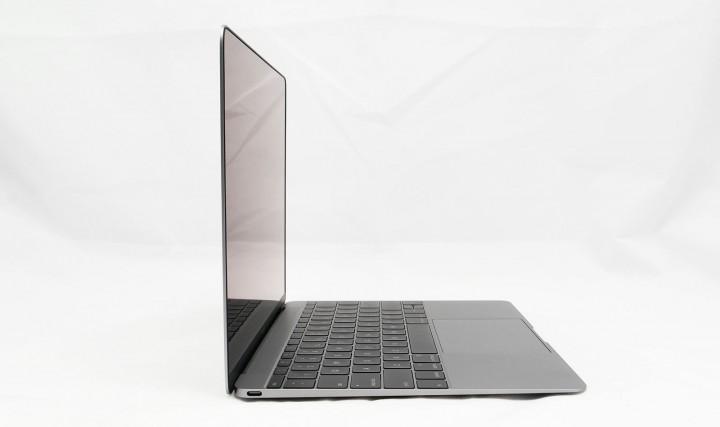 There are still only two wired ports on the MacBook, with a USB 3.1 Type C port on the left side, used for both charging the laptop and moving data across, while the headphone jack is still a 3.5mm port on the right edge.
One camera can be found above the screen, offering a 480p FaceTime camera like that out of the older iPhones, with two microphones on the side, too.
Design
Last year's Apple MacBook was easily one of the surprise pieces of technology for the year. For the first time in a while, it felt like Apple was changing the game with a new laptop, and one that went above and beyond what its computers were normally doing.
It was as if the company had made a machine that out-aired its MacBook Air, with a design that was so light, so thin, so simple, and so elegant, it could only have come Apple.
Strangely, it wasn't called the MacBook Light or the MacBook Nano. We'd even have been happy with the MacBook Gram or MacBook Ounce, or even the delightfully dual prong name of "MacBook Oz" which would serve Australians and Imperial measurement fans in America well.
No, it was merely called the "MacBook", and it looked to show off what a computer could be when you scaled everything back, making the thinnest and lightest machine without a touchscreen you could do.
To do this, Apple had to do a number of things, including making its own circuit board for the chip, redesigning the keyboard, developing a new size of Retina screen, and changing the way the battery was placed inside the case.
And that case had to be slim and easy to take with you, weighing only 920 grams when Apple was through with it.
Apple accomplished it, but it had some compromises, with only one usable computer port outside of the 3.5mm jack, which if we're honest is becoming less and less of an issue.
So in the 2016 model, has Apple changed anything in the design?
To put it simply, no: Apple has left things largely the way they were, changing the inside of the machine, because that's where the majority of upgrades were needed, delivering the latest generation of Intel processors to this ultra-slim computer.
Performance
While you can't expect MacBook Pro performance out of a computer practically half the size of that machine, Apple's MacBook — this slim model, not the old white plastic box — doesn't disappoint, provided you go in knowing full well what it is capable of.
And what exactly is it capable of, and who does it serve?
Specifically the MacBook is for anyone that wants something thin and light, with a more than decent battery life and just enough power to get work done, stories written, productivity handled, and a general feeling that you can survive life.
While the Intel Core m3 in our review 2016 MacBook handled everything we threw at it, we knew going in that this wasn't a machine to test games on, or to stick graphics on. In fact, the little bit of graphics you'll want to throw its way may come from Adobe's Photoshop, or something like it.
In that category, the MacBook can be used for a smidgeon of photo editing and even a little audio control in Audition, but productivity, emails, writing and web surfing are the main fortes of this laptop.
Performance isn't bad, and we found less lag working on this model compared to the previous generation we've been carrying for a few months now, with fewer occurrences of the spinning wheel of death Apple users have been known to survive under, particularly when something is about to go wrong. So few, actually, that we haven't commented on it.
The learning on this machine, however, is that provided you keep the activities to what this machine is good for, web up to 10 or 15 web browser tabs, an email client, and some productivity apps, you should be good.
Seriously, this machine is made to make work something you'll have no problem doing, and part of that comes from the design because it's so simple and light — almost effortless — while the other comes from the performance.
A practical state of "instant on" lives with the 2016 MacBook, and when that's paired with that remarkable thickness, or lack thereof, it makes it easy to get stuck into work, and occasionally that side project you keep telling yourself you're going to work on.
One thing of note is the storage, and while Apple gave an impression of faster storage in the new machine — something chipsets for Intel's sixth-generation of processor can certainly offer — the performance increase is minor.
You still get fast storage speeds, but they're just not as much of an improvement as you might believe.
In our test between the 2015 MacBook and the 2016 model being reviewed, we found the new MacBook was only 50 to 70MB per second faster across the read and write speeds, with the speeds topping out around 171MB per second write on the 2015 model while the 2016 nabbed 244MB per second. Read speed was a little more impressive, with 770MB per second on the 2015 MacBook comparing with 826MB per second on the 2016 model.
That's not a massive increase, and certainly doesn't confirm M2 SSD like we had hoped for. It's still not a bad speed all the same, and the 8GB RAM helps push it along, but if you were hoping for the 1GB per second minimum speeds of M2 storage, it won't be here.
Maybe in the MacBook Pro in June, just not here.
Battery
Battery life has improved, though, and while Apple quotes suggested times of up to 10 hours for wireless web browsing and up to 11 for movie watching on iTunes, we found that if you didn't connect to the web, there was a little over 10 hours for working in office-y applications, and that if you did, the battery life dropped to closer to 9.5 hours.
That's not bad, and suggests a full day is easily possible, though it's aided by a few factors we've noticed.
One is that Apple's apps and the apps optimised properly for Mac OS X tend to go a long way to guaranteeing solid battery life, so for this test, we replaced our regular usage of Google Chrome for Apple's Safari.
There is a pretty noticeable battery drain between the two web clients, and it's clear that Apple's option handles the battery better on the MacBook Air than its cousin from the search giant that is Google.
Another is the fact that when you put this computer to sleep, it sleeps.
There's practically no delay when you collapse the screen, and no worries from the processor or operating system; you've closed the screen, it's down for the count until you can be bothered to wake it up again.
That helps to keep the battery drain to an absolute minimum in the time when you're not using machine, something few laptops accomplish, and we know having tried so many.
The last thing that makes this battery friendly is the surprisingly fast recharge time. We're not sure if this is technically a Qualcomm Quick Charge product — our guess is not — but it performs kind of like one, boosting battery life fairly quickly when put on charge for a small amount of time.
Couple that with the fact that the one charging port (which is also the one data and connectivity port) is now a little more mainstream in 2016 than it was in 2015 when no one had heard of it let alone seen it on products, and you have something that is ready for use by the common people.
That keyboard
Yes, that keyboard is back, the one where Apple went and reinvented the wheel, or at least the flex scissor mechanism keyboards have been using for yonks.
The keyboard in the MacBook is therefore very different, with a mechanism that squeezes up as you push down, compared to the scissor-style mechanism that pretty much every tactile button keyboard has been using for ages.
This change in keyboard design has allowed Apple to get a full-size keyboard into a very, very slim computer, keeping some hint of travel even when it's quite clear to your fingers that little travel remains.
There are catches to this design, however, the first of which is that not everyone will find it a comfortable change.
This writer has actually grown to like the keyboard, but it does take time.
We write almost all the time, spinning out thousands of words at work, and then going home to do it again working on books and scripts and the occasional bit of code. Throughout this, we've found the keyboard can grow on you, but you have to give it a chance.
You also have to realise that the lack of travel in this keyboard design paired with the thin metal casing means the MacBook tends to almost pull in the feeling of the surface you're typing on.
That means if you type on a wooden or glass desk, the keyboard will feel hard by association, as if you're punching keys on a solid block.
Take it to your lap and the fleshy limbs almost act as a pillow, lightening the load and making everything a bit comfier. And on your bed, it's almost like typing on air, because the soft puffy doona and mattress top is just so spongey, the metal has nothing to push back against with and send back to your fingers.
With characteristics like this, the MacBook butterfly-mechanism keyboard (that's what it's called!) is one that you need to get used to, but if you give it longer than ten minutes of your life and type a solid page or two, you may find you can.
Just do that in store instead of surfing one or two web pages.
Value
Value is about the hardest part to judge, though, because with a starting price of $1999, you're not getting a lot for your dollar, though that's intentional which makes judging a little troublesome.
The thinner the gadget, the more research needed to get it at that point, which in turn means companies can charge more, and that's precisely what Apple can do here, so even if the specs aren't going to set fire to the performance world, the design, build, ands weight are part and parcel of the premium Apple can pull.
Match that with Apple's tendency to build products that some would consider more "luxurious" and "premium", and you have the price more or less worked out.
But Australia is also subject to a local tax, what the residents tend too call the "Australia Tax" simply because if you take the $1299 USD starting price of the MacBook — indeed the very one we're reviewing — you'll find it clocks in closer to $1700. That's without state tax, of course, so if you threw in GST or some other sales tax, you'd find the converted price closer to $1800 to $1850.
Given this laptop starts at $1999 locally, that's a relatively sizeable tax, meaning Aussies do have to fork out for this machine.
Even with the tax, we can see why the price is what it is, and the value isn't as bad as you might think.
The MacBook feels like it delivers a piece of the future today, and you have to pay a little more than you normally would for that opportunity. We can get that.
Conclusion
When it comes to picking a laptop, like it is with smartphone, we are all spoiled for choice. Even in the area of good or great or downright fantastic devices, there is still an abundance of choice.
And that's a good thing. All of this is good news for anyone keen to buy something excellent.
But what if you're after something that screams the future?
In this category, your choices are limited to all but the very best, with amazing amalgamations of glass, metal, connectivity, and colour. They appeal to so many, but are often overlooked because the future is far off enough that people want it perfect before it comes.
Apple's MacBook is a little like that, with a view of a fantastic future that is almost perfect, but just needs a little finessing.
We actually liked last year's model a lot, and it grew on us more as time went on. While its form-factor and inside technology wasn't quite good enough to take on the likes of the Microsoft Surface Pro or Surface Book, it had a slimmer profile and a more reliable keyboard that didn't break 200,000 keystrokes in.
While we still stand by last year's 4 star rating, this year we're bumping it up a bit, because the update to a new processor — indeed to three — means the performance is a little more configurable, and that if you still want a light computer, you can get it with some speed, too.
It won't be for everyone, and we advise anyone curious about the MacBook to spend 15 minutes with it in a store, writing on the keys to decide whether you really can mesh with the laptop. But if you can, you won't want to go back to a standard laptop, because there's just something brilliant about this slim and sexy laptop, even if it costs a bit to get there. Recommended.
Slim and sexy: Apple's 2016 MacBook reviewed
Price (RRP): $1999 (starting price); Review model was $1999; Manufacturer: Apple
Beautifully made; Just about the slimmest and lightest laptop computer out there; Updated processors are configurable, ranging from an m3 to an m7; 8GB RAM is standard; Great trackpad and keyboard (when you get used to both); Backlit keyboard; Still a brilliant and super clear screen;
Still only one USB Type C port; Keyboard can still be hard for some to get used to; No FaceTime HD camera; Expensive;