Review: Asus VivoTab Smart (ME400C)

Price (RRP): $599
Manufacturer: Asus
Customers interested in the simplicity of Windows 8 have had Microsoft's Surface to look at, a relatively inexpensive tablet computer that offers Windows in a sleek form. But there's one obvious problem with it: Surface features the handicapped version of Windows – RT – a type that only runs Windows 8 apps, with no support for Windows 7, XP, or Vista software.
But Asus has one that does, and it even competes with a price that's close to Apple's current crop of iPad models.
Features
Featuring a 10.1 inch screen with the HD-capable 1366×768 resolution on an IPS panel, the Asus VivoTab Smart is a tablet that's looking to take on the competition by being a decent all-rounder on price and specs.
Let's start with that last part, and in this machine, Asus has ignored the Tegra 3 chip currently in the Microsoft Surface, replacing it with an Intel Atom Z2760, the same chip in the Acer Iconia W510 and plenty of other smaller Windows 8 tablets.
There's also 2GB RAM here alongside the 64GB storage, though only 31GB is available to you when all is said and done. There is a microSD slot in this machine, however, if you want to add to the capacity quickly and easily.
Oh, and Windows 8 32-bit is included, and it's the proper version, not the Windows RT variant that arrives with some other tablets, meaning you can run more than just apps compiled for Windows RT and 8, which should make old school Window users happy.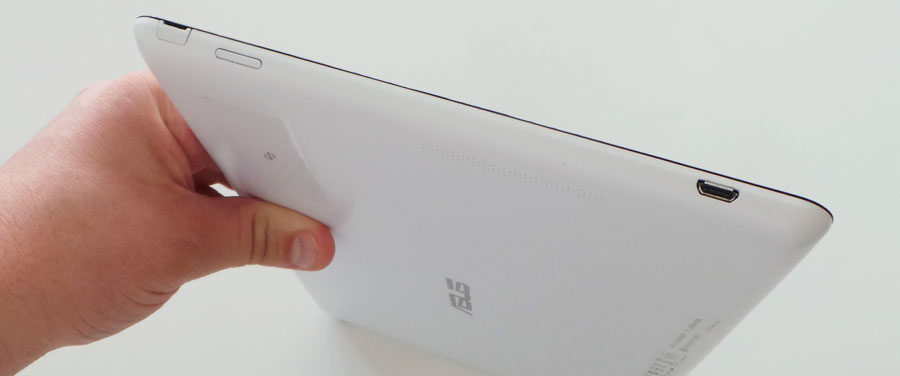 Connectivity is pretty standard, with 802.11 b/g/n WiFi, Bluetooth 4.0, although there is a nifty inclusion of Near-Field Communication (NFC) technology, making it possible to pair the tablet with headphones and other devices adopting this recent wireless technology.
Cameras are included, too, with an 8 megapixel camera on the back – yes, you can use it like a camera, though you might look silly – and a 2 megapixel front facing camera for those video chats you might be planning.
As is per normal with tablets these days, there are very few buttons or ports on this tablet.
On the left edge, you'll find a microUSB port for charging and moving data to and from, a microSD pop-out slot, and a covered microHDMI port. Along the top is the power button, while the right edge has a 3.5mm headset jack and volume rocker.
The front of the tablet does feature one soft button, however, a touch-sensitive Windows logo that acts as a permanent "Start" button.
No cases are included with the package however, nor is a keyboard, so you will have to purchase these accessories separately (our review unit arrived with them, and as such, they will be included in the review).
The battery is rated for up to 9.5 hours of use.
Performance
Carrying the VivoTab around as a tablet, it's not a bad feeling device, and while it lacks the sleek metal feel that other tablets offer, the plastic shell is quite comfortable and light. The 580g weight is barely noticeable, and Asus has done a good job balancing the hardware here.
We haven't yet had the pleasure of reviewing a Microsoft Surface yet, but the experience of the VivoTab Smart tablet section is very similar to what we found in the Acer Iconia W510, and another Windows 8 tablet we're reviewing from Asus, the VivoTab TF810. These all run pretty much the same hardware, with an identical Intel Atom Z2760 inside all of them.
As such, Windows is relatively snappy, with the operation of the new UI in Windows 8 sliding by quickly and easily, a few apps running fine simultaneously, and even allowing a touch of Windows app-snapping so you can run a couple of apps on the same screen.
This isn't a machine you'll want to do an enormous amount of high-end processing on – such as photo or video editing – or even spend time with anything more than a casual game, but it will get you through web surfing, writing, calendar organising, news, and just about everything a regular tablet user might want to do.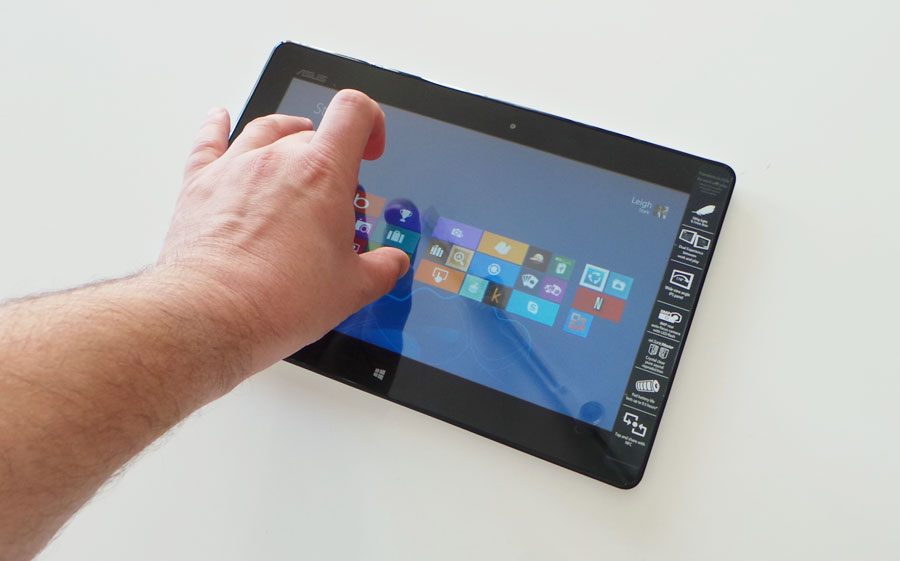 The choice of screen here is great too, with an In-Plane Switching panel that, while quite glossy, looks good from most angles.
There's a touch of dimming as you change angles along the flatter ones, but the picture is still decent enough that you shouldn't have any troubles finding a comfortable viewing position on this tablet at all.
We're also fans of the use of microUSB as a charging port, something so few tablets ever take advantage of. Even other tablets in the Asus staple don't normally take advantage of this, so it's an excellent point, making it easy to charge where ever you go, thanks to the universal compatibility that microUSB now has.
Battery life is decent too, and we managed roughly eight hours through the course of our test. We suspect you got probably get more juice out of this, provided you switched off WiFi and Bluetooth, which means it should last at least one overseas flight.
But it's not all great over here for the Asus interpretation of Microsoft's Surface. One of these is the keyboard and stand design, which can be seen as clunky, when used for the first, second, third, and fourth time.
First of all, neither the case – which has a stand in it – nor the keyboard are included accessories.
While the Asus VivoTab Smart does feature Microsoft's built-in virtual on-screen keyboard, it is by no means as good as an external one, and since this tablet competes directly with the Microsoft Surface, this tablet probably needs it.
Furthermore, these accessories haven't been priced yet, and from what we understand, will be sold separately: case for one amount, keyboard for another.
Unlike Surface, the stand isn't built in to the tablet. That's fine, and technically, that's no different to the iPad, so we can get around this with a case that folds origami-like into one. This case even clips to the tablet with one of those magnetic hinges like Apple's own Smart Covers.
Only one problem: it doesn't always work well as a stand.
As a cover, it protects the screen nicely and in a way feels like a slightly rubberised book cover. No worries there.
But to make it into a stand, you need to fold it over from behind using the little indents made in the case.
Bend it in the right places and it should make a sort of makeshift seat for the VivoTab to rest against. The tablet, though, can slip, and seems to require a relatively stable surface to sit on.
In our reviewing experience, the stand case was at its most stable when it was on a flat surface and you weren't touching it, and it couldn't be used on a lap, for instance, which makes it a little limited.
You can also get a keyboard working with this, and it even magnetically clips into the case quite easily, but there is a catch in this part, too.
You can't, for instance, keep the keyboard in the case and make the tablet sit straight up – like a proper laptop – because the tablet section has no stand built in and will just fall backwards.
So you have to take the keyboard out of the case, push the case into position behind the tablet while still keeping the magnetic hinge attached, and then use the keyboard outside the tablet, which takes more effort than just opening a case, propping the tablet up, and starting to type.
All in all, it's a little clunky, and likely because Asus chose not to build a stand directly in the tablet like how Microsoft did with Surface.
It's not at all like how Asus handled other products in the Vivo range, which included a port at the bottom for plugging it directly into a special keyboard dock, as the company has been doing previously with Transformer tablets running on Android OS.
In fact, there's no port at the bottom, so you can't do that at all. Rather, your keyboard option is this one designed by Asus, so if you're interested in an extra battery built into your keyboard, you need to look at a different tablet.
The odd part of this is that the keyboard is actually designed quite well, and is not only very thin and charges – like the VivoTab itself – from a microUSB connection, but also features a small multitouch trackpad, with gesture support included too. The button under the trackpad could be a little better: we found it a touch too firm at the top, but easier to click near the bottom.
You might find the origami-like case and keyboard solution works a treat for you, though, but it is by no means as fast as a dedicated keyboard dock or tablet keyboard case.
Conclusion
It's not the best option out there, but if you need the power of Windows 8 and want a touchscreen, the $600 price tag makes this an interesting choice.
We're not sure if it's as good a value as say the $500 netbook-replacement touchscreen Asus we reviewed a few months ago, but if you only want a tablet, it might be worth looking at, especially if Microsoft Surface is what you're after, but you feel limited by Windows RT.
Review: Asus VivoTab Smart (ME400C)
Price (RRP): $599 Manufacturer: Asus
Runs proper Windows 8, not that RT thing; Relatively inexpensive for a Windows 8 tablet; Charges over microUSB;
Keyboard doesn't really attach at the hinge; Takes more effort to set this tablet up as a notebook replacement compared with other tablet keyboard cases out there; Lacks the same hinge design as the Transformer range, so you can't plug it into a keyboard-dock with battery;