A brilliant addition to a kitchen: Breville's Smart Scoop reviewed

Price (RRP): $399
Manufacturer: Breville
We all scream for ice cream, but what if you could make it yourself quickly and easily without any fuss? Breville Smart Scoop aims to do just that, and it won't take up any extra space in your freezer like some of its competitors.
Features
Built for the ice cream maker that wants control, the Smart Scoop is Breville's ice cream maker with a built in compressor to make and keep things cool.
This compressor can bring the ice cream maker down to a temperature of negative 30 Celsius (-30ºC) during the pre-cool function, and features 12 hardness settings through the programs of sorbet, frozen yoghurt, gelato, and ice cream, with automatic temperature monitoring and changing to suit these specific modes.
Buttons on the ice cream maker include setting the manual timer, running the pre-cool mode, running the keep cool mode which keeps the refrigeration unit running to make sure the ice cream stays cool inside the unit when it's finished, a button to change the temperature gauge from Fahrenheit to Celsius, a sound button to decide if you want the ice cream maker making bell sounds to alert you when it's ready, start and pause buttons, and the power button.
The control knob allows you to dial in the specific hardness settings.
The bowl used in the machine has a capacity of one litre (1L) and the only parts needed to make the ice cream maker function (aside for electricity) are the bowl, the stirring paddle that sits inside a holding cylinder in the bowl, and the lid which can be locked to keep the parts in place.
A cleaning brush is also included in the box.
Performance
There are many people out there who are passionate about eating ice cream, and who can blame them?
Ice cream is fun. You have it when you're a child, and when you're older, and once you discover that there are all manner of frozen treats, it's on like Donkey Kong for your tastebuds.
When this writer goes home, he likes to cook, with one of his favourite things to make being desserts. There's just something about desserts that makes people happy, and so this writer loves to spend time creating recipes and understanding the science behind making ice cream, gelato, sorbet, frozen yoghurt, semifreddo, and just about anything that's cold and has the ability to tantalise tastebuds.
Ice cream is generally not a hard thing to make. It is technically just eggs, sugar, cream, and milk — plus the flavour you happen to be making — mixed together, and whether you make it by producing a warm custard and letting it cool, or a cold custard and throwing it straight in the machine, it's a relatively easy — and tasty — dessert to make.
But there's more than ice cream that you can make using an ice cream maker, as there's gelato, sorbet, and frozen yoghurt, too. While these might seem like they're all the same, every one of these types of frozen dessert takes a slightly different amount of time to churn, specifically because the longer you have an ice cream churn running with constant cold behind it, the more ice crystals you're forming, and at different sizes.
There are generally two types of ice cream maker out on the market that can accomplish this conversion from liquid mixture to treat, with the pre-freeze bowl models, and the ones with compressors in them.
The pre-freeze bowl ice cream makers are easily the most common, and are generally priced from $30 to $120. Essentially, these types of ice cream maker rely on a bowl that has the same liquid inside as the freezer blocks many of us use to keep in our lunchboxes at school to keep everything nice and cold. When lined in the pre-freeze bowl and stored in a freezer for 18-24 hours, this bowl can be used with a small electric motor and scraper (that also stirs) to make frozen treats.
Using this type of ice cream maker, when you want to make your ice cream, you have to freeze the bowl ahead of time (we have one at home, and just generally leave the bowl in the freezer taking up space in case we want to use it), and then take it out, construct the ice cream maker, and pour your mixture in.
But there isn't a lot of control with this type of ice cream maker, and generally, you're churning until the freezer bowl runs out of the right type of cold to make the dessert. In fact, you can generally only make one batch of ice cream with a pre-freeze bowl because it only stores so much cold.
Compressor units take the concept in a different way. They still have bowls — actually, they're closer to small buckets — but you don't have to store them in the freezer, because this type of ice cream maker is bigger, and contains its own freezer inside the unit. When you turn it on, it starts cooling, bringing the temperature down to the negatives, and you can make the ice cream whenever you want, however many times you want.
It's a very different type of ice cream maker, and one that carries a very different price tag, with a starting price of around $250 which can go very high depending on how industrial grade you need an ice cream maker.
Breville's Smart Scoop is a compressor style maker, and one that, when you see it, gives off the impression that it's a tiny fridge ready to do your bidding. It's relatively big, encased in stainless steel, and kind of looks like an extension of an expensive refrigerator, only much more portable.
There isn't much to the outside of the unit, with just a few buttons, a small LCD screen, and a control knob, as well as the area for the bowl where the actual mixing takes place, which accommodates the one litre freezing bowl, the stirring paddle, and a plastic lid to keep everything in place.
Using the Smart Scoop is very easy. Simply turn it on and let the ice cream maker start pre-cooling, bringing the temperature down below zero with the ice cream bowl in place.
This process doesn't take long — between five and ten minutes — and there's not a lot of sound that comes out of the Smart Scoop as it happens, just a little more refrigeration sound, like you've extended some of the noise of your regular fridge.
If you've prepared your ice cream mixture already, you can use one of two modes to run the ice cream maker, with the automatic mode allowing you to select one of the four dessert consistencies — sorbet, frozen yoghurt, gelato, and ice cream — with three degrees in each for different levels of hardness in each of the program modes. The manual mode is more for the experienced ice cream maker that knows the time they want already, and wants to enter in the total required run time for the churn themselves.
We stuck with the automatic modes for our tests, testing out ice cream, gelato, and sorbet modes.
Once the pre-cooling is done, which doesn't take long, simply select the mode you want using the control knob, and pour the ice cream mixture in the bowl, hitting start on the unit, and letting the stirring paddle whirr into action. From here, the plastic bowl cover needs to be put over the bowl, aligning it with the arrows to lock the part in place and keep the cold inside the unit.
With the ice cream mixture in the machine, it's really just a matter of waiting. From our tests, ice cream seemed to take around 25 to 30 minutes, and Breville has even programmed an "Add Mix-Ins" feature (below) when ice cream is selected, that at about 5 minutes before completion rings the bell and tells you that now is the right time to add anything you want, like chocolate chips or biscuit crumbs, or anything else you might call a mix-in.
When the churn is over, and the mixture is good and solid and the stirring paddle is having problems churning it some more, the machine will call out with the sound of a few bells (if the sound is on), telling you that the ice cream is ready, and switching over to the "keep cool" mode.
You can, if you choose, come in when you want and stop the churn yourself, and you can also change the level of hardness as the churn is happening, too, making it possible to be experimental in the kitchen with the Smart Scoop rather than just relying on recipe.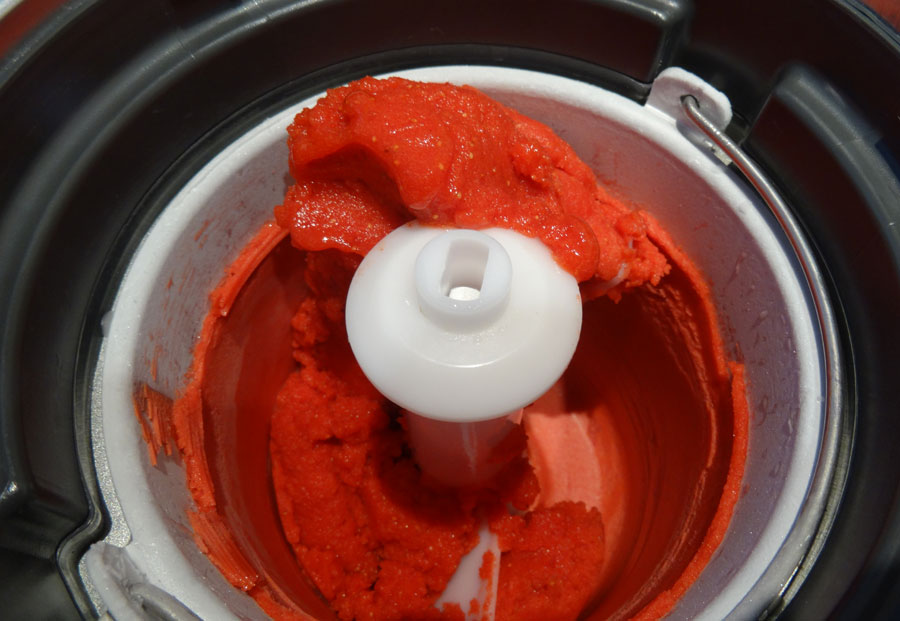 To Breville's credit, the manual includes several pages on tips for making ice cream better, as well as including several recipes, most of which use a warm custard way of making ice cream, though this ice cream maker will accommodate any style of ice cream or sorbet mixture, cold custard included, with sorbets possible from pulping fruit in a blender or taking juice from a bottle from the supermarket and adding a bit of sugar.
One of the better things about the Smart Scoop comes from how quickly you can reuse it. While pre-freeze bowls can only generally be used once in 24 hours (requiring re-freezing to be used next), the Smart Scoop can be used pretty much non-stop, making a churn of ice cream, emptying the bowl, cleaning it quickly, and running another churn.
We were able to repeat this, making ice cream three times in one sitting without any problem, and producing three individual flavours (and litres) of ice cream and sorbet without any problems.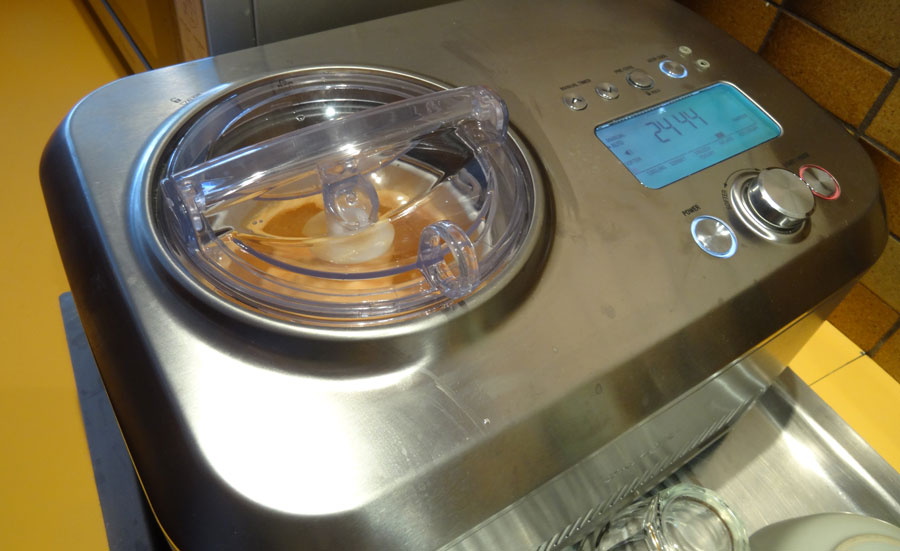 It's also not terribly loud, which surprised the hell out of us. There's a whirr of the machine stirring, but the noise was little more than that whirring sound alongside the hum of a fridge keeping things cold.
One downside to that Smart Scoop is that it is quite big, which is one of the unfortunate realities of having a tiny freezer built into a unit. Putting this unit alongside our microwave, it's easily two-thirds the size of that, at least, so make sure to clear some room in your kitchen.
Conclusion
Without a doubt, Breville's Smart Scoop is the best ice cream maker I have ever come across, and I make a lot of ice cream.
It's a little on the big side, but if you're planning on making a batch of ice cream, the level of control offered here, as well as the fact that it's not very noisy at all and built very well, makes this a superb unit, and one that we suspect will last a long time.
If you've dabbled in ice cream making before but want something to really let you spread your wings, we highly recommend the Breville Smart Scoop.
A brilliant addition to a kitchen: Breville's Smart Scoop reviewed
Price (RRP): $399 Manufacturer: Breville
Very, very good at churning to the right consistency; Comes with a notification for when you're supposed to add mix-ins; Relatively quick, depending on the type of mixture you're making; Few parts to clean;
A little bit expensive; Big;