Review: Dell Latitude 10

Price (RRP): $899
Manufacturer: Dell
Apple practically reinvented the world of touchscreen computing when the iPad first came out, and now Dell wants to give it a proper punch, with a 10 inch tablet that offers up Intel's Atom processor, Windows 8, and a battery you can take out.
Features
Dell's first proper Windows 8 tablet, the Latitude 10 arrives with some familiar specs, a professional matte black design, and a battery you can take out and replace as and when you need to.
Over on the hardware front, we're becoming quite familiar with the Intel chips being used in Windows 8 tablets, and this one is no different, with Dell opting for the Intel Atom Z2760 clocked at 1.8GHz.
Partnered with this chip is 2GB RAM and 64GB of built-in storage, with expansion offered through an SD card slot at the very top of the tablet.
Connection options are pretty minimal, with mini HDMI, SD card slot, stereo headset jack, and a lone USB 2.0 port, with wireless taken care of over 802.11 a/b/g/n and Bluetooth 4.0.
As is the norm with tablets these days, cameras are provided, with a front-facing two megapixel module and a rear eight megapixel camera with autofocus and flash.
All of this is encased in a tablet that features a 10.1 inch screen with five points of multitouch and Corning's Gorilla Glass protecting it.
Dell also includes a proprietary power plug for charging the tablet, though power can be supplied through a neighbouring microUSB port.
Few buttons sit on this tablet, with only a Windows button sitting on the front, a volume rocker on the left, and a power button up top next to a rotation lock button.
Performance
While manufacturers are doing their best to display Windows 8 in computers that blend the tablet and notebook in a way that makes them a hybrid, Dell's Latitude 10 is one of the first we've seen that is all tablet, skipping the keyboard dock and going straight for the touchscreen experience.
It does this by forgetting about keys and offering a familiar specification in a slate and only a slate.
As such, what you see is what you get in Dell's Latitude 10, a tablet that feels more like it was designed for business than for regular consumers.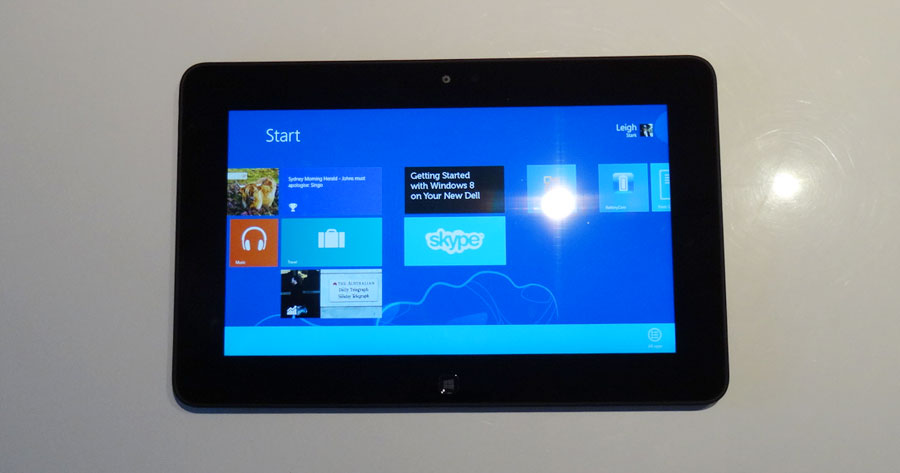 Turn it on and you'll see the charming grid that is formerly known as Metro UI, and is now just Windows 8.
The screen on the Latitude 10 isn't overly bright, but it certainly has angles down in spades, able to be viewed from any point without colour wash out. The resolution is HD capable, and at 10.1 inches, 1366×768 is sharper than you'd expect.
Start using the tablet and you'll find pretty much everything just works. With Intel's commonly used Atom processor powering things, Windows 8 works well enough, providing enough power for writing documents, working through office applications, browsing the web, and even the odd game.
Our tests mostly used it for web browsing and file editing, but it performed about as well as other tablets we've seen come through running on Intel's Atom. Start-up times were all fairly on par, with a rough ten seconds from off to booted, and barely a second to bring the Latitude back from standby.
Dell has chosen the proper version of Windows 8 here, and thankfully, unlike Windows RT, we can install apps made for Windows 7, Vista, and XP.
In fact, this tablet goes beyond the regular installation of Windows 8 by including the less commonly bought Windows 8 Pro, which adds the security of BitLocker, the ability to connect to corporate networks, and support for remote desktop connections.
Some of the look and most of the feel of Windows 7 is there in Windows 8's "desktop" mode, but the touchscreen isn't as well defined as we would have liked. As such, without a mouse or stylus, your touches might not always get through to the keeper, and you may have to press locations more often than once.
One of the nicer features that Dell has included is a secondary power port which takes its charge from microUSB.
We have one thing to say about this: FINALLY.
With microUSB long being considered a standard in the world of mobile phone chargers, it's nice to see a company step up and include microUSB as a charging method alongside a proprietary port.
We're not sure why both are included, and suspect the Dell AC port probably provides more power and thus charges more quickly, but we are grateful that a manufacturer decided to include a port that almost everyone has access to.
Adding to the nicety of the microUSB charging is the battery, which has two lovely features.
The first of these is the performance, which in our tests boasted around ten hours of use with WiFi switched on and working. Given that this is a flat two cell battery, that's not bad at all, especially since Dell also offers a larger four cell variant for an optional purchase.
Dell's other nifty feature is that the battery in the Latitude 10 is replaceable, with a switch on the rear of the tablet triggering a release mechanism to let you take the battery out.
So even if you manage to chew through the life offered, you can carry an extra battery, pop it in, and away you go.
While the performance of Latitude 10 is perfectly acceptable, we don't suggest it for lots of writing.
At one point, we started writing our review on this tablet, and while that's a fairly normal practice for us (writing reviews on said products with a keyboard), it became clear that the on-screen keyboard and performance were fine, but our patience was not.
It's like the iPad: if you consider yourself a proficient typist and are faster than what the touchscreen can accommodate for, you'll have plenty of typos littered through your documents as you wait for Windows to catch up to you.
This could stem from Dell's decision to make the tablet support only five points of touch compared to the usual ten, but we can't be certain. Sufficed to say, if this is your primary machine, plug in a keyboard if you plan on doing a lot of writing.
Dell's design probably won't win any awards for being sexy, as it's not. While you can argue that looks are subjective, the basic black rubberised look is pretty ordinary, and lacks the feel of brushed metal or a premium alloy, materials we're seeing on other devices with similar specs.
The price also leaves something to be desired. That something is probably "spare money," because at $899, this isn't the cheapest tablet around.
Sure, it's a decent performer, but it's no different from the Atom powered tablets we're seeing from other companies, and it's certainly not better looking than other tablets which also come in at prices we'd argue are better.
Conclusion
Dell's 10 inch Latitude manages to prove itself as a decent tablet for anyone after a Windows 8 experience that has plenty of life on the go.
Our one major problem with this tablet, though, is the price, and with the model we looked at, a price tag of a hundred shy from a grand without a keyboard dock makes it a hard argument to win, which is a shame because Dell has made a decent little tablet here.
Review: Dell Latitude 10
Price (RRP): $899 Manufacturer: Dell
Battery life of ten hours is easily accomplished; Replaceable battery is a welcome feature; microUSB option provided for charging alongside proprietary port; Rubberised and easy to grip; Configuration options can include mobile broadband support;
Pricing should probably be lower; No USB 3.0; Only 64GB storage, and only 40GB of that available to you; Dell hasn't made a keyboard dock for this tablet;