Review: Dell XPS 15 (2012)

Price (RRP): $starting from $1,499
Manufacturer: Dell
Most laptops that pass through GadgetGuy's office at the moment tend to offer a minimalist computing experience, with a smallish screen, smallish drive, and a sleek streamlined look. Not everyone is after the little laptop lifestyle, and Dell thinks it has an answer, with a 15 inch aluminium machine sporting a 1080p screen, 1 terabyte, and optical drive.
Features
Dell's latest foray in the 15 inch notebook space comes in the form of the 2012 model XPS 15, continuing its long running XPS range of notebook computers.
Encased in an aluminium body with silicone and magnesium sections, the XPS 15 has been designed to exude a fairly professional look that also looks as metallic as some of the competing laptops we normally see.
While the profile is pretty slim at 23.2mm thin, Dell has made sure to include a hardware list that allows it to compete, including a third-generation Intel Core i7 processor with Ivy Bridge technology running at 2.1GHz, 8GB RAM, 1TB conventional hard drive (no solid state here!), and an Nvidia GeForce GT640M graphics card with 2GB memory.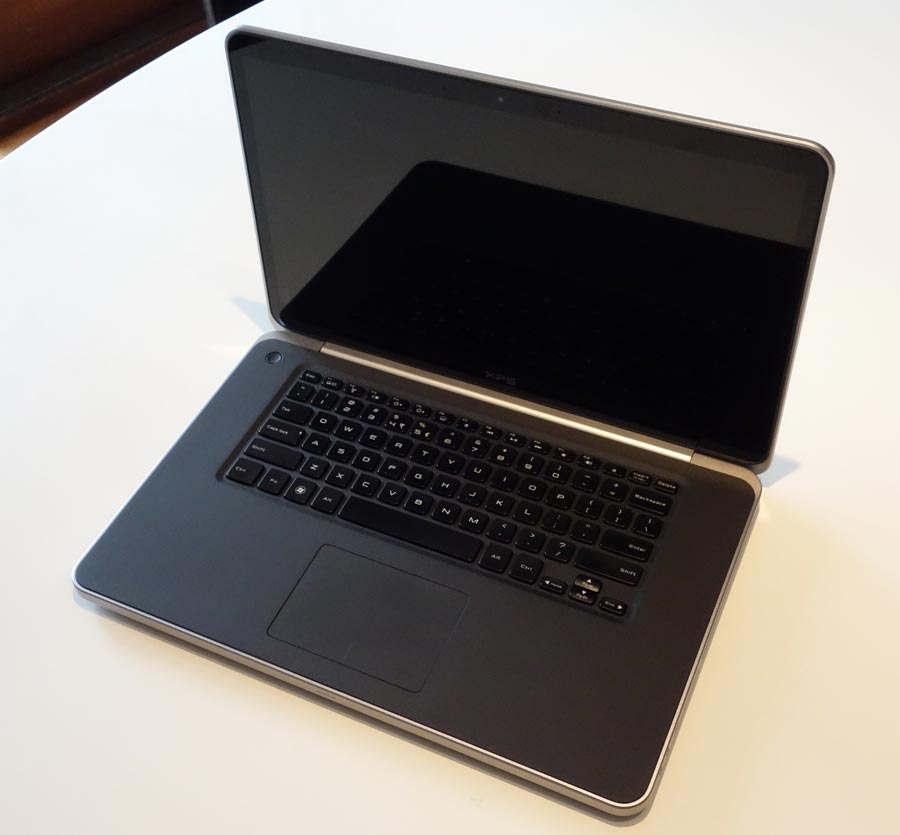 With this level of technology inside, the XPS 15 is no Ultrabook, and shouldn't be a slouch in the processing department, potentially appealing to the multimedia and gaming types.
Good thing then that the screen is a reasonably big 15.6 inch widescreen display, adopting a nice full HD 1080p resolution of 1920×1080, an area a lot of other 15 inch laptops let us down in.
Ports are reasonably well supplied in the XPS 15, with one HDMI, one mini-DisplayPort, one Gigabit Ethernet port, three high-speed USB 3.0 ports, one 3.5mm headphone jack, and one 3.5mm headset jack for use with microphone and headphone combo headsets.
There's also a Blu-ray drive wth DVD burning facilities, which should make those of you still keen on burning discs happy. And if optical media is dead to you, there's an SD card slot waiting for you.
A 1.3 megapixel webcam sits just above the 15.6 inch display, useful for video conferencing and any self-portraits you plan on taking, with two small 2W speakers built into the laptop.
Dell has supplied an island-style keyboard with backlit keys and a 4.7 inch glass-button trackpad for use here. Windows 7 Home 64-bit is provided out of the box for your operating system.
Performance
Looking at the XPS 15, it's not hard to work out where Dell has drawn inspiration from: we've seen this softened square design on plenty of laptops in the past, but coupling it with a machined aluminium chassis tells us Dell is channeling a look inspired by a company that has fruit in its name.
You can see this inspiration not just in the hardened silver casing, but even in the elongated capsule-shaped SD card slot on the right side of the laptop.
Dell has tried to shake things up by ditching the aluminium on the palm-rest and keyboard sections, as well as pulling it from the base. Instead of a full metal body, you can find a combination of silicone and magnesium here, providing a weird combination of slick metal and resistive black rubber-like texture when you pick up the laptop.
While we get why Dell has done this (more resistance for your fingers when you carry the laptop), it doesn't quite work as well as Dell thinks, slipping on one side and not feeling as resistive as the surprisingly grippy aluminium Apple uses in its laptops.
Once you get past this slightly peculiar design quirk, you can get to using the laptop.
If speed is what you're after, Dell hasn't disappointed.
While the models differ in the various configurations available on Dell's website, our review model featured a 2.1GHz third-generation Intel Core i7 processor with 8GB RAM, and plenty of storage with a one terabyte drive.
Graphics is taken care of with a combination of Intel HD4000 graphics for the basic stuff, as well as an Nvidia GeForce GT640M with 2GB of graphics memory. Even this isn't the most high-end video card ever, but it should provide more than enough firepower for some of today's gaming, as well as offering some much needed video power with applications in Adobe's Creative Suite.
A keyboard is one of the areas where a laptop has to stand up, and while the Dell XPS keyboard isn't the best we've felt, it still manages to be pretty reliable.
There's a good solid click to the keys and the spacing and size of the keys makes it spot on to a full-size keyboard, but we still had the occasional missed letter from time to time. Nothing huge to make note of, rather that the keyboard seemed better built to heavier key-presses.
Backlighting is here too, a premium feature, with the light coming from behind the keys and shining through the lettering and the slight edges of the keys. We've seen a fair few backlit keyboards in our time, and while this one is fine, it doesn't feel as effective as some of the other examples we've seen in the past.
The touchpad could do with a touch more work, ironically. For the 4.7 inch trackpad, Dell has gone with a glass button that feels as slick as the black rubberised coating its wrist-pad has. While this makes for an incredibly comfortable experience for your wrist, it can be strangely resistive for the mouse, making it feel like you're gliding your finger over a soft tyre.
You won't get your fingers dirty in the process – not like they would if you want them under your car – but it's not a great feeling touchpad, and certainly doesn't lend itself to multi-touch gestures well.
There is a full button underneath the pad, though, and like most trackpads, you can touch it lightly with individual presses to select items. You may have some problems selecting things, though, as the large button doesn't seem to like click-and-drag gestures as much as we'd have liked. We did have some issues selecting text here and there, and you may too.
The soft palm-rest is actually very comfortable on the wrist and fingers, but it's also a mixed blessing, creating plenty of finger and palm marks as you move. If you accidentally rub your fingernail against it, you'll leave a mark.
Oily palms? Same sort of thing.
While we had no problem rubbing most of these away with our finges, we'd say that it wouldn't take long for the matt black palm-rest to begin to look grubby.
We're reasonably happy with the battery life though, and given that the XPS 15 is a 15 inch notebook designed for performance on the go, the 4 to 5 hour battery life isn't terrible, especially not with the 15 inch display it's keeping alive. That's on par with the MacBook Pro's 2012 Retina model, though the Dell obviously lacks a screen with as much resolution as the Apple laptop.
If you're not sure how much battery life you have, there's a very well disguised battery check button on the base of the XPS 15, with white LEDs glowing just above it to indicate how many bars of battery life you have. Good luck finding it, though, because it is insanely well hidden.
The XPS 15 does have a better screen than a lot of other laptops, and Dell's decision to use a 1080p full HD screen is a welcome one, with lots of real estate offered in this 15 inch 1920×1080 screen.
On the whole, it's nice to see a 15 inch laptop showing more than 1366×768, the common low-grade resolution offered up by most manufacturers between the 13 and 15 inch laptop space.
While the resolution is tops, the brightness on offer isn't mind-blowing, nor is the reflective glass covering the screen, which seems to show every reflection in the room, even when you're looking at it spot on.
Then there are the viewing angles, which only seem to be usable from the left and right angles. Position the screen directly at your eye-line and you'll be fine, that is until you lower your head and see the vertical angles, which result in the same washed out colours commonly associated with low-grade display panels.
It's a shame too, especially since Dell's history has yielded some pretty awesome displays in their dedicated flatscreen monitors, and the 15 inch XPS display doesn't even hold a candle to the 13 inch display used in Samsung's recently released Series 9 Ultrabook.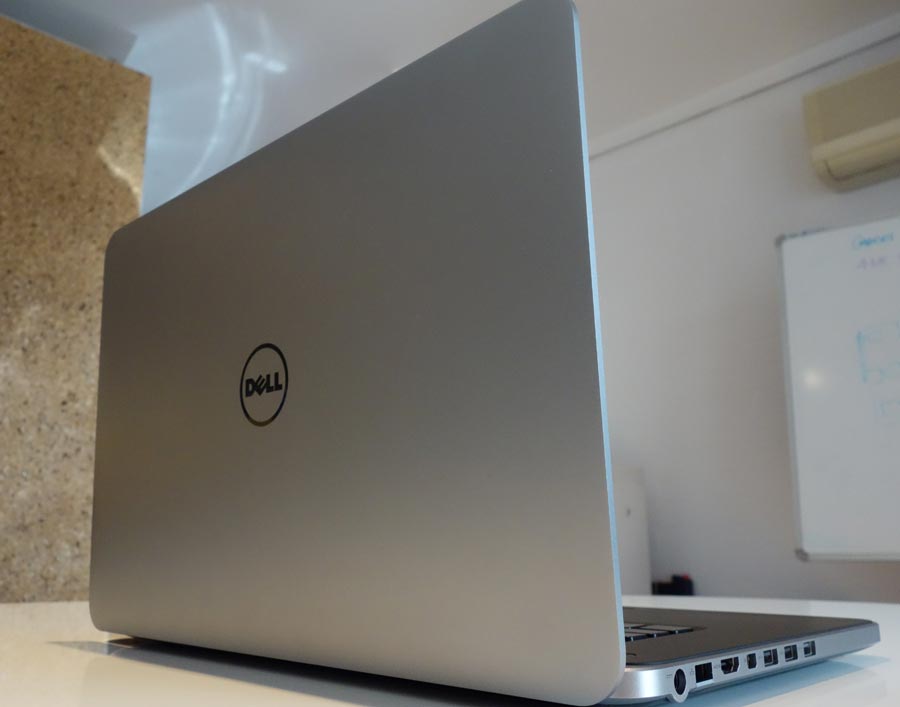 Conclusion
Dell's 15 inch XPS for this year isn't a bad computer by any stretch of the imagination, but it's not the best it could have been either, especially with a look that's obviously trying hard to stare down the competition.
Customers looking for a decent Windows PC with a reasonably slim profile won't be disappointed, but we'd look around before settling on this.
Review: Dell XPS 15 (2012)
Price (RRP): $starting from $1,499 Manufacturer: Dell
Decent specs; High resolution screen for a PC laptop;
Touchpad mouse feels strange and carries a touch too much resistance; Combination of metal and rubber is a little odd; Screen needs better viewing angles and less gloss;