Review: HP Elite x2 1012 G1

Price (RRP): $1699 (starting price);
Manufacturer: HP
Microsoft's Surface Pro 4 isn't the only hybrid in town with a fabric keyboard, and the Elite x2 is showing that HP can provide a well made machine that packs in value to boot.
Specs
Computers have changed a lot over the past few years, and while not long ago you might have bought a laptop or a tablet or even both, now you can get both under the one roof.
HP's Elite x2 borrows that template, and it also borrows from another machine HP has already unleashed upon the world, merging the two for a computer designed for business, and for people who expect high quality gear to stay high quality.
The Elite x2 arrives in a variety of model options, but for the most part you'll find one of the Intel sixth-generation "Skylake" Core "m" processors (m3, m5, or m7) paired with either 4 or 8GB RAM.
Microsoft's Windows 10 Pro is equipped on the Elite x2 out of the box, and there's a storage amount of either 128GB or 256GB solid-state storage using M2 connections.
Connections for the Elite x2 look to be reasonably solid, with 802.11a/b/g/n/ac WiFi, Bluetooth 4.2, and even the option for 4G LTE using a Qualcomm chipset if needed, making it a highly capable mobile device if spec'd out.
There are less wired connections, though, with a single USB Type C connector providing USB 3.1 and Thunderbolt 3 on the right side, below a microSD slot (via pin ejectable tray), a full-size USB 3.0 port, and the standard 3.5mm headset jack. The left side hides a pin ejectable microSIM slot.
Cameras are also included — it's a tablet, and that's a normal tablet feature these days — with a 2 megapixel front-facing camera and a 5 megapixel rear-facing camera.
And all of this sits under a 12 inch 1920×1280 display, providing 192 pixels per inch of clarity, not quite the 264 of the Apple iPad Pro, but still not terrible all the same. A layer of Corning's Gorilla Glass protects the display from any unwanted damage.
Aluminium handles the rest of the body danger, with aluminium casing for the main computer chassis, with a solid metal kickstand able to provide up to 150 degrees in angles.
Buttons can be found along the left edge, with power and volume taken care of with physical buttons.
A USB Type C to HDMI adaptor can also be found in the box, as can a fabric backed backlit keyboard and a pen stylus.
Various models of the Elite x2 can be found, but our review unit was equipped with an Intel Core m5-6Y57 processor, 8GB RAM, and a 256GB solid-state drive, with a fingerprint reader and 4G LTE.
Design
On the spec side things, it's pretty clear the HP's Elite x2 has quite a bit in common with its Spectre x2, and that's intentional as they're very similar computers, but one has been made for consumers and the other more for business.
That means the designs are quite close, too, so if you've eyed the Spectre x2 because it's a little like a Surface with a rather neat feature set, you'll probably like the Elite x2 as they're quite close.
"Close" isn't the same, though, because while they share practically identical bodies with aluminium frames sporting 12 inch screen sizes, some things have changed.
The specifications already suggests the ports have changed, and that's true, with one USB Type C being switched out for a standard USB 3.0 port, handy since not everyone is using the new Type C technology. Even better, HP has included Thunderbolt 3.0 technology on this tablet, which wasn't there on the Spectre.
HP's rear stand looks similar too, but again, this is different.
While the original offered a stand that popped out when a switch was released, the Elite x2 is just a simple fold-out stand with no fancy tricks except that it can take a lot of force.
In fact, this rear stand is so durable it can take a good 50 kilograms of force. We're not sure when you'll need to test this out — you're not planning on sitting on the tablet while it's standing, are you? — but it can also be replaced in case you test it too aggressively.
And this idea of replacing parts like the stand stretches all over the design, with HP saying that it will be able to replace elements with serviceability high on the list of features for the professional grade Elite x2, something its Spectre x2 sibling couldn't quite do.
So that all stems from the design, which is great, but is it a nice design?
We think so, and if you like the look of the Surface computers, HP's Elite x2 1012 G1 basically evolves from that style, with a black frame around a display and a metal casing. There's nothing terribly complicated about the look, and as tablets have become computers hidden behind the screen, HP's Elite x2 essentially follows that design schematic.
The bezels could be smaller, that much we will say, as these are close to an inch on each side, arriving around 2 centimetres on both the vertical and horizontal edges.
That is a relatively thick bezel, especially in this day and age, and if HP can shrink it down, it might even manage a more portable computer.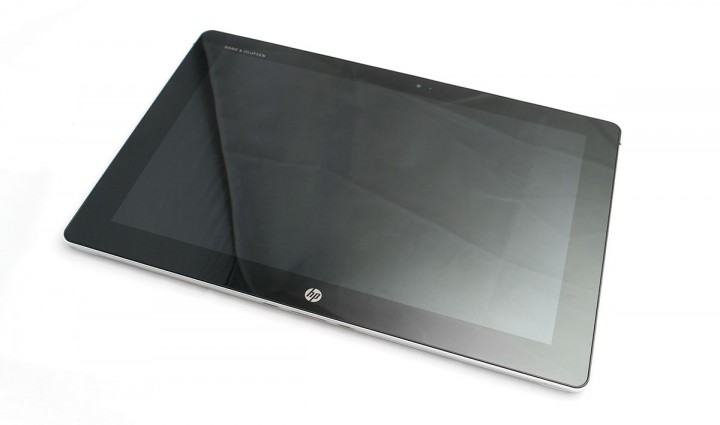 Screen
Even with those bezels, though, HP's screen isn't bad, with a 12 inch Full HD display sitting behind a layer of Corning's scratch-resistant Gorilla Glass.
That's Full HD at 1920×1280, by the way, a little different from the usual Full HD setting of 1920×1080 or 1920×1200, meaning there's a little taller widescreen aspect ratio of 16:11 here compared to other models.
Support for touch is here, of course — it's a tablet, after all — and there's even a pen in the box, so if you need to do some accurate pinpointing with the mouse or writing or even drawing, it supports some of that, too.
Mostly, though, we're interested in if this is a nice a screen, and it is, though HP isn't exactly leading the field when it comes to game-changing technology here.
It's nice enough and certainly pleasing on the eyes, but Microsoft's Surface Pro 4 and even the newly announced Samsung Galaxy Tab Pro S both look better thanks to the extra pixels and larger resolution these arrive with.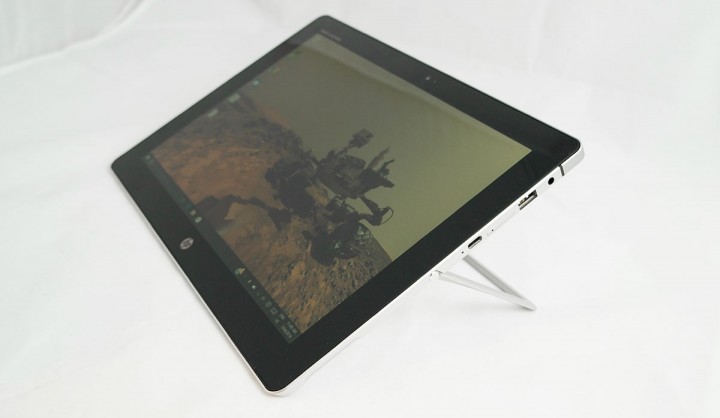 Performance
At least there's a decent computer under the hood, and thanks to Intel's sixth-generation Core processors in the "m" or "mobile" variety, you'll find a reasonable amount of speed for your productivity.
We're not talking the same amount of performance as say a proper Intel "i" series processor, but the recent "m" variety is also nothing to sneeze at, so if you have a lot of work to do, the m5 chip clocked at 1.1GHz will still let you get something done, as will the 8GB RAM.
Overall, we found little to no lag in most of what we threw the way of the laptop, and it was nice to see a hybrid like this not run an Intel Atom.
It's not that the Atom range is bad, but rather this puts out the surprising amount of performance you get in computers like the Macbook, with apps like Google Chrome supporting more tabs than you might expect a small computer to put up with, while Adobe's suite can run, even if applications like Photoshop don't quite pull their weight the same way they might on a machine with a better process.
Sufficed to say, if you still need to get some work done, HP's Elite x2 handles its own better than we anticipated, and it does so with some extras that we wish more manufacturers thought of.
The keyboard is one such inclusion, because while Microsoft's Type Cover is an optional extra on the Surface tablets, it's one of those "optional extras" that really needs to be classed as a "necessary extra that should be in the box".
HP seems to agree and even has its own variety in its box, with the HP Elite x2 featuring a metal keyboard with fabric backing and backlighting. A trackpad is also factored in, and all in all, the accessory isn't bad, with a decent amount of travel we could get used to, even if it needs to be a little more spacious.
That said, it's not bad, especially since it's free.
We're also fans of HP using a magnetic connection, meaning the keyboard can be used mid-flight without Bluetooth, super handy when you're in situations like an aeroplane where that isn't allowed (except when you're asked to stow the tray table, because you should be putting away the computer at the same time, also).
HP's inclusion of a pen is also a handy thing, though it does feel a little flimsy and only really sticks to the side of the Elite x2 by way of the magnet on the hinge and the cover. That means it'll rest there nicely while you walk, but brush it slightly and the thing will fall off.
But at least you get one, meaning there's another style of input outside of the keyboard's trackpad and your finger, and we even found Windows Hello has been considered, but just not in the way we expected.
For those who don't know, Windows Hello is one of those features in Windows 10 we've grown to love, providing a login based on your actual presence, whether it's through camera and 3D tracking of your face as it is on the Microsoft Surface Book, eye-based retina scanning on the Windows 10 phones, or some other biometric login.
On the HP Elite x2, you don't get the camera support — which is a bit of a shame given how fairly customisable the hybrid is — but you can get a fingerprint scanner on the back, which works just as well.
Granted, you still need to swipe your finger across to open the computer up without typing, but it's still a great option, especially if you opt for that fingerprint support.
There's even an option for 4G LTE, which our review unit had and provided a nice sense of "always on" connectivity we so rarely get with Windows laptops… or any laptop, for that matter.
Battery
Battery life was one area where it felt like we started to see the Elite x2 fall a little, because as good as the hardware is, the combination of an Intel Core m5 and the 4-cell battery doesn't always mean great battery life.
We found runtime ranges from four to six hours, which is about on par with what we found in the practically identical Spectre x2 model, though if you turned down brightness and switched off all connections, you may find a little more.
At least HP doesn't have some of the power issues where the machine switches on when it's on standby, which affects some machines built in this particular hybrid style.
What needs work
Making a machine for business is always going to result in a machine made very differently than one for the needs of consumers, and there's a lot that HP gets right, but where it gets things wrong aren't so much on the hardware side, but more on the software side.
You see, every so often when Windows wants to do one of its many patches — and Microsoft is making sure Windows 10 is frequently attended to, so there come thick and fast compare to previous generations — HP's software tends to get in the way.
In fact, you may even encounter errors like this one:
That'll pop up if you try to update Windows with HP's software on-board, and it really gets in the way. There's something about HP's support software which just doesn't like Windows 10, and the two butt heads on a regular basis.
We found the best way was just to uninstall the HP stuff and let Microsoft get on with it, though this can have the additional annoyance that is drivers go missing and don't update properly.
Like the HP support software issue from before, we found some of HP's updates just wouldn't load into place, and you even get two pieces of software to deal with drivers and software a business machine needs.
On the one hand, there's the pleasing-to-the-eye HP Support Assistant which almost never works properly and tends to crash out when you're trying to install drivers. But on the other, there's HP SoftPaq, a driver and download manager that actually does seem to work, though looks like it's the sort of thing an IT admin would use because of how granular and administrative the whole thing looks.
And that's where you start to see the HP Elite x2 win and lose votes, because while it's a great piece of hardware with a lot of serviceability for high-end types who need that sort of thing, regular people will at one point have to deal with a level of software that even the geekiest of folk will find annoying.
This journalist is a geeky type who generally has no problem with getting his hands dirty installing drivers and sorting things out, but even this machine had him scratching his head on why there were so many layers when something needed a change or an update.
It boggles the mind, and makes you wonder if aspects of this machine were built for IT managers so they would always have a degree of control.
Perhaps we're just looking too far into it, and that these driver issues and support problems and software frustrations would be ironed out by someone not the end-user by the time it reaches them, but we have our doubts.
And those doubts arise simply because if you bought this because you wanted a better built Spectre x2, you'd get it, but you'd also get these software issues, and computers shouldn't ship with software issues like them.
It's not a Windows issue, either. Rather, it's an HP issue, because with so much extra stuff sitting on top, the complexity is increased.
Take the web camera, for instance, which works and was even picked up by the Windows Hello system initially, but wouldn't allow us to file our image as part of Windows Hello. After an update, Windows Hello now won't even talk to the camera, saying it can't turn on the camera when it does, in fact, work.
So you go to one of the support systems in place to fix it, only to find that there is more than one support system, and neither really work the way you expect them to, crashing or failing to update anything.
In a workforce, an IT department can deal with this, and will probably even stop updates before they're rolled out, but if you don't have that, the HP Elite x2 can just end up confusing, which is a real shame given the promise of the hardware here.
If HP can iron out its software concerns, the Elite x2 could be a tremendous business-friendly Surface competitor, though its design needs one more thing: more resistance to scratches.
We're delighted that more companies are embracing high quality materials such as aluminium and magnesium, but why do so many scratch?
Microsoft's Surface Pro and Surface Book machines all pick up scratches remarkably easily, and so too does HP's Elite x2, even though it relies on aluminium instead of the magnesium used by Microsoft.
Apple uses aluminium too, but its computers don't scratch easily. In fact, they barely scratch at all, and you need to bring in some serious nails and scraping to get the Apple machines to pick up on cosmetic damage.
But here on the HP Elite x2, we found scratches after carrying in our backpack. Our backpack, for crying out loud. There might have been a USB key or the HP stylus in there at the same time, and we got scratches.
That's just mad, and a little maddening at that.
Conclusion
There are many things HP has managed to get right with the Elite x2, and they're all respectable: it comes from a solid base of the Spectre x2, which we liked tremendously, and it has improved on that design with more durability in the hinge, a more usable array of ports even if only one has changed, and all of that serviceability.
It's clear: the HP Elite x2 is a tablet laptop hybrid made for business, and made for businesses that demand long term computers, not just ones that will work for the next few months.
But while the hardware is mostly great, HP's software can get in the way of this experience, especially since this business-centric model can almost be too finicky, and a little fussier than you might expect.
Is is the better half of an already excellent Spectre laptop?
Absolutely, and people keen on owning a computer with flexibility in customisation and an ability to replace a component if it does break will applaud it, but we'd just like to see some of that excessive business software pulled back if desired, because not everyone has an IT department waiting in the wings.
Review: HP Elite x2 1012 G1
Price (RRP): $1699 (starting price); Manufacturer: HP
Beautifully built; Fantastically solid hinge; Fabric keyboard comes in the box, as does a battery-operated pen stylus; Keyboard is magnetically connected, meaning ideal for flights; Fingerprint sensor can be included on the back can be used for Windows Hello login; Option for 4G LTE; Charges through USB Type C;
Very limited port selection; Scratches easily, even though it has a better casing than the just-as-easily-scratched Microsoft Surface range of computers; HP software really gets in the way of updates;