HTC's best yet is an interesting evolution: HTC 10 reviewed

Price (RRP): $TBA; Available on plans from Telstra and Virgin;
Manufacturer: HTC
HTC didn't quite nail 2015's flagship phone, so can the 2016 one turn the company around?
Specs
First up, let's deal in the specs, because finding out what is inside this phone is just as important as using one, that way you know what you're dealing with.
In the HTC 10, you'll find Qualcomm's Snapdragon 820, a four-core processor clocked up 2.2GHz and running on a 64-bit architecture, which is also paired with a whopping 4GB RAM and 32GB of storage in Australia. If 32GB space isn't enough, a microSD slot is provided to expand on this.
Google's Android 6.0 "Marshmallow" arrives on this phone out of the box, equipped with the latest incarnation of HTC Sense, which the HTC says is more scaled back than previous versions.
You'll find a couple of cameras here, too, with a 12 megapixel "UltraPixel 2" camera here, which is HTC's fancy way of saying a sensor with a larger pixel size, designed to let more light in when you're taking photos. The pixel size on this rear 12MP camera sits at 1.55 micrometers, and this is matched with a low minimum aperture of f/1.8, laser autofocus and optical image stabilisation.
On the front, HTC has equipped the previous generation of UltraPixel technology, leveraging a 5 megapixel image on a 1.34 micrometer pixel-sized sensor, with its own f/1.8 aperture and optical image stabilisation (OIS). Both cameras are capable of recording video, with the front-facing getting Full HD 1080p video, while the back can handle 4K Ultra HD, capturing the audio in 24-bit if needed.
And that 24-bit audio side of things is one HTC wants to talk about in the HTC 10, with this phone arriving with "Hi-Res Audio certification", an on-board amplifier and digital-to-analogue converter, three microphones with noise cancellation, and support for Dolby Audio. As has been the case on the previous HTC One phones, HTC's BoomSound stereo speakers are included, though the position of one has been moved, with one speaker sitting on the front at the top, while the other sits on the very bottom edge, set up as a tweeter at the top and a woofer at the bottom.
Connections are pretty standard for a flagship device, so expect 802.11a/b/g/n and 802.11ac, 4G LTE supported at Category 9 (450Mbps down and 50Mbps up as a maximum), Bluetooth 4.2, Near-Field Communication, DLNA, GPS with GLONASS, Miracast, and a USB Type C port for charging, data transfer, and video output.
One new connection type has presented itself on the HTC 10, with this phone the first of its kind to get Apple AirPlay support, meaning you can send audio to a device supporting Apple's streaming technology.
All of this sits under a 5.2 inch LCD, providing a resolution of 2560×1440 or "Quad HD", and delivering a pixel clarity of 564 pixels per inch, over 200 higher than that of Apple's original Retina-grade number. The screen is protected with a slightly curved variant of Corning's scratch-resistant Gorilla Glass.
On to the casing, and you'll find a solid aluminium body here, holding in two physical buttons, with the volume rocker sitting above the power button along the right edge.
Three soft buttons sit under the screen on the front, providing a back, home, and multi-task button, with no tactile feedback for the back or multi-task, while the home delivers haptic vibrating responses and a fingerprint sensor.
Ports are fairly standard for a modern Android smartphone, especially one released in 2016, and you'll find a 3.5mm headset pin ejectable trays for the microSD and nanoSIM slots on either side, and a USB Type C port at the very bottom of the handset.
The battery on the HTC 10 is rated at 3000mAh and is not replaceable.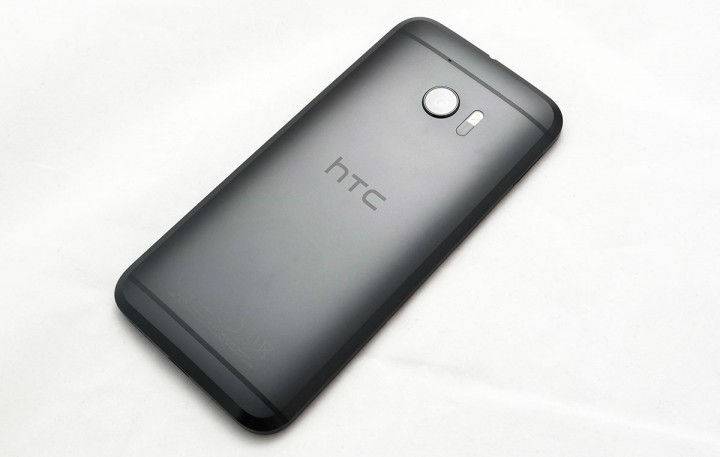 Design
HTC has always had some good ideas with regards to design, and as the first company to really embrace metal one-piece bodies, we've come to expect some good stuff from the brand.
The One M7 from 2013 was lovely and the One M8 from 2014 was a beautiful metal phone that was just hard to take your eyes off, but last year's One M9 (2015) really dropped the ball, and heavily too: it was a bit of a clunker, with a solid two-tone metal body that felt heavy, almost as if you were carrying a beautiful brick.
And it was beautiful, but it wasn't comfortable, while the design started to be tapered and tailored to someone looking more for bling than minimalism. At least it looked like an HTC, though, because it's important for a design team to inject their personality in the device.
This year, the HTC 10 is a rather curious effort in that department simply because it looks a little like the lovechild from an odd relationship between an Apple, a Samsung, and an HTC, with elements that seem both familiar and foreign, simply because you know them — we all know them, and we see them every day — but they don't feel like they belong on this device.
Take the front, for instance, with a long slit of a speaker. Gone are the dots that made up the BoomSound speakers, of which there used to be two on the front. That was actually one of the best features about the previous three generations of HTC flagships, and it's still technically here, but it's not the same, with one speaker moved to the bottom of the device and the only one left up top now a slit like that of the iPhone.
And if you look at that top, it looks kind of like an iPhone, albeit a slightly smaller take.
Then there's the bottom, with soft buttons that have returned, a move that HTC says it has done because customers wanted it.
Who are we to complain? Frankly, we could go with either, but soft buttons can give you a sense of familiarity, helping you to recall where to leave your fingers when you want to press back or start the phone up if you're holding it at the bottom of your hand.
But what's with the softened rectangular home button in the centre of the panel, HTC? That looks like it has been taken right from Samsung.
About the only part that doesn't really exude any other company is the back, and it's quite clear looking back on the previous One phones that this is HTC's design language, with a soft curved arch on the rear and antenna lines that are clear and pronounced.
That stuff on the front, though, that's not the brand, and feels like the company doing a bit of a "me too" and trying to see if it can incorporate the best of both worlds, because both Apple and Samsung are dominating the marketplace as far as phones go, and this feels like an attempt to capitalise on that.
It does look very thin, something HTC has turned into a bit of an illusion since the edge is thin but the body still curves off at the back, raising that 3mm thin edge off the table but keeping the thickness at around 9mm. It's a neat trick, but one your jeans pocket will still acknowledge in the positive.
At least the body is made from solid metal, so that's nice, because with chamfered edges and a different in metallic texture, you can at least be assured it fits nicely in the hands, even if it is quite smooth and a touch slippery, though that seems to be a certainty in modern phones.
Screen
Even if the design isn't inspired, we can at least say the screen is, with an improvement — yes, freakin' finally — beyond that of Full HD.
One of the last mobile companies to hold out before a jump to something greater than 1920×1080 also known as "Full HD", we're finally seeing the company move on to greener pastures and bluer seas/
In the 10, HTC has equipped a Super LCD running the Quad HD resolution of 2560×1440 inside a 5.2 inch body, and while it isn't the sharpest of the lot — that goes to Samsung's Galaxy S7 and its 5.1 inch QHD panel — it's still sharp all the same, with crystal clear visuals, pin-prick text and icons, and a great look to it.
It's definitely easy on the eyes, but doesn't offer the same punch as an OLED or AMOLED display, something that's not a real shock since we're running Super LCD tech here.
We would have liked to have seen more brightness, though, because while the screen is beautiful in some environments, others and you feel like the display could be brighter again.
Protection is here, anyway, or some amount of it. In fact, HTC says you'll find curved Gorilla Glass here protecting the display, and good luck viewing it as "curved", since the phone doesn't really feel curved as such. Rather, this is only slightly curved in the same 2.5D design we've seen on various Oppo phones, which curves the edges of the glass to better meet the body.
Performance
In the HTC 10, we're seeing the first Qualcomm Snapdragon 820, since Samsung's Galaxy S7 and S7 Edge missed out on that chip in Australia, sitting with the Samsung-made Exynos variant instead.
So this is the first time Australians get to try the new processor, and as far as benchmarks go, it hits the marks even if it doesn't quite wrestle the trophy from Samsung's hands.
Ignoring the synthetic benchmarks, though, HTC's 10 is quite quick, letting you jump from point A to point B in no time, with the only hint of lag coming from the occasional very slight delay in soft button pushing.
That wasn't there all the time, though, and for the most part, the HTC 10 is super snappy and zips along.
The same can be said for 4G LTE performance, with speeds tested in Sydney on Telstra's 4GX network shown as high as 170Mbps, which is pretty darn nice, though more is possible, network and location dependent, of course.
In-use
Most of how you use the HTC 10 will be pretty much bang on from what anyone who has ever seen an Android phone has experienced before, because there are multiple widgetised home screens, an app drawer and menu, a dropdown notification bar pretty much bang on as to how Google likes it to look, and then HTC's RSS and social network harvesting news system known as Blinkfeed which you're not required to use.
HTC's take on this is still called "Sense", and in the latest incarnation, the company has scaled back how much design liberties it normally takes on Google's own, and it's nice. If you like the way Google typically presents Android, the changes here aren't quite like what you'll get on a Nexus, but they're still very comfortable to use, and we doubt you'll have a problem using them.
More interestingly, though, HTC has really cottoned onto the idea of theming and home screen customisation, and while the company started to dabble in last year's HTC One (M9), this year's effort in the HTC 10 ups the ante.
Last year, it was all about themes, and themes for the HTC Sense home screen weren't just for the screen itself, but for the overall launcher, which is the little app that Android calls on when you want to load a home screen, go into the app menu, and generally use the phone or tablet before opening an app.
Typically, you can change an Android launcher yourself with one of a variety of options in the Google Play store, and last year, HTC seemed to recognise that with themes that changed menu colours, wallpapers, and so on and so on.
This year in the HTC 10, it amps it up a notch, and your themes appear to do more, with the option included for a "freestyle" mode which loses the grid that normally forces you to align your icons to parts of the screen. You'll have seen that if you've ever tried to move icons around your home screen because they will always align to points, much like how most desktop screens work.
Freestyle changes that by allowing you to kill the almost magnetic alignment and put icons where ever you want, in theory crafting scenes that are more playful and involve an immense amount of customisation. HTC also provides "stickers" which are randomly sized icons — not the typical small squares you get — that allow one of these specially crafted scenes to really be yours, and you can map them to program shortcuts.
If you load in a big sticker, it might represent Google Maps, and if you turn labels off, only you will know what it means. That essentially means that aside for having a passcode on your device to lock it up, only you will know how to operate the phone, delivering interface customisation.
We need to note that this level of freestyle customisation isn't remarkably new, because launchers have existed supporting it for some time on Google Play, but it is a new thing in a final phone and very interesting to play with.
HTC hasn't (as of the time of publishing) really opened it up, though, so to play, you need to load one of the very few Freestyle scenes available to you, of which we could find four, and we didn't like either of them.
It would be better moving forward if HTC would just let you go into Freestyle mode to switch the grid off and load your own wallpapers and design your own sticker packs, but right now, that's not an option. Instead, you have to load one of the few on the system which also change the sounds, and then tweak, meaning customisation can be a trying effort of removing someone else's work just to make your own stuff work.
But this whole theming thing is an intriguing inclusion, and one few manufacturers are really playing with, so kudos to HTC for even trying.
Audio
One area that HTC has always been in — at least for its One range — has been audio, and this was the first company that saw standard audio in smartphones as being just too standard.
Back in 2013 when the first One was launched, we saw loud speakers in a phone that could do away with the need for a Bluetooth speaker, when HTC partnered with Beats Audio for a pair of front-facing "BoomSound" speakers.
Since that time, the collaboration with Beats has faded away, but BoomSound has continued to improve, and in the HTC 10, we're seeing a new breed: BoomSound HiFi.
In this generation, HTC is bringing 24-bit sound support to the package, hence the term "HiFi", but it's more than that, with a relocation of speakers from both on front to one on the front and one at the bottom — tweeter up top, woofer at the bottom — to what should be a little more volume.
Truth be told, we weren't as impressed with the BoomSound speakers in this generation, and turning it up made us feel that HTC's repositioning wasn't quite as successful as the company would suggest, but speakers are just one part of the audio package in this phone, and easily one of the more interesting inclusions would have to be what HTC has done on the headphone side of things.
For one, you actually get a not terrible pair of in-earphones in the box, and while they won't win awards for style, they're definitely not bad to use, with a relatively detailed experience designed to listen to 24-bit audio.
Now if you don't have any 24-bit audio and most of your music comes from either CDs or iTunes (or something that was made for every standard 16-bit player out there, because 24-bit audio is a bit of a specialty area at the moment), don't worry, because there's a 24-bit DAC in here up sampling your audio.
It's never really going to help you hear any difference — because creating something out of nothing never really works — but the audio quality still sounds pretty good here all the same, provided you turn of HTC's BoomSound.
While it works well enough on the speakers to amp them up, left to do its own thing on headphones will push the bass to the nth degree and leave even the otherwise decent HTC-supplied earphones sounding like the sort of trash that the old Beats cans were, with overly heavy bass, heightened highs, and a mid section that sounds like it's been torn to shreds for doing its job. Or, in other words, bassy yet shallow.
Seriously, turn HTC BoomSound off on your headphone settings and everything sounds better. Sorry HTC, but it's just not one of your better efforts.
What is a solid effort, however, comes from HTC's audio profiling, and this is a rather interesting one, asking you to answer either a few questions in the basic analysis or listen to tones in the more advanced profile setup. When either is done, you'll have an audio profile matched to a pair of earphones that will change the volume and slight tonality to match a specific ear and the earphones.
This is one of those things that devices have needed for years, and is strangely one of the more interesting parts of the HTC 10, even though you'd never realise it since it's not part of the advertising.
In fact, HTC's sound profiling goes a good way to delivering balance to our ears, making it ideal for people who feel they might have damaged their ears by standing near amplifiers and quad-box speakers for a good chunk of their life.
Cameras
So audio isn't bad, but what about the other part in the multimedia world: what about the visual?
HTC has already promised a great deal with the 10, even getting the DxO Optics lab to grade the sensor ahead of the launch, telling journalists that it has the highest rating of 88, something it shares with the Galaxy S7 and S7 Edge.
That makes the question clear: if the sensor is as good according to one of the web's most recognised ratings, does the HTC 10 have a camera that is as good — if not better — as the Samsung Galaxy S7 series?
Yes and no, but yes only when the camera decides to work, and no when it, well, doesn't.
Tackling that rear camera head on, it's pretty clear HTC has done some work on the UltraPixel concept, because now we're at a second generation, even though it's merely a nice way saying "bigger pixels on the sensor to let more light in".
Every manufacturer is doing that these days and not calling it "UltraPixels", though HTC is also claiming the biggest pixel size in this generation, so does it work, and does it let more light in?
For daylight photos, you'll find the images are fairly crisp, with better images coming out of the camera than what you'll see on-screen.
Generally, images are shot with a high-dynamic range (HDR) on the HTC 10 camera, though your screen won't show that. In fact, sometimes you'll find the screen is showing you a totally different image, with white balance often and exposure not exactly what you get in the final image.
This disconnect between what the camera interface is doing and what the camera spits out is no more evident than when you start using the camera at night, where the laser autofocus plays havoc with your activities.
When it's so dark that the laser autofocus on the back has trouble finding anything in the dark, it will pop up with a neat error message telling you to stop hiding the module behind something an to make sure the back is clear, even if it is.
You can still force the camera to fire despite this, but depending on the situation, you may find the focus works eventually or just doesn't and fails with soft focus results, which may even be nicer than the image.
It's a shame the autofocus has such extreme issues at night, because the HTC 10 can make a nice image at night, with expected amounts of noise that recreate colours and shadow quite well.
Essentially, it's not all one noisy mess, and we have the UltraPixel 2 sensor and f/1.8 lens to thank for that.
Up front, the older first-generation UltraPixel technology doesn't feel like it really nails the selfies, because while you can get a decent shot, even with the "make-up" setting turned right down, you may find the 5 megapixel sensor still makes you look a little blotchy.
Beyond the performance, the camera speed is good, but it doesn't always feel as fast as HTC suggests.
While it's clear the company has worked on getting the time to fire improved, some times you'll find the camera doesn't load as quickly as you'd like, while others the shot doesn't actually feel as fast as competing phones.
It's good — very good — but not the best we've seen.
Battery
While the camera doesn't quite live up to the same promise as what we expected, the battery is perfectly sound, amounting to pretty much the same life as Samsung's Galaxy S7 and S7 Edge, and beating the iPhone 6S without any problems.
With wired headphones running through the course of a day, we found a full 24 hours was definitely possible, though we'd definitely put it on charge immediately after and not trying to make it through to the second, as there'd just be no way to comfortably accomplish that.
Keep in mind, this was while taking phone calls, messaging, listening to music, taking photos, surfing the web, and generally using the phone.
Wireless can handle the same full 24 hours, making it possible for owners of a smartwatch and a pair of Bluetooth earphones to survive a full day of work and life without any real dramas, too.
Power users who live and breathe their mobile should make the full day, but will definitely want to charge it overnight, as should everyone.
If you need more life during a day, you're probably using the phone more than us, and here you'll find a USB Type C port to service your charging needs, but it's not just a basic Type C port.
Instead of a stock standard Type C port, the HTC 10 supports a hot technology called "Qualcomm QuickCharge", and it's hot for two reasons: one is that it is very new, while the other is that it is hot temperature wise, almost the point of scaring you that your phone could catch fire. It won't, or shouldn't, but my word does it get toasty.
This is a new technology, mind you, to get battery amounts up to sustainable amounts when the charge gets low, with half the battery charged in 30 minutes, giving you enough for what HTC claims is a day of charge, though in our tests would get you closer to merely "a working day" of charge. That's still a day. Ish.
It does get very warm, though, and you don't get the adaptor in the box, so that's two things you'll want to keep in mind when going this option.
Value
One concerning aspect is the value, because right now we just don't know what the price will be.
Will it be $700 outright? $800? $900 $1000? Will it be more?
HTC hasn't said, with Telstra and Virgin chiming in to sell the phone, but no other telco at this time.
We're going to assume it will start at $900 outright and on $60 plans, and given this expected pricing, the phone is worth it, but we'd advise looking around and trying the competition, because as good as the HTC 10 is beyond its flaws, the phones are just that good this year, too good to not try them all before you decide.
Conclusion
Even without a price tag, it's pretty clear that the HTC 10 is HTC's best phone yet, but as to whether it's the best on the market, that we're not entirely sure about.
Samsung and Apple have provided some pretty stiff competition of late, and while HTC's 10 is exactly what last year's M9 should have been — bold, playful, and bringing some points of difference — it also may not be enough to compete with what we've seen already.
HTC has nailed some things with an interesting evolution, providing a lovely casing, attention to audio, and a camera that can perform but doesn't always nail it as well as a design that doesn't quite feel like an HTC always has.
It's perfect for an HTC owner to upgrade to, without doubt, and One M8 and M9 owners will feel like they're getting a solid update, for sure, though given how good the competition is this year, they may also want to look around, even just a little.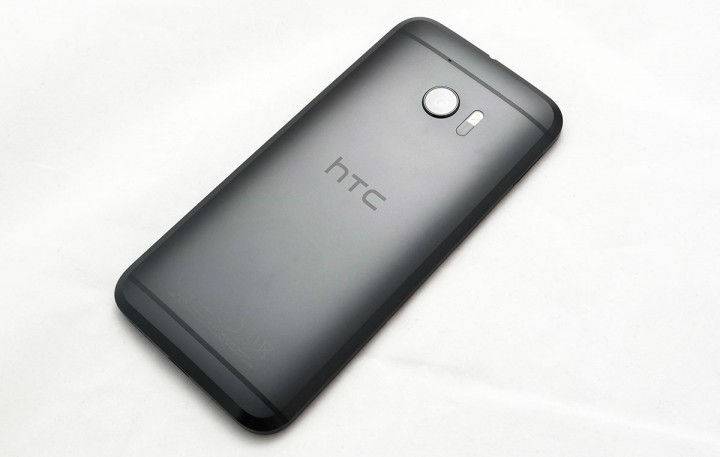 HTC's best yet is an interesting evolution: HTC 10 reviewed
Price (RRP): $TBA; Available on plans from Telstra and Virgin; Manufacturer: HTC
Comfortable design that fits nicely in the hand; Beautifully clear screen; Fantastic build; Can be upgraded with microSD storage; Sharp screen; Fingerprint sensor is very fast; Supports 24-bit sound with an amp capable of turning up the volume very well; Ear profiling is one of the more unusual but very cool features we've seen; Solid battery life; A cleaned up version of HTC Sense with the best of Google; HTC Sense now offers some interesting theme customisation including a "Freestyle" option with no grid; The first Android to natively support Apple AirPlay; Excellent 4G speeds;
Design is odd: like HTC was melted into an Apple and Samsung; No water-proofing; No wireless charging; Qualcomm's QuickCharge is supported, just not in the box; Screen could be brighter; BoomSound makes headphones sound overly bassy and pretty unbalanced; Speakers don't sound as clear as they've previously been; Camera has severe problems at night with laser autofocus; UltraPixel front camera doesn't feel as sharp as it needs to be; HTC's "Freestyle" theming in very limited in how you can set it up, forcing you to adopt one of its limited selection of themes instead of diving right in and designing your own;