Full metal jacket: we review the HTC One S

Price (RRP): $No outright; Available on plans from Optus, Telstra, and Vodafone
Manufacturer: HTC
HTC's "One" series of phones has been doing the rounds lately, grabbing great reviews and raves about solid build, excellent speed, and a top notch camera.
Now we have a sibling wearing a metal jacket and carrying a less expensive price tag on plans. Is it just as good as the other members of its family?
Features
First announced in February at Mobile World Congress in Spain and later earmarked for local release at the end of June, the HTC One S attempts to package a similar dual-core processor from the One XL into a phone featuring a 4.3 inch screen.
Measuring 7.8mm thin, the One S is one of the slimmer handsets the company has released this year, coming in a full one millimetre thinner than its flagship brothers.
It also does away with polycarbonate casing, replacing it with a unibody one-piece aluminium chassis, but with sections carved out of for the screen, the speaker at the bottom rear, and the camera and microSIM section at the top rear protected by a removable piece of plastic.
While metal is the material of choice, it's been painted with a special process called micro-arc oxidation, which HTC says is harder than anodised aluminium and stops you from needing a protection case.
Next up is the screen, with a 4.3 inch Super AMOLED display offering a qHD resolution of 960×540. It's not quite the same high definition display as seen on the other One handsets, but it should be good enough for most people, as it's higher than the 800×480 resolution most handsets had last year.
Corning's scratch-resistant Gorilla Glass is protecting the screen, as per usual, so there's some more resistance if you accidentally drop the handset or keep it in the same pocket as your keys.
Under the hood, it's a 1.5GHz dual-core processor with Adreno 225 graphics chip, 1GB RAM, and 16GB storage, running atop Google Android 4.0 Ice Cream Sandwich.
Connectivity is standard fare here, with 802.11 b/g/n, DLNA, Bluetooth 4.0 with A2DP, GPS, and a microUSB port on the left side of the handset for charging and moving files over. You won't find any Near-Field Communication (NFC) technology here, however, unlike the other One handsets.
The rear camera has been borrowed from those handsets, though, with an 8 megapixel autofocus camera with LED flash, f/2.0 lens, and 1080p full HD video. A camera also sits on the front, but it's merely a VGA camera.
Beats Audio software is also included in the package, now working with pretty much any pair of headphones you plug into the 3.5mm headset jack on the top.
Three soft buttons sit on the front, now standard with HTC handsets, providing the back, home, and task switcher buttons. Physical buttons can still be found on the handset, with the power button up top and the volume rocker on the right side.
Performance
HTC's One S isn't quite the flagship model, but in some ways, it feels even more flagship than the solid One X and One XL handsets we played with earlier this year.
In the hands, the aluminium smartphone feels excellent, with the metal body cool to touch (especially in Winter), quite thin, and surprisingly light at 119 grams.
Even with sections carved out of the back and covered in plastic, the One S feels more durable than Samsung's flagship Galaxy S3, which is an impressive enough handset as it is.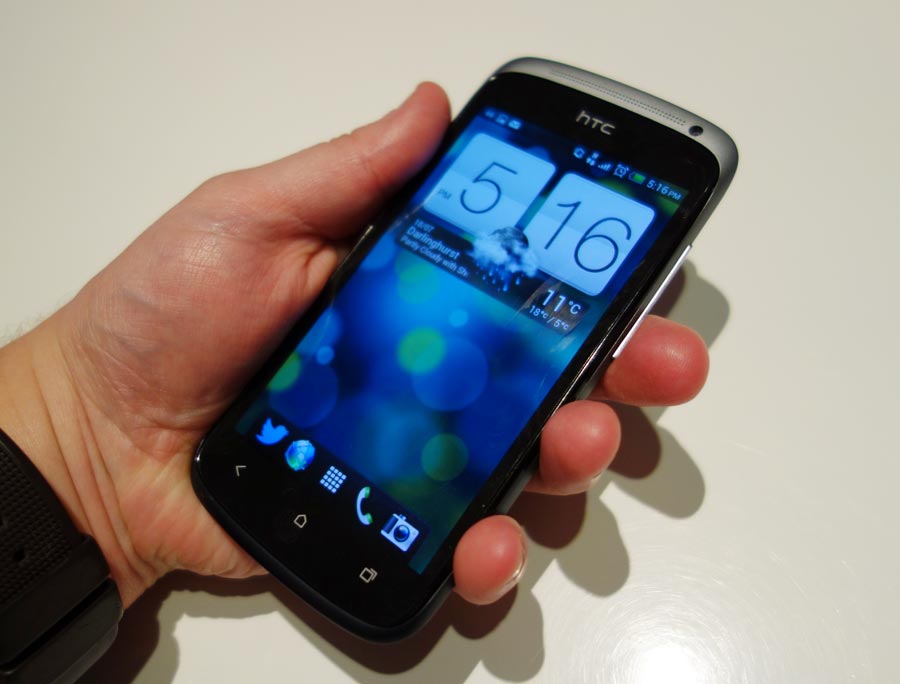 We've missed the 4.3 inch size, and with 4.7 inches the new magic number for HTC's flagship range, last year's definition of big in a smartphone is now the sizing for the mid-range.
That's completely fine with us, as the 4.3 inch screen on offer delivers a nice quarter-HD resolution of 960×540 in a Super AMOLED display. While it doesn't use the same In-Plane Switching (IPS) technology found in the One X and One XL handsets, the Super AMOLED on offer provides pretty much perfect viewing angles, with only a slight deviation in colour when viewing at past 170 degrees on each side.
With a pixel per inch value of 256, the 4.3 inch screen doesn't quite offer the same clarity as the 4.7 inch HD display on HTC's flagship handsets, but that's ok, because it's still a very nice screen altogether.
HTC's version of Android 4.0 Ice Cream Sandwich is offered up here, with all the fix-ins we've come to expect from the company, including those animated weather widgets, an easily customised four-icon application dock, and up to seven widgetised homescreens.
Over in the performance department, the One S features similar hardware to the One XL, except without the 4G LTE modem. It's not quite the same, with a similar dual-core processor offering speeds that – from our benchmarks – put it under what the One XL can offer.
Hardly unsurprising, given that the XL is a flagship product and the One S sits closer to the middle of HTC's line-up. Still, the speed on offer from HTC One S isn't bad by a long shot, and is almost as fast the Asus Transformer Prime tablet.
Using the phone, we found very little lag when doing the regular combination of web surfing, playing with apps, messaging, and browsing through the menu screens. It's quite a responsive little device, even if it doesn't have quite the same speed as HTC's flagship One products.
The high-speed zero shutter lag eight megapixel camera we saw in the One X and One XL is here as well, offering a very capable shooter with some of the best camera software to appear on an Android installation. HTC still seems to lead the other manufacturers, with a very friendly and easy to use camera that offers full HD 1080p video capture, and support for high dynamic range images, panoramic photos with automatic stitching, and retro effects.
HTC's front camera is a little underwhelming, sticking you with a VGA quality camera if you ever engage in Skype or other video calls, though we haven't had many video chats on a mobile phone yet ourselves.
Battery seems about normal for most handsets these days, offering roughly a day to a day and a half of use, with our test activities split up between playing games, making phone calls, sending messages, social networking, web browsing, and even providing a touch of wireless hotspot access.
Voice calls were clear and loud too, although we'd have preferred a better keyboard. While HTC seems to have a leg up on competitors for the camera software, its keyboard is neither as strong as the Swype keyboard offered by other manufacturers as an extra, nor is it as capable as the stock Android 4.0 keyboard made by Google.
We're also a little surprised by the third soft button on this handset, acting as the task switching button. We almost never use this function, and would have preferred the menu option ourselves.
One thing that concerns us is the lack of memory, with no microSD expansion and around 10GB of space left over. While that's still a fair chunk of storage left, you'll have to balance this between apps, games, photos, videos, and music, with no way of increasing the capacity with a microSD like on other devices.
There's also a bit of risk in chipping the paint job on the metal back, as we noticed shortly in using this phone.
Heaven forbid you ever drop the handset, but if you do, expect to find metal scratches and chips shining back something silver instead of the almost metallic greyish green that the phone normally is surfaced with.
Conclusion
HTC's One S proves itself to be a decent little handset, packaging good looks, solid build, and some decent performance in a relatively small package.
If the bigger 4.7 inch screens are a touch too big for your hands or you're not keen to spend big, you may want to check out this offering from HTC.
Full metal jacket: we review the HTC One S
Price (RRP): $No outright; Available on plans from Optus, Telstra, and Vodafone Manufacturer: HTC
Slim and light; Feels very solid; Excellent camera;
No upgradeable memory; Metal back is painted and will chip if dropped;