HTC's Windows 8X reviewed

Price (RRP): $Available on plans from Telstra
Manufacturer: HTC
The first Windows Phone 8 device from HTC, the 8X is the company's flagship model, bringing with it a high-speed 4G connection, anti-slip coating, and a balance that makes it feel like an awesome piece of kit upon first glance. Does it live up to its feeling?
Features
HTC's only 4G Windows Phone 8 device for the year, the 8X is the company's best chance to fend off any consumer desire for a 4G Windows Phone, of which there are a few, including the recently reviewed Nokia Lumia 920.
Each handset is different, understandably, but thanks to the control Microsoft has exerted on the Windows Phone operating system, there are some obvious similarities.
Most of these can be spotted if you open it up, as this flagship phone sports the exact same processors and graphics chip as what was in the 920, with the dual-core 1.5GHz chip, Adreno 225 GPU, and a serving of 1GB RAM.
Connectivity is much the same, with 4G LTE being served up on the cellular and modem front, and WiFi 802.11 a/b/g/n handled over dual-band, alongside Bluetooth 3.1 with A2DP, GPS, Near-Field Communication, and a microUSB port for sending data to and from a computer or charging a device.
Outside of these specifications, things change, as the Windows 8X brings with a completely different design, screen size, display resolution, chassis, and set of cameras.
Unlike the Lumia 920 with its 4.5 inch 1280×768 screen, the HTC 8X features a 4.3 inch 1280×720 HD screen managing a Retina-busting 342 pixels per inch, all of this protected by Corning's second-generation Gorilla Glass.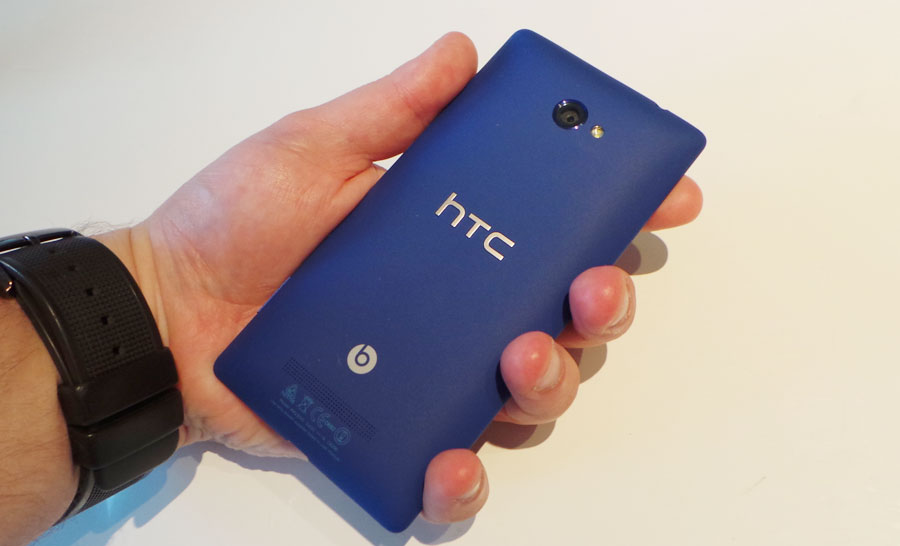 The design is totally different from Nokia's offerings, managing a smaller body still made of plastic, but treated in a stiff material that's there to increase grip, completely different from the slippery surface found on Lumia.
HTC's cameras aren't the same either, going with the identical 8 megapixel resolution on the back, but sticking a 2.1 megapixel module on the front with a wider field of view for the lens, designed for making better self-pictures, also called "selfies."
The HTC Windows 8X only comes in one configuration, with 16GB storage built-in and no microSD storage. The battery sits at 1800mAh.
Few physical buttons exist on this handset too, pretty much the norm these days, with a power button up top, and everything else on the right side, including a volume rocket, and a camera activation and shutter button. The three soft buttons of Windows Phone are here along the bottom, too, with back, Windows home, and search all supported.
The microSIM card slot sits just above the volume rocker, and can be ejected with a SIM ejector tool, while the 3.5mm headset jack sits on the very top near the power button.
Performance
Before this review, we've only taken one Windows Phone 8 device for a good and proper spin, the Nokia Lumia 920, and aesthetically, these two devices couldn't be further apart.
While the Lumia 920 aims to be big, bold, and hefty, the HTC Windows 8X is slim, light, and very well balanced. Picking it up, you'll be surprised as to how good a job HTC has done by making this phone feel complete. It's just so… right.
It's also close in size to the 920, but a different design – with curves on the back that seem to make the handset fit your hands well – helps it feel like it's less of a burden.
The finish lacks the overly bright and shiny gloss on other devices, and while subdued, still feels premium. It's not that plasticky feel you find on many a smartphone, and while it's a slightly rubberised feel, it's one that we're happy with. The anti-slip coating applied makes it easier to grip and harder to drop, and reminds us slightly of the stiff fur in felt.
Your pockets will be happy too, as this phone is lovely and light. Don't like chunky devices? Stick this in your pocket and see if you notice it. We sure didn't.
The display is likewise very nice, with a 4.3 inch display boasting 720p high definition resolution. Even with a bigger screen than the iPhone 5, HTC is packing in more pixels per inch, resulting in an image that should be just as clear, if not better.
Over on the operating system, HTC hasn't really made any modifications, mostly because they can't. Unlike Google's Android, Microsoft has a specific design and feeling it wants to convey with Windows Phone, and manufacturers aren't really allowed to stray from it.
It has added some apps – minor details such as a money and size converter, a torch, a ho-hum news and weather application, and a photo enhancer – but it's really the Beats Audio "headphone amp" that helps to make the 8X more than just a phone.
We've experienced Beats Audio in Android devices before, but in the 8X, it feels more complete. Together with the built-in Windows Phone media player, you're playing with what is essentially a Zune player, albeit a more successful variant of the technology.
Flick through your music, scroll up and down artists, and find more in the Xbox music store: it's all there for you, and it's provided with up to 30 volume levels, not just the typical 10 or 12 we normally see on smartphones.
As an example of how well the Beats Audio amp helps, we only had to turn our audio on the RHA MA450i in-earphones up to a level of 7 or 8 out of 30 volume points for it to be comfortably loud, and only up to 12 on a pair of Beats Solos headphones.
If you've damaged your hearing in the past, you may find this smartphone assists with plenty of volume. Just don't go making it worse, okay?
The 8 megapixel camera on board is just as good as what we saw on the Lumia 920, though don't expect some of those cool "lenses" that allow the camera to do extra things, such as grab animated GIFs or a smarter shot, as they're specifically Nokia things.
Instead, this rear camera is just a quick shooter, resulting in some decent light metering and image clarity.
We were actually surprised at the level of detail in images we shot close up, and found that there was very little delay in pressing the camera button on touching a point on the screen to fire a shot.
In the front camera, though, HTC has made some changes, throwing in a wider angle lens and allowing your self-portraits to show a little more of yourself or your mates, which we can see happening.
This wider lens works well, and we can always see ourselves, though we don't understand why HTC made the camera placement all the way on the left-most corner, as it's not an area you'll normally look at, especially when you're trying hard to see what you look like on the screen.
Over in the performance area, the Windows Phone 8X is as fast as the Lumia 920, making it a more than capable phone, especially for the coming year.
Download performance is decent too, with 4G performance sitting above the 30Mbps mark in our tests, which isn't the most amazing, but could easily have been a network issue.
Upload speeds sat at over 8Mbps, so we're not talking terrible LTE speeds, and most people should be happy with what's on offer in this phone.
Battery life, however, was fairly ordinary, resulting in a day of life for this Windows Phone. You may end up pulling a few more hours than us, but chances are you won't get much more, and the more web activity of camera usage you have, the more the battery life is cut in half.
While the HTC Windows 8X is a pretty awesome phone, it does come with some negatives, some surprising ones, in fact.
One of these is a camera and audio bug, and whatever you do, we'd suggest not listening to music on your headphones while you're taking a photo or screenshot. All of a sudden, you'll find the audio boosts to the loudest it can and temporarily deafens you with an insanely loud click.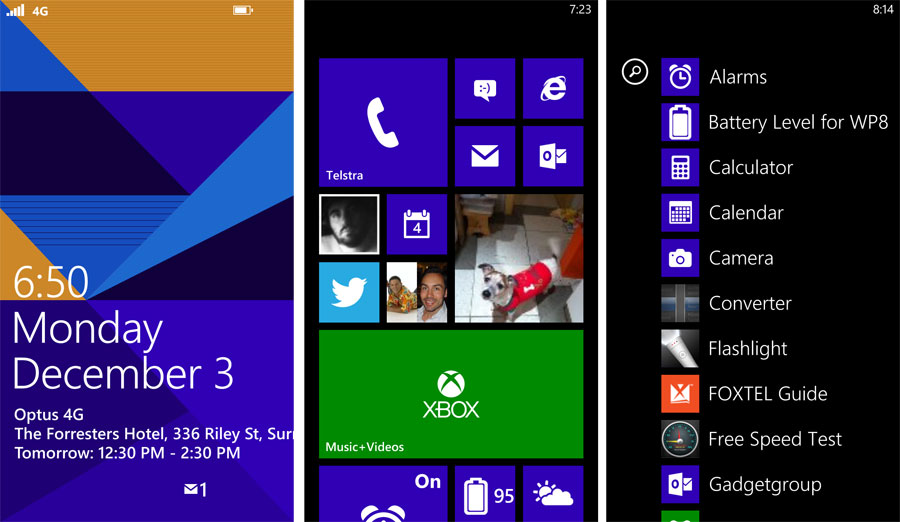 Something else that bugs us slightly is the storage size, which is depressingly low.
Given that the 8X is a premium phone and will – on plan – cost at least $1,560 over the course of two years, a piddling amount of internal space isn't a good place to start, especially when you only have a little over 12GB to share between music, videos, photos, apps, and games.
And even though the operating system says you might have a little over 14GB to play with, the Windows Phone 8 connector will tell you otherwise, with 1.9GB taken by system files.
No microSD doesn't help this, and it severely limits how much you can do with the 8X, especially when the competition from Nokia comes with double the storage, albeit in a heavier form.
Some people may have problems holding the phone, and with a power button sitting at the top, but soft buttons on the bottom, you may find your hand switching quickly amidst a loose grip. Thankfully, that anti-grip surface on the back tends to stop the handset from falling to an untimely death, but this design doesn't exactly make it have the best one-handed operation imaginable.
Oh, and that app ecosystem is still lacking a bit, which seems to be a problem with Windows Phone 8 itself. If you need a phone with Instagram or Dropbox, you don't want a Windows Phone right now.
Conclusion
If you're after a great Windows Phone 8 experience but haven't been at all intrigued by the big bulky 920 put forth thus far by Nokia, HTC's 8X could be the solution you're looking for.
We're still not sure about that camera bug that seems to leave us deaf, and we wish the storage came in a larger size, but if the idea of a well balanced 4G Windows phone gets your attention, we'd check this out.
HTC's Windows 8X reviewed
Price (RRP): $Available on plans from Telstra Manufacturer: HTC
Lovely balanced feel; 4G connection; Beats Audio "headphone amp" helps to provide tons of sound for wired earphones;
No microSD; 16GB storage with only 12GB free isn't really much these days; A deafening camera and audio bug: don't take pictures with headphones in; Not enough apps in the ecosystem;