Review: Huawei Ascend P2

Price (RRP): $504
Manufacturer: Huawei
The first of a new breed of smartphones, the Ascend P2 can achieve mobile broadband speeds much faster than your iPhone… provided you have the backbone to back it up.
Features
The first Category 4 LTE handset to reach GadgetGuy's offices, Huawei's Ascend P2 sits in the "performance" range of Huawei's handsets, aiming to bring Category 3 LTE – what most of us know as 4G in Australia – as well as the few places where Category 4 currently exists.
Cat 4 means network performance as high as a theoretical 150Mbps download and 50Mbps upload, almost eight times higher than the theoretical maximum for ADSL2+ connections, which few people get at home.
In Australia, the support is there for Telstra in Brisbane, Adelaide, and a bit of Perth, while Vodafone apparently supports Category 4 LTE in all of its major cities across Australia.
Huawei's Ascend P2 is currently a Telstra exclusive, but the phone is compatible with Vodafone's network.
Enough of the Cat4 info, and back to the phone. For this handset, it's typical Huawei fare, with the same home-grown technology used across Huawei's other devices.
That includes the processor, which like the ultra-slim Ascend P6, includes a quad-core 1.5GHz processor built by Huawei (K3V2), Android Jelly Bean (4.1 in this handset), Bluetooth, GPS, 802.11 b/g/n, and a 4.7 inch screen supporting the HD resolution of 1280×720, protected by Gorilla Glass.
Not everything is the same, though, with a 13 megapixel camera on the back, a front-facing 1.3 megapixel camera, Near-Field Communication, and of course, support for the Category 4 LTE which can offer higher upload and download speeds with a compatible Cat4 4G network.
While some models overseas feature 16GB storage, the Australian model looks to be receiving 32GB, as our review unit had that much storage. You'll want a decent amount of storage, mind you, as there is no microSD slot here.
Memory is also different, with only 1GB of RAM here, below the 2GB sweet spot that we've found on Android handsets in the past.
Google's Android is also the operating system of choice, though a slightly out of date edition has been used in this handset, with Android 4.1.2, also known as "Jelly Bean."
Soft buttons are included on the frame of this handset, with back, home, and menu located under the screen, while the physical buttons include a volume rocker on the left, a power button on the top right, and a camera shutter on the bottom right.
No microSD means less ports are available, and as such, you'll only find the microSIM slot on the very right, while the microUSB charge and data transfer port sit up top next to the 3.5mm headset jack.
A 2420mAh battery sits inside the Ascend P2, but it's not replaceable.
Performance
The last time we checked out a Huawei handset, it was all about the design. This time, it's more about the mobile broadband on offer, as the Huawei Ascend P2 is the company's – and Australia's – first handset capable of jumping on Category 4 networks. The current Category 3 networks are also supported, so in essence, this is the first future-proofed Android smartphone, at least as far as Australian 4G goes for the next year or two.
Huawei's P2 makes this happen in a simple design, with black plastic dominating the back, and a large 4.7 inch screen on the front, supporting the 1280×720 HD resolution.
Sure, it's not as fancy as the Full HD resolutions we're seeing on handsets by Samsung and HTC, but the pixel density is still strong enough to get close to Apple's iPhone 5 Retina screen, with roughly 312 pixels per inch (ppi).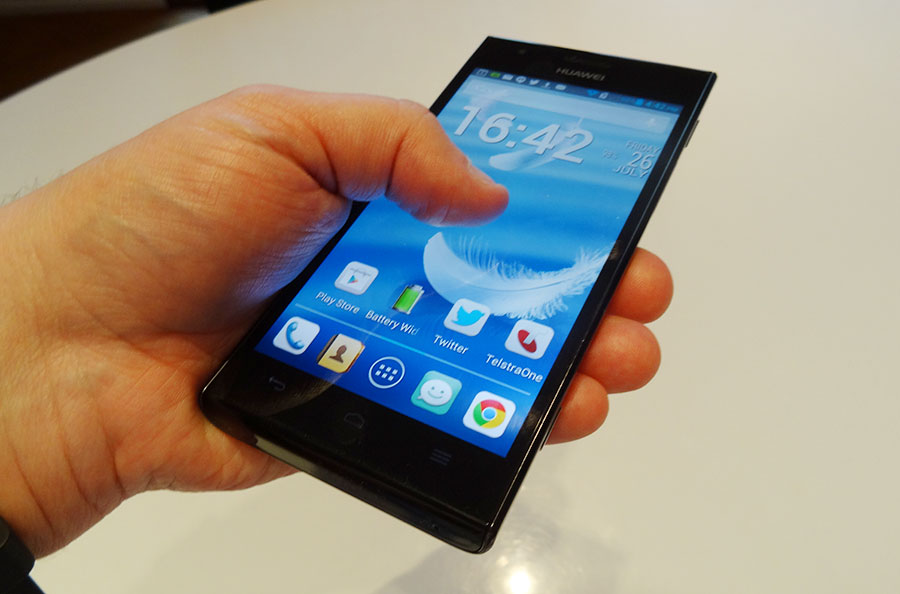 In the flesh, the screen is relatively bright and quite nice to look at, but still very glossy. We're reminded of the screen in the P6, and suspect there isn't much separating them, but overall, it's not a bad looker, and has decent viewing angles.
Aesthetically, the P2 won't win any awards for design, with a simple look, edges that slope into soft curves, fitting in the palm of the hand nicely.
The buttons on the right side are easy to grip with the fingers, making it easy to switch the phone on, though the high position of the volume button may not make it as simple to change levels quickly.
Huawei's Emotion UI is the Android overlay here, sitting atop the slightly older version of Android "Jelly Bean," version 4.1.2. In this incarnation, however, Emotion is very different from what we've previously seen from the phone manufacturer.
While previous efforts have been based around making the interface more simple and closer to the multiple screen based system of Apple's iOS, the version of Emotion used in the Ascend P2 is closer to stock Android than anything else.
For instance, there's still an application menu (something that's normally missing in Huawei's Emotion UI), the applications menu follows Google's design with tabs up top separating apps and widgets, and there's even Google's Android stock keyboard with its excellent Swype-like gesture keyboard.
All up, it's not the version of Emotion UI we've come to expect from Huawei, and Android people will probably be thankful for this, as it's simple to adjust to.
The regular Droid staples are here, too, such as the drop down notification system, a settings controller for all your main hardware options to be switched on and off, home screen re-ordering, and widgets. Yes, it's still Android.
Some of the technology seen in the P6 is also here, such as Dolby audio, which adds several options to make your music sound better when sent out of headphones.
We tested this with a pair of wired in-earphones from AudioFly, and found that the P2 sounds almost as good as our Beats-powered HTC One, and in some cases better, since you can change the settings of Dolby to match the music you're listening to, something that isn't possible from HTC's handset.
The camera on the back is also decent, with 13 megapixels possible, though the front-facing doesn't see the massive selfie shooter that was in the P6, with only a 1.3 megapixel here.
Let's talk mobile speeds, because really, that's where the Ascend P2 lays its cards on the table.
We've already mentioned this in the review, but for this phone to really work, you need a carrier and plan that lets you make use of a category 4 LTE connection, and in Australia right now, those options are limited.
To try and solve this, we've been testing the handset day to day using a Vodafone SIM for Category 4 testing and then a Telstra SIM, our regular way of testing, even though there is no Cat 4 LTE on Telstra in Sydney.
When it comes to mobile speeds, this phone flies. It really, truly does.
For Telstra, we managed speeds from between 30 and 76Mbps, which from past experience, is essentially the mid to high end of 4G mobile broadband speeds.
All of these are on Category 3, however, the regular 4G that Sydney-siders receive, since Telstra lacks support for Cat4 in GadgetGuy's home testing city.
With Vodafone's high speed 4G, we found Category 4 working best outside Central Station, where we found our speed test reached as high as 112Mbps for a split second, before settling to a much more regular 94Mbps. Not too shabby at all.
Regular testing showed Vodafone was better at keeping speeds between 40 and 70Mbps, but all in all, it's not a bad effort altogether.
All up, it's a better effort than the performance of Huawei's quad-core, which, while it isn't terrible, it's certainly not the best processor out there.
Combined with the 1GB RAM, you'll see some lag and momentary slowdowns across the device, consistent with performance of other Huawei products sporting the same hardware.
Some screens take a little longer to update, including the widgets tab which often shows the main apps, and the keyboard which doesn't always get across what you're trying to write and delays you by a second or two.
You can tell this isn't completely a stock Android experience, either, as Google's search bar just won't leave our home screen. But hey, at least you can change the shortcuts in the dock, something the Australian Samsung Galaxy S4 struggles with.
Battery life is also roughly the same as others, with around a day of 4G life possible, and that's while using your smartphone to surf the web, make calls, send emails and messages, listen to music, play the odd game, and take a few photographs using the 13 megapixel rear camera.
You could probably get a few more hours out, possibly even half a day, but you would have to use your phone less, and with a high speed mobile broadband connection the main selling point of this handset, that's not likely to be something every customer will do.
The lack of a microSD slot might throw some people off too, because while 32GB is enough for many, it might not be enough for all, and you only get 26GB to work with in total.
Conclusion
For the price, it's hard to argue with the Ascend P2, a handset that boasts some impressive mobile broadband speeds, and even comes packing a decent Android experience to boot.
It's not without fault, as the system and battery could both afford a little more attention paid their way, but there is plenty in the Australian Ascend P2 to be delighted about.
For a smidgeon over $500, the Huawei Ascend P2 is an easy recommendation for anyone keen to see what's happening in the Category 4 LTE world, and you'll even get a decent amount of built-in storage, solid audio, and an Android experience that feels close to what Google has envisioned.
Review: Huawei Ascend P2
Price (RRP): $504 Manufacturer: Huawei
Category 4 LTE speeds when networks support it; Excellent audio playback through headphones; Feels more like stock Android; Includes the excellent Android stock keyboard with gesture typing; 32GB storage built in;
Mediocre battery life; No microSD slot;