World's thinnest phone: Huawei's Ascend P6 reviewed

Price (RRP): $499
Manufacturer: Huawei
Announced to the world in June, Huawei is turning heads with a smartphone that measures merely 6.18mm thick, something that no other manufacturer has been able to get their devices down to. But is the world's thinnest smartphone also one of the world's best?
Features
Huawei has been making waves in Australia for the past couple of years, mostly with smartphones at prices that don't impact the wallet dramatically.
In the past year, however, the company has been trying to come up with smartphones that excel in one area, competing with flagship devices from top-tier brands, but without as much money needing to be spent on the products.
Already this year, we've seen a $499 4G phone and a $429 phablet, and in the latest release for Huawei, we're seeing a super-thin 3G phone coming in for close to the $500 price point.
So what does $500 – sorry, $499 – get you in the Huawei Ascend P6?
First there's the body, one of the more notable parts of the Ascend. When it was first announced, it was called the thinnest smartphone yet.
A month or so later, that's still the case, with a thickness – or thinness, you could say – of 6.18mm. The casing is comprised of aluminium and glass, moving away from the plastic commonly used on Huawei's devices, with a weight of 120 grams.
Like most smartphones, the front of the P6 is mostly glass, covering a 4.7 inch touchscreen running the high-definition resolution of 1280×720, and supporting a pixel aspect ratio of 312 pixels per inch, a little below that of the Apple iPhone 5.
Under the hood, it's a list of parts that appears to be pretty consistent across Huawei's other devices, including the brand's homegrown quad-core processor, clocked at 1.5GHz, working alongside 2GB RAM. Storage is set to 8GB, though a microSD slot is included.
Android 4.2.2 "Jelly Bean" is here as the main operating system, though with the most recent version of Huawei's Emotion UI (1.6) running as the Android overlay, flattening the multiple menu system Google's Android normally comes with and showing a screen-to-screen design that will likely remind people of Apple iOS.
Connectivity in the Ascend P6 is limited to 3G mobile connection – sorry, no 4G LTE here – though WiFi works across 802.11 b/g/n, with Bluetooth 3.0 included also. A GPS link is also included, but there is no Near-Field Communication in this handset.
Multimedia is taken care of with a rear 8 megapixel camera with flash for stills and 1080p Full HD video, while the front is a 5 megapixel shooter capable of capturing 720p HD videos.
All of this relies on a 2000mAh battery that cannot be removed and charges over the international standard that is microUSB.
Modern smartphones tend to come with the bare necessities for buttons, and the Huawei Ascend P6 is no different in this regard, featuring only a power button and volume rocker on the right side, just above the microSIM and microSD slots, both of which require a pin to be inserted in order to access.
A pin for this purpose does come with the handset, an interesting feature that by default is a covering for the 3.5mm headset jack located on the left side.
The microUSB port, meanwhile, sits at the very top of the handset.
Performance
Like many people, we love to be surprised, and several weeks ago when Huawei announced to the world that it had made the world's slimmest handset, we were surprised.
Surprised and intrigued, though, as Huawei has certainly proved to us before that the brand has what it takes to make quality, so we were keen to see if this phone could be one that we would want to own.
Looking at the handset, it's hard not to see the inspiration from Apple.
Regardless of what team designed this at Huawei, there is an obvious nod to the iPhone, noticeable in the brushed aluminium frame, the cut black lines in that frame along the top, the camera position on the back, and the Emotion interface Huawei has built which relies on pages of icons similar to the iPhone.
When you pick up the Ascend P6, it's hard not to notice that slim design.
Even though there are obviously sides to this phone, the thickness – or lack thereof – is insanely noticeable. Even the imprint this slim handset has on your pants pocket will be seen, as it just sort of blends in, without protruding so far that it makes you look like you're carrying a brick in your pocket.
Despite the lovely thin design, Huawei has made some interesting choices here, such as the soft curved bottom, which feels like it should be at the top, and the hard edged top with its microUSB port, which feels like it should be at the bottom.
The screen is nice to look at, and even though it's not the high-end Full HD displays flagship models are boasting this year, it's still a great screen.
More surprising than anything is the 3.5mm headset jack, which actually sits on the side, and makes it a touch cumbersome to hold and use the handset while headphones are plugged in.
That said, we'll get stuck into the interface and usability of the phone, because that's what matters.
With no soft buttons, Huawei is keeping Android the way Google intended its control to be, and that's by making the screen always display the back, home, and app switching buttons for you.
Using the phone is fairly easy, and if you're new to Android or are coming from iOS, the switch is pretty easy, with a layout and look similar to what appears on Apple's iPhone.
Your homescreens are your menus, and apps sit on these pages similar to the multiple screens on iOS, only with the added usefulness of widgets too.
Huawei has tried to make a homescreen widget be the main place for you to check the time, weather, and feature a couple of main contacts, which is a nice feature, though one you can send to the trash if you don't need it.
Ultimately, there isn't a lot of customisation you can do here, but if you like having a homescreen be the one main place to check your information, it can be handy.
The settings menu has also been played with, separating it into two areas: general and all. Other menus and features have been added, including a permissions controller which helps you work out which apps should be sending you notifications, screen temperature, gloves mode for using the handset with gloves, and the ability to customize the shortcuts in Android's dropdown notification bar.
There are also some themes for you to play with, which let you quickly change the look of the interface, the icons, and even the lock screen.
Also added is support for Dolby audio, which adds equalizer presets to your listening experience when headphones are used. With this engaged, music playback from the Huawei Ascend P6 is good… really good, actually.
We're reminded of the Beats by Dre technology HTC uses in its smartphones, because the sound is very good, and even goes beyond HTC's usage by letting you change the settings depending on what sort of music you're listening. Rock, jazz, pop, urban, electronic, classical, it's all there.
We tried a few of them and mostly found the default setting worked best, but if you find you don't like any of them, you can always turn it off.
Huawei has also spent some time making the camera in this smartphone useful as well.
The eight megapixel shooter on the back is capable of some decent images, but the five megapixel module on the front is the real star, making it the most capable self-portrait smartphone camera available today.
A beauty mode is included as one of the features which softens detail based on a sliding scale you control, effectively "erasing" the lines that come with age.
A few extra modes are included, such as HDR, panorama, and some nifty camera effects.
Over in the performance side of things, Huawei's quad-core processor isn't the fastest chip you'll see, barely beating last year's HTC One X in terms of raw power in our synthetic benchmark tests, but it seems to handle its own.
Partnered with 2GB RAM – something we wish existed in the Ascend Mate – the P6 does a decent job of running multiple apps and flicking through the menus.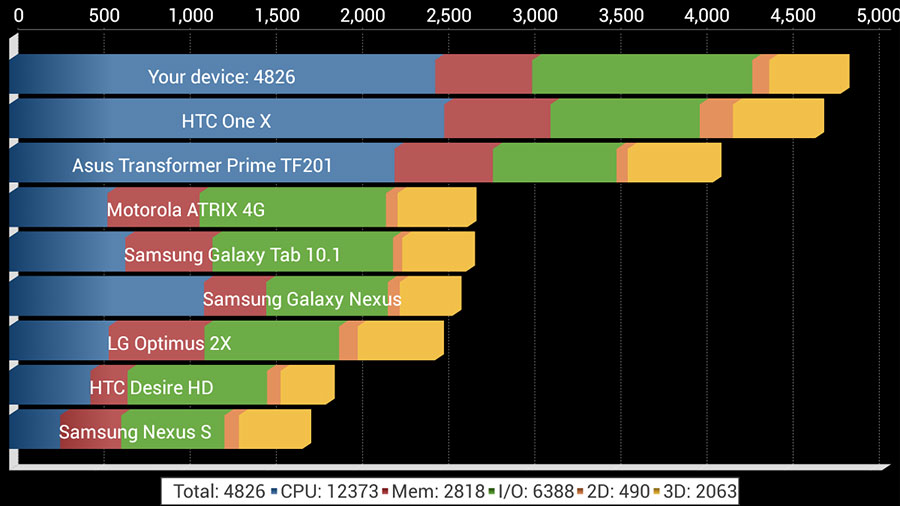 There is the occasional hiccup here and there, noticeable when you're dropping down the notification bar up top, or scrolling through a page, but by and large, it's unlikely to bother anyone.
What will is the 3G performance, which is a tad underwhelming.
We're not quite sure what it is with Huawei. While the 4G devices we've tested from its devices seem to fly, the 3G ones don't seem to make the dent they're supposed to.
The Ascend P6 will pull data down wirelessly, sure, but it's not the fastest device, managing an average of around 3 to 4Mbps, and barely hitting the 6 or 7Mbps mark as we took it through our download tests in the Sydney CBD.
Battery is equally mediocre, managing only a day, with the performance tested through phone calls, messaging, emails, web surfing, social networking, and wired music playback.
You might be able to get a little more out of this handset if you're very conservative, but really, a 24 hour period seems to be all she wrote here.
The omission of Near-Field Communication (NFC) is also a touch surprising, especially since it's one of those features you just expect a handset to have these days.
Huawei could also spend some time tightening up its on-screen keyboard which has improved slightly upon past versions, but not dramatically.
As such, the keys look bigger, appear more responsive than ever, but the spell check still only works as you're typing the correct letters.
For instance, if you type "recipe" incorrectly as "recipr," there won't be a suggestion for the right word, even though that's likely when you need it most.
Fortunately, there are plenty of keyboard replacements out there on the Android Market, so it's something you can get over relatively quickly.
Storage could also be improved, because while 8GB might be enough for some, there really is only a little over 3GB available for you to use once Huawei has left its mark on pre-installed software. You can fix this with a microSD card, but we'd have appreciated a touch more available storage in general.
It's also nice that Huawei choice to include a headset jack cover, one that also includes a pin to help you eject the microSD and microSIM trays, but we have one question: where are you supposed to put the thing when you take it out?
That seems to be the one area Huawei didn't think about, because outside of a box somewhere, it's going to go missing very quickly on in your pocket, handbag, or backpack. Oh well, just take it out and leave it in the box until you need it, unless you plan on using Bluetooth headphones and only Bluetooth headphones.
If you do plan on using wired headphones, we're going to say be careful, as the side 3.5mm port doesn't just make holding the phone a little difficult, but also might cause headphone jacks some stress later in life.
Depending on where you keep the phone, excess pressure from the headphone jack on the side – especially in longer straight jacks – could end up breaking them.
Those of you with right-angle jacks probably won't have this issue, but the placement of this port is enough to cause us concern.
Conclusion
Taking the title of the world's thinnest smartphone is no easy task, but Huawei has managed to accomplish exactly this with the P6, creating a device that feels more solid than previous efforts by the brand, and is even thinner.
It could do with a touch more performance and a couple of tweaks in the design, but overall, Huawei has produced something that will satisfy many customers out there.
If 4G isn't a priority for you, but something light and lovely is, the Huawei Ascend P6 is worth checking out.
World's thinnest phone: Huawei's Ascend P6 reviewed
Price (RRP): $499 Manufacturer: Huawei
The thinnest phone to date; Feels great in the hands and the pocket; Five megapixel front-facing camera will be liked by those who love taking selfies; Sound quality over headphones is impressive;
Needs more storage; Battery life is only a day; No 4G; No NFC; Included virtual keyboard could be better; 3.5mm headset jack on the side could pose problems for headphone jacks later on;