The $99 Android smartphone: Huawei IDEOS X1

Price (RRP): $99
Manufacturer: Huawei
Just a year ago it was hard to believe we'd have $99 smartphones, but the Huawei IDEOS X1 is exactly that. So is it cheap and nasty, or just cheap?
Features
The Huawei IDEOS X1 is an Android smartphone a large market that most manufacturers know exist but prefer to ignore. That market is cheapskates, and their numbers make them important, so the IDEOS is a welcome arrival for many.
Last year's version of Android – 2.2 also known as Froyo – is the OS of choice here, beating out the even older Android 2.1 found on at least one competing budget Android smartphone.
At 2.8 inches, the screen is on the small side, and there's only 256MB of RAM on the inside, so if you want to load it up with music or install lots of apps, you'll need to add a microSD card. Optus includes a 2GB card in its prepaid kit, but for storing large playlists, go for a higher capacity card.
Huawei's X1 is completely in wrapped in plastic, with a shiny chrome-coloured plastic trim surrounding the handset. A single tactile home button sits on the front, with three soft buttons on the screen serving for Back, Menu, and Search. The power button sits on the top left, with volume buttons on the right-hand side, all a part of the chrome-look trim.
On the rear of the unit is a lens for the 3.2 megapixel camera, plus a small speaker. A 3.5mm headphone port sits up top, allowing you to listen to music on your phone. At the bottom, you'll find a fairly standard microUSB port for charging and transferring data to and from a computer.
Much like other Android phones, the Huawei IDEOS X1 also comes equipped with features once reserved for high-end devices, such as WiFi 802.11 b/g/n and Bluetooth 2.1.
Performance
Despite the $99 price tag, the X1 offers a better touchscreen experience than we've seem on some of last year's budget smartphones.
Here, the Huawei X1's small touchscreen manages to be capacitive – a change from the resistive screens typical to cheap phones – allowing you to pinch the screen to zoom in on web pages. Strangely, this feature doesn't work on images; instead, a magnification bar appears and allows you to zoom in or zoom out by pressing on the plus or minus on-screen buttons.
Huawei's Android customisations remind us of those on the Apple iPhone, with a left-to-right scrolling menu system. Widget support is available from the home screens, but the tiny 320×240 resolution on the 2.8 inch screen means it's hard to see much here. Switching between the five home screens  – each displays on a side of an animated rotating cube – is achieved easily via simple fluid swipes.
Interestingly, Huawei provides its own launcher – a program that changes the look and feel of Android's menu and homescreens – and the regular Android, so you can effectively choose how the bottom icons look. You can also change the way your icons look and download other themes from the web. If you select this last option, Android Market looks up "ahome theme", telling us that Huawei is using the $5 aHome launcher for its own solution (if you like the look of this and you have a different Android phone, you can grab it from the Market and run it on your own device).
Typing on the screen is a cramped affair, with the virtual keyboard occupying almost half of the 2.8 inch screen. That said, the experience is surprisingly accurate, provided you take your time. If your fingers are large or fat, expect to have some trouble as the individual keys are tiny, and there's none of the 'Swype' keyboard assistance found on Samsung and Motorola phones to help out.
Call quality is decent enough, with reasonable volume and clarity. Not a patch on the likes of high definition audio phones like the Sony Ericsson Xperia Neo or HTC Desire HD, though, which is to be expected for a sub-$100 handset.
Battery life is fairly standard too, offering around a day if you don't spend all that time tweeting or surfing the web.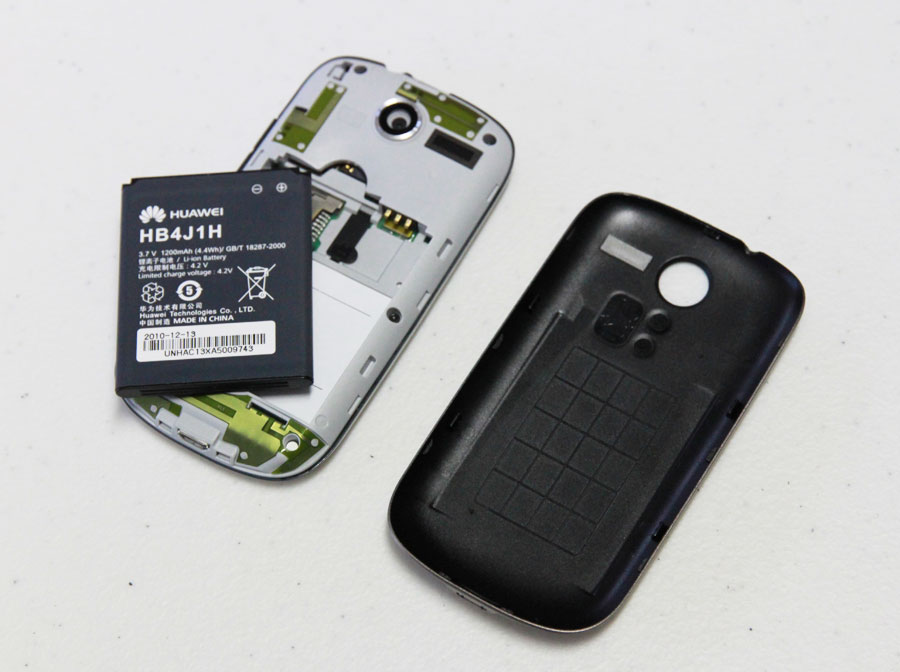 The overall feel of the handset is one of cheapness. It's flimsy and the plastic tends to creak. It feels a bit like a kids toy phone. And while the rubberised plastic on the back is easy to grip, but it also feels greasy.
The screen quality is poor and with the display area so small and resolution so low, text is often hard to read.
Speed is not a strong point, with the X1 grindingly slow on live wallpapers, a feature that rarely works on budget handsets. On occasions it was so tardy to carry out operations that we though it had 'hung'.
We'd have loved a slightly better camera, with the 3 megapixel shooter only managing ancient VGA video capture. Stills aren't very sharp either, and without a flash you'll need bright ambient light for lots of shooting scenarios.
Also, despite Flash compatibility existing in Android 2.2 and above, the IDEOS has no support for Flash.
Conclusion
The X1 has several shortcomings, with speed and screen quality at the top of that list. At $99, though, it's hard to go past the X1 as a value-packed prepaid device.
The $99 Android smartphone: Huawei IDEOS X1
Price (RRP): $99 Manufacturer: Huawei
Cheap as chips; Pretty easy to grip;
The rear plastic feels greasy; No flash on the rear camera; Low quality screen;